If you love to spend pleasant evenings over a drink in the company of friends or a special someone, this list
Here, you will find the 30 most beautiful and specific bars in the world. Some are famous for the cocktails they serve, others for their history, and many are found in exclusive locations or in places where it's almost unthinkable to find a pub.
No matter which is your favorite drink, these bars are already an incredible attraction as they are, sometimes even on par with museums and historical monuments. So, take a seat at the table or the counter, check the list of drinks, and place your order!
30. Sky Bar, Bangkok, Thailand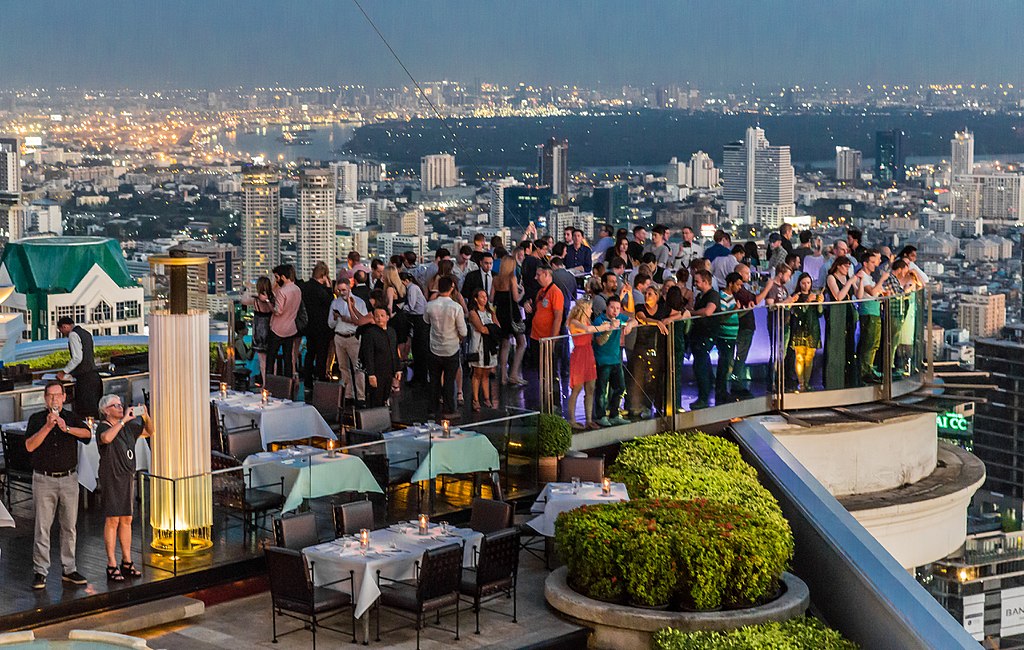 The Bangkok Sky Bar will allow you to feel tipsy even without tasting a drop of alcohol. It is located on the 63rd floor of the Lebua Hotel, at about 250 meters in height. The psychedelic bar counter, illuminated with LEDs, changes its color periodically. Enjoying a drink here means being enchanted by the incredible panoramic view over the city.
Have you seen the movie "The Hangover II"? This bar is featured in the film.
Address: 1055, Silom Road, Bangkok
Phone: +66 2 624 9555
29. Rock Bar, Bali, Indonesia
Rock Bar in Kuta, Bali, is carved out of a rock ledge overlooking the Indian Ocean. Just below the ledge, which is located at a height of about 20 meters, the waves of the sea break. Isn't that exclusive and exciting enough? If you think it's not, bear in mind that the bar is only accessible through a special cable car. Amazing, right?
Address: Kabupaten Badung, Bali
Phone: +62 361 702222
28. Chandelier Bar, Las Vegas, NV (USA)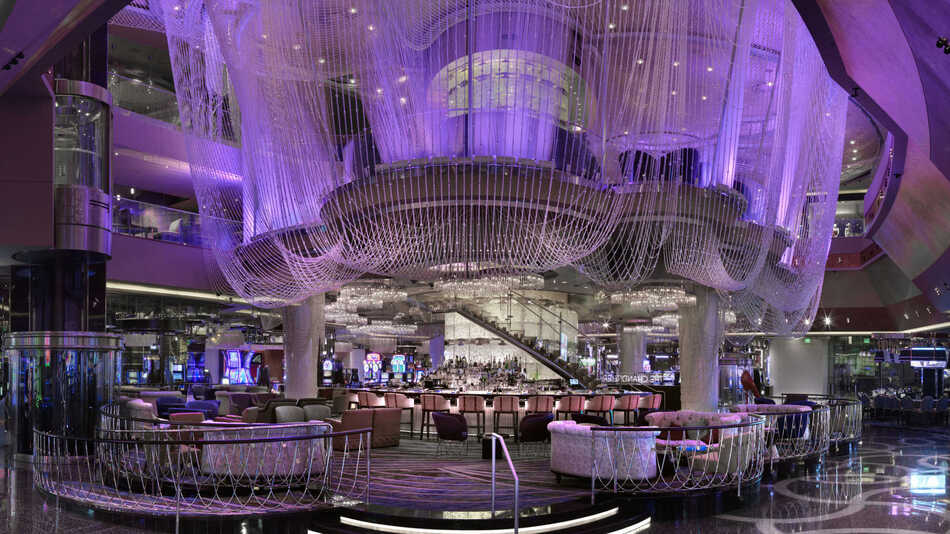 Have you ever wanted to be inside one of those majestic chandeliers? Your wish can come true in this bar. The Chandelier Bar is located at the Cosmopolitan Hotel in Las Vegas and it's spread over three floors right inside a huge chandelier covered with two million crystals. Even the drinks are extravagant and specific as many of them are inspired by molecular cuisine and are created and served directly to the table from a very modern bar trolley.
Address: 708 S Las Vegas Blvd, Las Vegas, NV
Phone: +1 702-698-7979
27. Monkey Bar, Berlin, Germany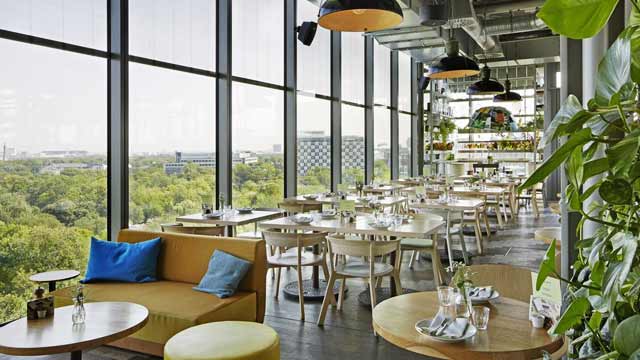 What's better than a drink "with a view"? Well, in this bar, which is located on the roof of the 25hours Bikini Hotel in Berlin, you will have a view of the money area in the famous zoo.
Address: Budapester Str. 40, Berlin
Phone: +49 30 1202210
26. JICOO the Floating Bar, Tokyo, Giappone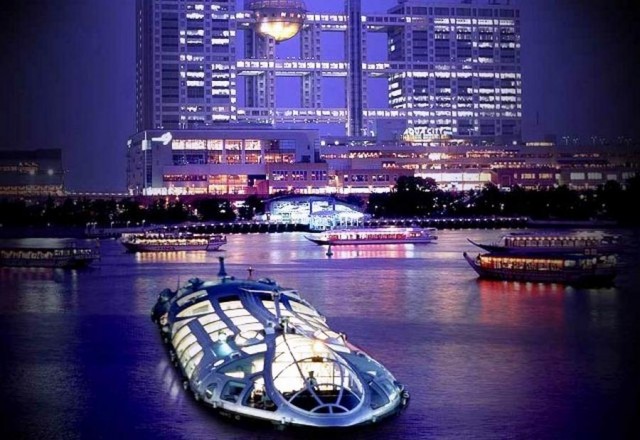 JICOO the Floating Bar is located in Japan and consists of a futuristic design boat that sails around Tokyo Bay every Thursday, Friday, and Saturday. The large windows of the ship allow the customers of the restaurant to admire a splendid panorama of the city at night. There are also live performances periodically organized at the bar.
Address: 2-7-104, Kaigan, Minato-ku, Tokyo
Phone: +81 120-049-490
25. Wind and Water Bar, Binh Duong, Vietnam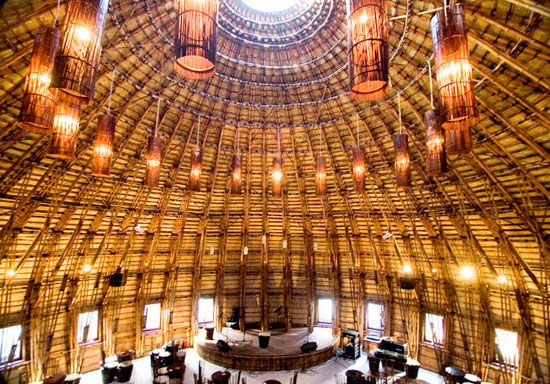 This majestic bamboo dome is located about an hour from Ho Chi Minh City. The venue is located in the middle of an artificial lake and is completely made of natural materials. Even the furniture is made of bamboo! The structure is about 10 meters high, is also covered by local vegetation, and is built without using a single nail; instead, it's built using traditional Vietnamese techniques of intertwining and weaving.
Address: Phu Tho district, Thu Dau Mot Town, Binh Duong
Phone: Not Available
24. Rick's Café, Negril, Giamaica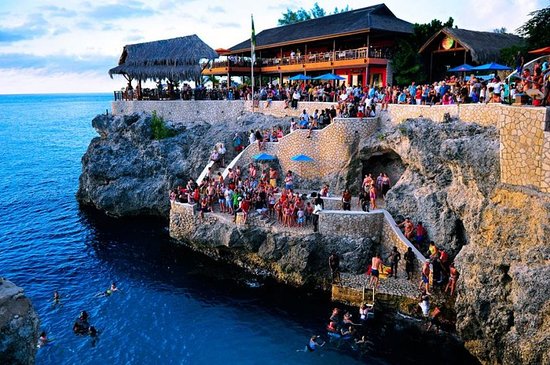 This Jamaican bar is a real institution for the island and is famous for epically beautiful sunsets which can be admired from the natural terrace this bar is located at. The customers of the bar can also use the cliff to dive into the crystal clear sea.
Address: W End Rd, Negril
Phone: +1 876-957-0380
23. Al Sarab Rooftop Lounge, Dubai, United Arab Emirates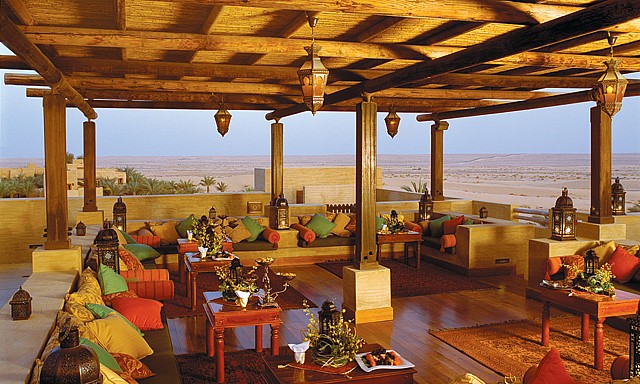 Al Sarab Rooftop Lounge is located at the Bab Al Shams Desert Resort in Dubai, United Arab Emirates. This bar allows its customers to have a drink almost in the desert with an enchanting background during the spectacular sunsets over the dunes.
Address: Al Qudra Road, Opposite Endurance City, Dubai
Phone: +971 4 809 6100
22. Ozone Bar, Hong Kong, China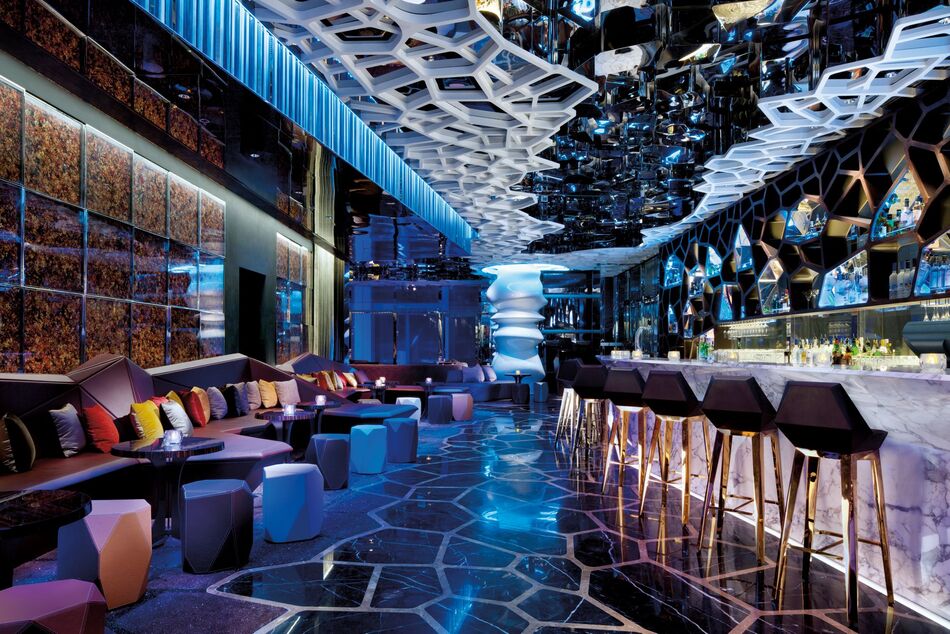 This bar is recommended for those who don't suffer from vertigo and those who aren't afraid of heights. It's the highest bar in the world, located on the 118th floor of Hong Hong's Ritz Carlton, at a height of around 500 meters.
Address: Elements, International Commerce Centre (ICC), 1 Austin Rd W, West Kowloon, Hong Kong
Phone: +852 2263 2263
21. Alux Restaurant Bar & Lounge, Playa del Carmen, Mexico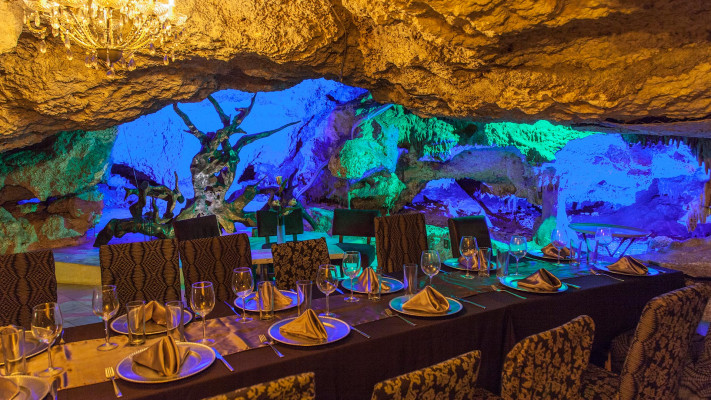 Forget the great heights and breathtaking views as, in this Mexican restaurant and bar, you can order your dinner or drink in an impressive cave.
The name of this place derives from a mythological creature from the local beliefs, a kind of a cave elf that didn't behave the way it's supposed to but was even kidnapping people. However, the beauty of this place is worth the risk!
Address: Avenida Juárez s/n Mz. 217 Lote 2, Ejidal, 77710 Playa del Carmen
Phone: +52 984 122 7365
20. HR Giger Bar, Gruyères, Switzerland

HR Giger Museum Bar is a tribute to the work of the famous Swiss artist HR Giger, the creator of the main character in the movie "Alien". The sinister theme from the movie is represented in this place with the alien's tentacles decorating the ceilings and the chairs resembling skeletons.
Address: Rue du Château St. Germain 3, Gruyères
Phone: +41 26 921 08 00
19. Cova d'en Xoroi, Alaior, Island of Menorca, Balearics, Spain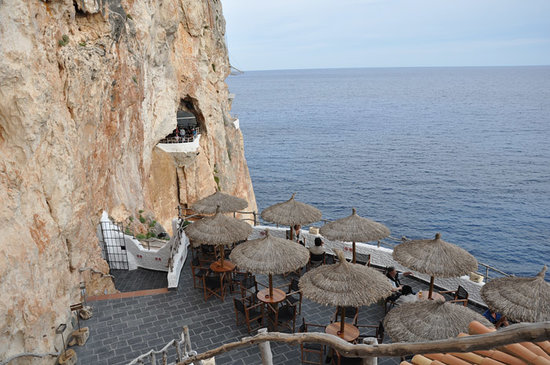 Located in Alaior, on the island of Menorca, in the Spanish Balearic Islands, this bar takes place about 30 meters above the Mediterranean Sea. It offers a spectacular view of the sea during the day and DJ performances during the long party nights.
Address: Urbanización Cala en Porter, Carrer de sa Cova, 2, Alaior, Illes Balears
Phone: +34 971 37 72 36
18. La Bodeguita del Medio, Havana, Cuba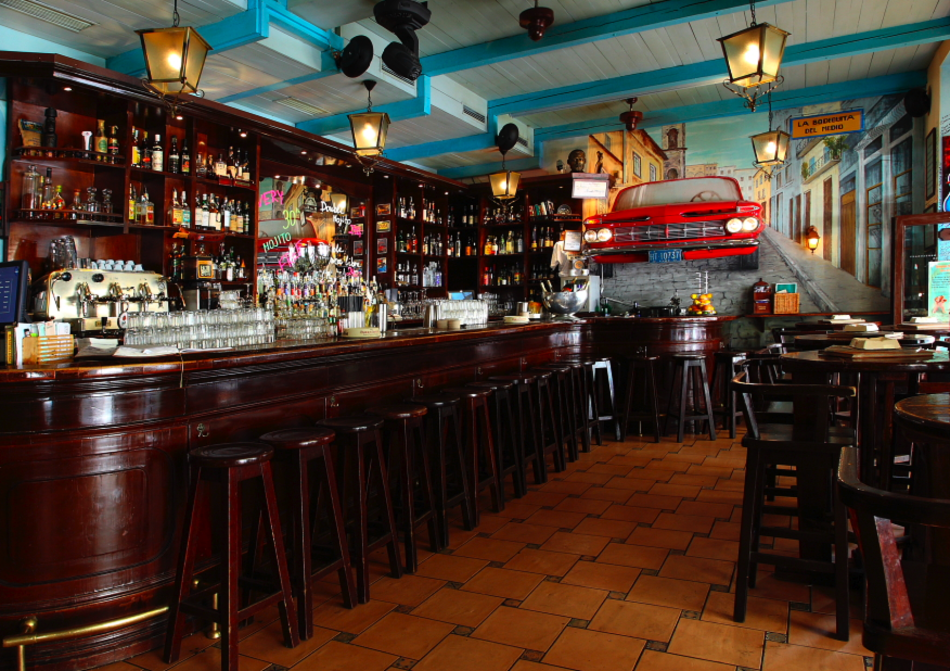 La Bodeguita del Medio is located in Havan, Cuba and it's the bar that claims to have invented the famous mojito cocktail. Whether that's true or not, the mojito made at this bar has the Ernest Hemingway "approval seal". On the walls of this bar, you can find an inscription dedicated to the writer, which reads: "My mojito in La Bodeguita, my daiquiri in El Floridita."
Address: C. Empedrado entre Cuba y San Ignacio | La Habana Vieja, L'Avana
Phone: +53 7 571375
17. Joben Bistro, Cluj-Napoca, Romania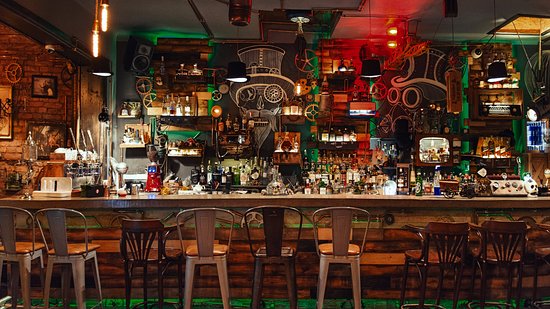 Joben Bistro is located in Cluj-Napoca, Romania and it's a restaurant that literally transports its customers into the imaginary world of Jules Verne. Inside, there are imaginative machinery reminding of those described by the author in his novels, hat-shaped lampshades, LED lights releasing a relaxing glow, and mechanical gears well-suited to the industrial theme of the place.
Address: Strada Avram Iancu 29, Cluj-Napoca
Phone: +40 720 222 800
16. Spårakoff Pub Tram, Helsinki, Finland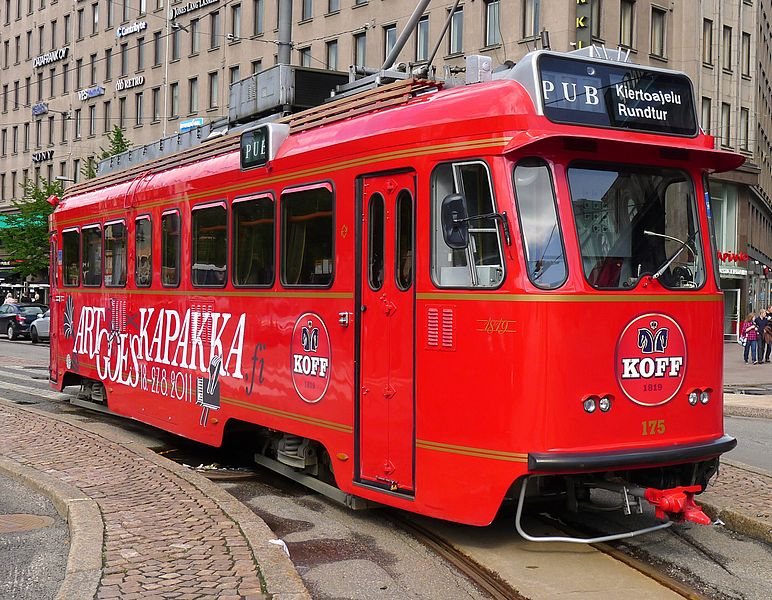 Would you like to see the main attractions of the Finnish capital in an original and comfortable way? By choosing the Spårakoff Pub Tram, you'll be able to enjoy a tour of Helsinki aboard this historic tram converted into a pub. Onboard, try various types of beer, cider, and sparkling wine as you appreciate the sights of the city.
Address: Railway Square (Mikonkatu street tram stop), Helsinki
Phone: +358 20 1234800
15. Falk's Bar, Munich, Germany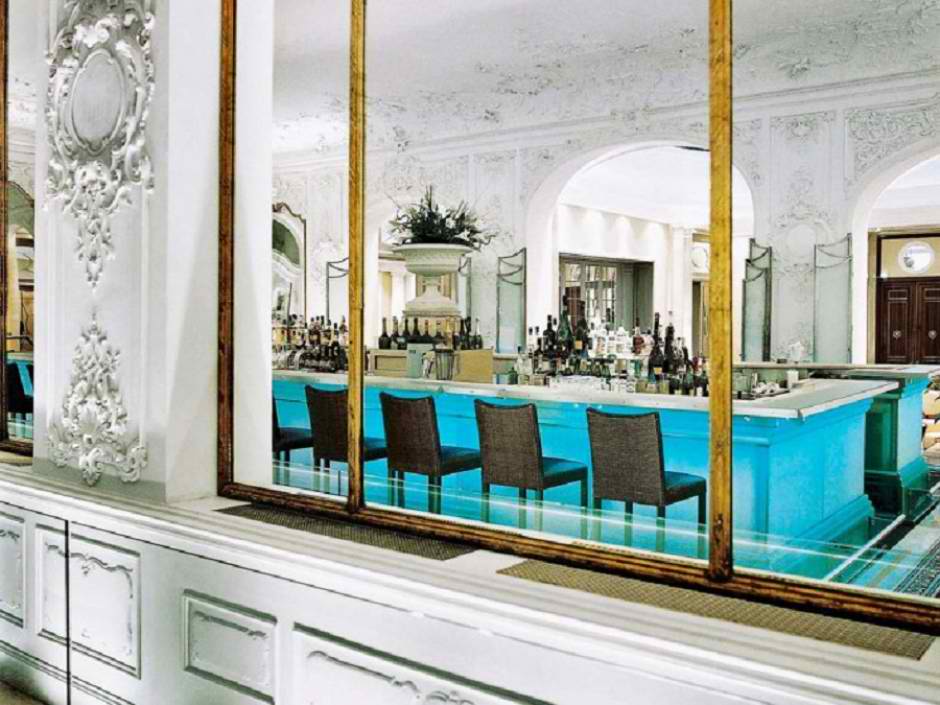 Falk's bar is located within the complex that occupies the Bayerischer Hof hotel in Munich. The bar was set up in the spectacular "room or mirrors" which was originally created in 1839 and the only room in the entire hotel that survived the damage of the Second World War.
Address: Hotel Bayerischer Hof, Promenadepl. 2-6, Munich
Phone: +49 89 2120956
14. Bemelmans Bar, New York, NY, USA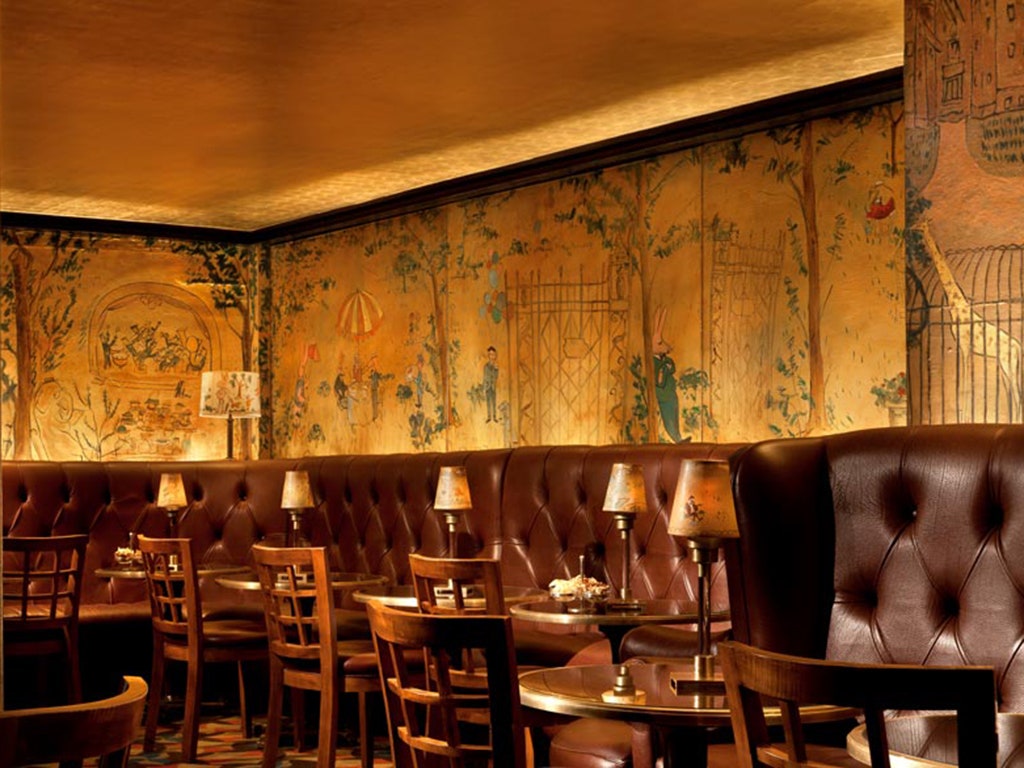 Hidden between the streets of New York, at the Carlyle Hotel, we find the Bemelmans Bar. This venue is named after the famous children's and youth book author, Ludwig Bemelmans. In fact, his book illustrations, such as "Madeline" decorate the club's walls.
Address: The Carlyle Restaurant, 35 E 76th St, New York, NY
Phone: +1 212-744-1600
13. Caviar Bar, St. Petersburg, Russia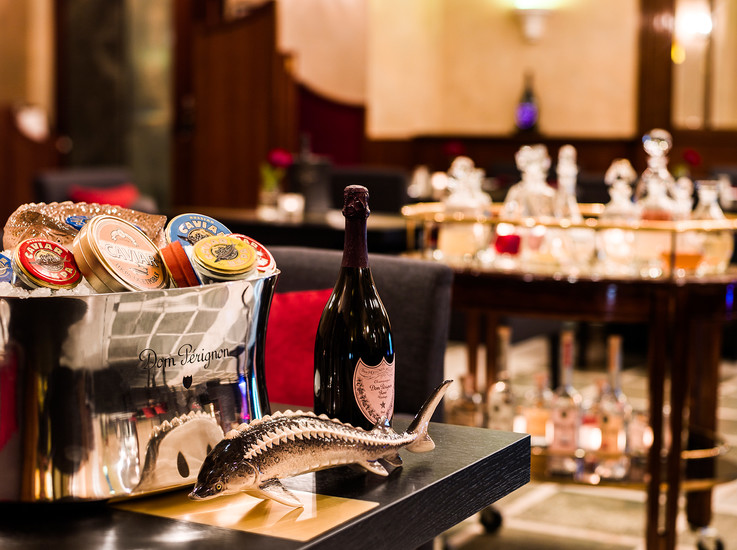 The opulent Caviar Bar of the Saint Petersburg Grand Hotel Europe boasts of having the only professional vodka sommelier in the while Russia among its staff. This is more than welcomed since the bar's list includes more than 30 different types of vodka. But, it doesn't end there! The menu also includes more than 30 types of caviar, which is why the restaurant carries that name.
Address: 7, Mikhaylovskaya ul., 1, St. Petersburg
Phone: +7 812 329-66-51
12. Antico Caffè Greco, Rome, Italy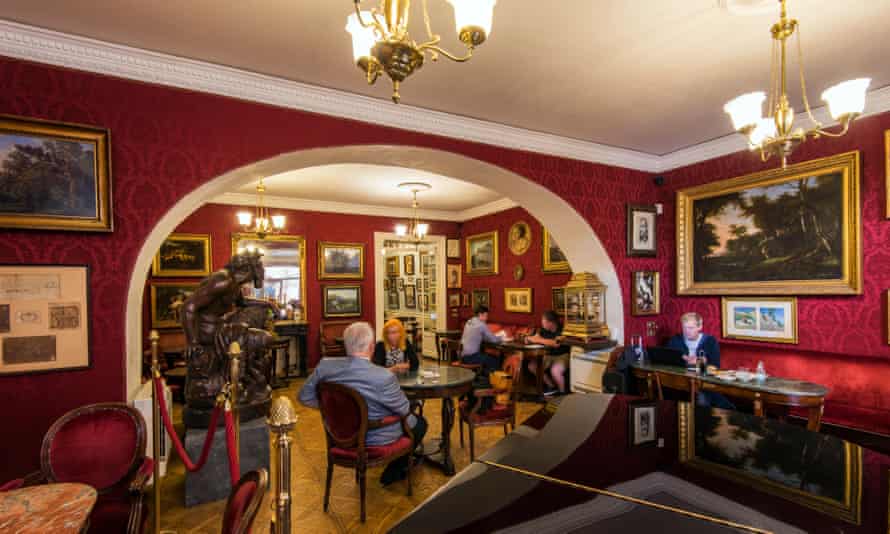 This is an ancient and historic place in the capital of Italy, which has been serving coffee and drinks since 1790. Some of its regular customers are John Keats, Charles Dickens, Mary Shelley, and Lord Byron, to name a few. Due to its history of welcoming famous writers, this cafe has earned a reputation of being a writers' "den".
Address: via dei condotti, 86, Rome
Phone: 06 679 1700
11. Artesian Bar, London, UK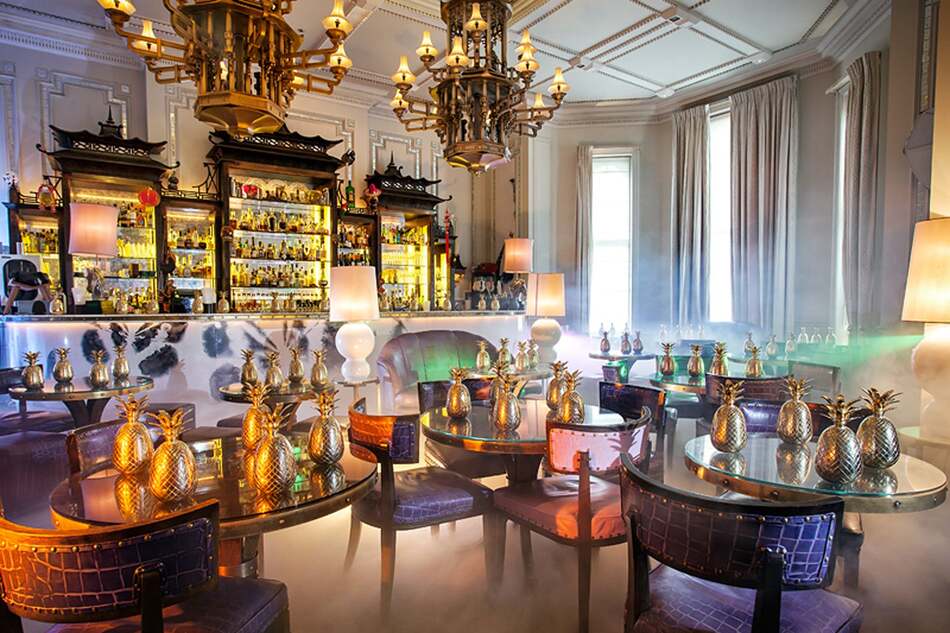 Rated as the best bar in the world in the World's 50 Best Bars, London's Artesian changes its cocktail menu every year. In one of the last years, the bar's theme has been "surrealism". During that time, drinks have been prepared and served in unusual and bizarre objects such as huge metal sculptures in the shape of ants, fur cups, and lego elephants.
Address: 1C Portland Pl, Marylebone, London
Phone: +44 20 7636 1000
10. Smuggler's Cove, San Francisco, CA, USA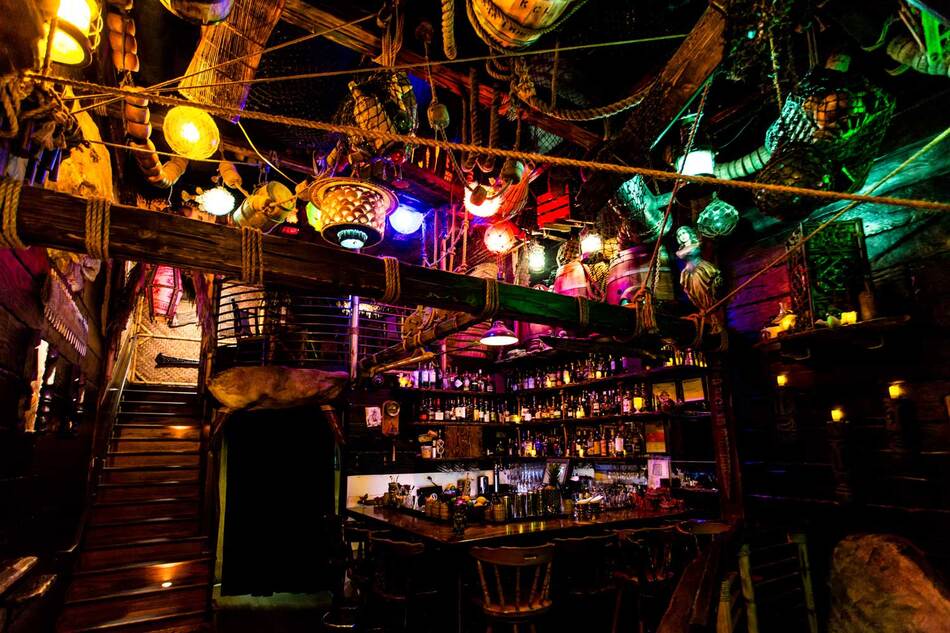 Everyone loves classic exotic-themed bars, and San Francisco's Smuggler's Cove is the world's best-known in this category. The bar is pirate-themed and reminding of Disney-style pirate ships. But don't get confused by the extravagant style! The menu is extremely varied and includes 400 types of rum, among which are found rare and vintage editions, as well as around 70 tropical cocktails.
Address: 650 Gough St, San Francisco, CA
Phone: +1 415-869-1900
9. Madame Claude, Berlin, Germany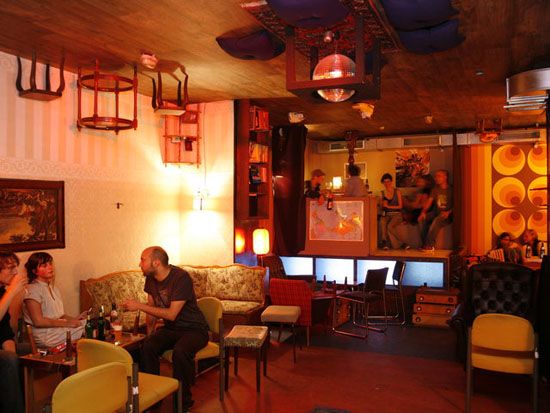 Located in what was once a brothel, the Madame Claude bar is a bar where everything is upside-down. Here, the tables, chairs, rugs, and bookcases are glued to the ceiling, thus creating a bizarre optical effect. At this bar, famous international DJs, famous artists, and famous musicians perform and special events are on the agenda.
Address: Lübbener Str. 19, Berlin
Phone: +49 30 84110859
8. Riad Yacout, Milan, Italy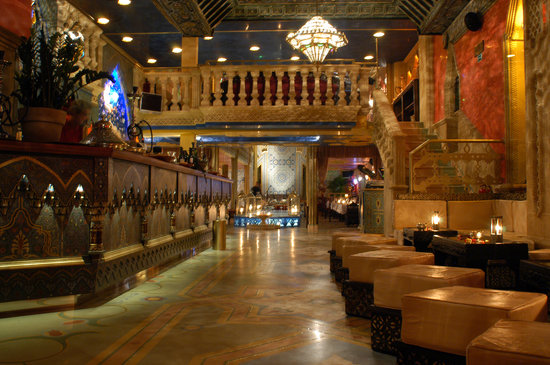 A Morrocan-style restaurant waits for you in Milan. In this bar, you can immerse yourself in an exotic environment and rediscover all your senses. There, you will enjoy the real atmosphere of Marrakech. The bar is spread over three floors and has sophisticated and exclusive areas.
Address: via Cadore, 25, Milan
Phone: 02 546 2230
7. The Ice Bar, Quebec City, Canada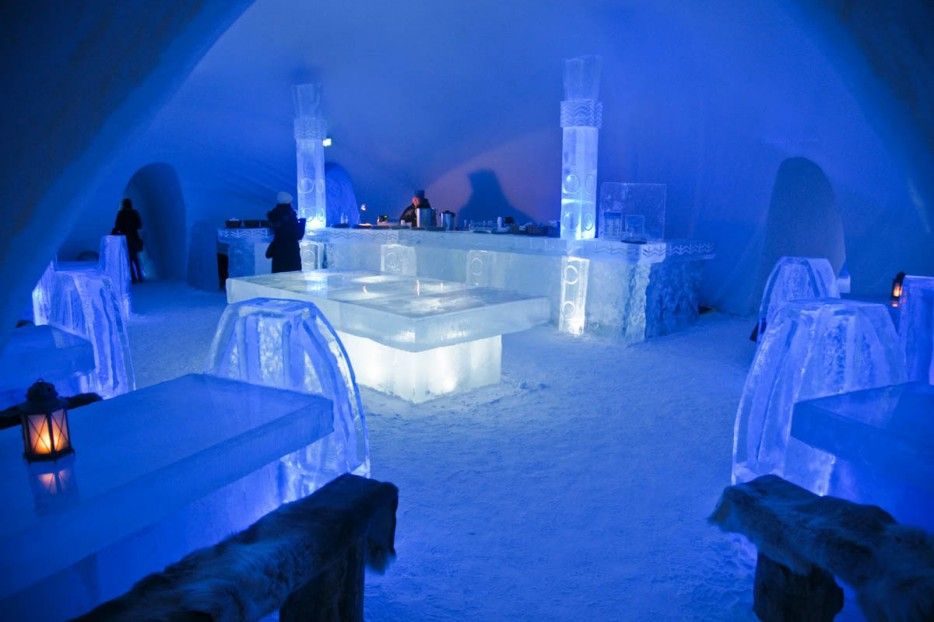 It's located inside the Hotel de Glace (Ice Hotel) in Quebec, Canada. As its name suggests, the bar is carved out of a massive block of ice.
Every year, it's renewed and changes its design so that customers can enjoy their drinks in a unique environment and from glasses and cups of ice.
Address: 1860 Boulevard Valcartier, Saint-Gabriel-de-Valcartier, QC
Phone: +1 888-384-5524
6. The Cave Bar, Dubrovnik, Croatia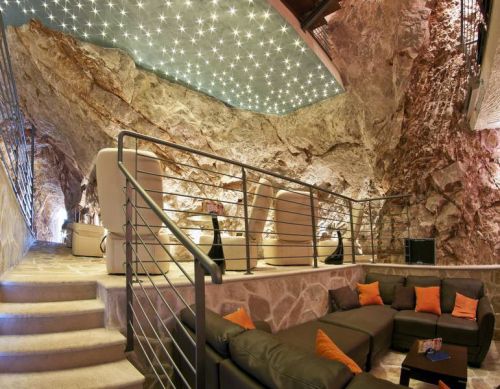 Cave Bar, at Hotel More in Dubrovnik, in Croatia, is located inside a majestic natural cave. The restaurant has specific multicolored lighting that makes the natural environment almost fantastic and romantic. Outside, the customers can enjoy their drink with a beautiful view of the Adriatic Sea.
Address: 11 – Šetalište Nika i Meda Pucića 12, Dubrovnik
Phone: +385 20 494 200
5. White Rabbit Restaurant & Bar, Moscow, Russia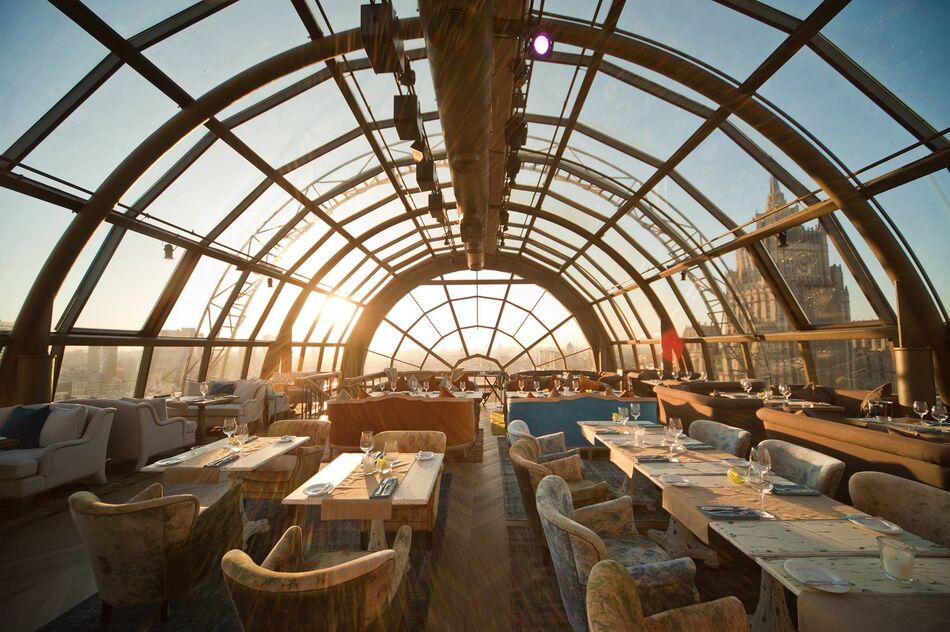 As the name suggests, this place whimsically embraces the Alice in Wonderland theme. There are lots of white rabbits and Rococo-style furniture … make sure you don't arrive late for an important date! The bar also features a panoramic dome that offers a spectacular 360-degree view over Moscow.
Address: Smolenskaya Square, 3, Moscow
Phone: +7 495 663-39-99
4. Blue Frog Lounge, Mumbai, India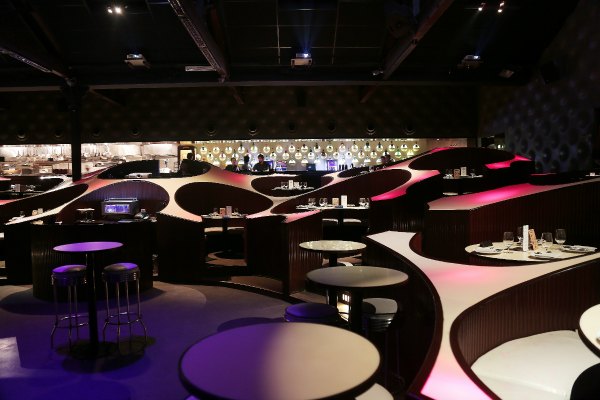 The interiors of this bar are made of a blue nodal structure that is well-highlighted by a large central light linking the whole area. In this lounge, there is an area for performances, for consuming drinks and dishes, a dance floor, and even a recording studio. It's also possible to sit in cylindrical booths, located in the main area, sculpted by a waving expanse of stepped wooden frames. Their surface is decorated with transparent plexiglass and illuminated with multicolored LED lights from below. The result is a network of semicircles of chromatic variation that outline the individual cabins.
Address: Zeba Center, Mathuradas Mill Compound, Senapati Bapat Marg, Lower Parel, Mumbai
Phone: +91 22 6158 6158
3. Baobab Tree Bar, Modjadjiskloof, South Africa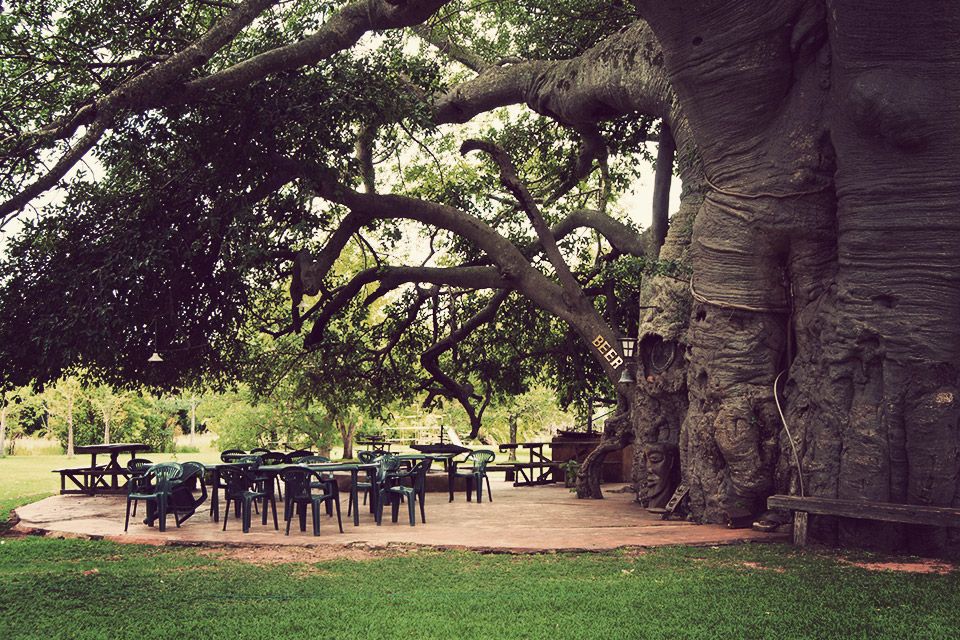 If you want to live an experience in a completely naturalistic bar, go to the Baobab Tree Bar in the province of Limpopo, South Africa. Maybe you will have a little trouble getting to the site (the bar has no address but only a PO box!) but what awaits you is truly unique. The bar is located inside a tree of about 22 meters which even has its own cellar.
Address: Not Available
Telephone: Not Available
2. Mirror Lounge & Club, Bali, Indonesia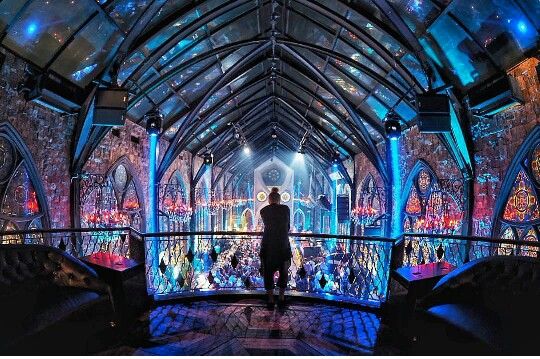 Dance the night away in an ambient reminding of a spectacular Gothic cathedral at Mirror Club, Bali, Indonesia. Famous DJs from around the world enliven the evenings at this elaborately decorated venue with high glass ceilings, huge chandeliers, and breathtaking architecture.
Address: Jalan Petitenget No. 106, Seminyak, Kuta Utara, Kabupaten Badung, Bali
Phone: +62 361 8499799
1. Northern Lights Bar, Nesjavellir, Iceland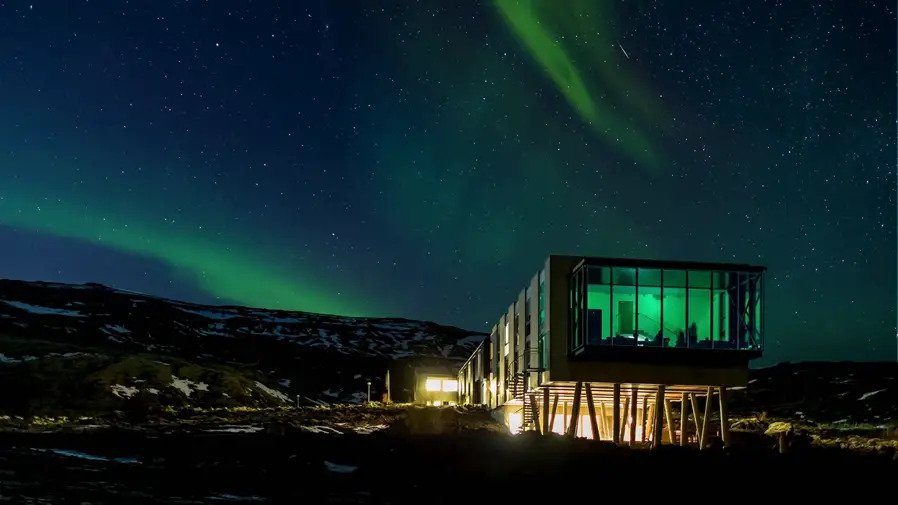 The Northern Lights Bar is located inside the ION Luxury Adventure Hotel. It is a place specially structured to enjoy an excellent view of the Northern Lights.
This bar is located about an hour from the capital Reykjavík, between majestic mountains and lava expanses. It is a sort of glass "cage" which protruding from the end of the hotel complex, thus allowing customers to relax with a drink and admire the fascinating and unique natural phenomenon.
Address: Nesjavellir vid Thingvallavatn, 801, Selfoss
Phone: +354 578 3700