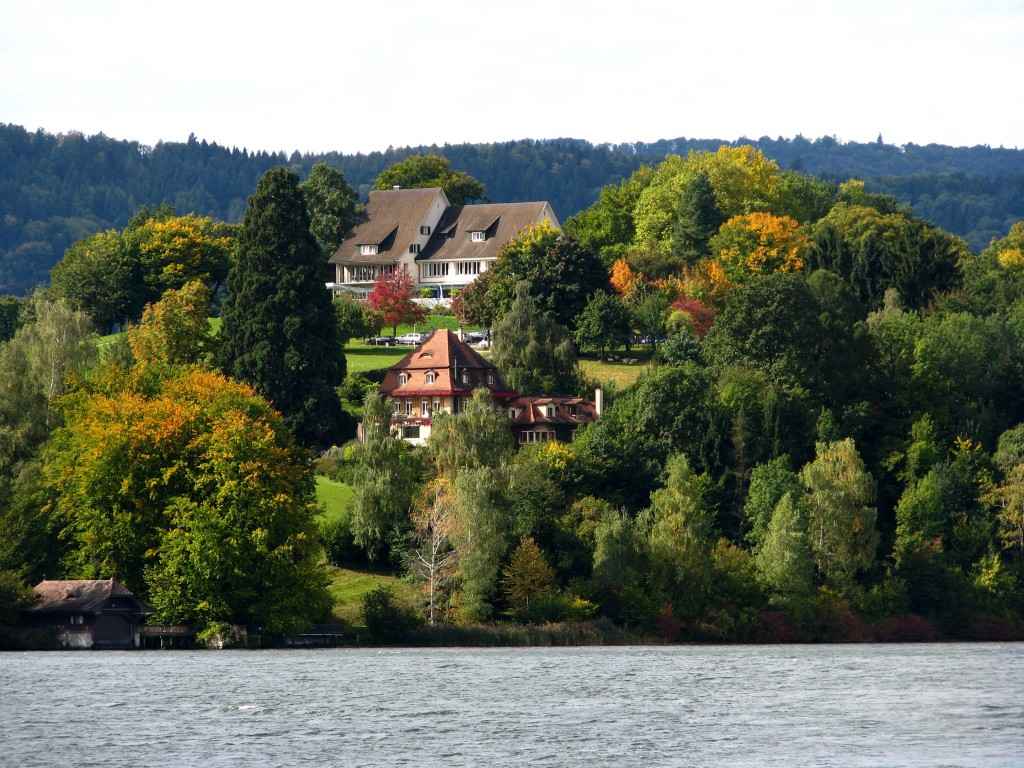 1)   Eyre Peninsula, South Australia
Perhaps Australia's best kept secret, the Eyre Peninsula boasts untouched stretches of stark white beaches, thousands of square kilometres of national park, and stunning views at every turn. The best thing is, you'll most likely have it all to yourself! It isn't the easiest place to get to, which is why it is not over-run by hoards of tourists. From Adelaide – South Australia's capital city – you will need to drive or catch a bus 8 hours, or take a short 45 minute flight to Port Lincoln, the main city of the Eyre Peninsula. It's all about the outdoors here – 4-wheel-drive over sand dunes, swim in the pristine beaches, go stand-up paddling boarding or kite surfing, and go whale-watching at the top of the Great Australian Bight. Here you can sample the best and freshest seafood Australia has to offer.
Notes:
Get your Jaws fix with a shark-cage diving tour leaving from Port Lincoln. There are a couple of tour operators who will take you to see Great White Sharks in their natural habitat. Swimming with sea-lions or tuna is also on offer for something a little more mild!
As you head west, stop at the mind-blowing rock formations of Murphy's Haystacks near Streaky Bay.
Spend at least one night camping in the beautiful Coffin Bay National Park and try the famous Coffin Bay oysters.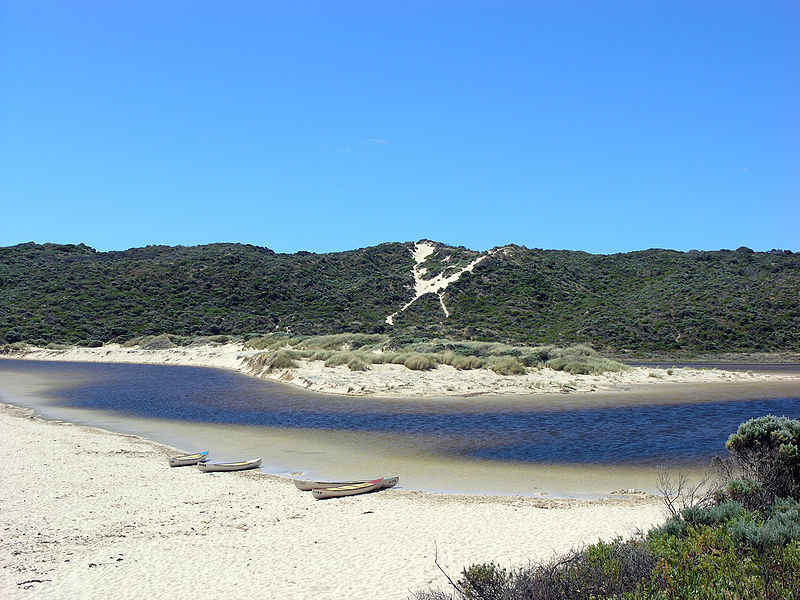 2)  Margaret River, Western Australia
The Margaret River region in south west Western Australia is known for its wineries, amazing beaches, and laidback lifestyle. Busselton is the largest town of the region and here you will find plenty of accommodation options, but the quaint seaside towns of Yallingup and Dunsborough are nicer places to base yourself during your stay. Divers will delight in the HMAS Swan wreck dive and surfers won't be able to get enough of the perfect breaks. Take a day or two to tour the wineries and sample the world-class drops on offer. Get involved with the region's burgeoning artisan culture and tuck into home-made cheeses and chocolates and pamper yourself with hand-made lotions and soaps. There are specialised spa retreats in the region to restore your body and soul. Choose a 'women's only'or 'meditation' or 'eco' themed retreat for your stay. Alternatively, join a beach yoga class or book in for a reiki session.
Notes:
Busselton hosts Southbound Festival on the first weekend of every year. Kick off the New Year with world-famous bands, just don't forget to wear sunscreen!
Summer is the best time to enjoy the Margaret River Region's beaches, but there's something to amuse everyone all year round here.
Between June and November you can watch whales migrate north from the Antarctic.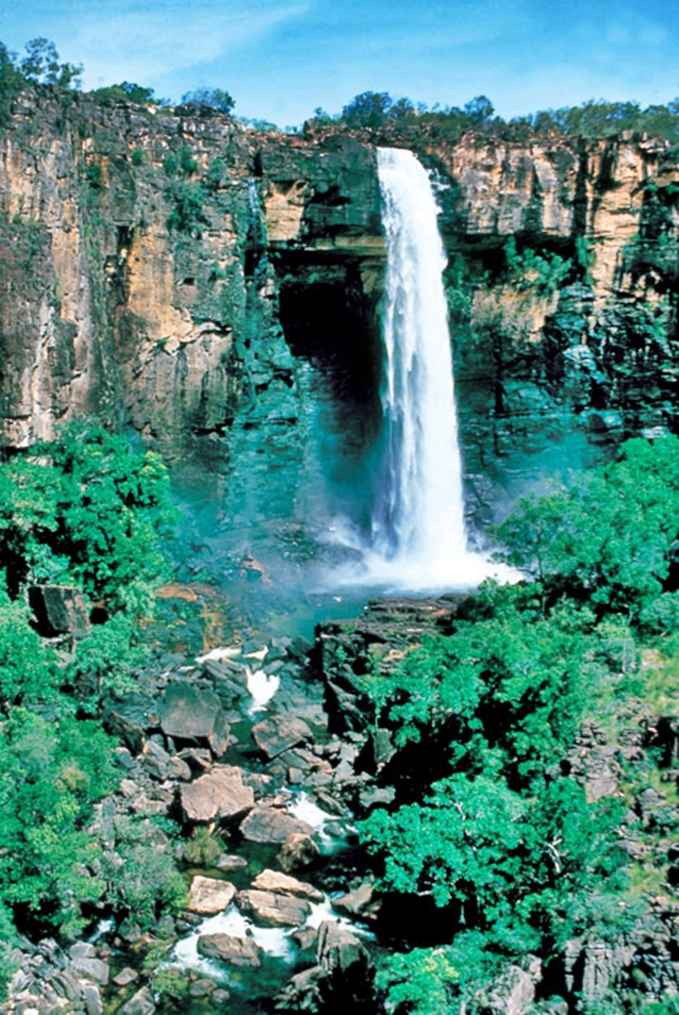 3)  Kakadu National Park, Northern Territory
The Northern Territory is home to some of the most spectacular national parks in all of Australia. The largest, covering over 20 000 square kilometres, is Kakadu. With stunningly diverse landscapes ranging from wetlands to rocky escarpments, Kakadu affords visitors unique experiences at every turn. Take a cruise along the wetlands to get up close and personal with saltwater crocodiles, turtles, and all kinds of native birds. Learn about ancient Aboriginal culture with some of the best preserved rock paintings. The dry season runs between May and October every year and all sites are open during this time. Free guided tours are provided daily by the park rangers. The wet season is between November and April and is less popular for visitors. Not all sites are open in the wet season due to flooding, but visiting during this time will still provide you amazing experiences. Take a helicopter flight over thundering waterfalls, enjoy electrifying storms in the afternoon, and enjoy being one of only a few people in the park.
Notes:
On your way back to Darwin make sure you take a trip through Litchfield National Park to enjoy more gorgeous waterfalls and fresh-water swimming.
To see all of the park's attractions you will need a four-wheel drive car. If you arrive to Kakadu by coach you can join a 4WD tour to get around.
Kakadu's Aboriginal owners recognise six seasons based on changes in weather and which plants are flowering.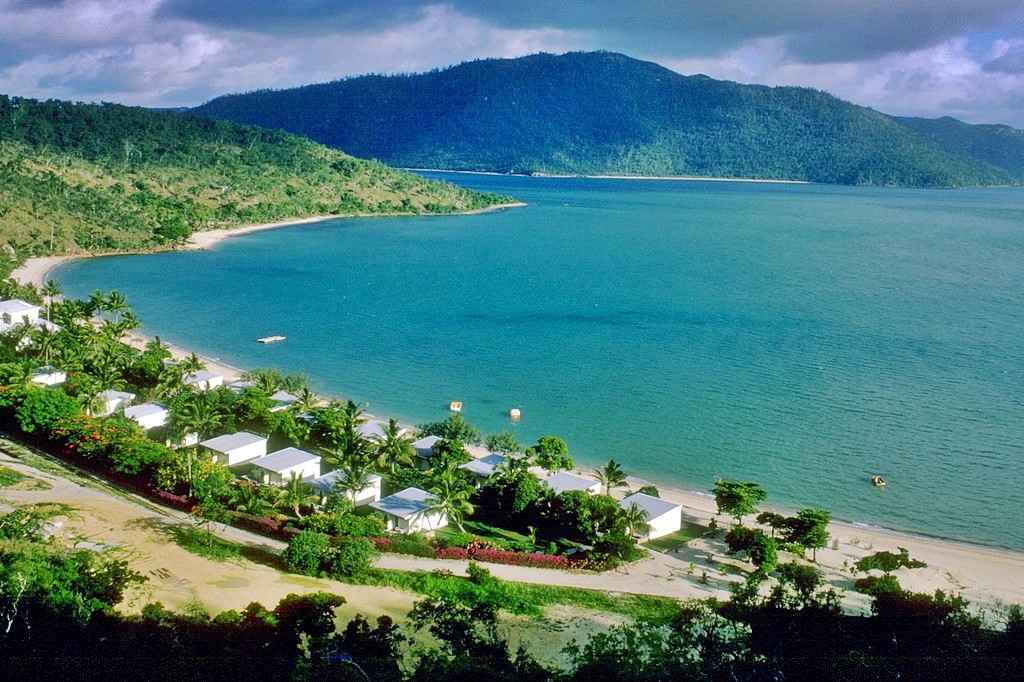 4)  The Whitsundays, Queensland
The Whitsundays are a group of 74 islands just off Queensland's tropical coast. Embodying everything the international visitor envisions of Australia, there are pristine white beaches, crystal blue waters and perfect weather year round. Airlie Beach is the central hub for visiting the Whitsunday Islands. Here you can find accommodation for every budget, from 5 star hotels to backpacker hostels. Airlie Beach has a permanent holiday feel and excellent nightlife. From here you can book cruises out to the islands, go bushwalking, learn to scuba dive, or go snorkelling. The Whitsundays are also the closest point to the Great Barrier Reef. This Heritage Listed, 200 kilometre-long stretch of reef is one of the Seven Natural Wonders of The World and is a must-see for every visitor to Australia.
Notes:
For a truly luxurious experience book a stay at the One&Only Hayman Island – Australia's premier luxury resort. If your budget doesn't extend that far the family resorts of Daydream Island and Hamilton Island are popular alternatives.
Whitehaven Beach on Whitsunday Island (the largest of the 74 islands) is consistently voted in the top beaches of the world and is a must-see. 7 kilometres of perfect white silica sand and perfect ocean are bordered by tropical vegetation. It's possible to camp the night too.
Taking a multiple-night cruise around the islands is the best way to truly experience all of the natural beauty the Whitsundays has to offer. If you know how to sail you can even charter your own yacht!

Cradle Mountain, Tasmania via https://commons.wikimedia.org/wiki/User:Lc95~commonswiki

5)  Cradle Mountain, Tasmania
In the Tasmanian Wilderness World Heritage Area in the central highlands is the walkers' paradise of Cradle Mountain Lake St Clair National Park. Encompassing old-growth rainforest to pine groves to grasslands and icy mountains, this park affords visitors the opportunity to marvel at the diversity of Australia's scenery. Spend a day tackling the wild and rugged Cradle Mountain and soak in the views from the summit. For a gentler walk there is the park's other name-sake, Lake St Clair, where you can stroll through forests and around the lake's edge. When your legs need a rest you can experience the park from the air or the water with a scenic flight or a lake cruise. Winter is bitterly cold in Tasmania so it is best to visit in the other seasons. In late spring and summer there are amazing displays of wildflowers all over the park.
Notes:
Cradle Mountain is the starting point for the 6-day hike called The Overland Track. For avid hikers this is an experience not to be missed!
For those who like roughing it, it's possible to camp in the park, but if you are a luxury-seeker Cradle Mountain Lodge will satisfy your every need.
Once known as Ayers Rock, this enormous rock (the biggest single rock in the world) looms out of the middle of nowhere in central Australia. Over three hour's drive from Alice Springs, this Australian icon is a must-see for any visitor Down Under. It's still legal to climb to rock if the weather permits but the most amazing way to experience Uluru is to get up early and watch its colours change as the sun rises over the desert. If you're not an early riser it is still stunning to spend sunset at the rock with a glass of champagne in hand! Just down the road are The Olgas – another amazing geological formation and sacred indigenous site.
Notes:
On your way back from Uluru make sure you spend at day at King's Canyon – yet another jewel in the Northern Territory's sightseeing crown.
Visit the Cultural Centre to learn about the Anangu people and their relationship with Uluru.
There are many walks to do in the area – get up close and personal with the rock itself by walking the 10.6km loop around the base, or take a guided Mala walk to Kantju Gorge to see rock art and learn about how the Anangu people lived. 

Southern Tasmania via By Seeboundy (Own work) [CC BY-SA 3.0 (http://creativecommons.org/licenses/by-sa/3.0)], via Wikimedia Commons




7)  Southern Tasmania, Tasmania
The island of Tasmania is stunning in its entirety, but if you don't have time to explore the whole thing you can easily base yourself out of the capital, Hobart, for a few days to get a feel for the beauty of the place. Originally settled by the British as a penal colony, this area is full of fascinating history. Head out to Port Arthur for a day for a grittily fascinating glimpse into what it was like to be a prisoner in Australia. During your stay in Hobart make sure you visit The Museum of Old and New Art (MONA) – the largest privately funded art museum in the Southern Hemisphere located on the beautiful grounds of Moorilla winery.
Notes:
The Taste of Tasmania is a food and wine festival held at the beginning of every year on Hobart's waterfront
If you have the time, take a day trip to the stunning Bruny Island.
Visit in summer – Tasmania's unpredictable weather is more likely to be nice then. Winters are bitterly cold!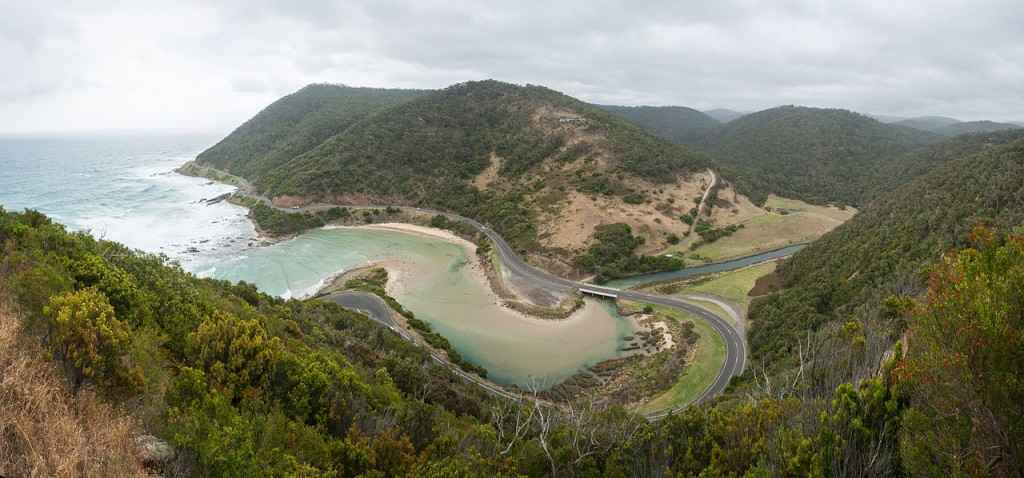 8)  Great Ocean Road, Victoria
One of the world's greatroadtrips, driving along the Great Ocean Road will make you feel like you are in a car commercial! Start of in the increasingly hip city of Geelong and finish in South Australia's Mount Gambier and experience some of the world's most gorgeous coastal scenery along the way. From Geelong you'll begin with nature that almost borders on tropical forest, and huge hills that give way to pristine white beaches, before hitting the cliffs and shrub of Western Victoria, which is home to the famous 12 Apostles, rock stacks that have been carved out of the limestone cliffs over millennia.
At around the mid-point of the Great Ocean Road near the town of Torquay you'll find Bells Beach, home to the world's longest running surfing competition, The Rip Curl Pro
Southern Victoria can get quite chilly over winter, so aim to be there between October and April if you want to enjoy the beaches
The beachside Byron Bay on New South Wales' north coast has been a mecca for hippies, surfers, and tourists looking for the quintessential Australian beach experience for years. Some say it's over-commercialised now but in truth it is as beautiful as ever and retains its original vibe. A must-visit for visitors to Australia's east coast, Byron Bay is very easily accessible by bus, car or plane from Sydney, Brisbane, or anywhere in between. There are plenty of activities to keep you entertained outdoors or in. Take a bike, gyrocopter or kayak tour, or discover your spiritual side with any manner of natural healing courses or treatments. The Hinterland around Byron Bay is also worth exploring. Head inland for stunning views over lush green hills and valleys. A visit to the famously 'green' Nimbin will time-warp you back to the heyday of hippie culture.
Notes:
If you're unlucky enough to encounter some rainy weather during your stay, head to Circus Arts Byron Bay. Open 7 days a week and offering all manner of indoor activities from yoga to circus, Circus Arts will have the whole family entertained all day.
Music lovers flock to Byron Bay every Easter for Byron Bay Blues Fest. Get your ticket early and groove your holiday away.
Byron Bay has glorious weather year round, but tends to get expensive in summer and school holidays. Visit in the shoulder season for the best compromise on weather and price.

Barossa Valley, South Australia via By Amanda Slater (originally posted to Flickr as Barossa Valley. SA) [CC BY-SA 2.0 (http://creativecommons.org/licenses/by-sa/2.0)], via Wikimedia Commons




10)  Barossa Valley, South Australia
While Australia boasts a multitude of great wine regions – Margaret River, The Hunter Valley, The Yarra Valley – The Barossa Valley is the jewel in the crown. Home to such labels as Wolf Blass, Penfolds and Peter Lehmann, here you will find the oldest red wine vineyards in Australia. Situated just an hour out of South Australia's capital, Adelaide, a variety of tours are available from the city that allow you to taste some of the finest drops the world has to offer. For those wanting more than a day trip, the region is home to a plethora of cute bed & breakfasts whose architecture touches on the original German settlers' heritage.
The Daintree Rainforest stretches for over 1000 square kilometres on the north east coast of Queensland. North of Cairns – itself an amazing place to visit – the Daintree is easily accessible and has a multitude of ways for visitors to explore the beauty of the rainforest. You can zip-line through the canopy or view it from an elevated boardwalk, cruise down the Daintree River on a boat or ride through the vegetation on horseback, and swim at a secluded beach or snorkel over the Great Barrier Reef. There are multiple tour operators who can tailor your Daintree experience to your time frame, or if you prefer to go it alone you can do self-guided walks and cook your own lunch on one of the free barbeques. There are accommodation options for every budget, ranging from camp grounds to backpacker hostels to spa resorts.
Notes:
There are some stunning spots in the Daintree for fresh-water swimming, just make sure you take note of the crocodile warnings!
For a thrilling four-wheel drive experience tackle the Bloomsfield Track which starts in the Daintree and will take you all the way up north to Cape Tribulation.
The most recognisable scenery in Australia, no trip to the island continent would be complete without enjoying the beautiful Sydney Harbour. Part of the larger harbour of Port Jackson that connects downtown Sydney with the Pacific Ocean, the classic photo of the Opera House in front of the Sydney Harbour Bridge is one that every discerning tourist needs in their collection. There are a multitude of ferry options to help you explore the waters, where you can learn all there is to know about the location of the first European settlement in Australia.
An Australian institution, the Sydney to Hobart yacht race sets off from the harbour on the 26th of December every year
If you feel like getting the blood pumping, check out BridgeClimb for the opportunity to get the best views of Sydney atop the Harbour Bridge
Catch sight of Kirribilli House (the Australian Prime Minister's residence), and Fort Denison (a former penal island) from the comfort of a tourist ferry

The Kimberley, Western Australia via By Travel & Shit from Brighton, UK (Mitchell Falls, The Kimberley, Western Australia) [CC BY-SA 2.0 (http://creativecommons.org/licenses/by-sa/2.0)], via Wikimedia Commons




13)  The Kimberley, Western Australia
The Kimberley region of Western Australia is home to some of Australia's most iconic vistas. From the beaches of Broome to the dramatic rugged Bungle Bungle Ranges, this is the Australia that you see in advertisements. For a true outback four-wheel drive adventure you can tackle to Gibb River Road 660 kilometres through gorges and rivers. Visit the spectacular Mitchell Falls including the scenic hike to the famous waterfall, or take a flight over the majestic waterway. Fresh water swimming is at its best at the start of the dry season (May to October) in the many gorges of the Kimberley, including Lennard, Bell, Dimond and Manning Gorges. This region is sparsely populated and is one of the world's last great wildernesses. If you don't own a four-wheel drive or aren't particularly intrepid, organise a tour through the visitors centres of Broome or Kununurra.
Notes:
For a truly iconic experience take a camel ride along Cable Beach at sunset.
Visiting in the 'winter' months is optimal for a visit to the Kimberley. Summer months tend to be most rainy and there's risks of tropical cyclones between November and April!
No visit to the Kimberley is complete without visiting the magical man-made Lake Argyle. Swim, canoe, cruise or fly around this beautiful Lake to experience its beauty.

Melbourne, Victoria via By Montage by HappyWaldo. [CC BY-SA 3.0 (http://creativecommons.org/licenses/by-sa/3.0) or GFDL (http://www.gnu.org/copyleft/fdl.html)], via Wikimedia Commons




14)  Melbourne, Victoria
When we think of the best places to visit in Australia it's easy to jump straight to endless wilderness and pristine beaches, but let's not forget the island nation's urban beauties! Head to Melbourne – Australia's cultural capital – to experience one of the world's most lively, vibrant and cosmopolitan cities. Lose yourself in the many lanes of the city centre enjoying delicious food from the many cafes; head to St Kilda for the Aussie beach experience; or catch a sporting event at one of the country's most famous arenas. In summer you can see the tennis greats battle it out at Rod Laver Arena at the Australian Open, or in winter you can experience Australia's national sport – Australian Rules Football – at the MCG. Shopaholics will also rejoice at the retail opportunities here; from Bourke Street Mall to Chadstone Shopping Centre, there won't be enough hours in the day to see it all. The only down side to Melbourne is its unpredictable weather, the saying 'four seasons in one day' was invented for this city! Make sure you take an umbrella even if the sun is shining.
Notes:
Visit the Melbourne Aquarium to get up close and personal with Australia's sea creatures.
Melbourne's night life is second-to-none, make sure you visit at least a few of their roof-top bars.
Eureka Skydeck 88 is the observation platform on the 88th floor of the Eureka Tower on Melbourne's Southbank. Open between 10am and 10pm every day, the views from the Skydeck will take your breath away.

Kangaroo Island, South Australia via By Paul Asman and Jill Lenoble [CC BY 2.0 (http://creativecommons.org/licenses/by/2.0)], via Wikimedia Commons




15)  Kangaroo Island, South Australia
A relative new-comer to the Australian tourism hit list, Kangaroo Island is an idyllic place to experience pristine beaches and untouched wilderness that visitors expect of Australia. The island is just off South Australia's southern coast and is easily accessible by plane from Adelaide or by ferry from Cape Jervis. Animal lovers will be able to spot penguins and sea lions on the beaches and echidnas, wallabies, kangaroos and koalas on the land. In the cooler months Kangaroo Island is a great place to whale-watch as Southern Wright whales migrate with their young. Foodies will love the Food and Wine Trail which takes visitors from farm-gate to cellar door, sampling home-made cheeses, local wines and seafood treats along the way. Kangaroo Island is a destination for the whole family and self-drive holidays are usually the best way to experience it, however, if you don't have access to a car there are plenty of tour operators who will show you the best of what the island has to offer.
Notes:
Remarkable Rocks in Flinders Chase National Park are a must-see Kangaroo Island attraction. Clamber over these stunning geological formations and feel like you are the only person in the world.
Summer is the best time to visit as winter is too cold to swim at the glorious beaches. Visit during the FEASTival or Cup Carnival for added fun.
The premier luxury resort Southern Ocean Lodge is set into the wilderness of Kangaroo Island's west. This all-inclusive resort is among the most expensive in Australia – the $1400 per night price tag includes all meals, tours and transfers though!
Save