As summer is approaching, the desire to go to the beach to sunbathe, take a walk, and relax is increasing more and more. Some people choose to attend the classic "VIP" beaches full of people because they prefer nightlife and fun, while others choose to spend their holidays on beaches with breathtaking landscapes constantly searching for the most beautiful sea in the world.
For those who prefer relaxation, nature, and adventure, here's the list of the most beautiful beaches in the world. Who knows, you may find the destination of your dreams among them.
NOTE: The following list is a result of a survey in which participated over 10,000 travel enthusiasts. They were asked to express their preferences, choosing the 25 most beautiful beaches among the over 100 beaches selected by our editorial staff.
25. Noosa Beach, Australia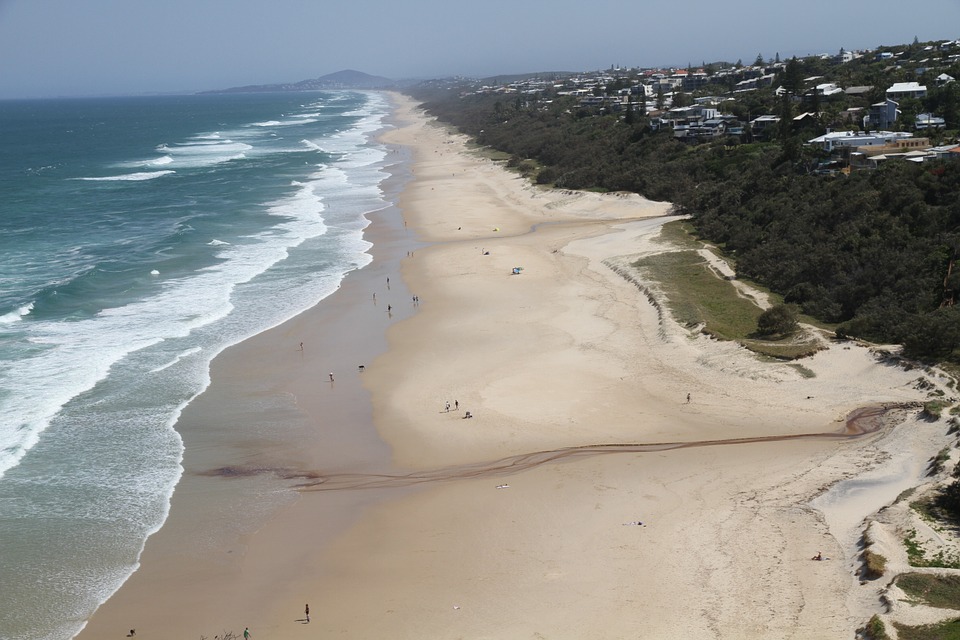 If there's a perfect combination of pristine beaches, tropical paradises, and luxury resorts, well, that's Noosa Beach. A golden beach that looks like it was painted by an artist, a lush hinterland, national parks.
For those into diving, it's possible to discover the remains of the wreck of the HMAS Brisbane. And, if that's not enough … look around, there is the coral reef!
24. Malibu Beach, California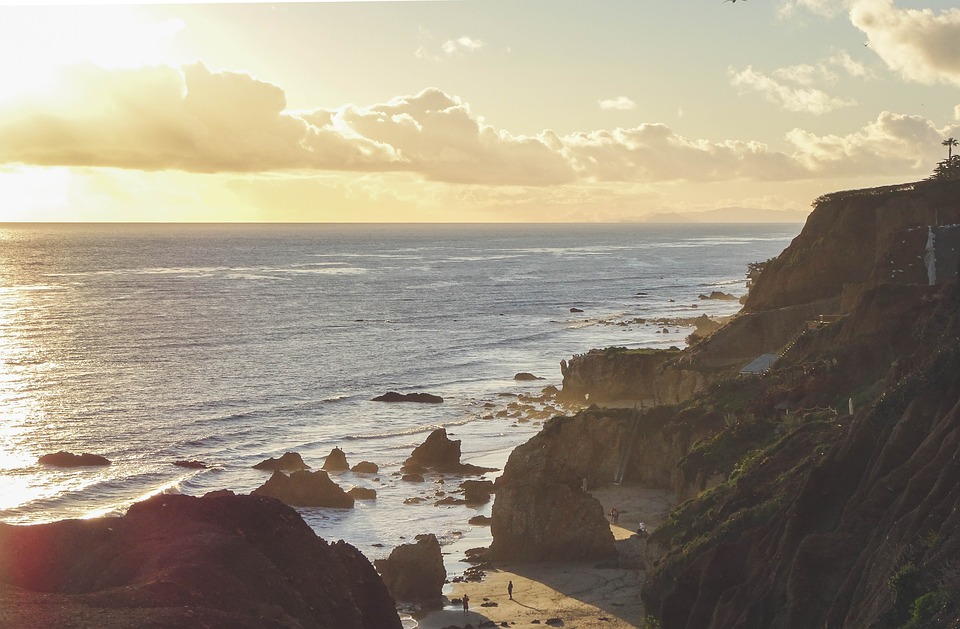 We are in a super VIP area, like Beverly Hills, in a city west of Los Angeles. The beaches of Malibu are sandy and ideal, both, for those who love to sunbathe and relax between a dip and another and for those looking for adrenaline-pumping waves. Actually, to the east of Malibu is Lagoon State Beach, which is also known as Surfrider Beach for its waves.
23. Half Moon Bay, California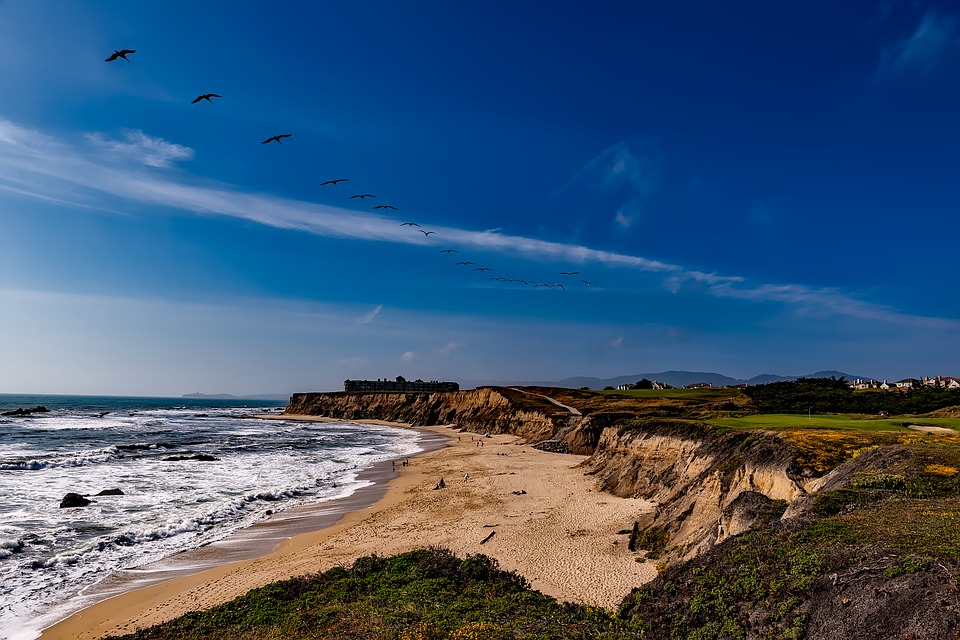 Located about 40 km from San Francisco, the bay bears the same name as the municipality that hosts it. It's a protected marine area to preserve its marine ecosystem and ocean fauna.
Bordered by Pillar Point, it's a privileged area for surfers, especially the northern border area called the Mavericks, where the waves can reach up to 15 meters.
22. Cala Goloritzè, Sardinia, Italy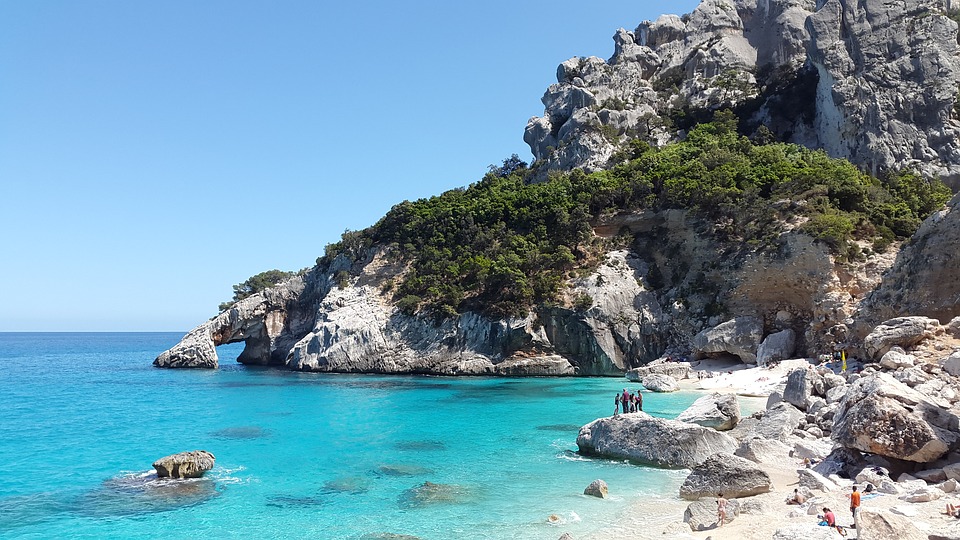 Cala Goloritzè is a dream corner with white pebbles that are lost in a postcard sea, though it's icy. Indeed, the seawater here is very cold due to the currents.
A characteristic item of this beach is the 150-meter high spire, which is a kind of stack besieged by climbing lovers.
This beach was declared an Italian National Monument in 1995.
21. Ocho Rios, Jamaica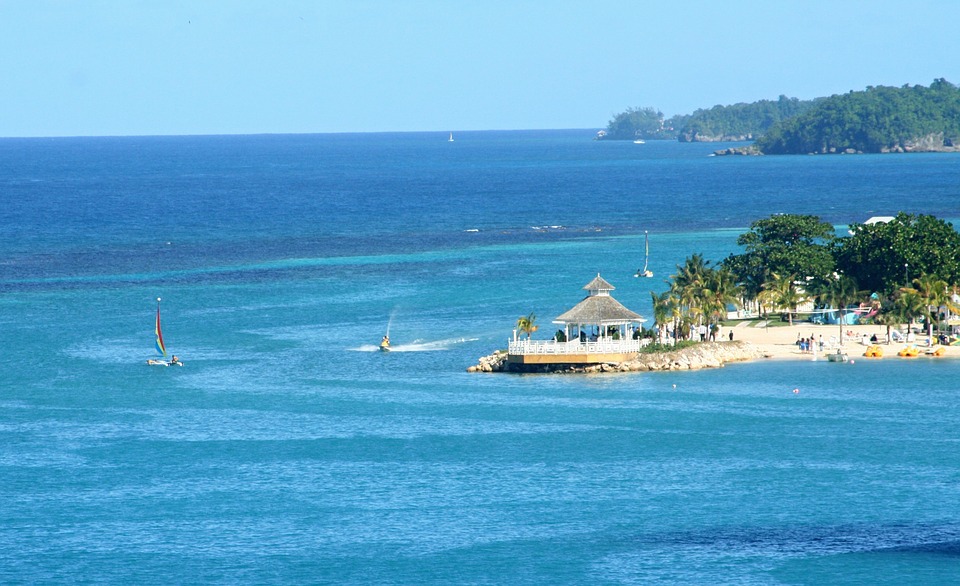 Born as a port city of Jamaica, its natural beauty has led to a strong tourist development complete with a port for cruises. The bay has an exceptional beach, very popular and full of clubs and hotels all around. The contrast with the territory behind it is very strong because you pass from the beach to the row of clubs and hotels and end up in a rainforest with rivers and waterfalls that create bathing lagoons.
20. St. Ives, Cornwall, England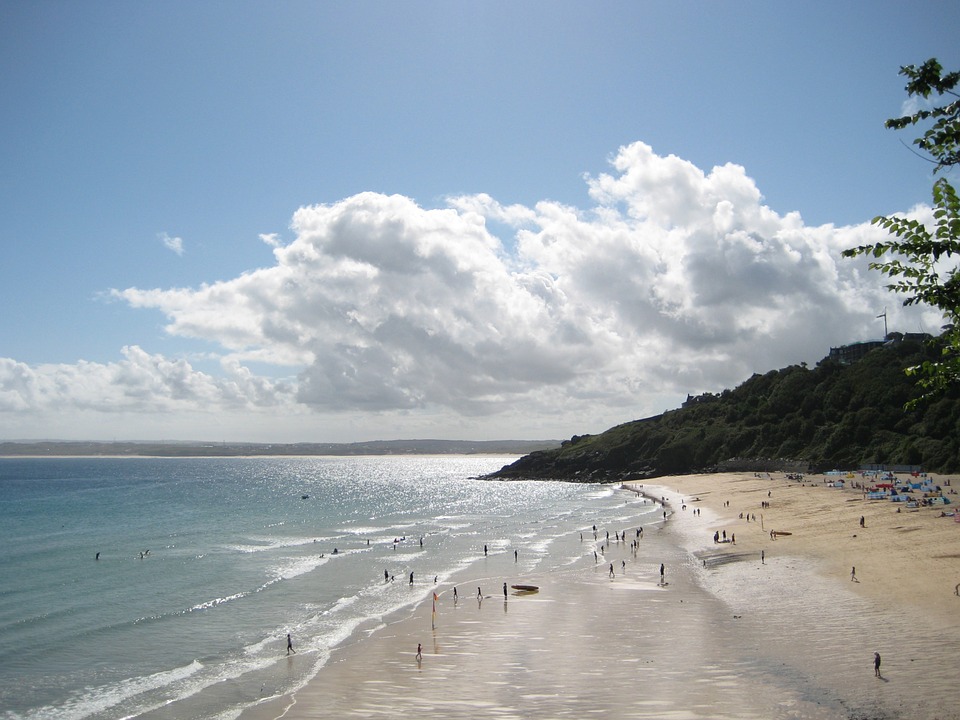 Breathtaking sunsets and sunrises mark the days in the bay of Saint Ives, a large sandy cove with a turquoise sea.
It's ideal for surfers and windsurfers as well as for hikers and climbing enthusiasts as there are cliffs and paths all around. In short, there is something for everyone!
19. Boracay White Beach, Philippines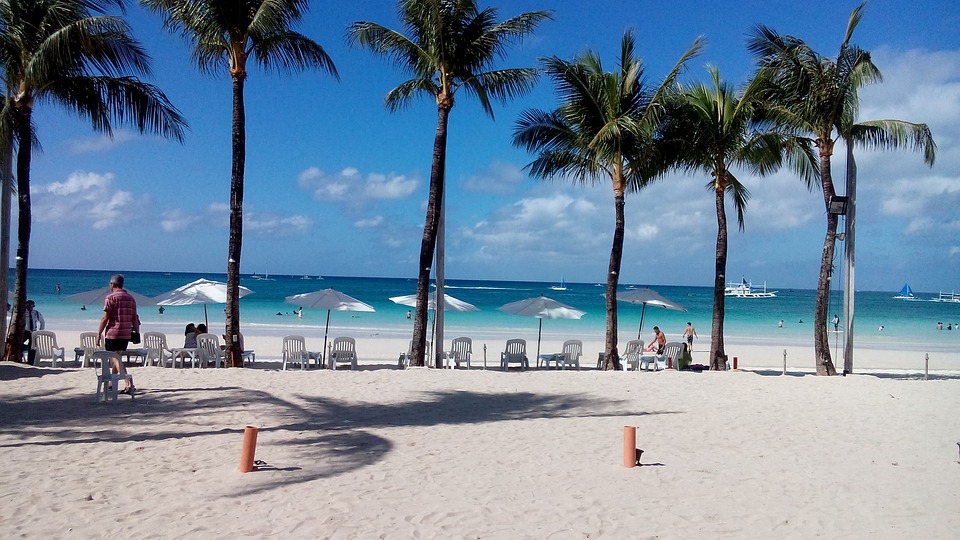 The most beautiful island in the archipelago, which is besieged by thousands of tourists every year in search of paradise because that's what it is – a real paradise. White sand and transparent water with a thousand shades of green and turquoise, a dreamy destination for those who want to escape reality and immerse themselves in the wonders of nature.
What was practically an unknown and unspoiled destination in the 1980s, has been plundered by the tourism industry, which unfortunately resulted in " closed for restoration ".
18. Mayan Beach, Tulum, Mexico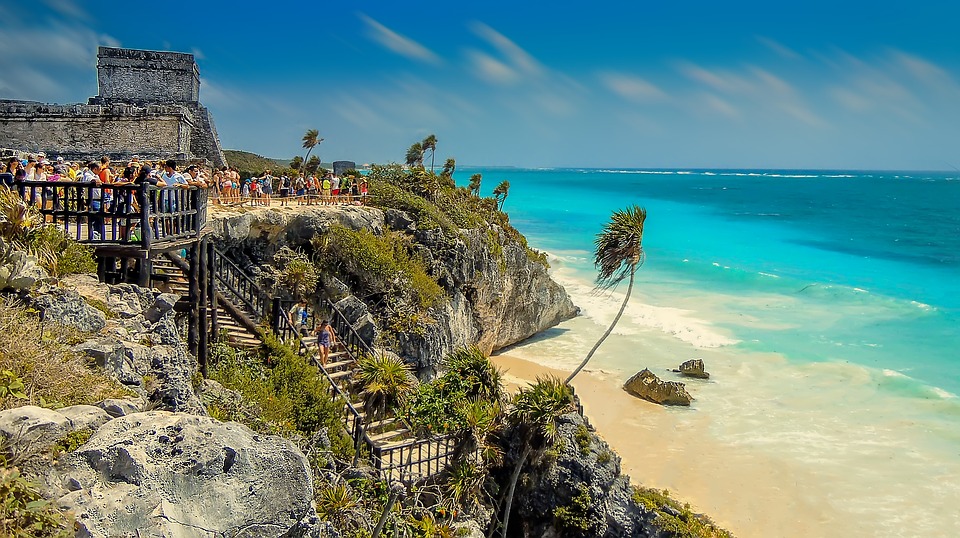 We are about 60 km from Playa del Carmen, on the Riviera Maya. There you can witness a truly unparalleled spectacle: the ruins of Tulum's temples are the backdrop to one of the most beautiful beaches in Central America, the Mayan beach. It looks like a beach from a postcard, but in reality, it is a cove with white sand and palm trees all around and even a coral reef offshore.
17. Playa Varadero, Cuba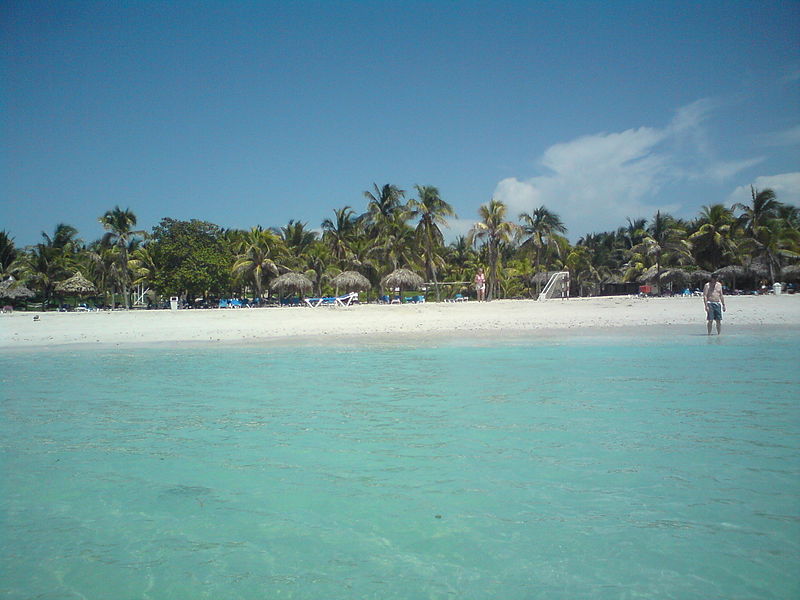 Also known as Playa Azul (eng. Blue Beach), it is a spit of land of 30 km 22 of which are beaches. With mixed sand of gold and pink color, it is unanimously considered the most beautiful of the Cuban archipelago.
The only "remark" about this beach is that it seems as if it's more in California than in Cuba, due to the proliferation of large hotel cocktail bars that are more US-style than Cuba-style.
16. Clearwater Beach, Florida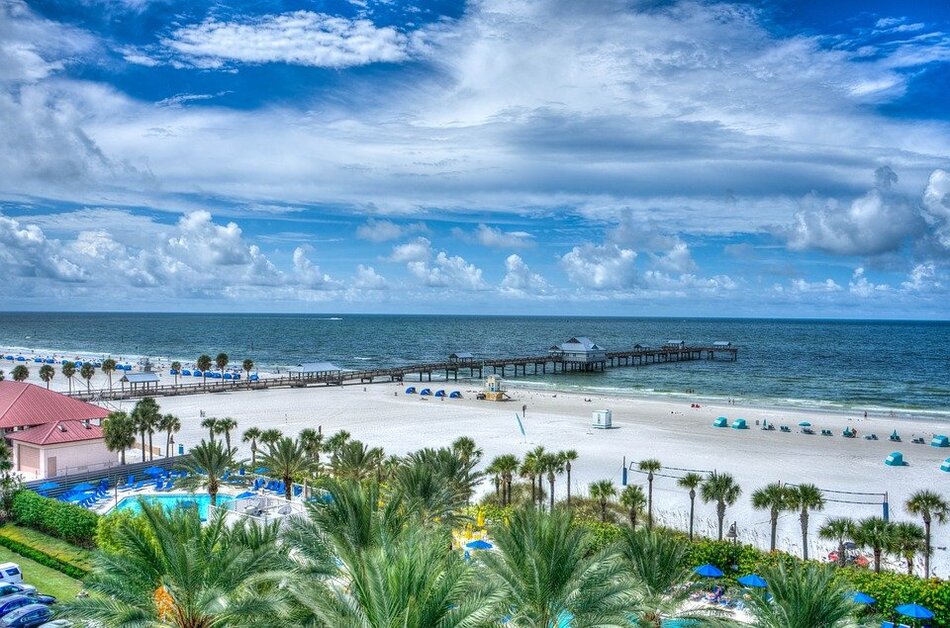 4 km of white beach overlooking the Gulf of Mexico connected to a coastal strip (Sand Key) by a bridge. Due to being located in Florida, there are shops, bars, restaurants, clubs, hotels, lifeguards, and baywatch-style bathers, but most of all, activities ranging from surfing to paragliding to jet skiing, up to excursions with a view of dolphins.
This beach has been included among the most beautiful beaches in Florida and the United States.
15. Playa Bavaro, Punta Cana, Dominican Republic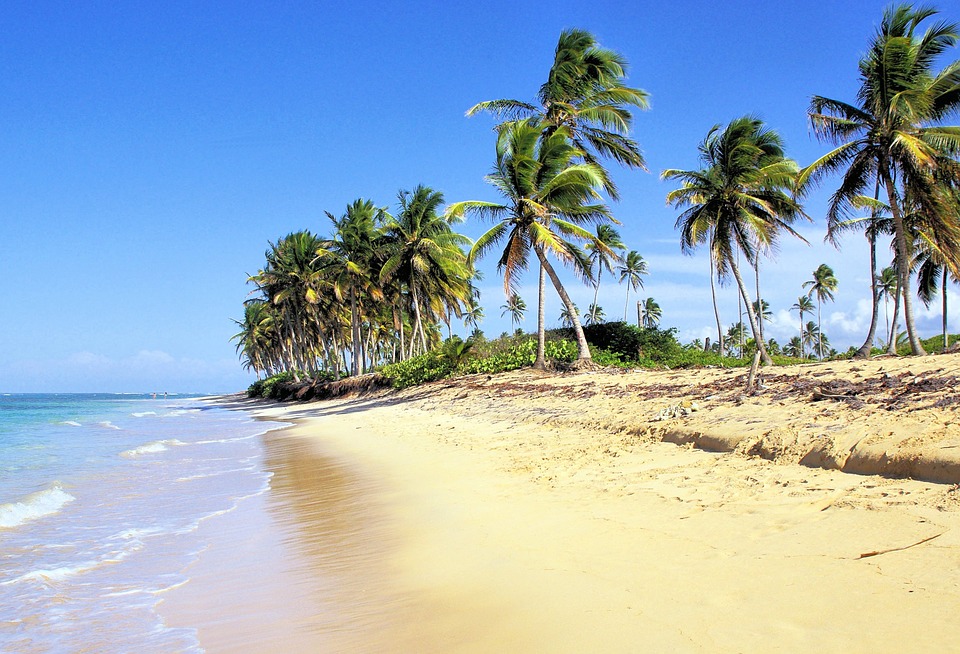 Located a few kilometers from the airport, this 40 km stretch of white sand beach is a tourist center with an impressive development to the extent that it's one of the most visited Atlantic coasts in the world.
It is a kind of ecosystem on its own because you can do everything in a range of a few meters. From shopping to restaurants to hotels… you can practically do all that without ever leaving the beach!
14. Waikiki Beach, Honolulu, Hawaii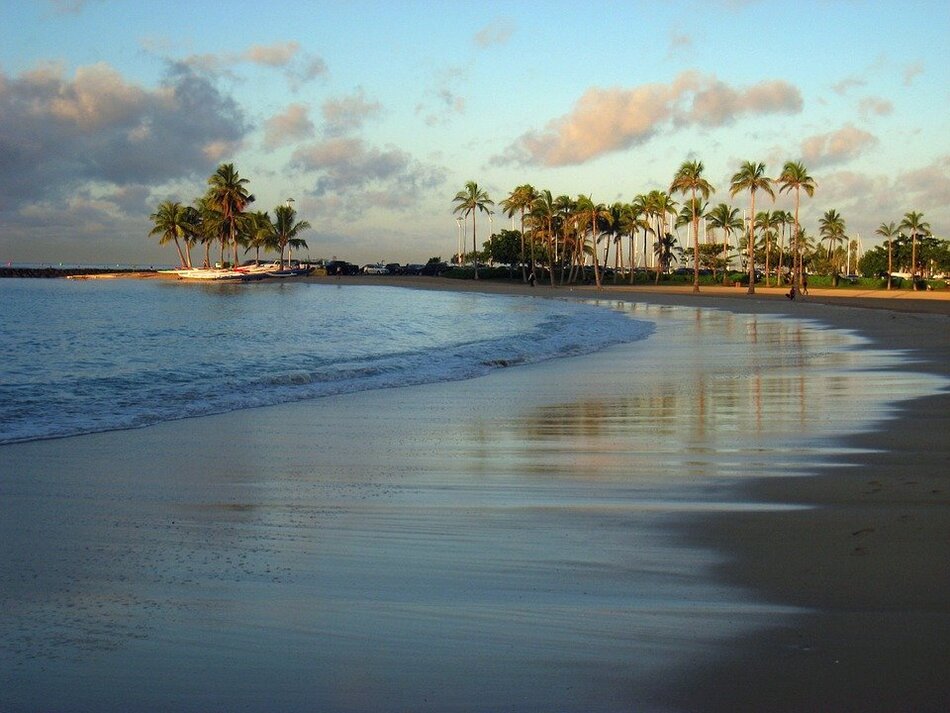 One of the most famous beaches in the world, Waikiki, has gone from being a place of a spiritual retreat to the center of the Hawaiian tourist economy, with the largest hotel chains vying for space. Today, practically half of the beach is reserved for surfers, but what makes it popular and crowded is the whole nightlife circuit that revolves around: clubs, bars, restaurants, discos, and … prostitution.
13. Bondi Beach, Sydney, Australia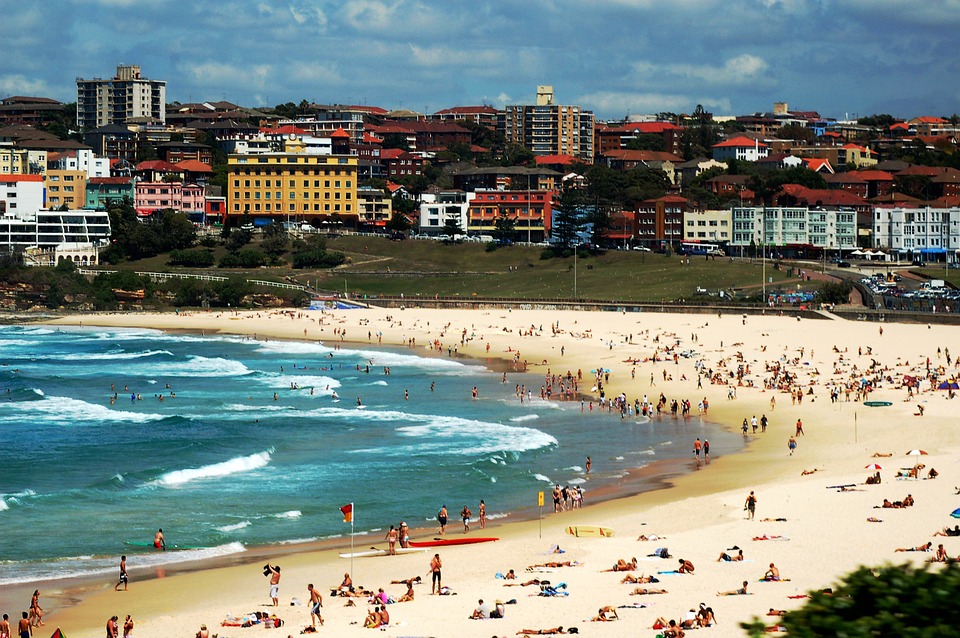 One of the most famous beaches in Australia, located about 7 km from Sydney, is a sort of "gulf" with a 1 km strip of sand bordered by two cliffs on both sides. A paradise for surfers, Bondi Beach is conventionally divided into two areas: northern and southern, with the southern one being the most "dangerous", but also the most loved by surfers, as well as by those who like… topless!
12. Ipanema Beach, Rio de Janeiro, Brazil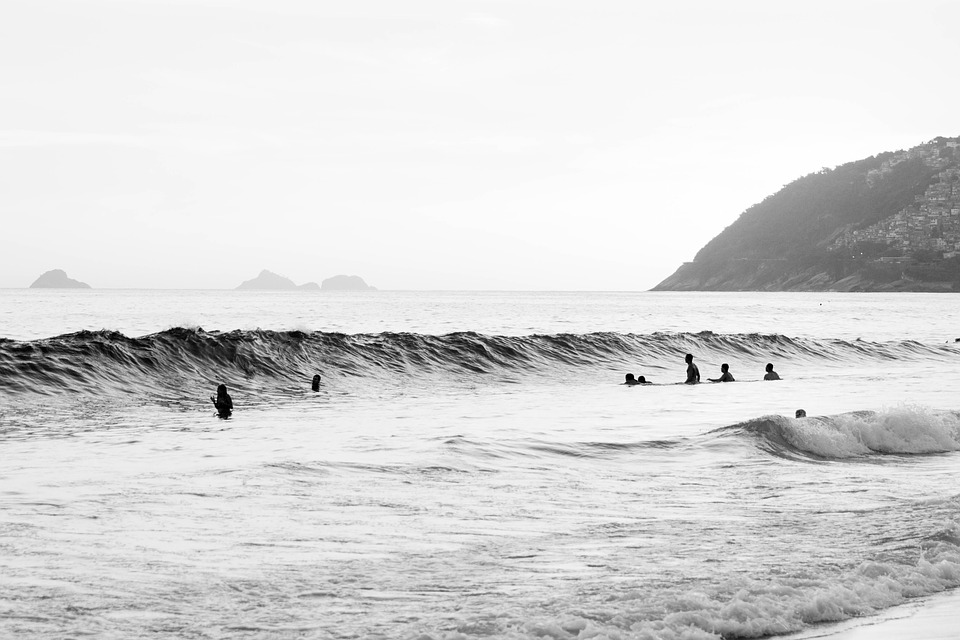 Ipanema beach has always fought for primacy with its sister Copacabana. It is a huge expanse of golden sand, which is ideal for everyone! Indeed, it is a beach for everyone as there is "Spot 8" – the meeting point for the homosexual community, "Spot 9" – for the young people of Rio, surfers, and those obsessed with suntanning and physical fitness, and the "Spot 11" – for families and mothers with children.
11. Maya Bay, Thailand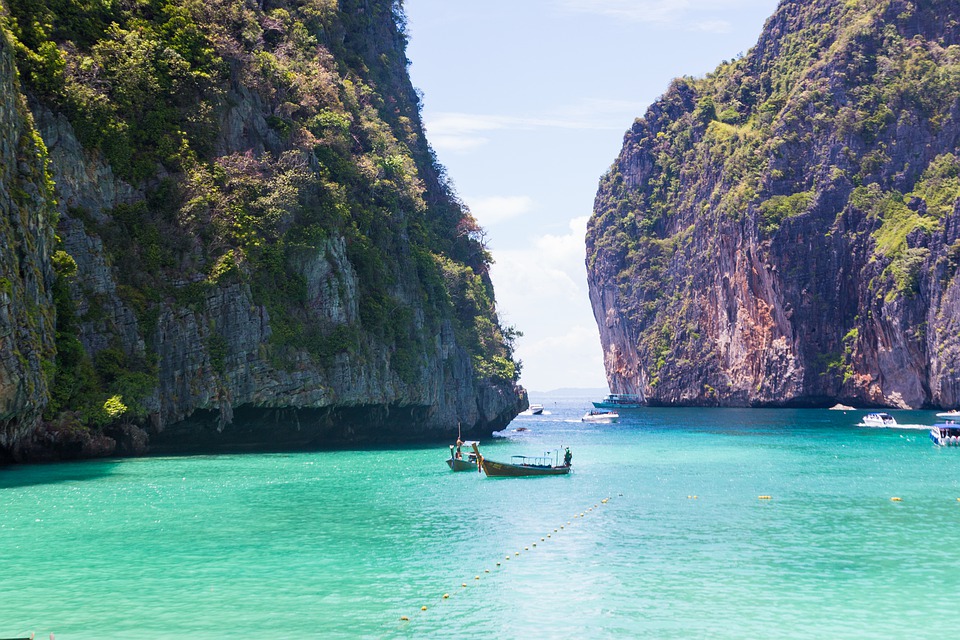 This beach was the setting for the movie "The Beach" with Leonardo di Caprio. And, how can it not be when it's an enchanting place made of white sand with pebbles, rocks, and stacks here and there to frame and decor, thus making the scenery a true natural picture. Zero roads, zero cars, 100% pristine… Just a small snack bar to cool off. To visit it, just take a boat or a speedboat from Phi Phi.
10. Rhossili Bay, Swansea, United Kingdom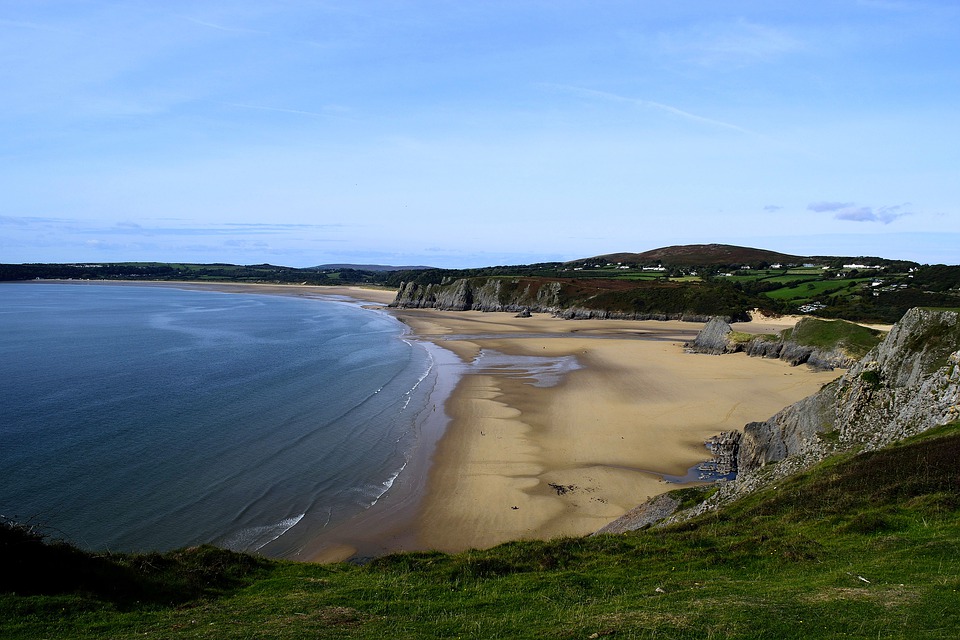 Located in Wales, this 5 km long bay is a bit difficult to reach as one must follow a path in the hills to get to it. But, once there, the breathtaking landscape will make the effort worthwhile as there, a wonderful panorama and an uncontaminated landscape that will envelop your senses await you. Walking along the coast, you can visit the remains of an ancient village dating back to the Iron Age. For the more sporty, there's a part of the bay dedicated to activities such as surfing. And, finally, those who love to be kissed by the sun can relax between the green of the hills and the blue of the sea and enjoy the landscape.
9 Eagle Beach, Palm/Eagle Beach, Aruba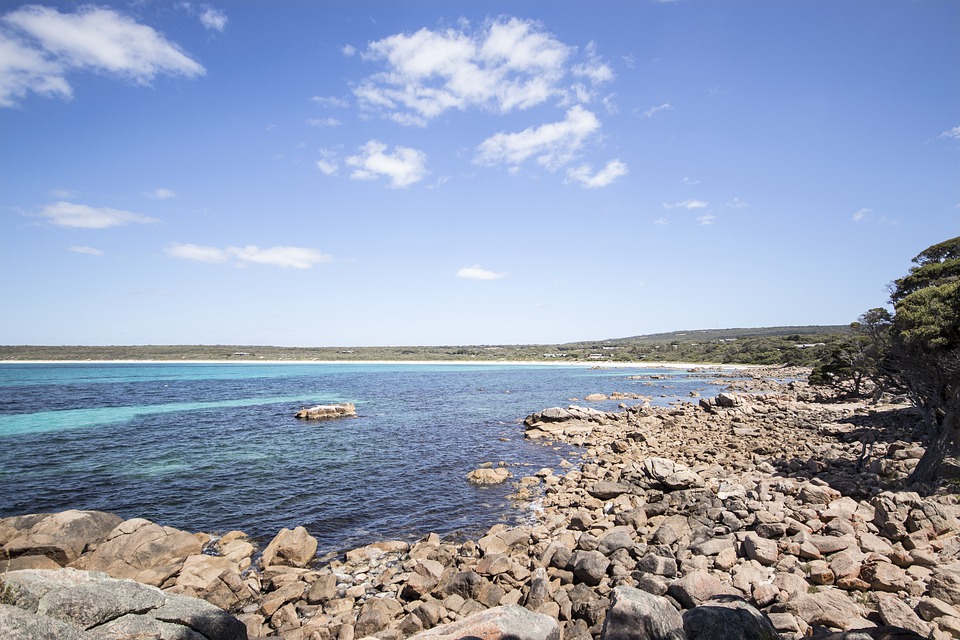 Now, we are going again to the Caribbean Sea, on the island of Aruba, to see the magnificent white sand Eagle beach and a sea with spectacular turquoise shades. There is also a rocky area where you can admire the small crabs that inhabit those rocks.
It's the perfect beach to stretch out and enjoy a bit of relaxation in the shade of the Divi Divi trees, which are typical of this island. What makes them interesting is that they are always bent towards the southwest as a result of the strong winds that blow on the island.
8. Horseshoe Bay Beach, Bermuda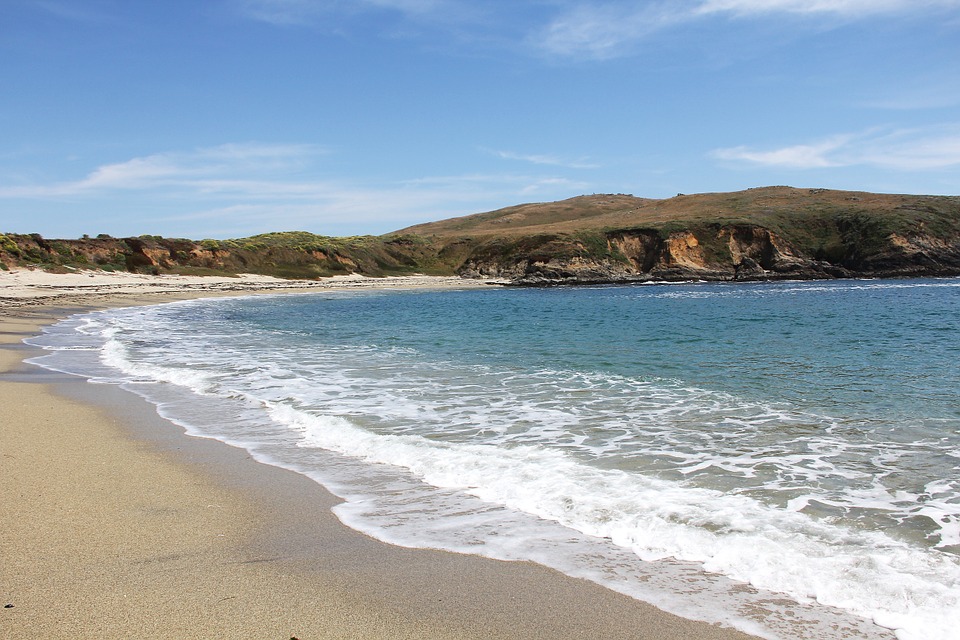 We fly to the Bermuda Islands to reach the 8th most beautiful beach in the world, the Horseshoe Bay beach. There, we find ourselves in the middle of an absolutely fascinating landscape: blue sea, a beach with a reddish color due to being composed of crushed corals and shells where limestone cliffs rise, rocks that almost form small caves where you can sunbathe and have a bit of privacy to lie down and admire the blue sky that merges with the blue sea.
7. Lopes Mendes Beach, Brazil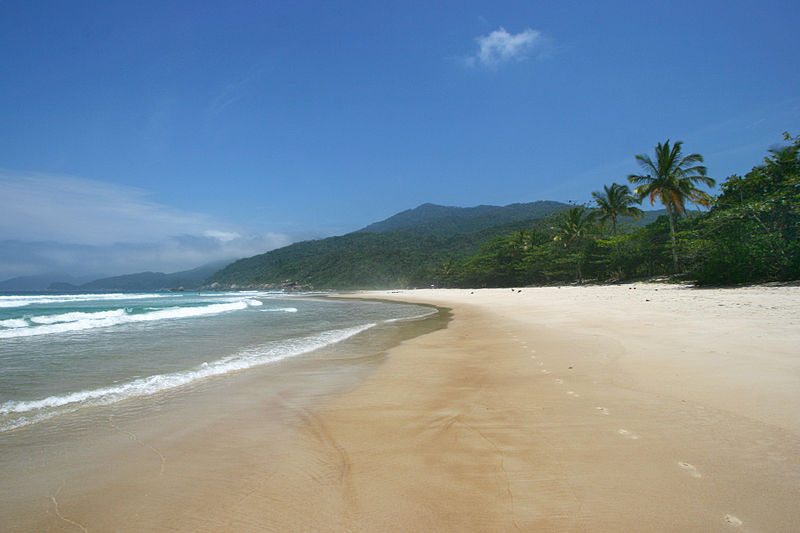 Again in Brazil, this time to admire this wonderful unspoiled beach, Lopes Mendes. This beach can be reached either with a two-hour walk or by water taxi across the sea. Once reached, the place leaves you speechless: an immense white beach with a jungle behind it and a sea that takes your breath away.
The island is entirely included in the Ilha Grande State Park, a nature reserve that protects all the animal species found on the island, many of which are endangered. Hence, the more fearless ones can go a few meters into the jungle and admire the howler monkeys and sloths that live in the trees.
6. Playa de las Catedrales, Ribadeo, Spain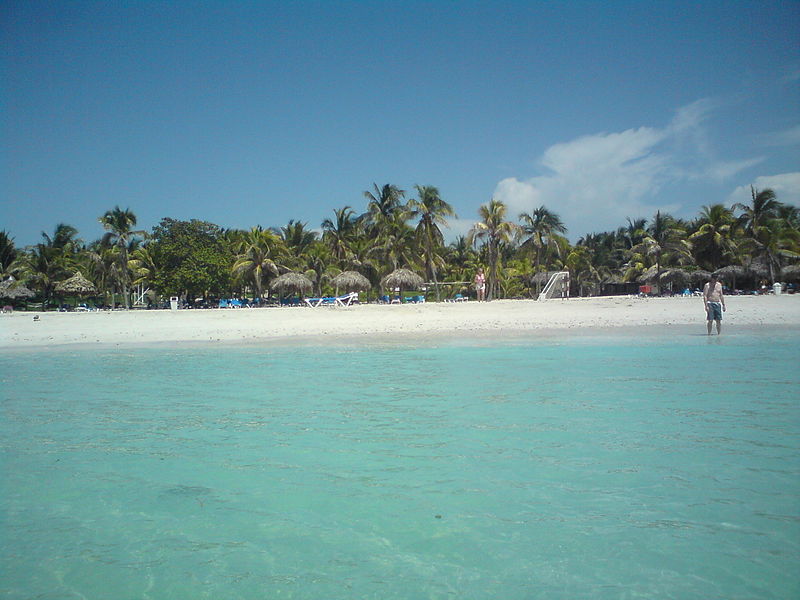 Now, we go to Europe, more precisely, in Spain, the home to the Playa de las Catedrales (eng. The Beach of the Cathedrals). A wonderful coastline of golden sand bordered by a slate wall, a rock eroded by water that creates a landscape with over 30 meters high arches similar to the buttresses of Gothic style cathedrals (from which derives the name of the bay), and natural caves crossed by sandy corridors that can be accessed at low tide. A very beautiful landscape, full of peculiarities to be discovered!
5. Flamenco Beach, Puerto Rico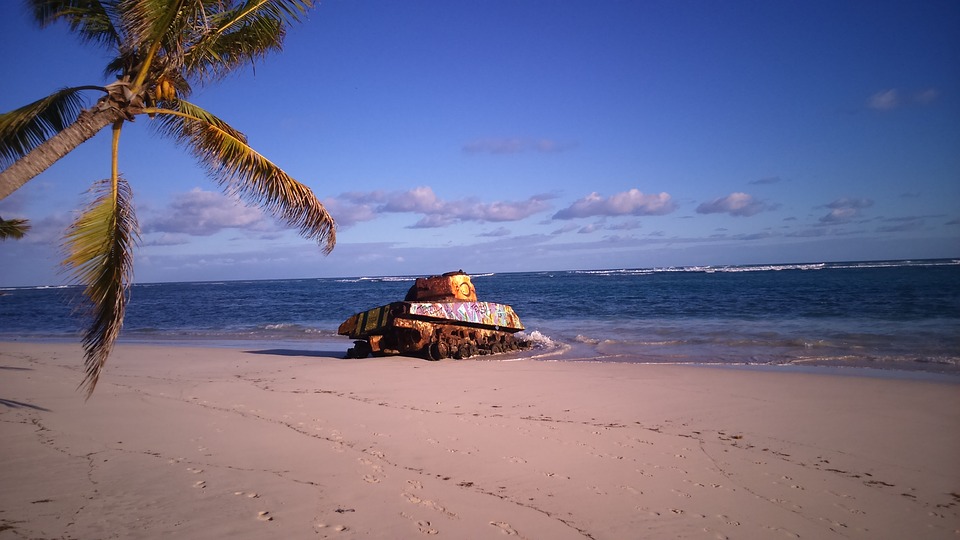 We are in Puerto Rico, where this wonderful bay is located. It's completely immersed in nature, with no buildings around, surrounded far and wide by lots of greenery. The beach is made of fine white sand while the turquoise sea is home to a great variety of fish that can be seen in the shallower waters where bathers swim. In short, it is a breathtaking landscape suitable for both relaxation and enjoyment!
The island is part of the Culebra National Wildlife Refuge, which protects several species of birds and turtles that reside on the island. The western area was a site of military exercises of the United States Army and Navy, which is why there are still military relics and even a tank semi-underground on the beach.
4. Baia do Sancho, Brazil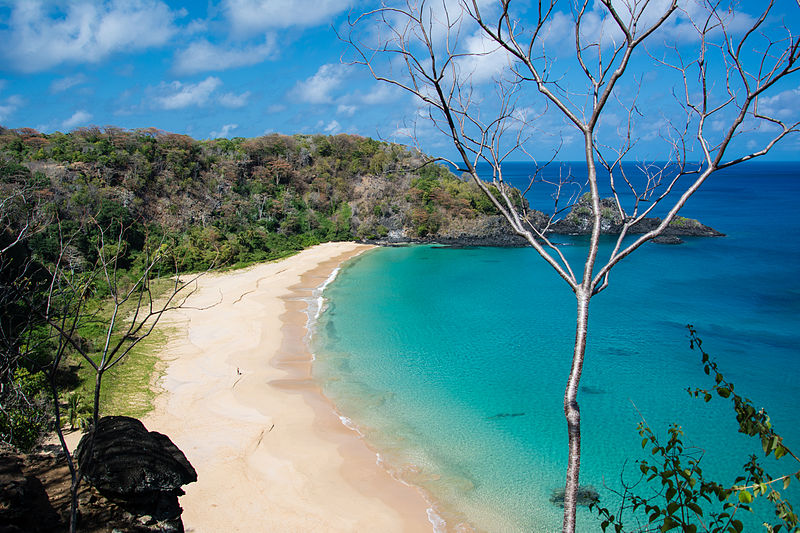 Going back to Brazil to enjoy the splendid panorama of Sancho bay, which is reachable by sea or by descending a steep staircase created by rock erosion. There, you can immerse yourselves in an atmosphere filled with tranquility that allows you to enjoy the landscape that surrounds you. A native flora and fauna frame this coast bordered by a high cliff, which make it perfect for relaxing and sunbathing in the midst of nature. A particular natural event occurs from February to June on the cliff, where two cascades of rainwater are formed; it's a small icing on the cake that attracts many tourists.
3. Whitehaven Beach, Australia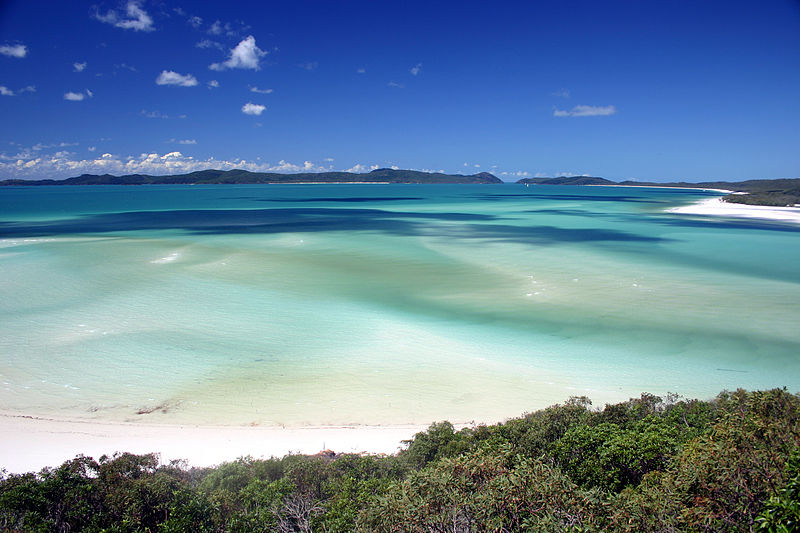 We fly to the other side of the world, in Australia, to go and admire a "white paradise" as the name implies. This splendid beach of 7 kilometers boasts its white sand coast, which is a result of a high percentage of silicon that makes almost 98% of the sand bright white. This composition also ensures that the sand doesn't retain heat, which makes it possible to take long barefoot walks and have physical and sensory contact with the beach. The turquoise and emerald green sea offers a breathtaking landscape, the warm and crystalline water allows you to admire the fish swimming near the shore, and the idyllic atmosphere allows you to spend your holidays peacefully.
2. Grace Bay, Providenciales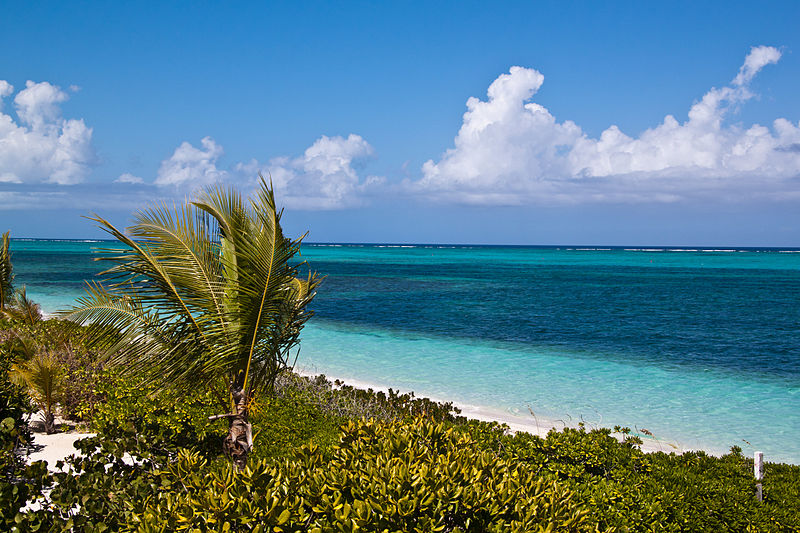 An island that is part of an archipelago of the Caribbean Sea, Providenciales, is home to the second most beautiful beach in the world. Apart from the beaches, the charm of the island lies in its jagged hills covered with prickly pear trees. Nonetheless, the trump card remains in its seascape – kilometers and kilometers of coral reefs located near the shore, easily accessible by boat, just waiting to be admired! The island with its fine white sand is perfect for long walks by the blue sea. It's another paradise on Earth, an idyllic landscape with a peaceful atmosphere that stimulates all our senses.
1. Spiaggia dei Conigli, Lampedusa, Sicily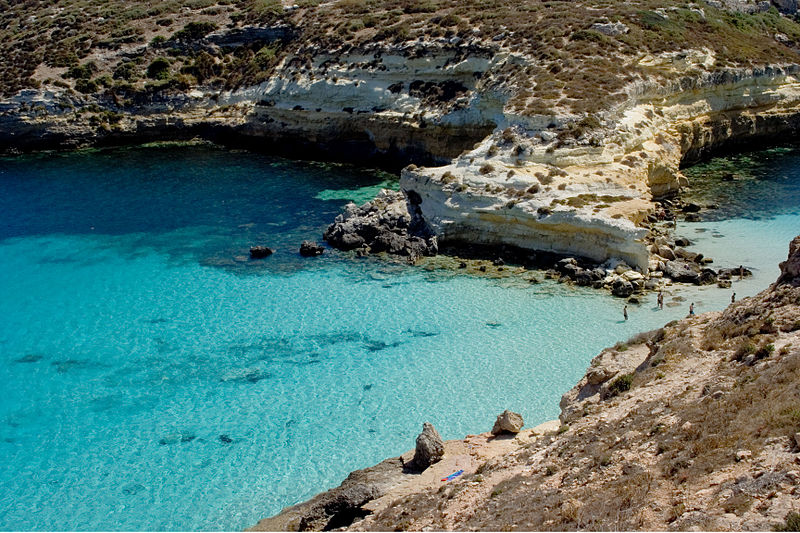 Despite the Caribbean islands, Polynesia, and the most famous tropical landscapes in the world, the most beautiful beach and sea ​​in the world are found in Sicily. We are talking about the Spiaggia dei Conigli (eng. Rabbit Beach) in Lampedusa. It is a spectacular bay, with crystal clear waters completely surrounded by a very low cliff that welcomes the typical Mediterranean flora and fauna.
This bay is one of the few places where Caretta Caretta turtles go to lay their eggs, which is why the cliff is part of the Isola di Lampedusa Nature Reserve (eng. Lampedusa Island Nature Reserve) that also protects this species of turtles as well as the rest of the Mediterranean fauna. It is, undoubtedly, the perfect destination for your summer holidays if you love nature, the sea, and relaxation.