The Igloo is the one thing that represents the culture of the people living close to the Arctic Circle in the collective imagination more than any other. It is the most primordial construction entirely made with blocks of pressed ice, a symbol par excellence of the Inuit civilization.
However, in recent years (a decade or so), a new kind of fascinating ice buildings have been created and built, which are much more complex than simple igloos: the ice hotels.
These wonderful hotels are becoming more and more popular among those who love novelty and today, they are a reality for all travelers who prefer unusual settings over the classic, "boring" luxury hotels.
Due to their unusuality and fame, we've created a list of the 11 most beautiful ice hotels in the world. Check them out and see which you would like to visit. And, don't forget to bookmark this article so that you can find it when you plan your trip to some of these countries.
11. Igloo Hotel, Andorra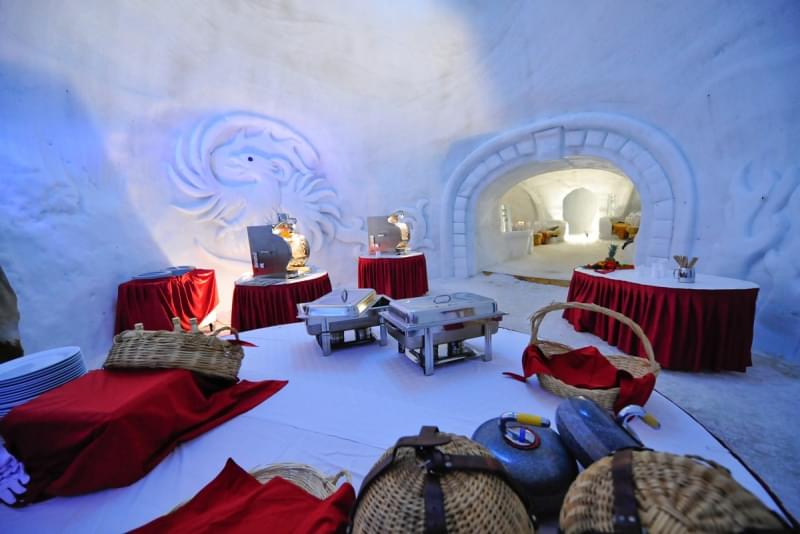 What gives the Igloo Hotel a sensational charm is its geographical position: it's the only hotel in the ranking that is not located in the far north. It's in fact located in Grandvalira, in the small principality of Andorra, a microstate on the border between Spain and France known throughout the world for being a beautiful tourist destination. While this hotel is much more modest than the others on the list, its small size constitutes an added value that gives it an even more irresistible charm.
Price and costs: €250 – €600 per couple based on the period and type of Iglu chosen.
10. Iglu Dorf, Switzerland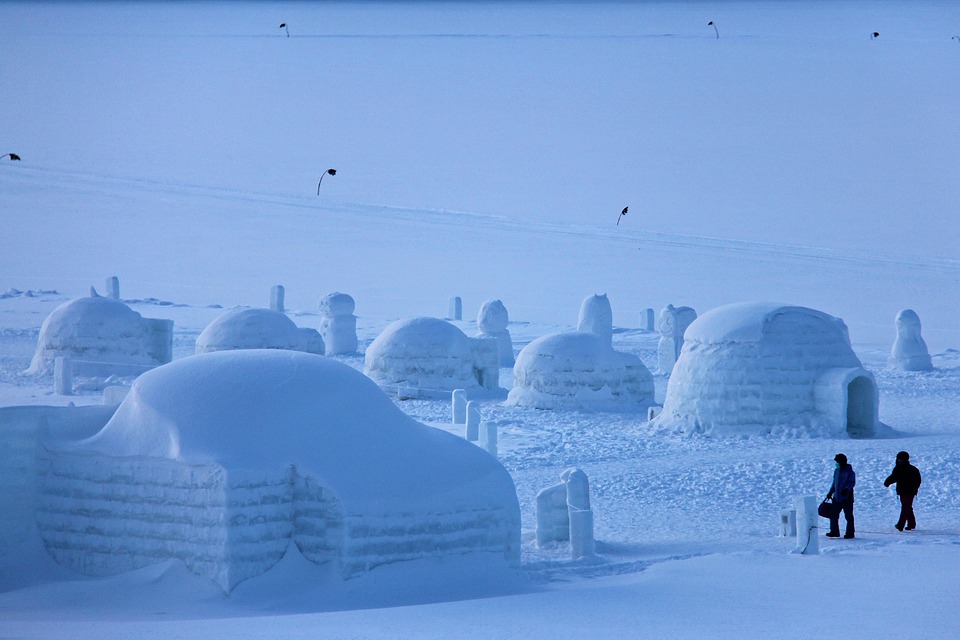 This small village offers the possibility of sleeping inside spacious igloos, with walls embellished with sculptures made by Inuit artists. The village can accommodate a maximum of 30 people who can rest or practice snowshoeing in the snow, activities, and night excursions.
Price and costs: €240 – €600 per couple according to the period and the type of Iglu chosen (Standard, Romantic, Suite).
9. Kirkenes Snow Hotel, Norway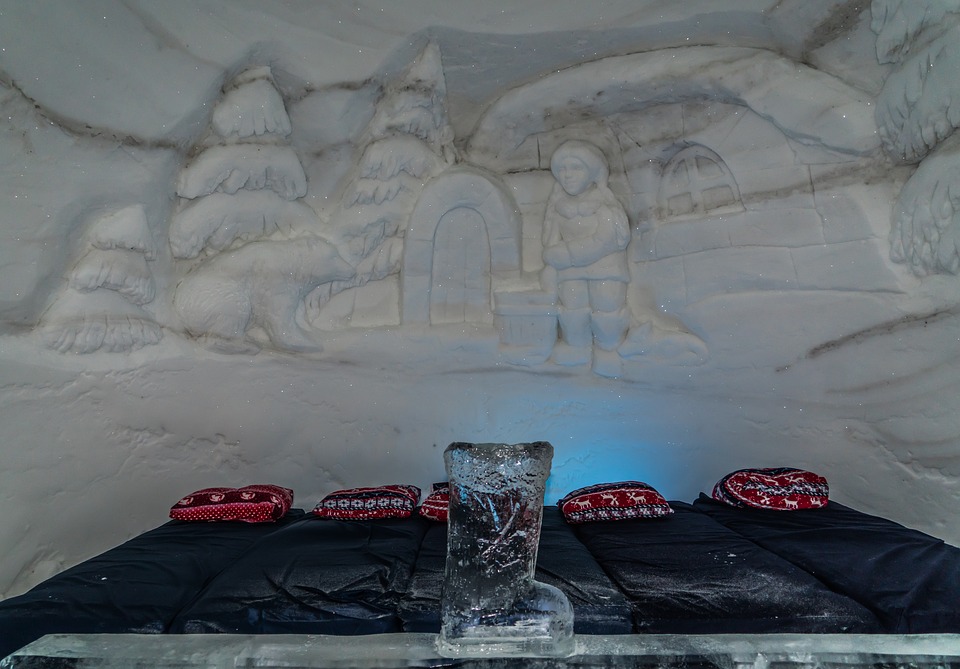 The Kirkenes Snow Hotel was inaugurated in 2006 and today is one of the most popular hotels for those who want to enjoy a holiday in Norway. It is rebuilt annually using over 15 tons of ice and, inside, it contains wonderful suites adorned with incredible sculptures. Due to the thickness of the walls, it can guarantee high temperatures, making guests' stay absolutely enjoyable.
Price and costs: Starting from €500 per couple.
8. Snow Castle, Finland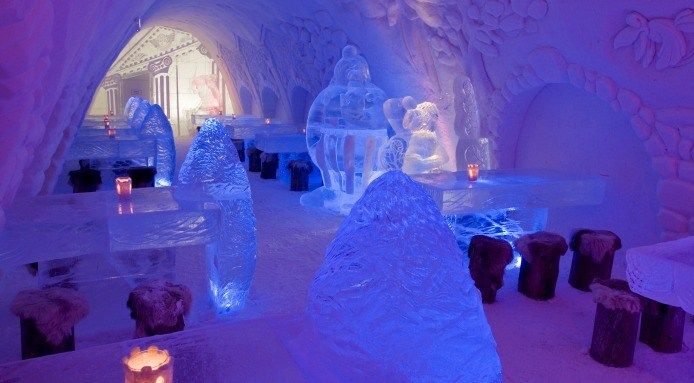 In the city of Kemi, in Finland, there is the fantastic Snow Castle hotel, which can make the guests feel like snow princes and princesses. This hotel is located in the Gulf of Bothnia and has now become a symbol of Kemi, a source of pride for all citizens.
It has been built for over 19 years and sleeping inside one of its incredible suites is a truly unforgettable feeling.
What makes this "enchanted castle" beautiful is the presence of unusual rooms with glass ceilings that allow guests to see the Northern Lights comfortably lying in the bed.
Price and costs: €210 – €400 per couple based on the period and type of stay
7. Aurora Ice Hotel, Alaska (USA)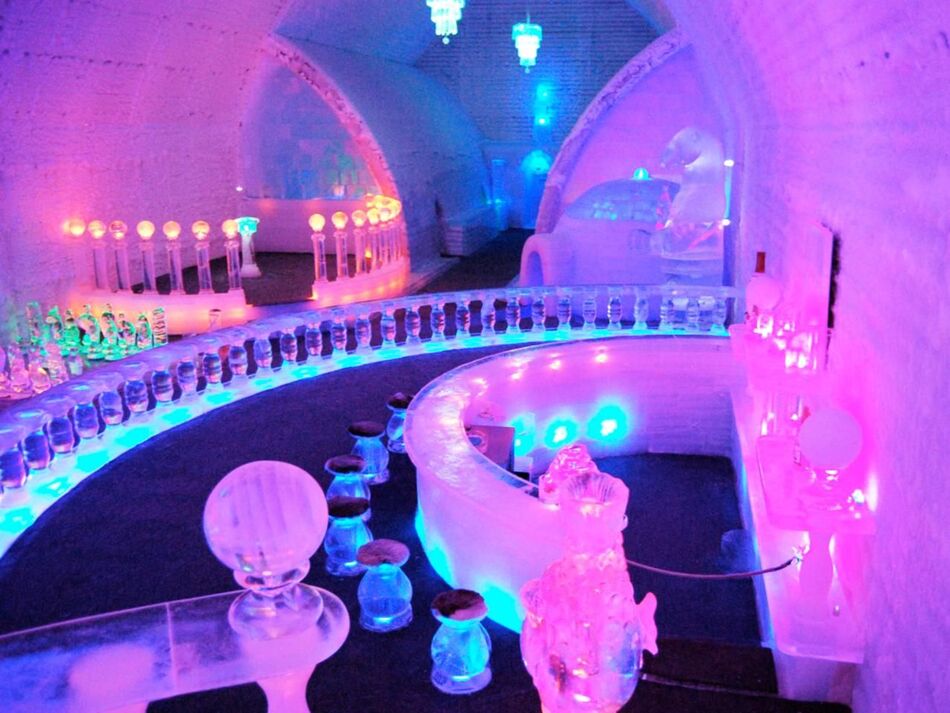 The Aurora Ice Hotel is located in the city of Fairbanks, Alaska. It seems that the owners have chosen this name because they are convinced it's the best place in the world to admire the beautiful Northern Lights, also known as Aurora Borealis. It's famous for being the only ice hotel open 365 days a year, which is possible due to a modern cooling system that allows the structure to be maintained even during the hottest seasons.
Price and costs: Starting from €700 per couple.
6. Village des Neiges, Canada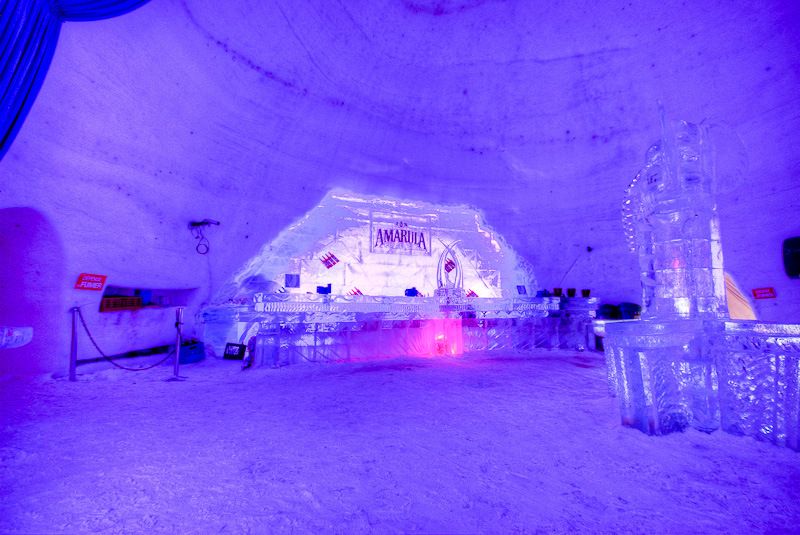 Montreal's Village des Neiges (eng. Snow Village) has been open to the public since January 2011 and is located in Jean-Drapeau Park.
In concurrence with its seasonal opening, there are recreational events organized throughout the city, which is why it represents a unique experience for every type of traveler. It has 30 rooms, including 10 ultra-luxury suites and a restaurant. It offers all kinds of entertainment: children can have fun in the splendid labyrinth and ice slides, while adults can relax in the outdoor spa.
Price and costs: Starting from €760 per couple.
5. Snow Village, Finland
Each year, the Snow Village is built in Finland following a different architectural project. The forms and dimensions are distorted, but the statues made with ice and snow inside the hotel remain a constant and fascinating attraction. Believe it or not, one million kilos of snow are used for its construction spread over an area of ​​20,000 square meters.
In this hotel, you can sleep in one of the 30 rooms, go to the chapel, or have a drink in the charming bar.
Price and costs: Starting from €360 per couple.
4. Sorrisniva Igloo Hotel, Norway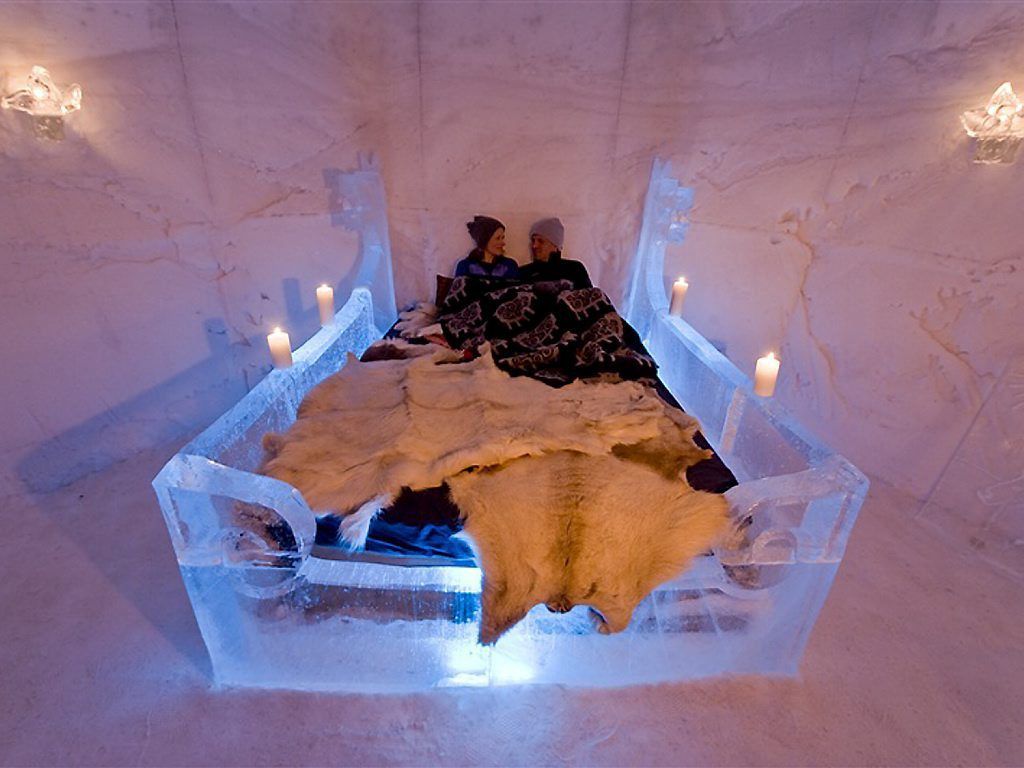 The Sorrisniva Igloo Hotel is located just a few kilometers from the Arctic Circle. It was "born" 15 years ago and is one of the first ice hotels ever built. Its structure has a recognizable style: the interiors made following themes such as Viking culture and the Aurora Borealis. Among the services offered are guided excursions under the starry sky and snowmobile routes.
Prices and costs: Starting from €520 per couple.
3. Kakslauttanen Artic Resort, Finland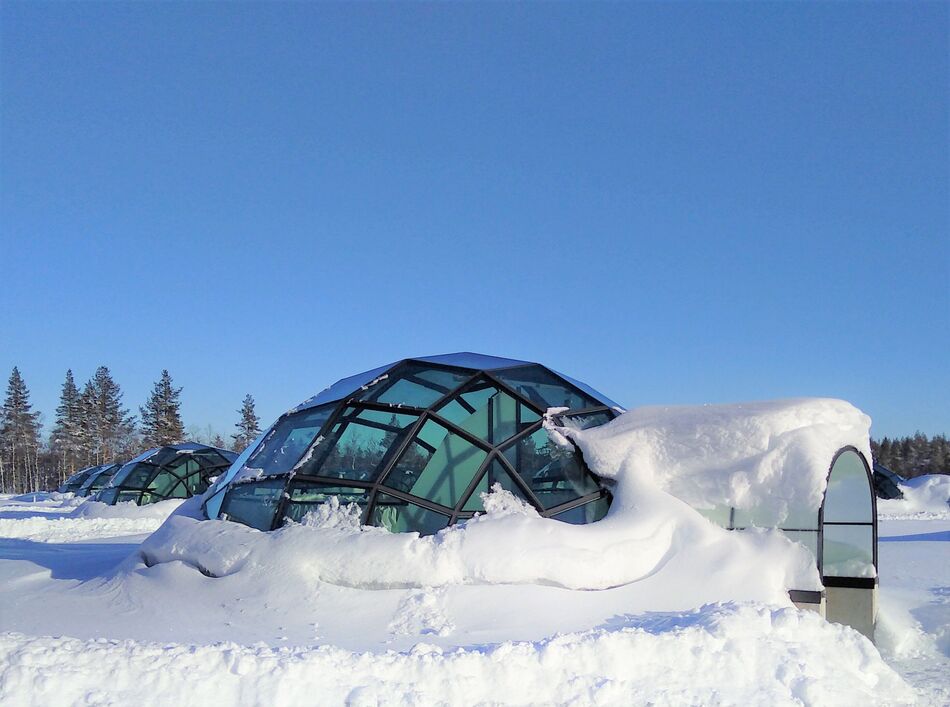 On the lowest step of the podium, we find yet another ice hotel located in Finland, which is known as: "the most enchanting resort in entire Lapland". We really can't blame those who define it like this although it's not actually an ice hotel, rather a resort made of glass igloos and rustic log cabins. It's because it offers the guests every kind of comfort, a warm and welcoming environment with rooms and suites so beautiful that this hotel is very close to perfection. In addition, it allows you to spend the night in one of the fantastic glass igloos, under the starry sky, to have a great view of the Northern Lights. We also have to mention that there is an impressive surrounding area with enormous naturalistic riches worth visiting.
Price and costs: Starting from €510 per couple.
2. Hotel de Glace, Canada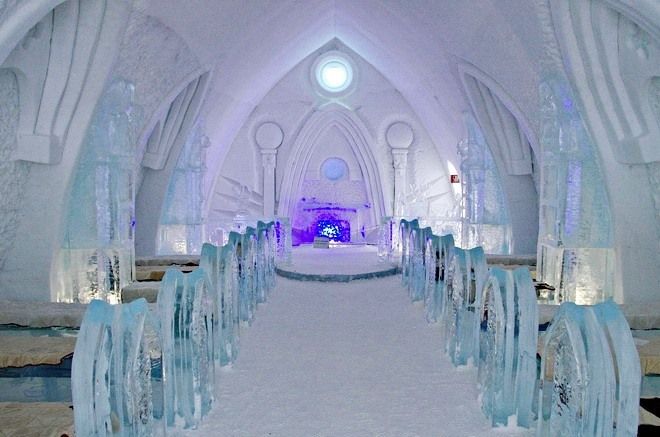 Not far from Quebec, we find the Hotel de Glace, a fantastic hotel with luxurious furnishings. The interiors are as elegant as few and there are many sculptures and fabulous decorations. The space this hotel occupies is quite large, with over 40 rooms, a shop selling various items, and a bar. We also have to mention that the staff is amazing. As many guests report, they are always friendly and helpful with customers.
Price and costs: Starting from €460 per couple.
1. Ice Hotel, Sweden: The Largest Ice Hotel in the World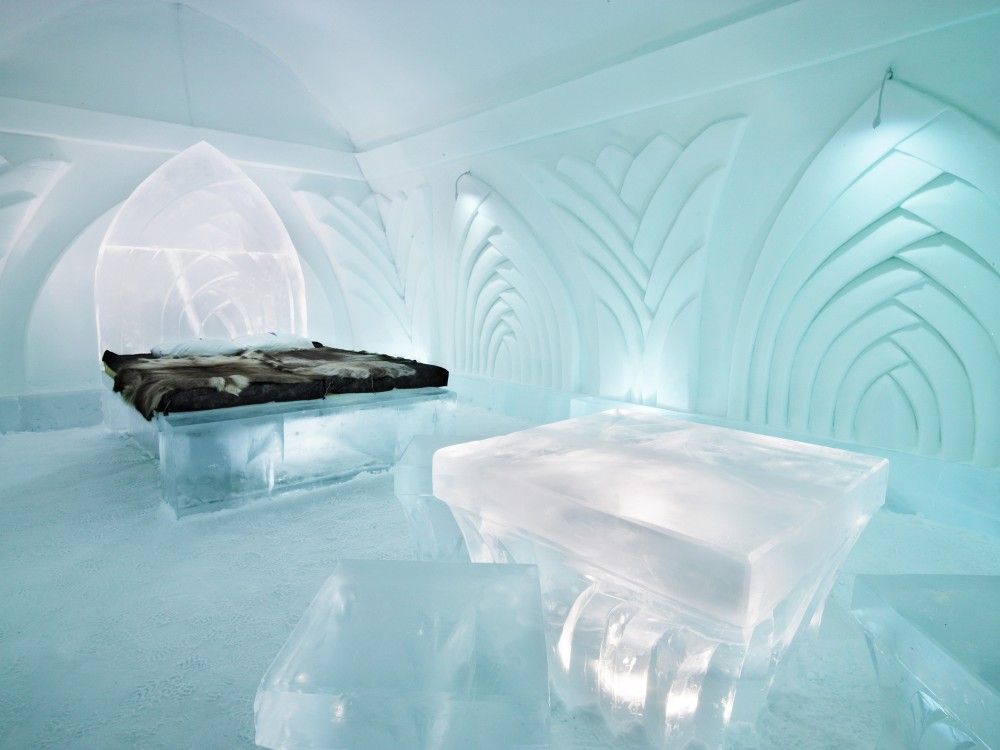 At the top of the ranking, we find the Ice Hotel in Jukkasjäroi in Sweden. It's the first ice hotel ever built and, today, the largest one in the world. It occupies an area of 5,000 square meters and it's entirely built of ice. Hence, not only the rooms but also the pieces of furniture, such as sofas and beds. Wonder how could you sleep on a bed made of ice? Like a baby because they are carefully covered with thermo-insulating material, which is essential to be able to spend a night in this magical place.
Price and costs: €500 – €1000 per couple depending on the period and the type of room chosen.