In the summer heat, we all crave a refreshing and regenerative swim. We are looking for a little relaxation after a year of hard work, either on a beach or on a mountain. No matter where we choose to go, one this is sure – we want to swim! There is something about letting yourself go in the water, feeling peaceful and one with it.
Knowing the importance of the summer holiday, today, we present you with the 10 most beautiful pools in the world. They are luxurious, some looking surreal, and structured in such as way as to look like enormous works of art. These wonders of modern architecture are popular with elite travelers looking for luxury destinations, so let's check them out!
10. Resort Royal Towers Atlantis, Bahamas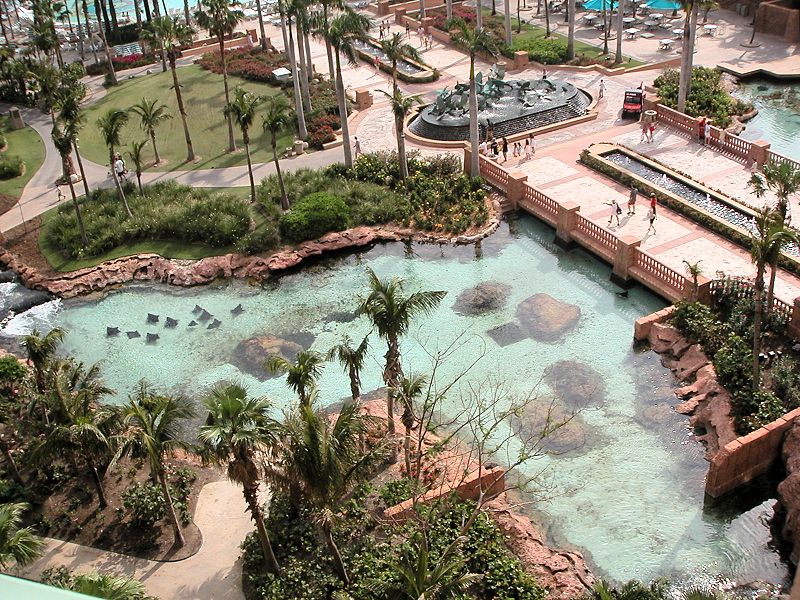 Some people may think that there is no need for swimming pools in the Bahamas since it's home to one of the most beautiful seas in the world. Tell that to Atlantis, which has built 11 of them in the thematic resort; one with a Mayan theme, one with waterfalls, one with 80s music… there is no shortage of sea, no shortage of swimming pools, and imagination. Not enough for you? Well, there is also a swimming pool for adults only with … private huts …
Location: Nassau, Paradise Island, Bahamas
Features: Complex of thematic pools
9. The Iceberg, Australia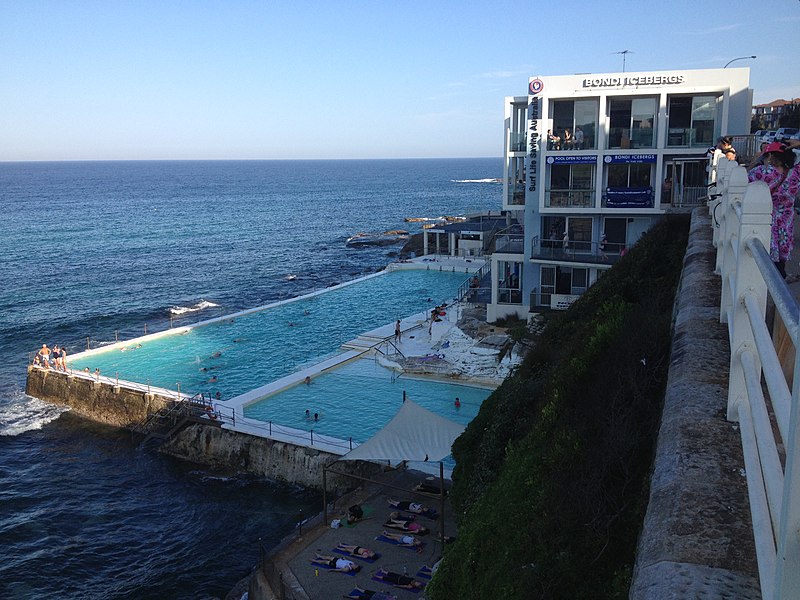 This pool was built in 1929, south of Bondi beach, one of the most famous beaches in Australia. The Iceberg is particularly well-known for being positioned practically on the ocean's edge: swimming with the waves crashing on the pool is truly fantastic.
Location: Sidney, Australia
Features: positioned on the edge of the ocean
Size/Capacity: 1500 square meters of salt water
8. Perivolas Hotel, Greece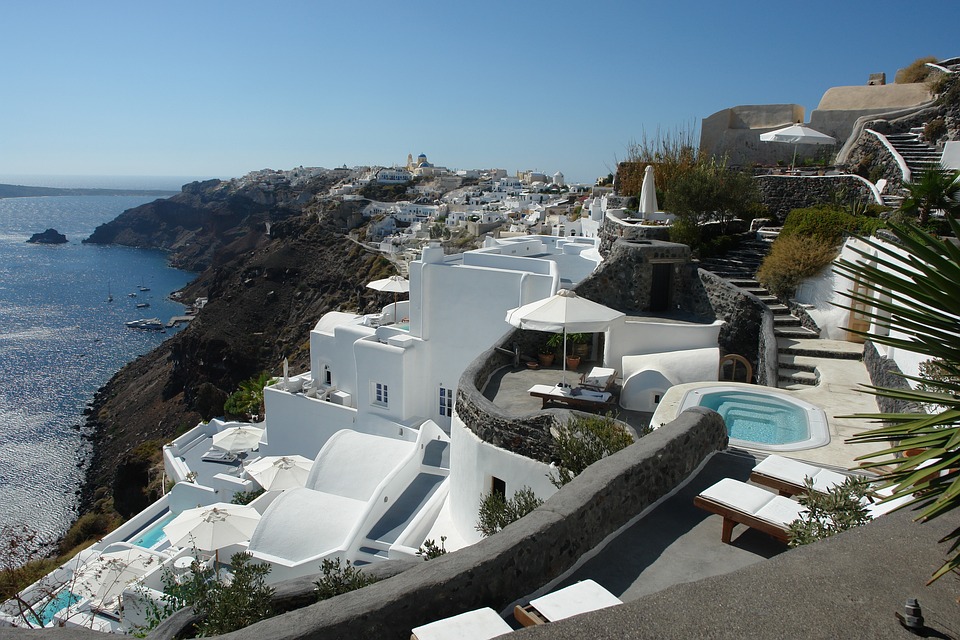 Imagine an infinity pool set on a hill overlooking the Aegean Sea … No need to imagine it because there is one like that – the pool of the Hotel Perivolas in Santorini. Luxury, breathtaking views, a romantic solution for those who don't want to miss anything!
Location: Santorini, Greece
Features: Infinity pool overlooking the Aegean Sea
7. Blue Lagoon, Iceland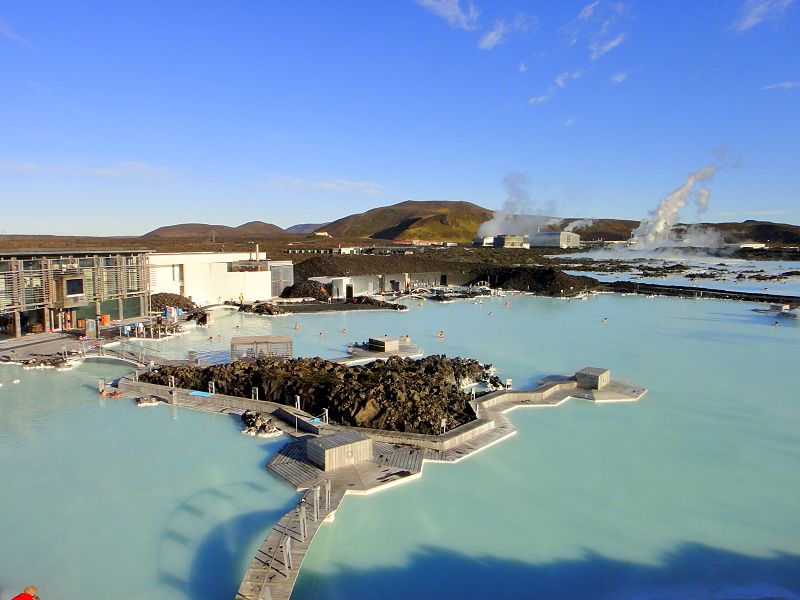 Blue Lagoon is a spectacular geothermal lake in Grindavik, 40 minutes from the Icelandic capital, Reykjavík. Turquoise waters at temperatures of about 40 degrees, with bar service, and various accommodation solutions. Completely immersed in nature, in an impressive lava landscape, this pool gives you all you need for a relaxing vacation.
Location: Grindavik, Iceland
Features: volcanic thermal spring
6. Hotel Belmond Caruso, Amalfi Coast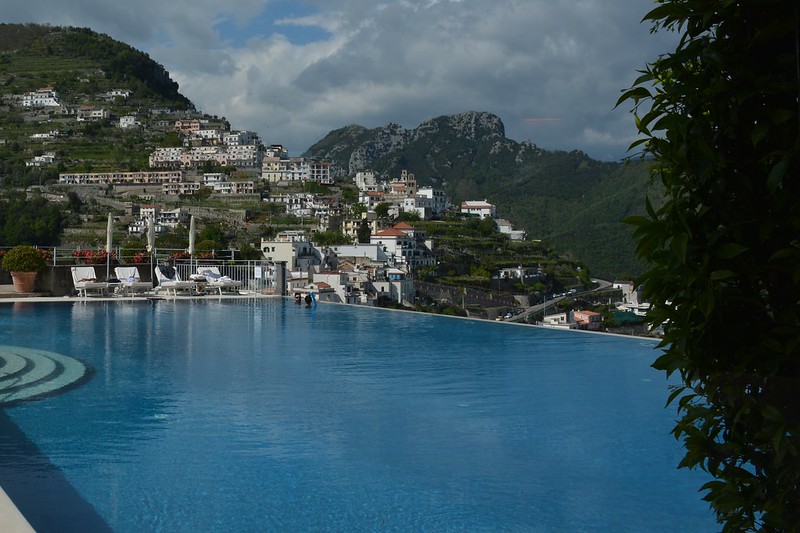 This XI century mansion has been elegantly restored to offer exclusive services. It has turned into an ultra-luxury hotel that has its flagship in its infinity pool. The view of the Amalfi Coast from the edge of the pool is one of those things that are priceless.
Location: Ravello, Amalfi Coast
Features: Heated pool, concierge service with iPod and selectable music playlists, fruit, and Evian water vaporizers
5. Resort San Alfonso del Mar, Chile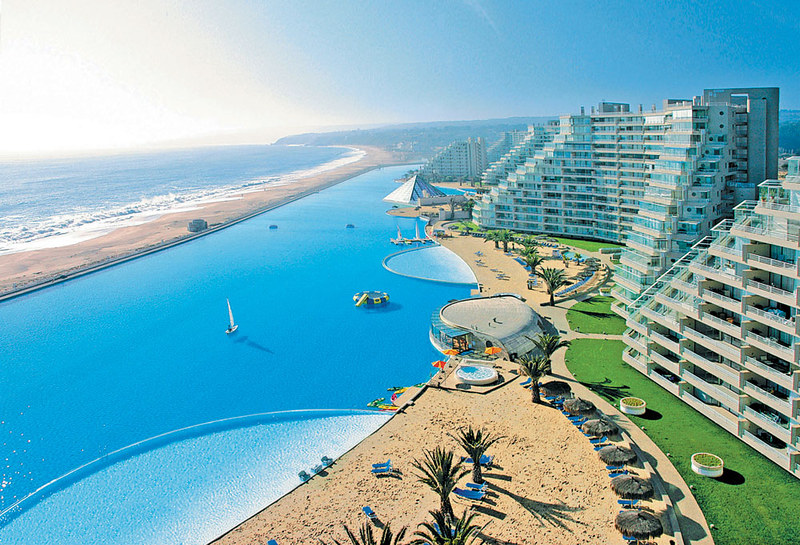 This marvelous artificial lagoon holds the record for the largest swimming pool in the world (1013 meters long, 35 meters deep). Swimming in such a large pool is a very special and absolutely impressive experience.
Location: Valaparaìso, Chile
Features: the largest swimming pool in the world
Dimensions/Capacity: 1013 meters long, 35 meters deep, 2.5 million liters of salt water
4. Four Season Safari Lodge, Tanzania
A pool located overlooking a pond in the middle of the savannah??? There's nothing more exciting! This pool is located in the middle of the Serengeti, in the heart of Tanzania. It basically allows you to enjoy a swim while, a few meters from you, the largest animals of the savannah drink water comfortably. No, it's not a Disney movie or cartoon… it's the reality of the Four Season.
Location: Central Serengeti, Tanzania
Features: Infinity pool overlooking the Serengeti
3. Hotel Marina Bay Sands, Singapore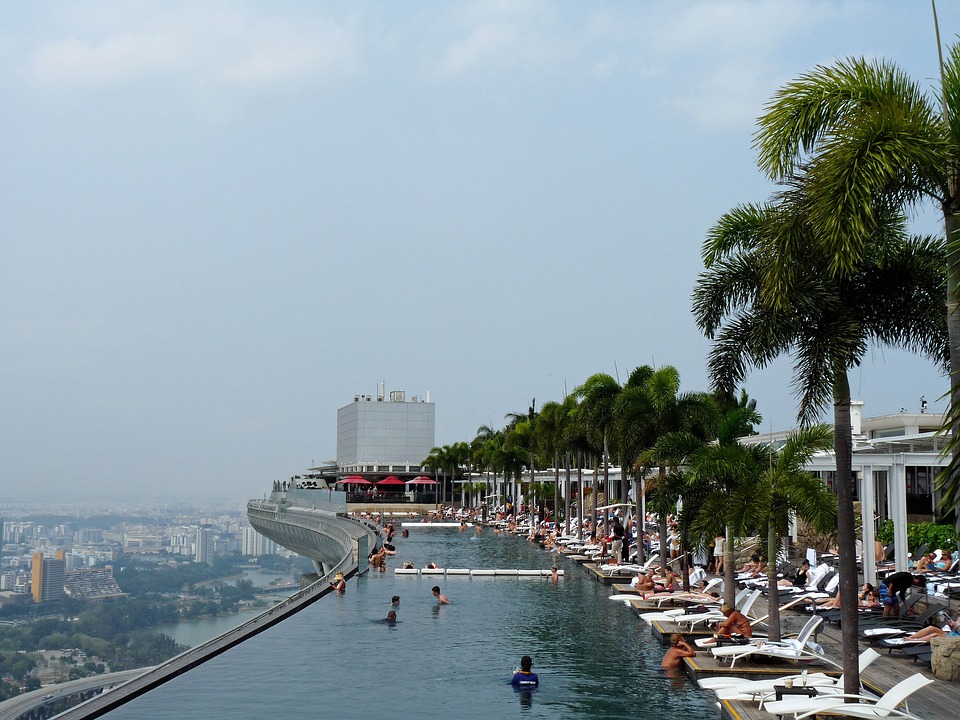 Just when you think you've seen it all, this wonderful pool on a terrace appears. It's built at 200 meters of height, on the terrace of the Sky Park Resort, the most important casino in the city-state of Singapore. The pool is about 150 meters long and offers the opportunity to admire a breathtaking view while relaxing in the water.
Location: Singapore
Features: located at a height of 200 meters, on the Resort's infinity-edge terrace
Dimensions/Capacity: 142 meters long, it is the longest elevated infinity pool in the world
2. Ubud Hanging Gardens Hotel, Indonesia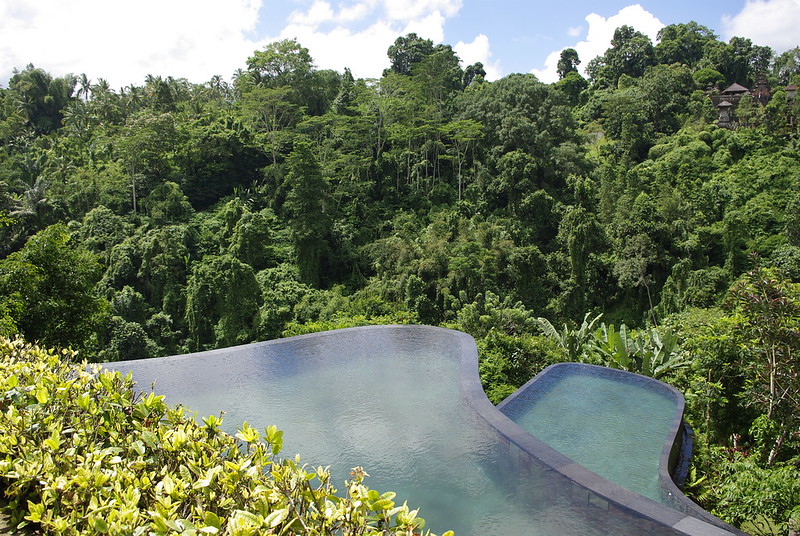 In the second place, we find the pool of the Ubud Hanging Gardens Hotel resort. It's probably the most unusual pool in this top five as it consists of several hanging pools placed at different levels. It's truly a feast for the eyes!
Location: Bali
Features: hanging tubs
1. Anantara Golden Triangle Resort & Spa, Thailand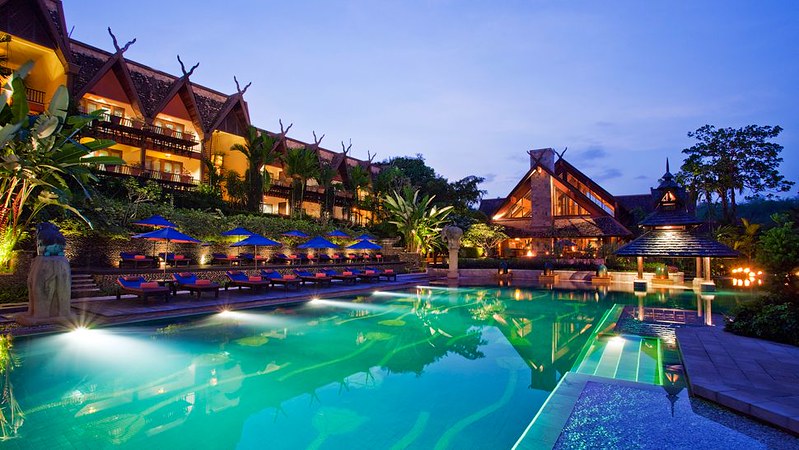 On the top of the podium, we find the incredible swimming pool of the Anantara Golden Triangle Resort. Located in Thailand, among the natural beauties of the Golden Triangle, this pool gives a unique experience to the lucky ones who can visit this enchanting place.
Location: Chiang Rai
Features: infinity pool