Do you have any idea about the number of tourists visit Spain each year? It's more than 52 million, mate!  And where does that leave this country in the list of the top visited countries ranked? Right in the top 3 spots among the 190-odd countries in the world!
So, you don't have to be a genius to figure out that Spain is a pretty big fish when it comes to tourism. This simple fact brought it to our radar and we, therefore, want to cover some of the best places to visit in this country. But with a plenty of points of interests available to choose from, where do we start really?
Through an extensive research on the most popular points of interests in the country and of course with the help of Google's "googliness" (borrowing a term used in the 2013 Shawn Levy film The Internship), we have managed to compile a list of 15 best places to visit in Spain. What are those? Let's find out!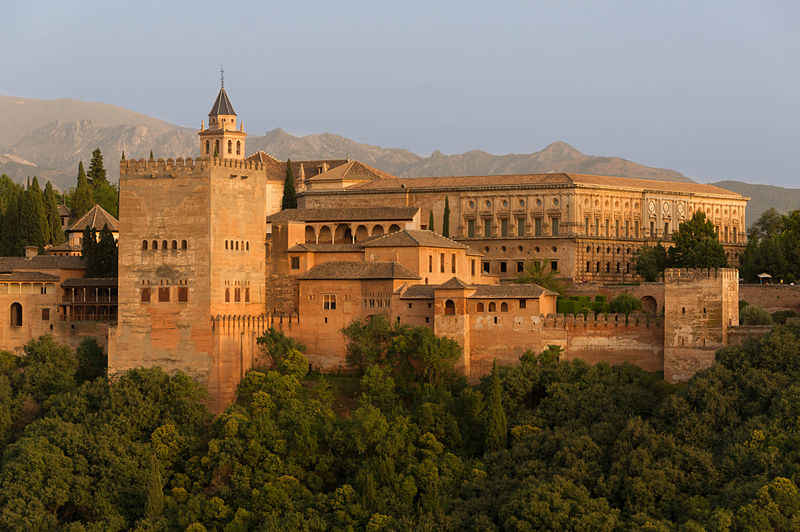 Alhambra, Granada
We begin with Alhambra, arguably the most popular tourist destination in Spain. Located in Granada, this magnificent structure is what you could call an all-in-one package for a tourist looking to get some ancient architectural action. If you love history, you will learn to love Alhambra. It is a part of everything that makes a tourist spot great. It is a palace, and then it is also a fort. It is a World Heritage site and also a symbol of the great architecture of the medieval times. With all these packed in its bag, it is really no wonder that the place is stormed with thousands of tourists every day. The very first palace was the creation of Samuel Ha-Nagid, a Jewish architect of the 11th century AD. Later on, during the 13th and 14th century AD, the Nasrid emirs transformed it into a complex that stands today. However, there was a mosque which was replaced with a church later on. There are several portions of the complex that are worth the visit and we are talking about the likes of Palacios Nazaríes, the Mexuar, Patio del Cuarto Dorado and lots more.
 Some Useful Tips:
When visiting, try to make the arrangement during the off seasons. Touring during the tourist season would make it hard to see it in detail, as nearly 6,000 people come to see it during the pick seasons every day! If required, book way in advance of your planned time.
Don't forget to visit the Palacios Nazaríes that is a significant part of the Alhambra.
Ticket fee for adults is €14 currently. When visiting the Generalife €7. For visitors under 12 years there are no fees required.
Remember, the visiting hours start from 8:30 am and ends at 8:00 pm from March 15 to October 14. From 15th October the timings change, as the closing hours are shortened to 6:00 pm.

Palacio Nazaríes, Granada
Okay, now you might just think of suing us – because if you think along the lines that talking about Palacio Nazaríes is similar to talking about Alhambra, then you are mistaken! Yes, although we can't really deny that it is in fact, a crucial part of the Alhambra complex, but it is so enamoured with its distinctive qualities, that we were forced to reckon it separately.
Arguably, Palacio Nazaríes is one of the finest Islamic buildings in whole Europe. In English, you can read it Nasrid Palaces if you like. This massive structure is fashioned with gorgeous looking courtyards, stucco walls and beautiful wooden ceilings. This is also famous for its tremendous tiling and muqarnas vaulting.  And the pattern work it possesses is impeccable, especially when it comes down to Arabic inscriptions. This palace contains three separate areas that are called the Palacio de Comares where the king used to reside, the Mexuar used to deal with the semi-public part of the palace. The Palacio de Leones was the private part of the palace. Each of these areas is unique in their making according to their functionality. The diversity and exclusiveness of this palace drag so many visitors to come here and enjoy.
Some Useful Tips:
Each of the tickets to enter this palace is imprinted with a time slot of half an hour. But don't worry, you will not have to be in a hurry to leave the place while you are in for a visit.
If you are an adult and or a senior citizen of the European Union, you will have to pay €10 and €5 respectively. The disabled people and the kids below the age limit of eight years can enter the place free of charge.
From March to October the opening hour is 8:30 in the morning and the closing hour is 8 pm in the evening. It remains closed on the 25th December and 1st Night visit is also available; the timing for that is 10 pm to 11:30 pm from March to October and 8pm to 9:30 pm from November to February.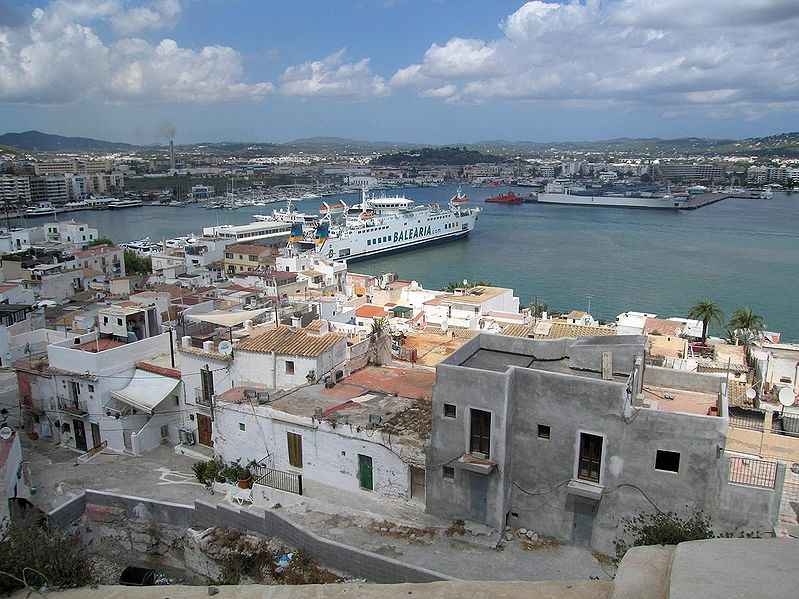 Ibiza
If you translate the word Ibiza it would simply mean 'party on!' Well, figuratively of course. And this is the exact truth about this beautiful island that actually works as the summer outposts of the major nightclubs of Europe. Be it for yoga retreats or be it for the nightlife, people living in and outside of Spain never get tired of visiting there.  The best part of the place is that it actually intertwines the castles, the beaches and the nightlife together.
The Ibiza castle should be one of the most prioritized ones among the places that you would love to visit in Ibiza. This is a place to visit to find an old fort carrying the hints and symbols of the past Spain.
The Walking Ibiza is another place you would hate to miss out on. The 'walkthrough' of our good old Ibiza Town that is a UNESCO World Heritage Site is absolutely priceless. This is a place to relish history and architecture together.
Feeling a little religious? Catedral de Ibiza might be your place! This is a place where culture meets scenic beauty. A place not to be missed!
Some Useful Tips
If you are not in a good shape physically, try not to climb all the way up to the top of the Ibiza castle.
Try to visit Ibiza at any time between May and October. Occasions like New Year, Easter, Christmas and so on are also great for you to drop by.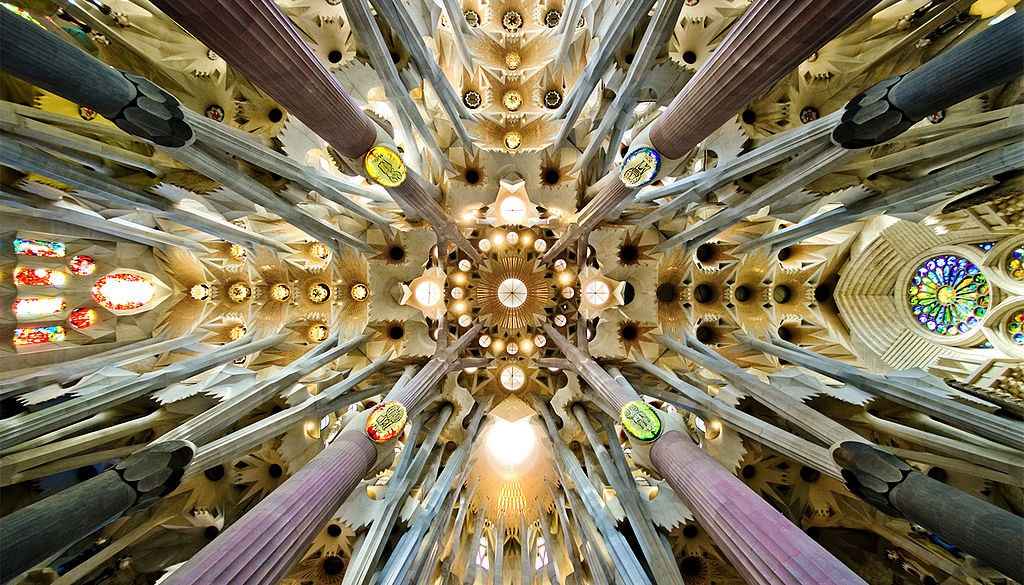 Sagrada Familia
The Sagrada Familia is an expression in stone that stands for the symbolic representation of the Christian faith. It depicts the Family of Nazareth  working as a symbol for a unified Christian family, especially Roman Catholics This 'international centre for spirituality' holds the key to understand Christianity, its history and development.  This centre for spirituality is also known as a centre for love, faith, humility and tolerance among one another. Sagrada Familia is in the top ten list of the people visiting Spain. You would also love to visit the Basilica, which is a famous place of worship as well while visiting Sagrada Familia. This place also invites the believing Christians to come and join the Masses that are held regularly in the Chapel of the Holy Sacrament and Penitence. The tower there is also a very interesting place to visit, but children under 6 years old are not allowed to visit the towers and the children under 16 should come with an adult to enjoy it.
To attend a Masse you can request a free invitation one week prior to your desired date from the Barcelona Conciliar Seminary. It is open from 10 am to 2 pm and then again from 4 pm to 8 pm.
To enjoy the Antoni Gaudi's masterpiece's as in the temple's secrets, guided tours can come in handy. These near about 50 minute-long tours can be taken by anyone. The entrance point is C/Marina.
Once there make sure you behave politely and talk in a low pitch of voice. Do not smoke or eat while visiting the place or you can be asked to leave. Don't forget to avoid forming a crowd as well.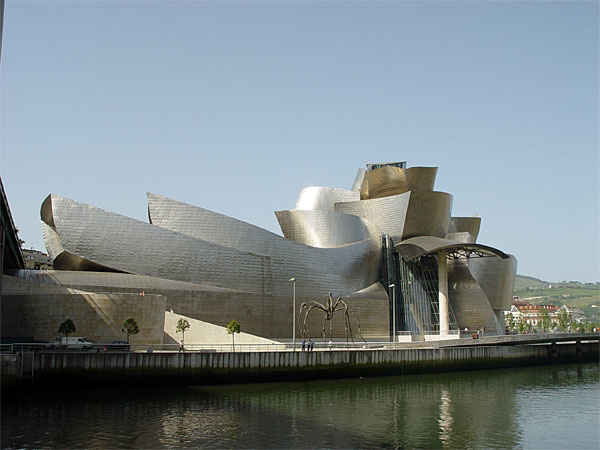 Spanish Basque Country
Roaming around the beautiful Spain for quite a long time now? It's time to head north then. In the north of this mesmerizing country you will find a very special place called the Spanish Basque country.  This place is also known as a very important part of the 'Green Spain'. Every year many visitors go there just to refresh themselves from the hectic day to day life they lead in the cities. If you are a person who loves to take a trip to a serene and calm place in the lap of the momma nature with the rhythmic music of the flowing waves of the sea, this is just the place for you! The capital of the Basque Country is called Bilbao city which is a famous for its beauty and the splendid Guggenheim museum. This beautiful piece of pure architectural genius contains a collection that starts from the middle of the 20th century to these days. This collection basically focused on the post-war sculptures and paintings in Europe and America.
Some Useful Tips:
Guggenheim Museum stays open from 10 am to 8 pm.
The restaurants of Basque country are awesome to dine.
Don't want to be too generous? Don't worry, you can save a lot of money as you don't have to tip big to make the Spanish folks happy.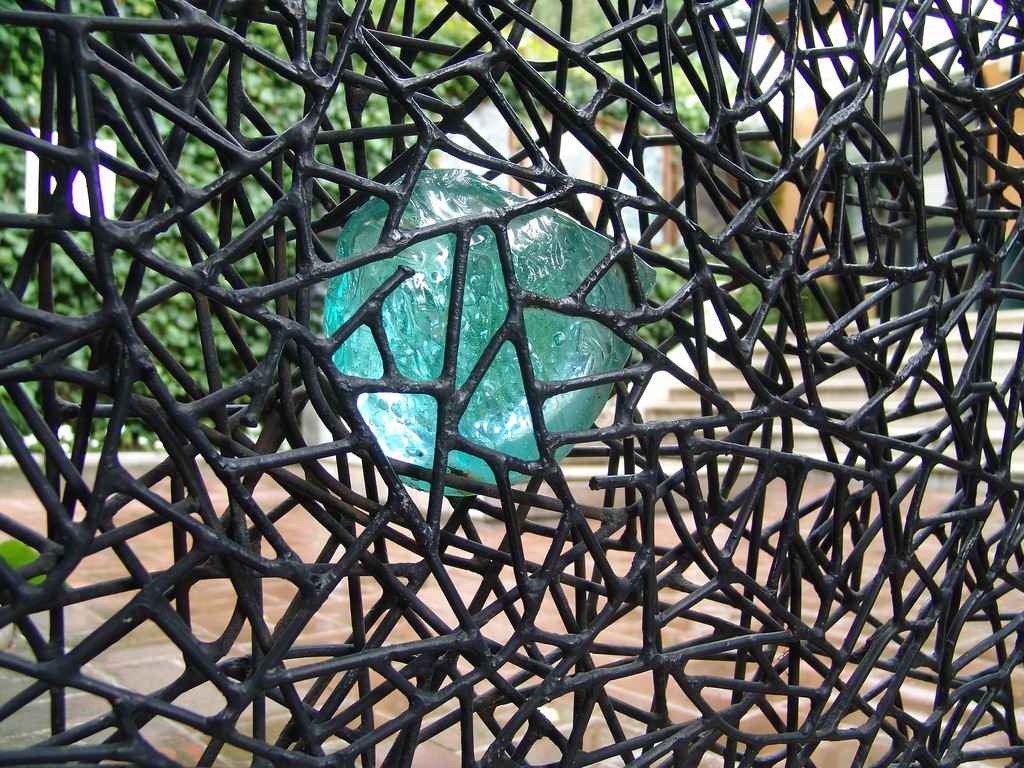 Museu Picasso
Museu Picasso or the Picasso Museum is one of the most coveted places to visit when you are visiting Spain.  This museum is located in Barcelona, a city that also should be on your list to visit.  Museu Picasso is famous for housing a remarkable number of artworks by the renowned Spanish artist from the 20th century, Pablo Picasso.  The number is four thousand two hundred and fifty one if counted. The museum consists of five adjoining palaces that were made in the medieval age. It is the only museum that was created when Picasso was still alive. It is also the first one that is absolutely dedicated to this powerful artist. It is also the place that holds two of the Picasso's most important works called 'The First Communion' and 'Science and Charity.' Why visit there? Well, the reason behind that is quite self-explanatory isn't it? The name Picasso should be enough to answer that!
Some Useful Tips:
The museum opens at 9 o'clock in the morning and closes at 7 o'clock in the evening. So, don't forget to be on time!
Monday and other holidays are a big 'No' for you to visit the place as it remains closed then.
Fees to visit the temporary exhibitions:
Adults have to pay €14.00; Retired up to 25 years should pay €7.50.
To visit Collection:
Adults have to pay €11.00, Retired up to 25 years should €7.00.
Minors don't have to pay.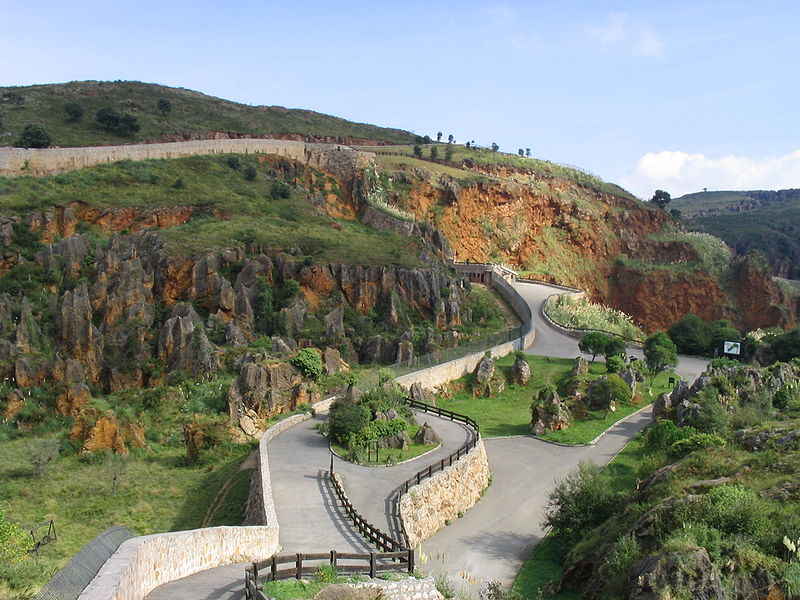 Cabárceno Park
A little anxious to take to a little break and walk into the wood and the wilderness? You cannot choose a better option than the Cabárceno Park to do that! This beautiful park is divided into two basic parts. One of them is the animal conservatory and the other one is the Environmental Education Centre. This 1900 acres park houses animals of different endangered species to save them from becoming extinct. These animals include Somali wild ass, wild boars, bears, different sorts of reptiles and so on. The animals are given almost total freedom here. This park has a wide range of trees as well, including birch, oak, olive, yew, pine, laurel and so many more. This park has restaurant, ATM booths, souvenir shops, public phones etc. The Bear restaurant is placed in front of the bear enclosure which is a delightful place to eat for sure. Every year thousands of people all over the world come and visit the place to spend a quality time in the wilderness.
Some Useful Tips:
From 1st October to 31st March the timing of the park is 10 am to 5pm on the weekdays and 9 am to 6 pm on the weekend. From 1st April to 30th September, the timing is 9:30 am to 6 pm. It is closed on the following dates 24th , 25th , 31st December and 1st
Wear comfortable shoes to take a little hike.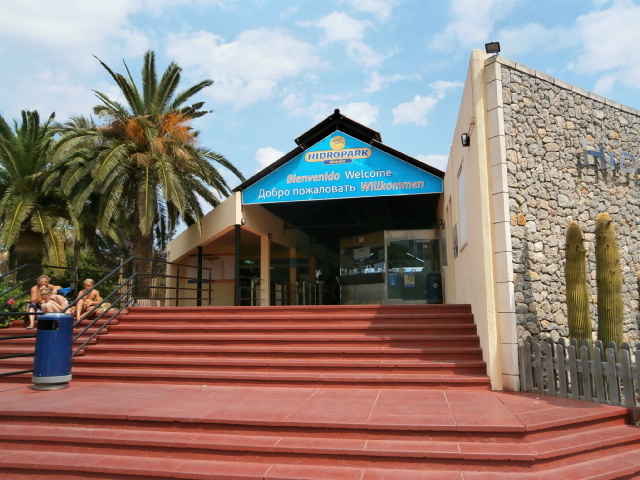 Hidropark Alcudia
Feeling a little fatigued from your trip to the wilderness? It's time to give yourself a little treat then! And the best way to do so is to get yourself thoroughly splashed in the Hidropark Alcudia. This park is full of water rides and activities.  For instance, it has got a couple of 'kamikazes',  a pair of 'parallel slides', four 'foam slides', six 'multi slides' and a 'spiral' to begin with.  But the fun is not limited to them only as there are bouncy castles, paint balls, 54-holes super golf, floating balls and so on. The people who love water sports and/or the ones travelling with kids should visit the place to have a nice family time out.
Some Useful Tips:
The tickets are pretty pricy. So, do not plan the trip wisely, just don't do it out on a whim. Adult entrance fee is €22,90 and € 16,90 for children under 3 years old. Children over 11 years old would be considered as an adult. The senior citizens have to pay € 16,90 per person.
The opening and closing times in May-June and September-October are 10 am to 5 pm. The closing time extends an hour in July-August.
The food and drinks inside the park are exclusive on entrance fee and the cocker charge as well.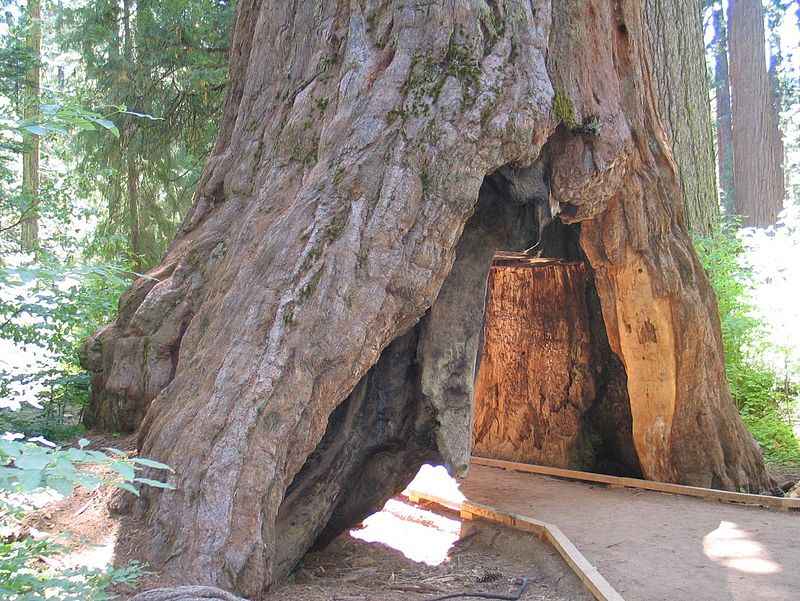 Las Calaveras Cave
Enough of the light fun and now it's time to go back in time. Yes, you haven't heard wrong, it is time we talk about this place. And it's not just anytime, it's the prehistoric time that is relevant to ancient Christian and Moorish 'legends'. Nostalgic, isn't it? Anyway, Las Calaveras Cave is a cave that was formed nearly one hundred and thirty five years ago. It is a hollow formed in limestone that was discovered in 1768 when men were drilling for water. The cave is not only of great archaeological significance but also of immense geological values. Palaeolithic as well as Neolithic vestiges was found in the cave. On top of that, some Paleontological remains of bulls, rhinoceroses. hyenas, hippopotamuses, and bulls were also found in this cave. Their current address is the Alcoy Museum.  The visitors go there to have a taste of the ancient time with a dash of stalagmites and stalactites and large domes. The entrance of this cave is 70 metres higher than the sea level. The beautiful lake, namely the Toll Blau is worth visiting as well.
Some Useful Tips:
The timings are from 9 am to 6 pm in 16th September- 14th June and from 9 am to 8:30 pm in 15th June-15th
Entrance fee for adults and retired people €3.50, for children: €2.00 , and for groups: €2.50.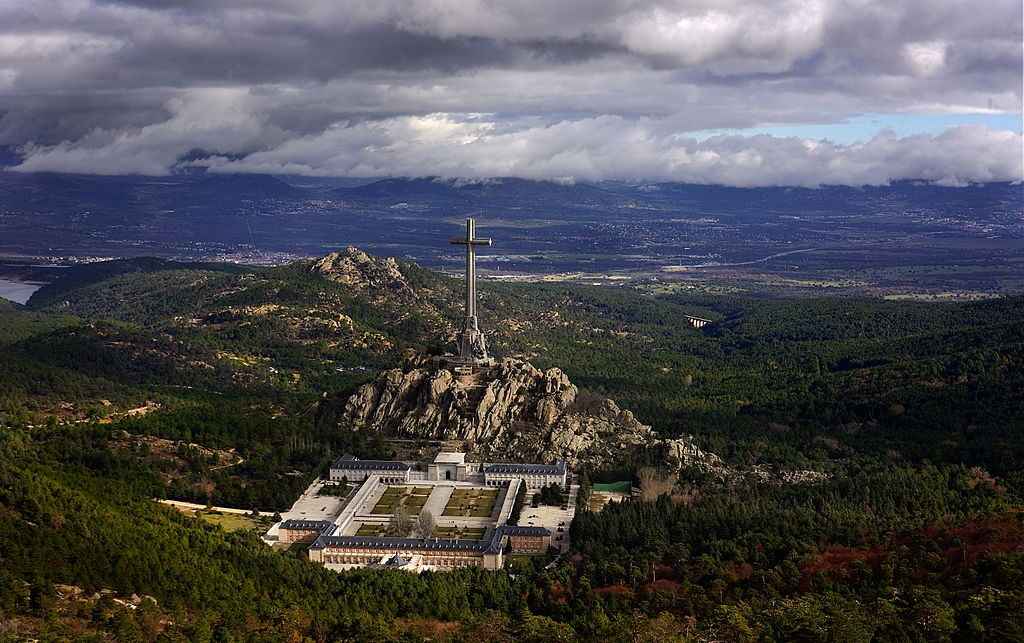 Valley of the Fallen Monumental Memorial
When you are in the mood of reliving the history, you should be in the mood to honour the fallen while you are on tour. And when in Spain, the easiest way to do that is to pay a visit to the Valley of the Fallen Monumental Memorial. This monument is located at Cuelgamuros Valley, Sierra de Guadarrama, a place near Madrid. The controversial Spanish General Francisco Franco conjured up the place to bury and honour the fallen people who embrace martyrdom in the Spanish Civil War. This monument consists of 13.6 kilometres of area of granite boulders and Mediterranean woods. It includes the valley, the Juanelos, a guest house, a Basilica and a Benedictine abbey. The tower of the monument is clearly visible from a distance of 32 kilometres. People love to visit this place as a sign of their respect and admiration for the fallen of the Spanish Civil War.
Some Useful Tips:
Keep your cameras in your bag as you might be accused of breaking a rule otherwise.
Want to self-drive to the Valley of the Fallen? Make sure you have a green card if you aren't from an EU country or Switzerland.
Take a few flowers with you, as you would like to say a little prayer and leave some flowers there as a token of your appreciation and compassion.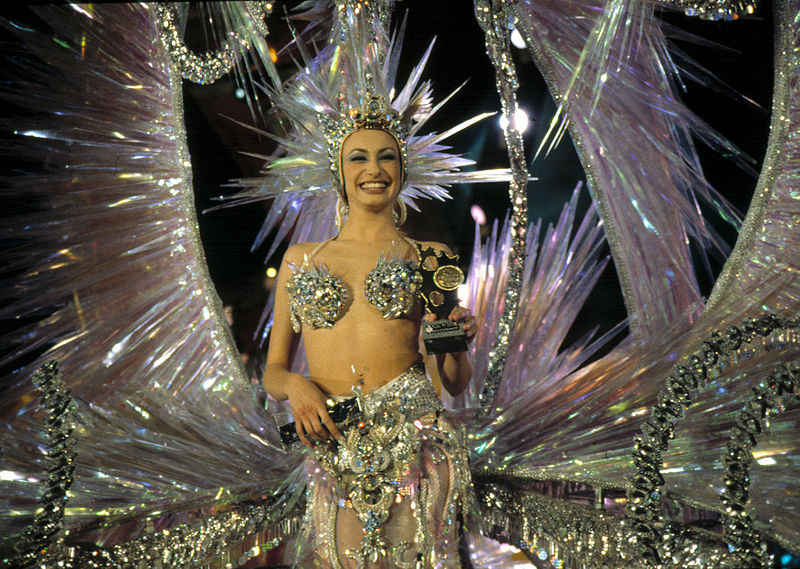 Tenerife Carnival
What your trip to Spain would be without a little rhythm of samba or salsa, well, in this case a bit of both in it? At this point you might get confused if we're getting all worked up and confusing Spain with Brazil or not. Don't you worry; this colourful festival is indeed a Spanish exquisiteness. Every village and town of the Canary Islands enjoy this festival. Carnival in Puerto de la Cruz can be considered as the promo of an upcoming blockbuster which is, in this case, Carnival in Santa Cruz de Tenerife. Both carnivals are full of events like fanfare, parades, costumes, music and dancing. Visitors who are lucky enough to be in Spain during the time of the festival do not miss to be there for anything in the world. Even people willing to visit Spain time their tour accordingly to be a part of the second greatest carnival in the world, the top spot is still held by Rio.
Some Useful Tips:
The next carnival is dated to happen on 31st January and go on until the 4th of February in the year of 2016. So, plan your time well!
Keep an eye on your wallet and valuables during the carnival. Remember a little naughtiness is kind of a package deal with every carnival even when the security system is good.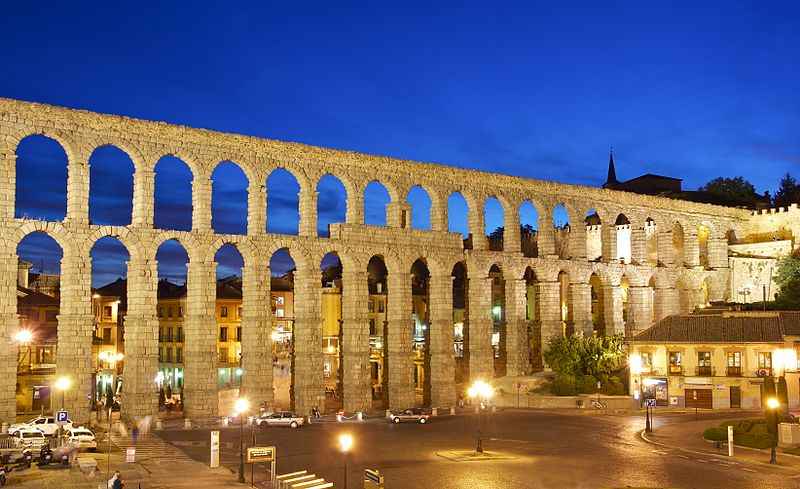 Aqueduct of Segovia
Aqueduct of Segovia is an aqueduct that was built by the Romans. It is indeed one of the most ancient as well as best-preserved monuments in Spain.  The actual date of building this monument is still to be found or might always remain a mystery as no clear write up has been found till date. It is assumed that it was built during the reigning period of three emperors namely Nerva, Domitian and Trajan in the initial century AD. This aqueduct is exactly located in a place called La Acebeda that is 17 kilometres far from the city. This was made to carry water from a river known as Fuente Fria. The water is initially carried to the 'big house' and then led to another tower namely the water house. In the water hour it is emptied and settled naturally and then it is routed to the destinations. Though this is more of a functional place, tourists still love to see the beautiful architecture and the process of routing water in front of their eyes.
Some Useful Tips:
Thinking of a suitable time to visit this place? Don't fret much, as it is open all the time! Still the daytime would be suitable to have a look at this beautiful architecture.
Try to get your homework done. Doing so you can visit all the Segovia in a day!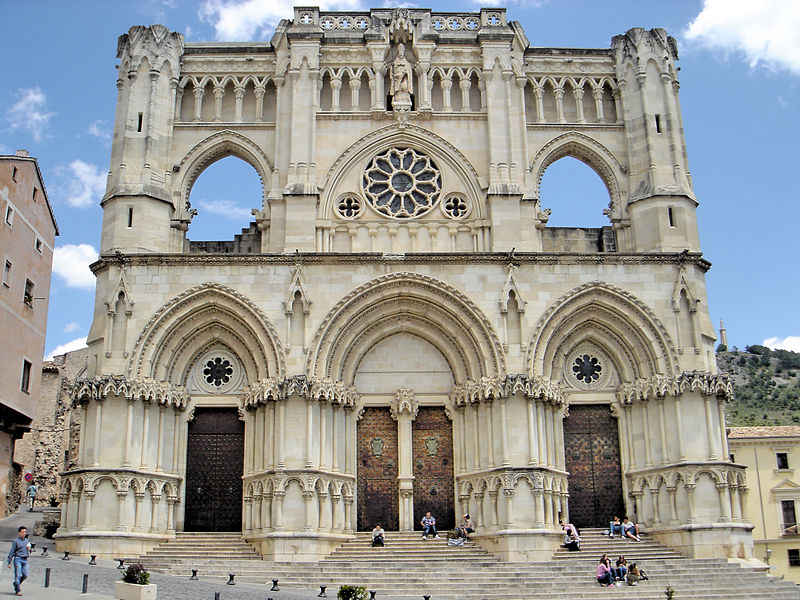 Cuenca
Cuenca is situated across a vertical spur. The slopes of this go down into the gorges of a couple of rivers namely Huécar and Júcar. It is separated into two different settlements. The new one is located at the south west of the old one. This is a place full of tourist attractions such as Parque Natural de la Serrania de Cuenca, Tunel de Alfonso VIII, Historic Walled Town of Cuenca, Museo Fundacion Antonio Perez, Yacimiento Romano and a lot more. Parque Natural de la Serrania de Cuenca is located at a place that is only 25 minutes drive from the city of Cuenca can be tagged as a limestone magic land.  The Walled Town of Cuenca is a town located at the top of the hills. This is fan absolute favourite with the tourists due to the beauty and nature of the place as well as its architectural beauty.
Some Useful Tips:
The entrance fee of Parque Natural de la Serrania de Cuenca is absolutely cost effective. An adult has to pay only 5 Euro to enter while a senior citizen can enter by paying a Euro less.
The hotels of Walled Town will give you a homely taste as they are smaller and cosier than most other places. Reachable by car, train or bus.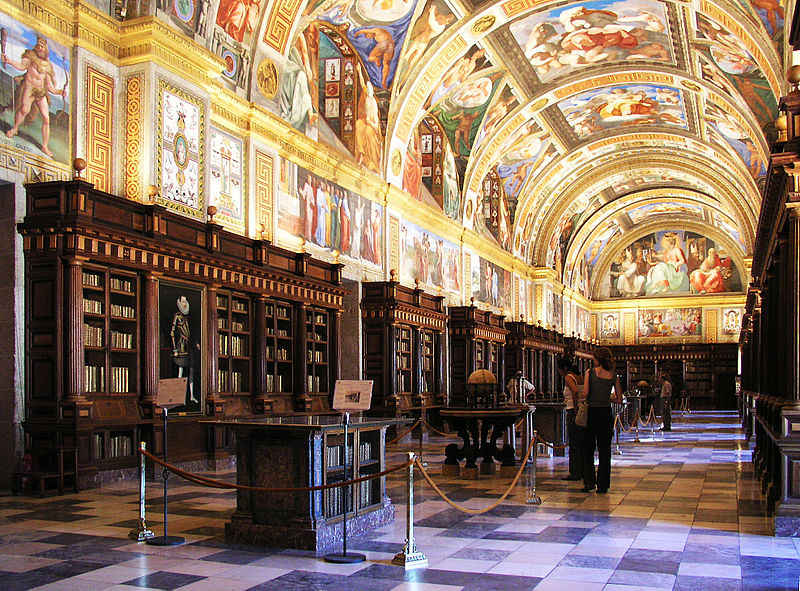 El Escorial
El Escorial is also known as the 'Royal Site of San Lorenzo de El Escorial' is a UNESCO World Heritage Site that was used to be a residence of the historical King of Spain. It is located about 28 miles northwest of Madrid the Capital of Spain. This place comprises of a couple of complexes and holds both cultural and historical importance. These complexes it includes the Royal Monastery, a monastic retreat and hunting lodge. The Roman Catholic religion and the monarchy of Spain both are reflected through the architectures of the site. El Escorial was used to be a combination of a monastery and a royal palace. Given a chance, you would love to visit the place because of the powerful and graceful beauty it holds and the rich historical background would be a plus to it for sure.
Some Useful Tips:
The transportation is very diverse and handy to get there. Bus or train or car, take your pick and you are on!
Make sure you make your trip at the right time to have a look of this great place. The Entrance fee is favourable to the tourists unlike many other sites. It costs one only 5 euro to visit. For a person living in the European Union, the fee is not applicable.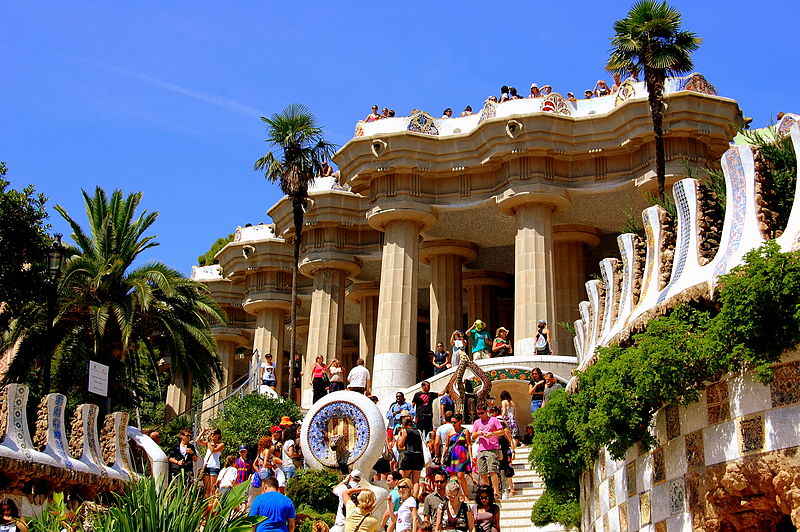 Barcelona
Being in Spain and not experiencing Barcelona is a total deal breaker of a tour. This city can be called as the heart of the art of Spain because of its architectural splendour and avant-garde design and fashion. The first and foremost thing that strikes in one's mind when Barcelona tour is on is the Gaudi's design. The Buildings designed by Gaudi are there in the every nook and cranny of this city. Las Rambalas is a heaven for the pedestrians as this nearly a mile long street is full of tourist delights such as several shops, yummy restaurants, an awesome wax museum and so on. Montjuic is also a place that is not to be missed at any cost. This hill top place is not only famous for its scenic views, but also for its tourist attractions such as an archaeological museum, an art museum etc. Gothic quarter should also be on your hit list as well due to its mystic and medieval look. The Waterfront is also a place to touch down due to its aquarium, marina, beaches and harbour.
Some Useful Tips:
Stay clear of the muggers, bag snatchers and scammers while visiting Barcelona.
Travel through metro as it is fast and affordable at the same time. However, keep the 'Cinderella' factor in mind though, as many of the metro stations shut down after 12 am.
Well, to end it all, we must ask you to remember that the list of the above mentioned 15 places that we have come up with does not ensure there are no other places that would invoke your interest during your tour to Spain. In other words, these 15 are not the only places worth your time. Apart from these, you would still have a lot of things to do in this country. So, we would humbly tell you to not just to stick to our preferences. Having mentioned that, we are also sure that these listed places are some of the finest spots to visit in the country.
Have a nice trip then!
Save
Save