Lawrence, MA is a vibrant city full of culture and attractions. From historic sites to modern-day museums, there's something for everyone visiting this thriving metropolis in the Merrimack Valley Region. For those looking to explore the beauty and culture of Lawrence, here are 15 of the best things to do while visiting.
1. North Canal Historic District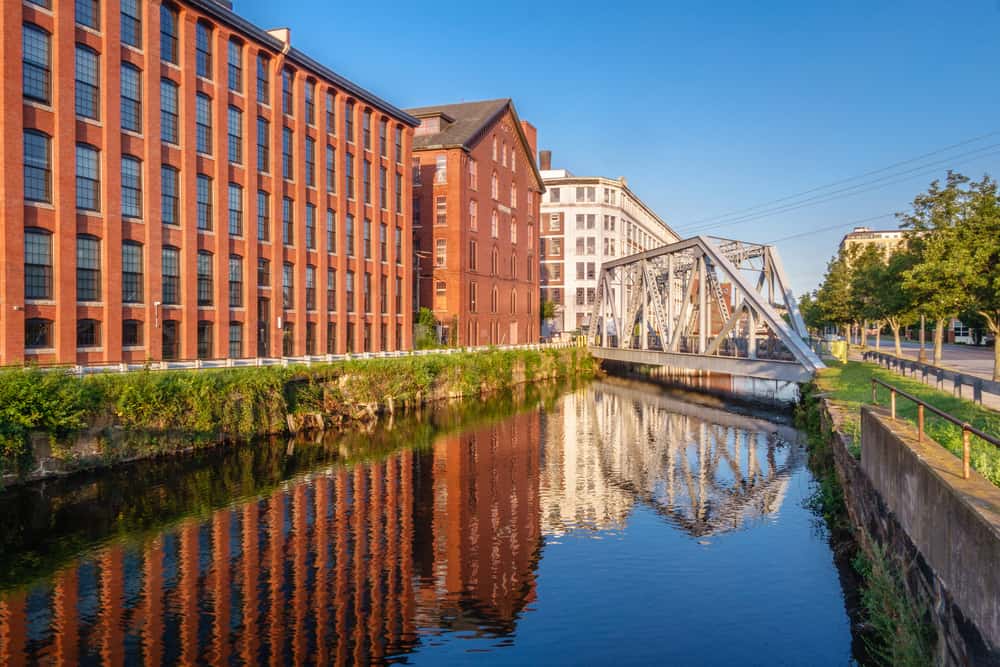 Source: Heidi Besen / shutterstock
The North Canal Historic District in Massachusetts is a great example of American history. Located in Lowell, MA, the area was the site of one of America's first planned industrial cities and has a deep historical significance. Established in 1978, it became the first National Historical Park to be designated by the United States government for its importance to America's industrial revolution.
Today, this district is home to many interesting attractions and sites that visitors can explore. One such attraction is the Boott Cotton Mills Museum which showcases artifacts from Lowell's earliest days – including rare machinery from a time when machines replaced people as part of manufacturing processes. Visitors can also learn more about Lowell's historic architecture at places like the Boott Mill Yard, Pawtucket Dam, and Lawrence Heritage State Park.
2. Lawrence Heritage State Park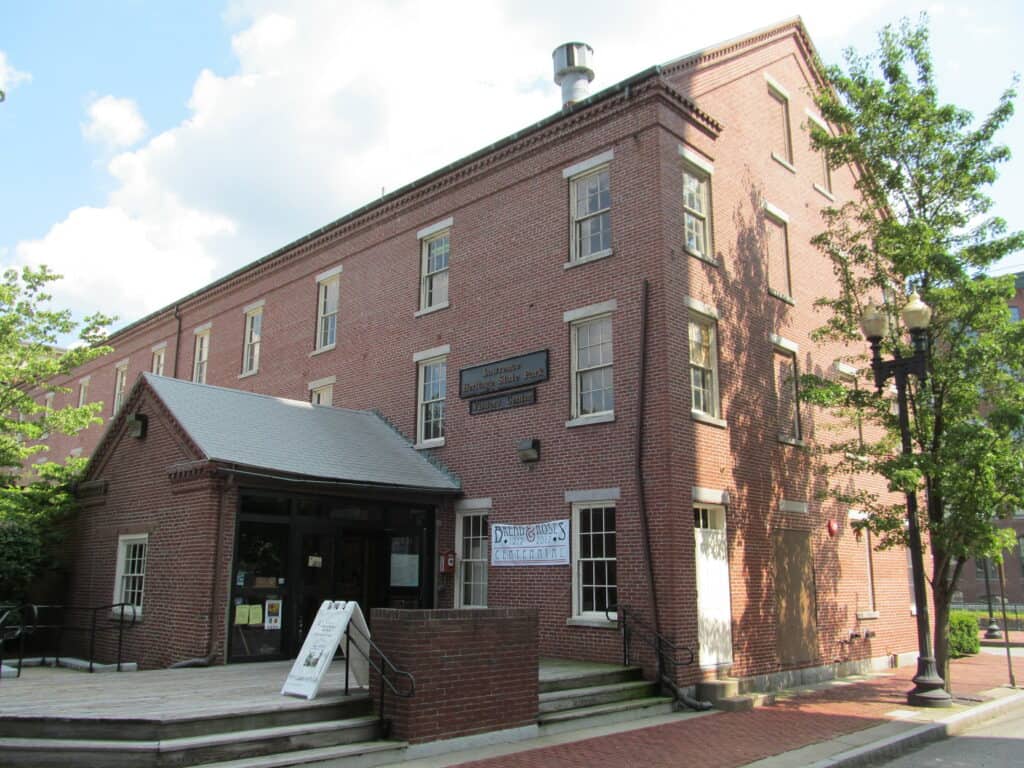 Source: John Phelan / Wikimedia | CC BY-SA 3.0
Lawrence Heritage State Park is a public recreation area located in Lawrence, Massachusetts. This Massachusetts state park was established in 1985 and is the only state park in the city of Lawrence. It is situated on the south bank of the Merrimack River and has become a popular destination for visitors looking to explore and enjoy the great outdoors.
The park features plenty of activities that appeal to people of all ages. Visitors can take part in picnics, walking trails, fishing, boating, swimming, archeological exploration and more! There are also events such as concerts and educational programs that are held throughout the summer months. The historic buildings on-site provide an insight into how life used to be back when Lawrence was an industrial powerhouse during the late 1800s. Visitors can take guided tours which explain some of this history or learn more at their own pace by exploring independently.
3. Lawrence History Center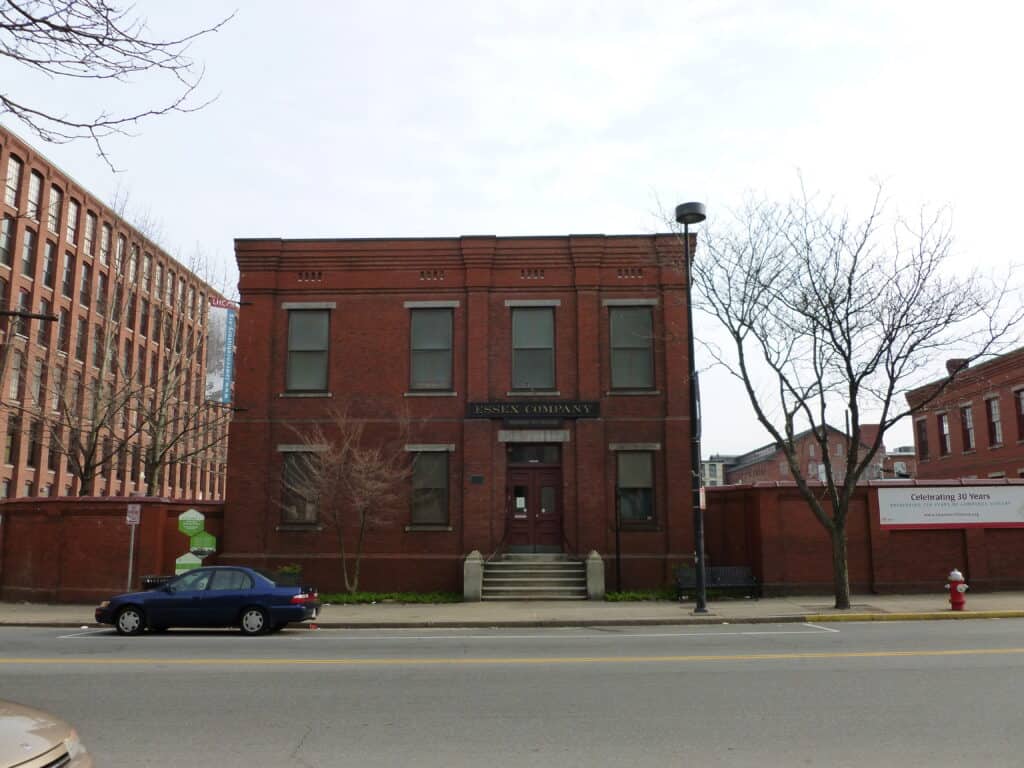 Source: Emw / Wikimedia | CC BY-SA 3.0
The Lawrence History Center, located in Lawrence, Massachusetts, is a historical museum and library dedicated to preserving the diverse history of the city. Founded in 1983 by a group of local citizens and business people, the center seeks to provide an opportunity for visitors to experience and explore the city's history through its wide array of collections.
Visitors can take part in interactive exhibits that showcase various aspects of life in Lawrence over the years. This includes artifacts from various eras such as Revolutionary War-era documents and photographs from World War II-era factories. The center also houses an extensive collection of books on local history topics as well as maps detailing key areas throughout Lawrence's past. Guests can also view special displays featuring unique artifacts such as textiles, photographs and other pieces related to specific events or people from Lawrence's history.
4. Lawrence Farmers' Market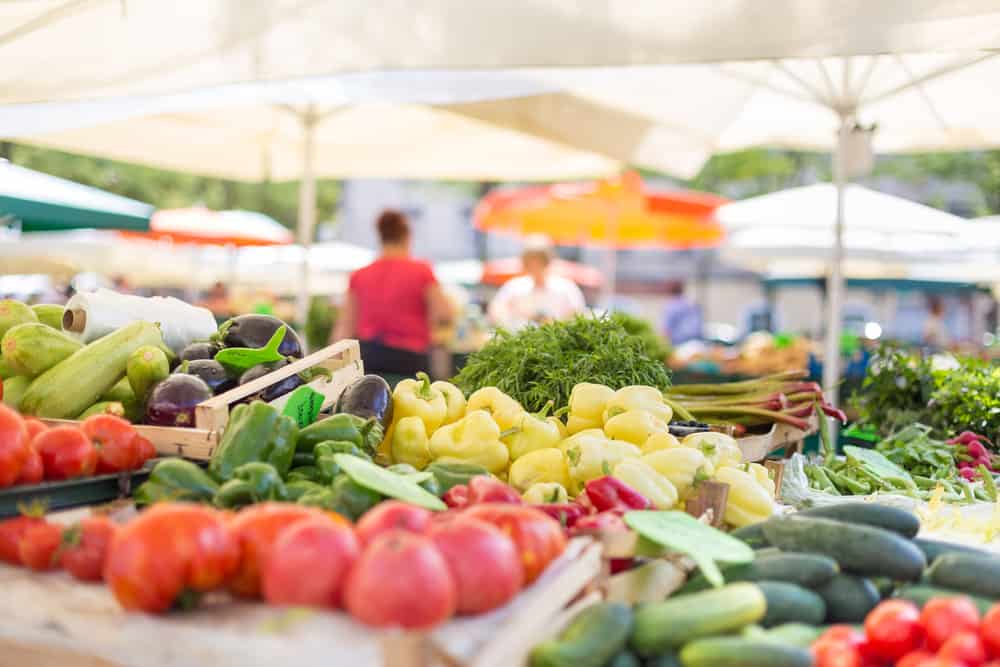 Source: Matej Kastelic / shutterstock
The Lawrence Farmers Market, located in Massachusetts (MA), United States is a vibrant shopping destination for locals and visitors alike. Offering an array of fresh produce, meat and other products, the market is sure to have something to satisfy everyone's needs. Moreover, the lively atmosphere of the market makes it a great place to meet up with friends or family members and enjoy the day together.
Founded in 1982 by local farmers, the Lawrence Farmers Market has grown over the years into a bustling location that offers people quality goods from around Massachusetts as well as beyond. Visitors can purchase locally grown vegetables and fruits from farms such as Broz Farm, Bellingham Orchards and Chilmark Farms. The market also offers freshly prepared meals from local food stands such as Baba & Pop's Kitchen, Amazebowls and B-towne Eats.
5. Essex Art Center (EAC)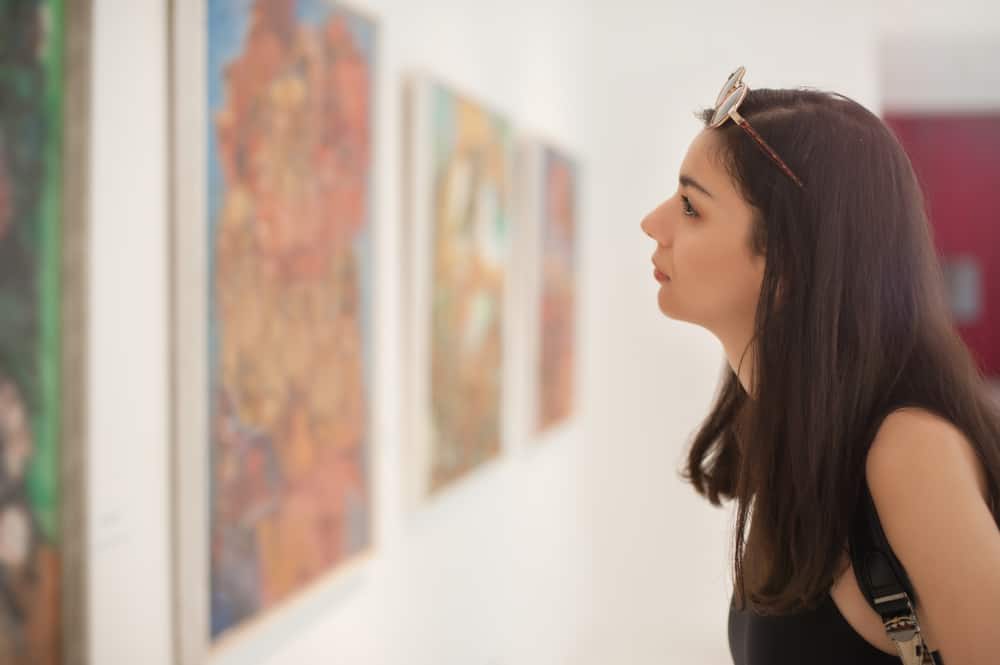 Source: guruXOX / shutterstock
Essex Art Center (EAC) is a non-profit visual art center located in Massachusetts, United States. Founded in 1984, the organization serves as an educational and creative hub for artists and students of all ages to express themselves through art. With more than 20 years of experience under its belt, EAC has established itself as one of the most important cultural institutions in MA.
The EAC offers a variety of programming including classes, workshops, residencies and exhibitions which are supported by its dedicated staff members and volunteers. From beginner to advanced level classes taught virtually or at their brick-and-mortar location in Lawrence, MA; there's something for everyone at the Essex Art Center. The center also provides immersive residency programs that offer professional development opportunities to artists from all over the world who come together to create works that are showcased throughout Massachusetts.
6. Stevens-Coolidge House & Gardens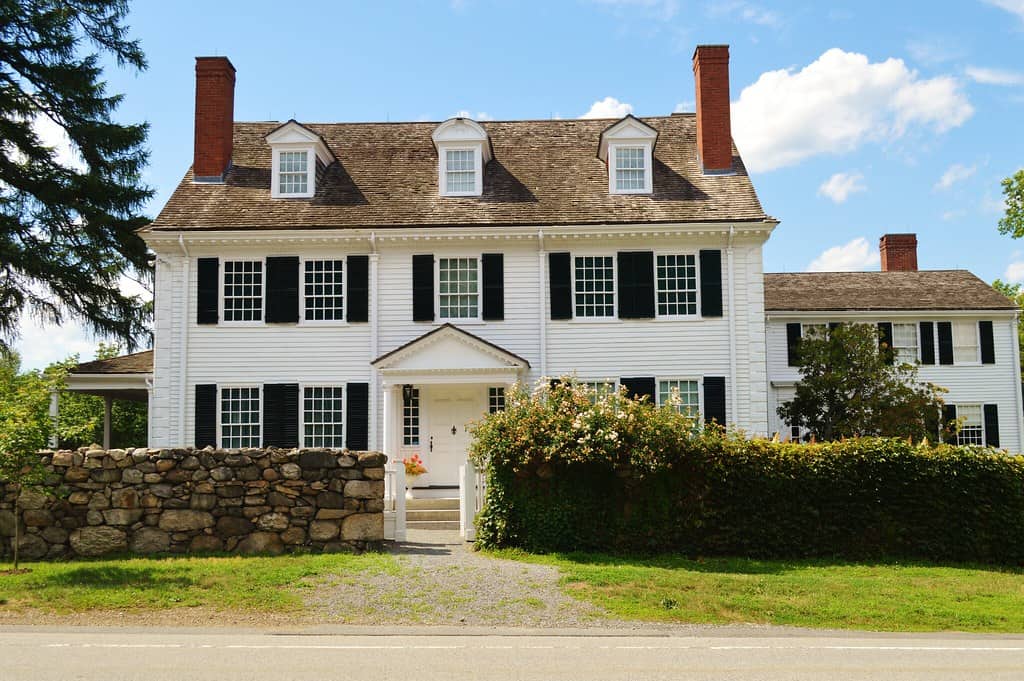 Source: Massachusetts Office of Travel & Tourism / Flickr | CC BY-ND
The Stevens-Coolidge House & Gardens, located in North Andover Massachusetts, is a historical treasure and a must-see destination. Built in 1728 by Reverend John Stevens, this iconic mansion was home to multiple generations of the prominent Stevens family until 1869 when it passed into the hands of Thomas Jefferson Coolidge. During its time as a private estate, the house and gardens were highly regarded for their beauty. Today, visitors can explore the entire property and experience an important part of history from colonial America in the United States.
The house has been expertly preserved with many original elements still intact including hand-painted wallpapers from around 1880 and rare examples of chinoiserie furniture from China. The grounds are equally stunning with lush lawns and sprawling gardens that overlook Lake Cochichewick below.
7. Den Rock Park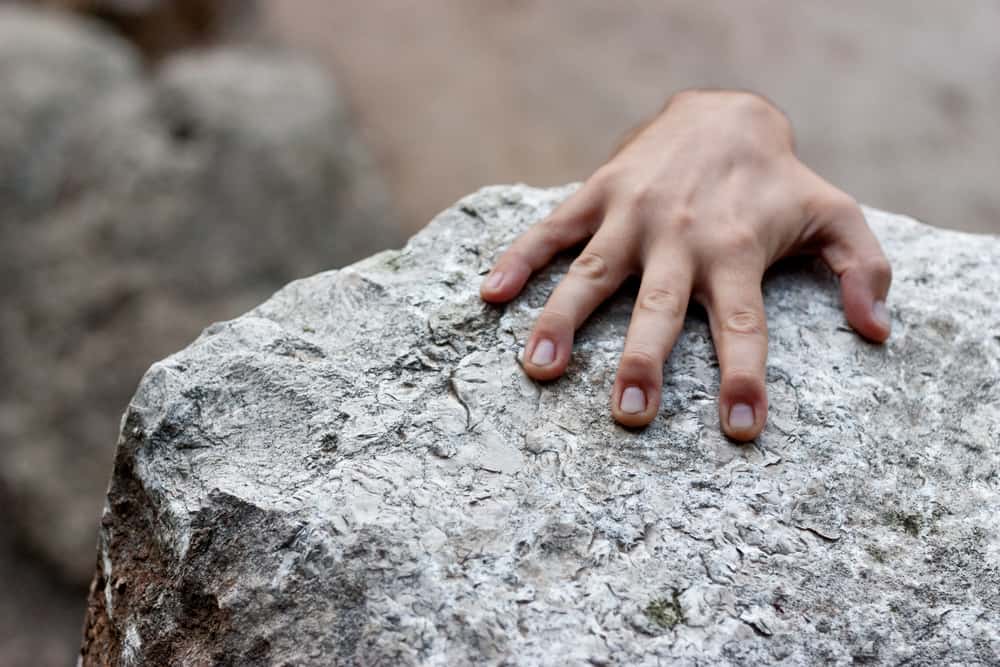 Source: Evyatar Dayan / shutterstock
Den Rock Park is located in the city of Lowell, Massachusetts (MA), United States. Spanning over 37 acres, Den Rock Park is a large park full of activities that both locals and visitors alike can enjoy. Whether you're looking for something to do with friends or family, Den Rock Park has something for everyone.
The park offers plenty of outdoor recreation options such as hiking trails, a playground, picnic areas and gazebos. There are also two large ponds which are popular spots for fishing and boating. Visitors can take advantage of the basketball court, tennis courts, soccer fields and baseball diamond. The park also hosts many events throughout the year including concerts, festivals and movie nights at its amphitheater.
8. Fisichelli's Pastry Shop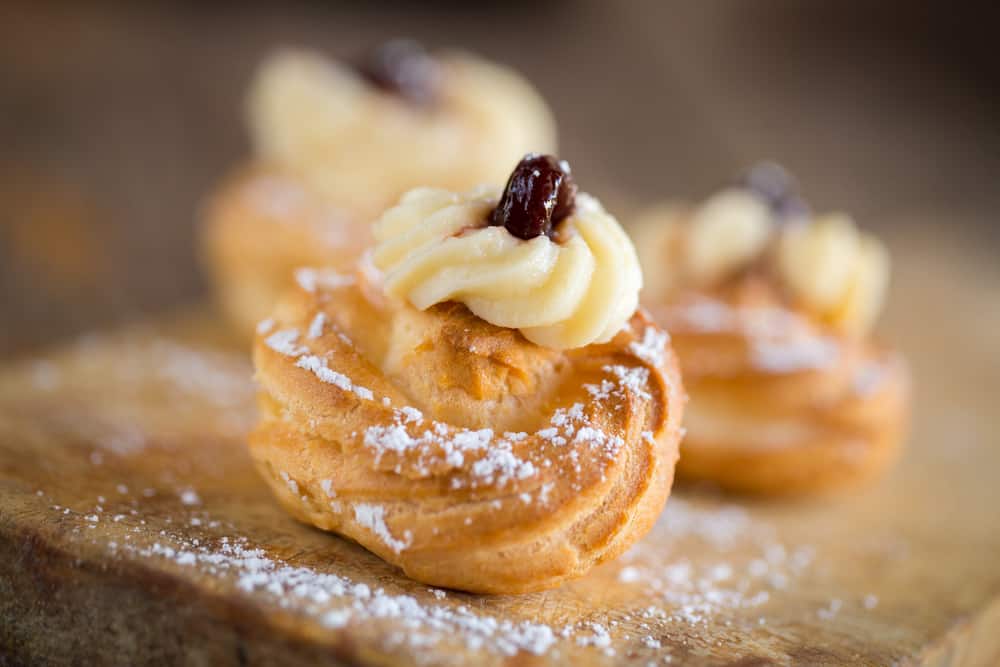 Source: Sabino Parente / shutterstock
Fisichelli's Pastry Shop is a family-owned and operated business located in the heart of Massachusetts, United States. Established by Francesco Fisichelli in 1925, this bakery has been delighting generations with classic pastries, cakes and pies for over ninety years. Fisichelli's offers an array of treats that feature traditional Italian recipes passed down through the generations. These range from cannoli to cream puffs, rum cake to tiramisu, and everything in between.
The Fisichelli family strives to provide customers with excellent service and quality desserts made using only the freshest ingredients available. They guarantee satisfaction with each purchase while also taking great pride in their baking techniques which have been perfected over several decades of experience.
9. Spicket River Greenway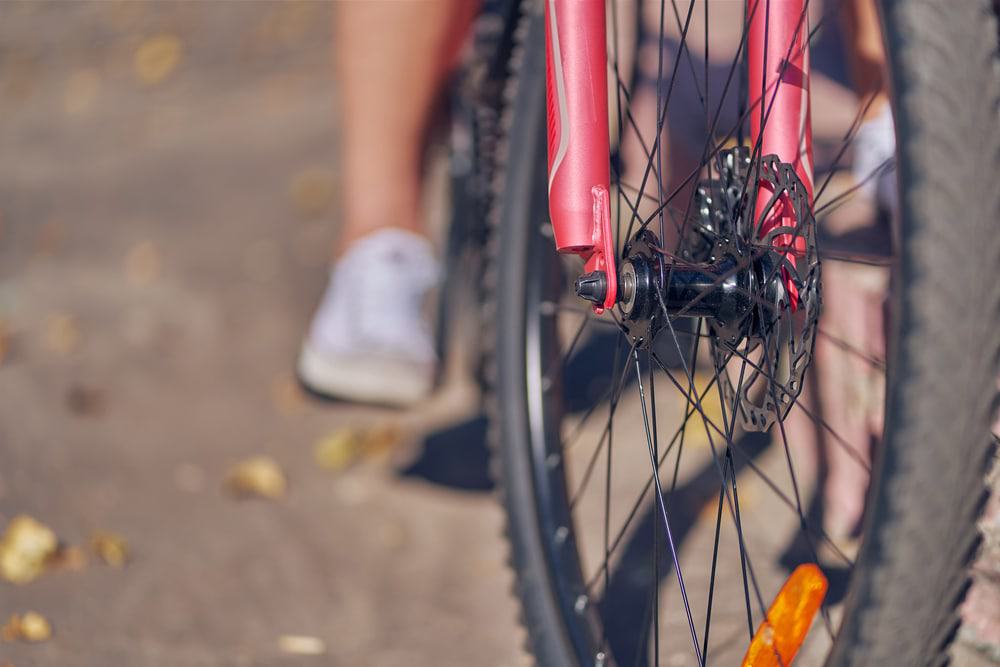 Source: AStolnik / Shutterstock
The Spicket River Greenway in Massachusetts is the United States' newest and longest greenway. Spanning more than 5 miles from Lawrence to Methuen, this scenic path offers an array of recreational opportunities for locals and visitors alike. The pathway follows along the peaceful Spicket River, connecting several parks, riverside walkways, bike paths and other public spaces.
A project over two decades in the making, the greenway was created by a collaboration between local municipalities as well as state and federal agencies including the U.S. Environmental Protection Agency (EPA) and National Park Service (NPS). By transforming former industrial sites into thriving public spaces, they have successfully restored wildlife habitat while creating access to new recreational areas for citizens of all ages.
10. Methuen Rail Trail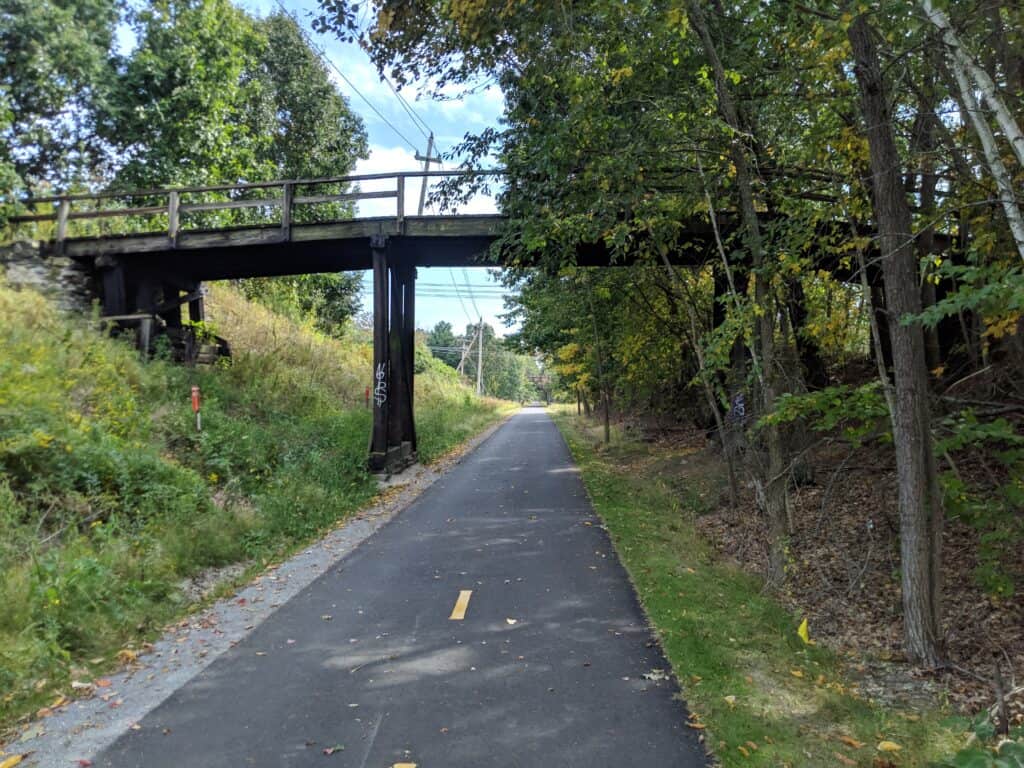 Source: John Phelan / Wikimedia | CC BY-SA 4.0
The Methuen Rail Trail, located in Massachusetts (MA), United States, is a popular spot for outdoor recreation and fitness. This four mile trail follows the abandoned Haverhill Line of the Boston and Maine Railroad, winding its way through forests and wetlands. It provides visitors with a peaceful escape from city life while offering an array of recreational opportunities.
The paved pathway is perfect for walking, jogging or cycling. Along the route there are several rest areas to stop and take in the beauty of nature, including scenic views of nearby ponds, meadows and woodlands. Bird watching along this trail is quite popular as well; many species have been spotted here including hawks, owls and bald eagles.
The Methuen Rail Trail is open seven days a week from sunrise to sunset with no entrance fees or permit requirements.
11. Duck Bridge (Union Street Bridge)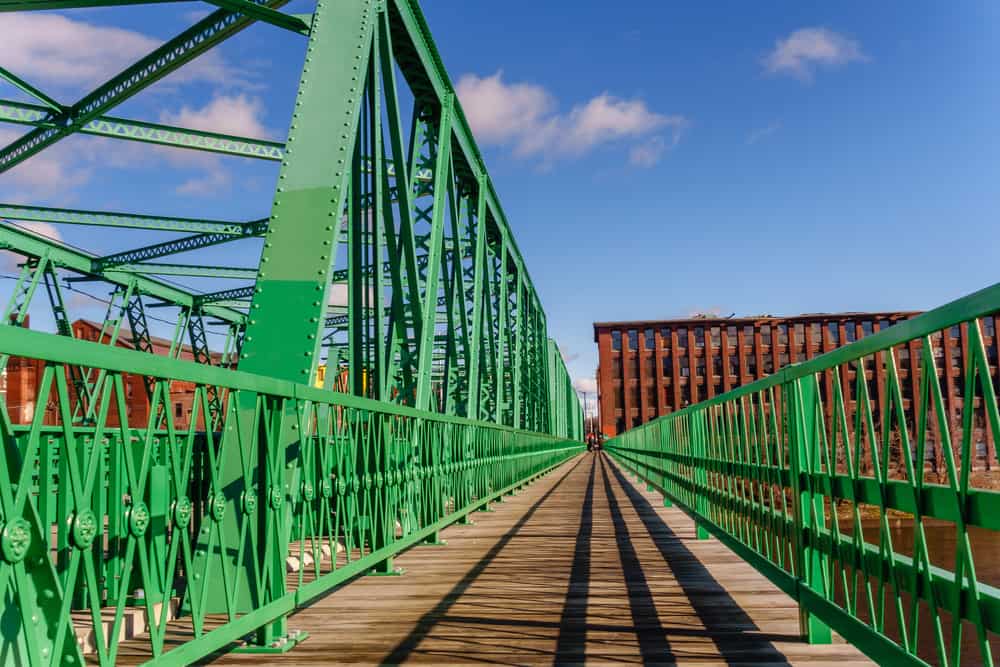 Source: Heidi Besen / shutterstock
The Duck Bridge, also known as Union Street Bridge, is a historic bridge located in Massachusetts. The bridge connects the towns of Westborough and Northborough over the Assabet River. Spanning 102 feet long, this two-hinged arch bridge was constructed in 1909 by the Berlin Iron Bridge Company. This bridge is made of wrought iron with a stone masonry substructure and was built to replace an earlier wooden truss structure that had been destroyed by flooding in 1908.
The steelwork of the Duck Bridge has remained unchanged since its construction, but it underwent substantial repairs in 2014 to fix structural damage caused by weathering and wear-and-tear over time. As a result of these repairs, the Union Street Bridge now stands as one of the few remaining examples of a historical wrought iron truss from 19th century America still standing today.
12. Canal Street Antique Store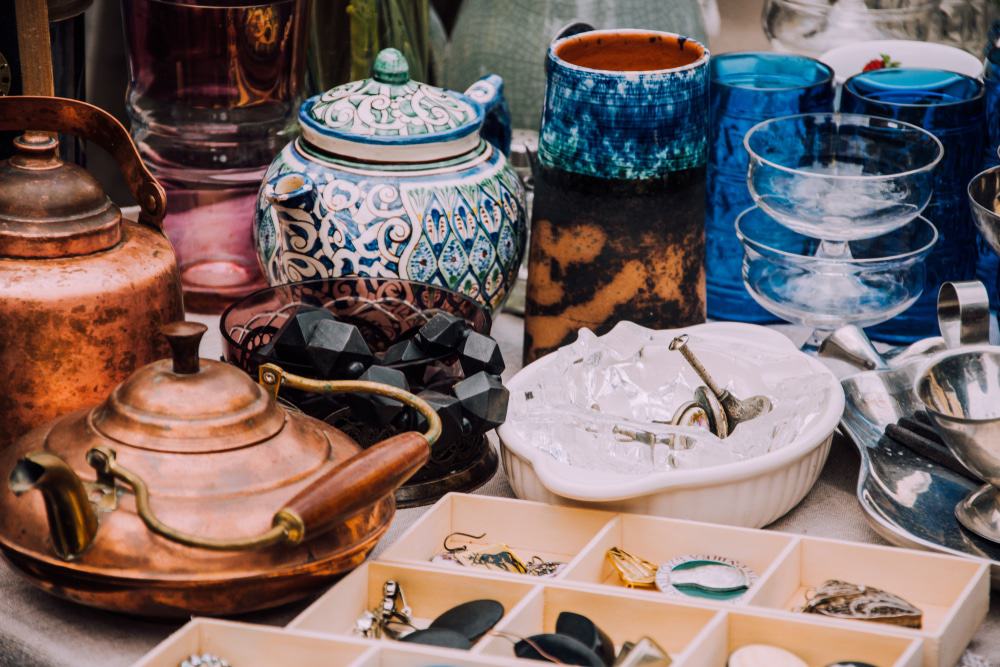 Source: Sokolova Svetlana / shutterstock
Canal Street Antique Store is a unique and renowned antique store located in the heart of Massachusetts (MA). This store has been around since the mid-1930s, offering a variety of antiques from all over the United States. With thousands of items to choose from, Canal Street is an ideal destination for collectors and bargain hunters alike.
Canal Street offers both classic and modern antiques with something for everyone's taste. From vintage furniture to rare collectibles, you will find it all here! They also have an extensive jewelry selection featuring exquisite pieces from past centuries that are sure to make your collection stand out. The knowledgeable staff at Canal Street are always on hand to help you find exactly what you need. In addition, they hold regular sales events where customers can take advantage of great discounts on select items.
13. High Service Water Tower and Reservoir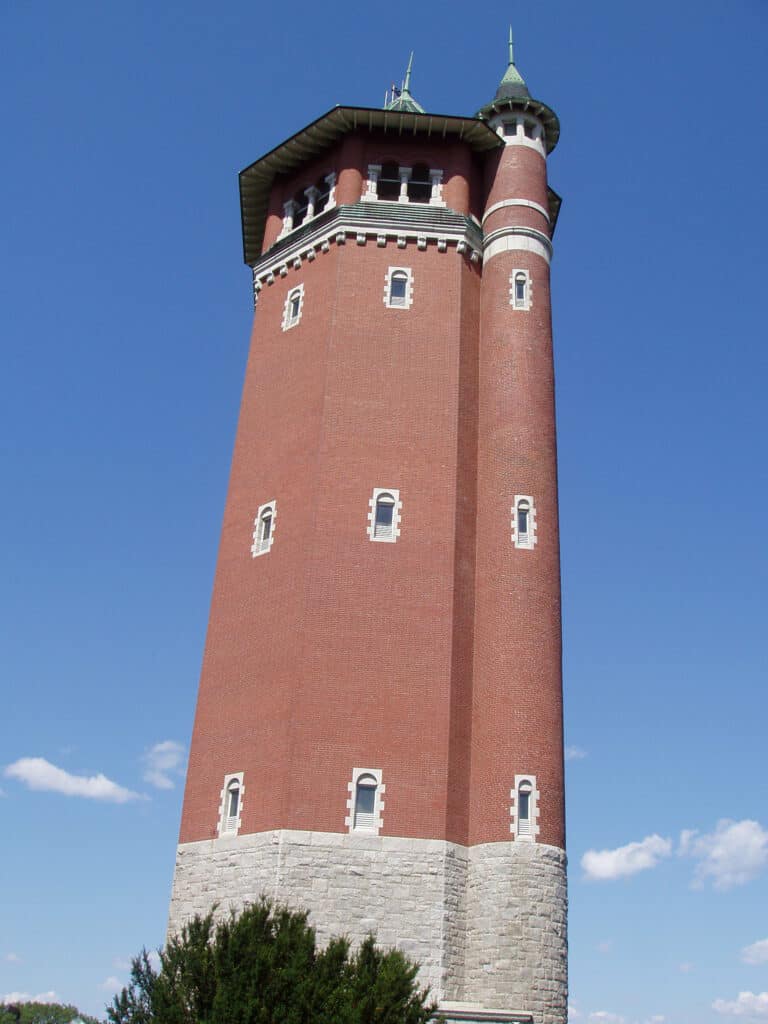 Source: Daderot at en.wikipedia / Wikimedia | CC-BY-SA-3.0
The 13th High Service Water Tower and Reservoir in Massachusetts (MA) is an impressive example of the engineering capabilities within the United States. Located in the city of Worcester, MA, this structure stands at a massive 279 feet above sea level and can hold an estimated 6.1 million gallons of water at any given time. The tower is also erected atop a reservoir that holds an additional 8 million gallons of water.
This historical structure was built all the way back in 1891 with construction being completed by 1894; since then it has been one of three monumental landmarks that have come to symbolize and identify Worcester as a city. This incredible feat of engineering provided Worcester with clean drinking water for many years before modern technologies advanced further and allowed for other sources to be used.
14. Great Stone Dam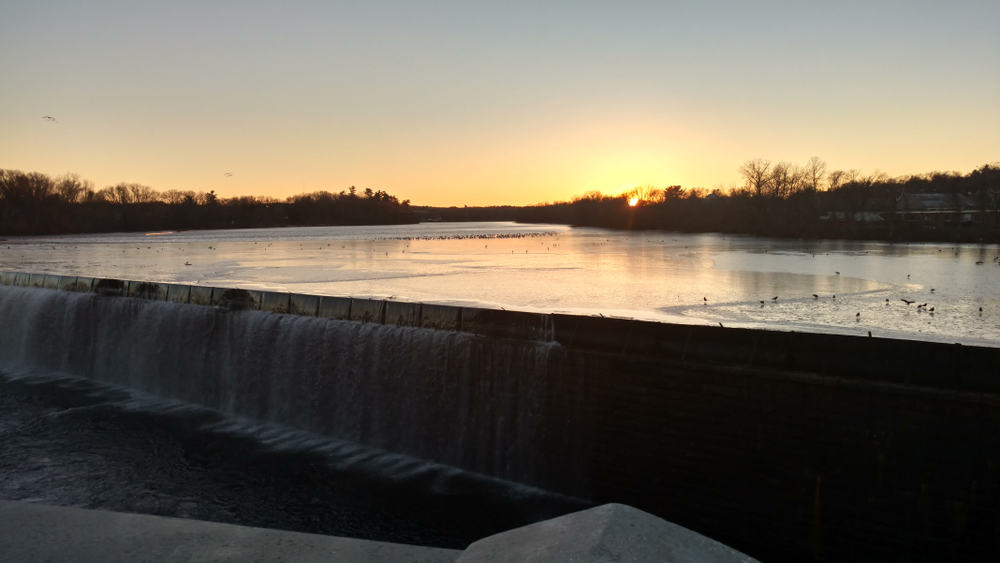 Source: JosueCom / shutterstock
The Great Stone Dam, located in Holliston, Massachusetts (MA), stands as a monument to the ingenuity of our nation's ancestors. Built by early settlers in the late 1600s and still visible today, this impressive structure spans across the Charles River and is considered to be one of the earliest major stone structures built in the United States. Not only was it an incredible engineering feat for its time, but it also served a practical purpose: providing a reliable water source for local farming communities.
The dam is made up of two large abutments that support several massive stone blocks weighing up to 8 tons each. These blocks act as a barrier to create an artificial pond where water can be stored and used for irrigation.
15. Riverfront State Park

Source: JosueCom / shutterstock
Riverfront State Park is a popular destination located in Massachusetts (MA). With its close proximity to Boston and Cambridge, it has become a favorite spot for local families, tourists and outdoor enthusiasts alike. Visitors to the park can enjoy spectacular views of the Charles River, as well as fishing, kayaking and swimming.
The park establishes an ideal environment for nature lovers to explore the abundance of wildlife inhabiting the area. There are many trails for hiking, biking or horseback riding that allow you to get up-close with Mother Nature. Not only does Riverfront State Park provide unparalleled beauty but it also links various recreational areas within the United States providing access from New York City all the way into Canada.
Riverfront State Park is an excellent place for anyone who wants to spend quality time in nature without having to travel too far from home.
In conclusion,Lawrence MA has a great variety of activities and attractions for everyone to enjoy. From the numerous parks, galleries, and festivals to the many restaurants to choose from, you will always find something fun to do in Lawrence MA. Whether you are looking for a relaxing walk at the park or an exciting night out, this city offers something for everyone. So if you're looking for some fun activities in Massachusetts, check out these 15 best things to do in Lawrence MA!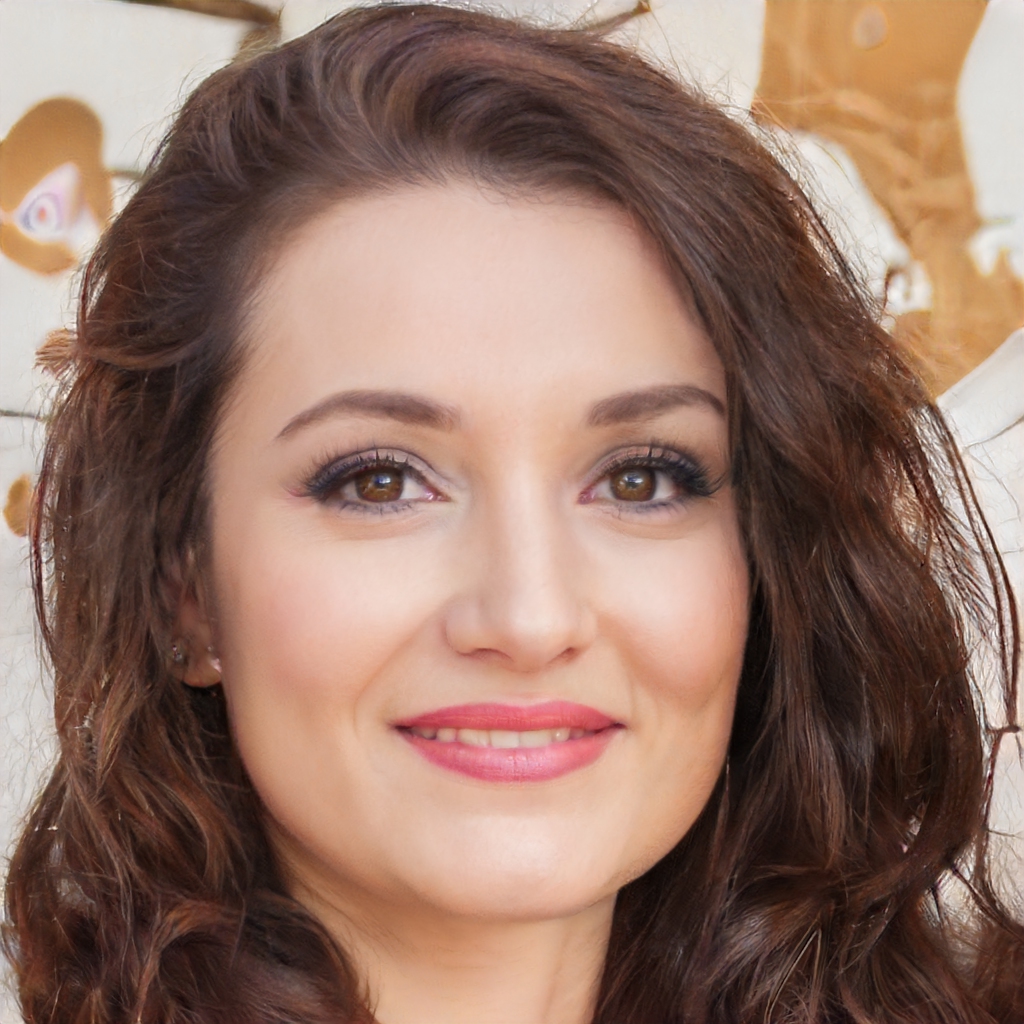 Meet Amelia, a wanderlust-filled travel blogger on a mission to explore the world one destination at a time. From backpacking through Southeast Asia to luxury escapes in Europe, Amelia has experienced it all and is here to share their tips, tricks, and favorite finds with fellow travelers. Follow Amelia on their journey as they discover new cultures, indulge in delicious cuisines, and create unforgettable memories.