Welcome to Falmouth, Massachusetts! This beautiful destination located on Cape Cod is the perfect place for a getaway. Whether you're looking for a relaxing beach day, or an adventure-filled afternoon, Falmouth has something for everyone. With so much to see and do in this coastal town, we've compiled a list of the 15 best things to do in Falmouth MA.
1. Nobska Point Lighthouse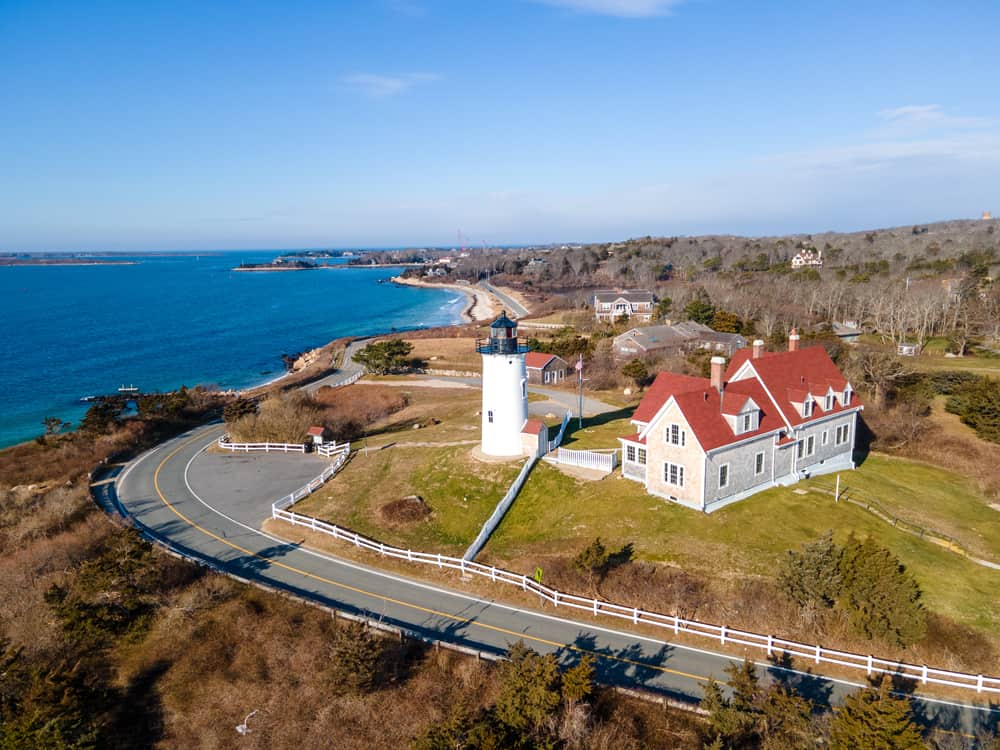 Source: Gregg Squeglia / shutterstock
Nobska Point Lighthouse is a historic lighthouse located in the town of Falmouth, Massachusetts. It stands on the westernmost point of Cape Cod, overlooking Vineyard Sound and Martha's Vineyard. The lighthouse was built in 1876 as part of a plan to update navigation aids around the United States coastline. It served an important role for many years as a navigational aid for ships sailing between New England and New York City.
The Nobska Point Lighthouse has been owned by the U.S Coast Guard since 1939 and is now managed by Falmouth Historical Commission under lease from U.S Coast Guard. The 60-foot tower remains active today, visible from land or sea up to 20 miles away, making it one of the most recognizable lighthouses in all of MA.
2. Shining Sea Bikeway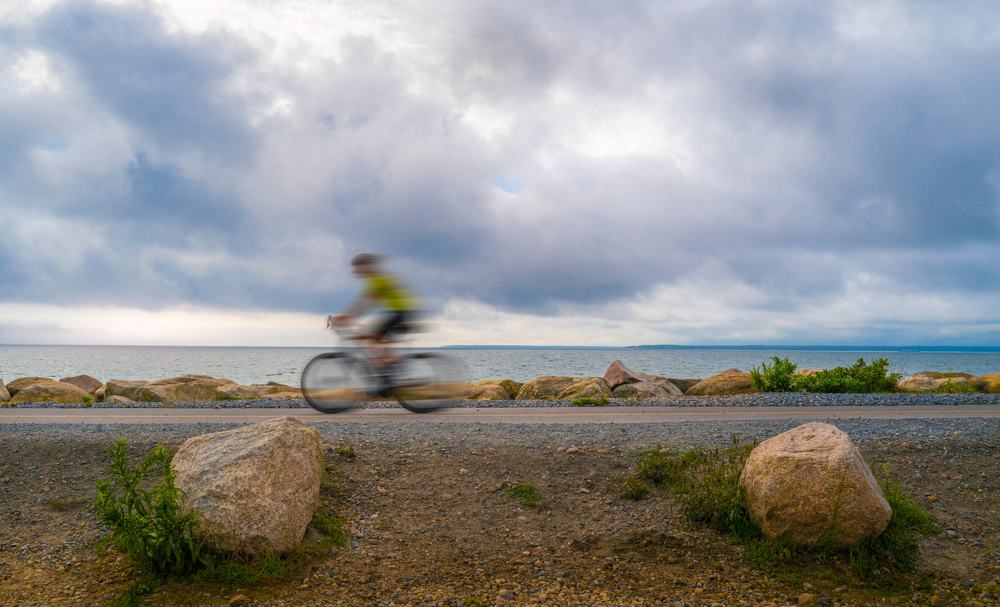 Source: NayaDadara / shutterstock
The Shining Sea Bikeway in Massachusetts is a popular destination for cycling enthusiasts. Running nearly 11 miles from Woods Hole to North Falmouth, this scenic route provides breathtaking views of the Cape Cod coastline. Along the way, riders can enjoy the fresh salt air, explore sandy beaches and historic sites, and take in stunning ocean vistas.
The bikeway was established in 1978 by the United States Department of Interior as part of its National Trails System Act. It follows an old railroad bed that had been abandoned since 1933 and passes through some of the most beautiful areas of Cape Cod. The route offers gentle grades with no steep hills or challenging terrain and is suitable for people at all skill levels. With its wide variety of sights to see along the way, it's easy to understand why this magnificent bikeway has become one of Massachusetts' most beloved attractions.
3. Old Silver Beach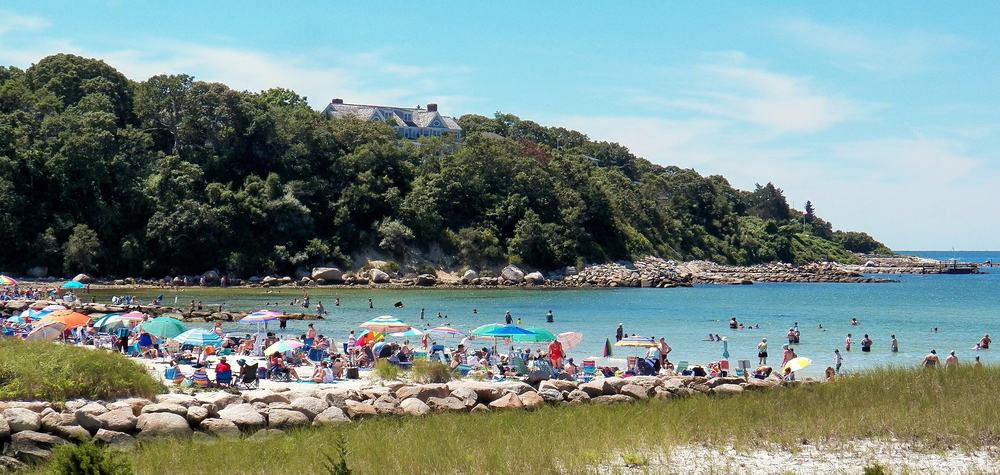 Source: Michael Sean OLeary / shutterstock
Old Silver Beach, located in Falmouth, Massachusetts (MA) is one of the United States' most beloved beaches for its breathtaking views and abundance of activities. Nestled on Buzzards Bay, Old Silver Beach is a great place to take in the summer sun. Visitors can enjoy the soft sand beneath their feet as they stroll along the shoreline or take a dip in its cool waters.
For those looking to stay dry, there are plenty of activities available at this beach including volleyball courts and kayaking rentals. There are also many restaurants nearby that serve up delicious seafood dishes and provide live music entertainment throughout the summer months. In addition to that, visitors can explore several unique shops offering everything from souvenirs to gifts for family and friends back home.
4. Highfield Hall & Gardens

Source: Rosemarie Mosteller / shutterstock
Highfield Hall & Gardens is located in Falmouth, Massachusetts and is one of the most beautiful places in the United States. The estate was built in 1878 and has since been fully restored. It's a magnificent combination of historic architecture and modern amenities that provide guests with an unforgettable experience. Guests can explore the spacious gardens, which feature unique Victorian-style greenhouses and formal gardens full of captivating colors. They can take a tour of the mansion, which has been historically preserved to its original splendor while also including modern touches like air conditioning, Wi-Fi access, and even an elevator! Highfield Hall & Gardens offers visitors educational programs as well as special events such as lectures, concerts, tea dances and more. They also have a café offering delicious homemade treats sure to please any palate.
5. Woods Hole Science Aquarium (WHSA)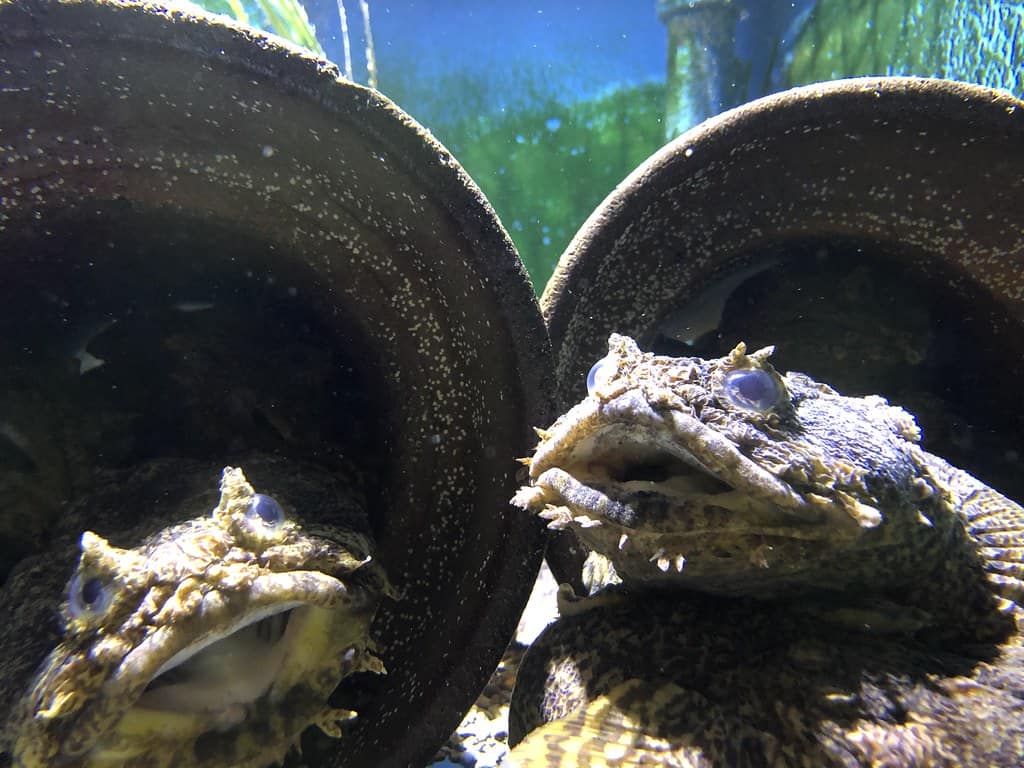 Source: clembore / Flickr | CC BY-SA
The Woods Hole Science Aquarium (WHSA) is a public aquarium located in Woods Hole, Massachusetts. It is one of the oldest public aquariums in the United States, established in 1885 as an affiliate of the United States Fish Commission. The WHSA features a variety of marine life from around New England and beyond, including fish, invertebrates, seals and sea turtles. Visitors can expect to see over 200 species ranging from tropical reef fishes to local harbor seals.
In addition to showcasing a wide range of aquatic creatures, WHSA offers educational programming for both children and adults alike. Programs are designed to deepen people's understanding of our ocean environment through hands-on activities such as guided tours and lectures with scientific experts. The aquarium also participates in conservation projects focused on protecting habitats, endangered species and water quality throughout Massachusetts waters.
6. The Knob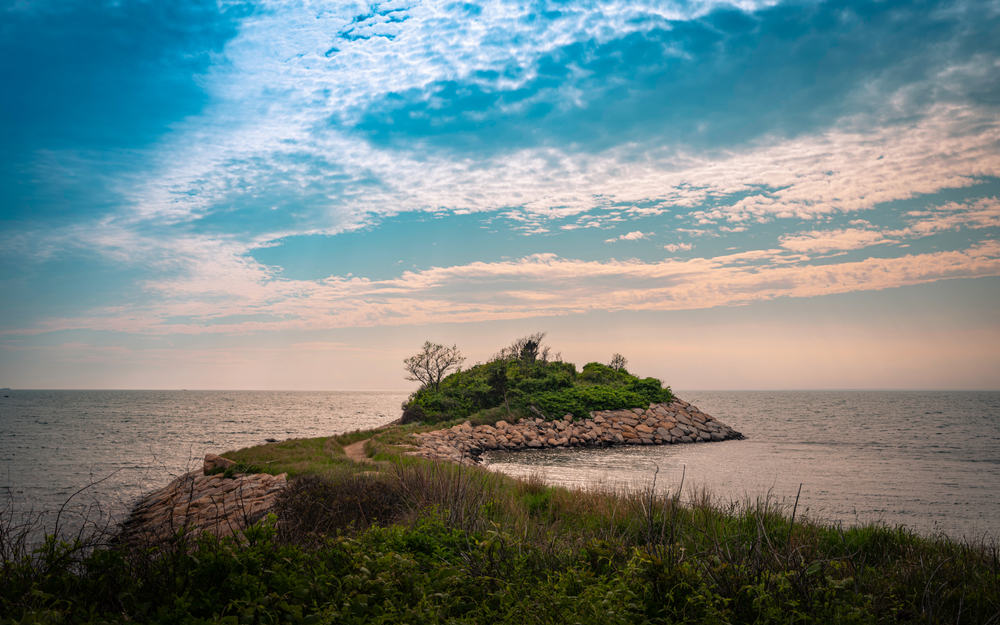 Source: NayaDadara / shutterstock
The Knob is a must-see landmark in the United States. Located in Massachusetts, The Knob is a striking natural feature that stands out from its surrounding landscape. It's an impressive granite formation that offers stunning views of the area and serves as a reminder of the state's fascinating geological history.
Standing at 1,200 feet above sea level, The Knob offers sweeping views of New England and beyond. On clear days visitors can see Mount Greylock and even parts of Vermont from its summit. The hike to the summit is fairly easy given the gradual incline, making it great for all ages and ability levels. Once at the top, visitors are rewarded with breathtaking vistas over rocks that were created by glaciers during the last ice age more than 10,000 years ago!
7. Falmouth Main Street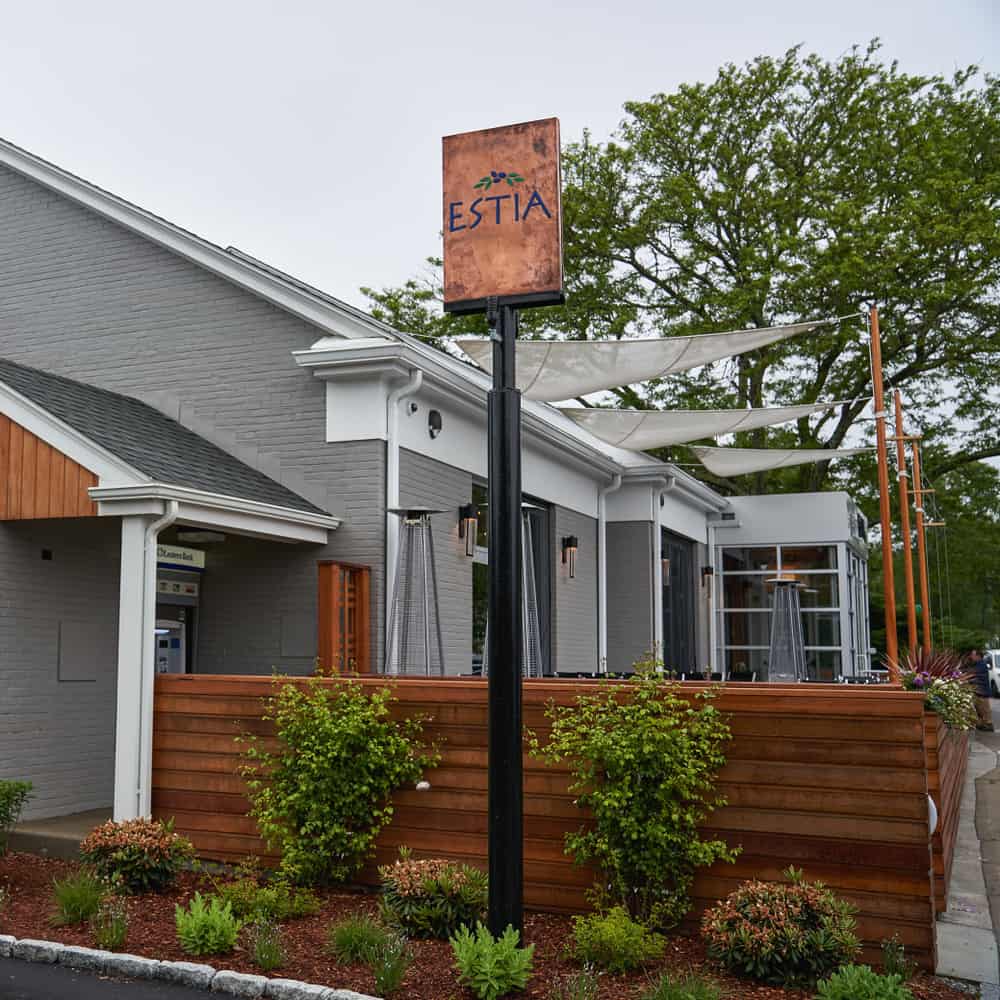 Source: Rosemarie Mosteller / shutterstock
Falmouth Main Street, located in the beautiful coastal town of Falmouth, Massachusetts (MA), is an ideal destination for travelers looking to explore the United States. From charming boutiques to historic sites and amazing eateries, this main street has something for everyone to enjoy.
The bustling streets of Falmouth Main Street are lined with countless shops offering unique items that can't be found anywhere else. Visitors can browse through a variety of clothing stores and souvenir shops, as well as take in some local history at one of the many museums located along the street. After shopping, visitors can grab a bite to eat and sit down for a meal at one of the area's many restaurants or cafes that offer delicious cuisine from around the world.
For those interested in outdoor activities, there are plenty of parks and trails nearby to explore.
8. Chapoquoit Beach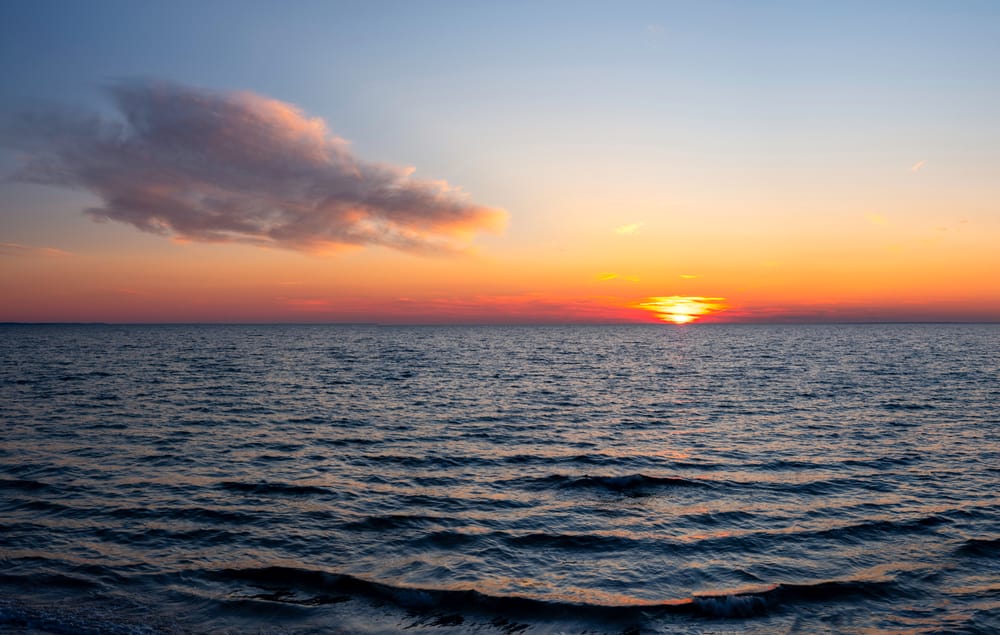 Source: NayaDadara / shutterstock
Chapoquoit Beach in Massachusetts (MA) is a perfect destination for beach-lovers and adventurers alike. Located on the north shore of Cape Cod, this gorgeous stretch of coastline boasts stunning views and a wide range of activities. Whether you're looking to relax in the sun or explore the vast wildlife, Chapoquoit Beach has something for everyone.
This picturesque beach features crystal clear waters, white sand beaches, and plenty of activities for families and friends. Visitors can enjoy everything from swimming to fishing, kayaking to biking, exploring the boardwalk to surfing some of the best waves on the East Coast. Spend an afternoon lounging on the sand or take a stroll along one of two nature trails that wind through dunes and marshland habitats home to birds, turtles, and other wildlife.
9. Museums on the Green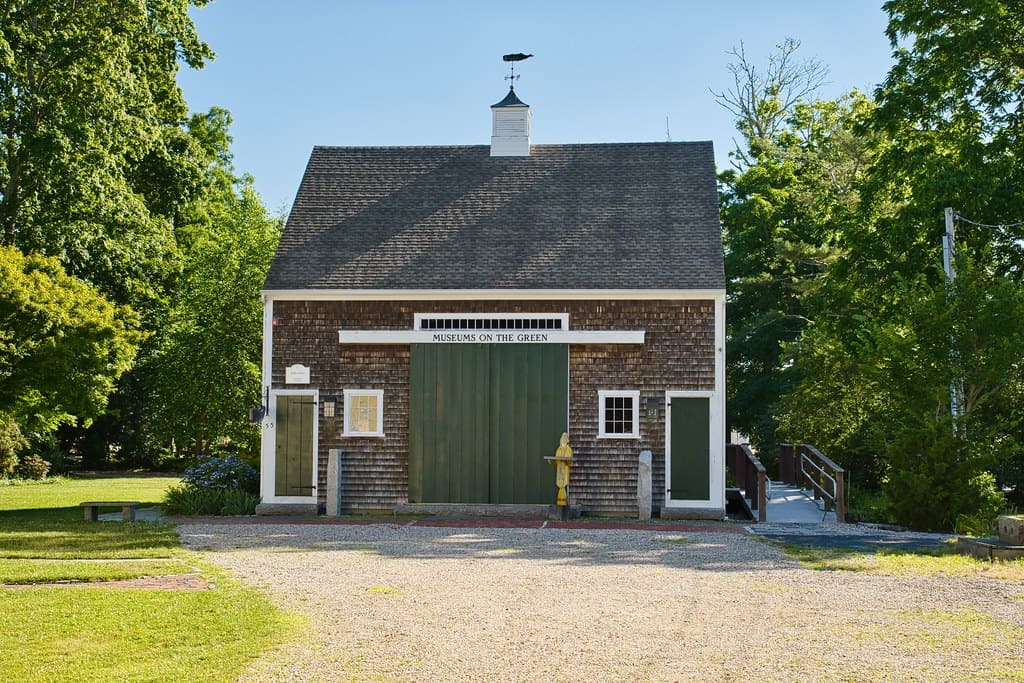 Source: chris.rycroft / Flickr | CC BY
Museums on the Green in Massachusetts is a collection of nine museums located throughout the United States. This unique collection of museums offers visitors a chance to experience something extraordinary and explore U.S. history and culture from a different perspective. The attractions range from art, science, history, and technology to natural history, archaeology, and even engineering. Visitors can take part in interactive exhibits or tours that bring them closer to the past with artifacts that are thousands of years old.
The Museums on the Green creates an opportunity for people to learn more about U.S. culture through hands-on activities like creating works of art or reenacting famous battles from American history. Guests can also enjoy visiting some of America's most iconic landmarks such as Mount Rushmore, Ellis Island, and the Grand Canyon while traveling between each museum location.
10. Marine Biological Laboratory (MBL)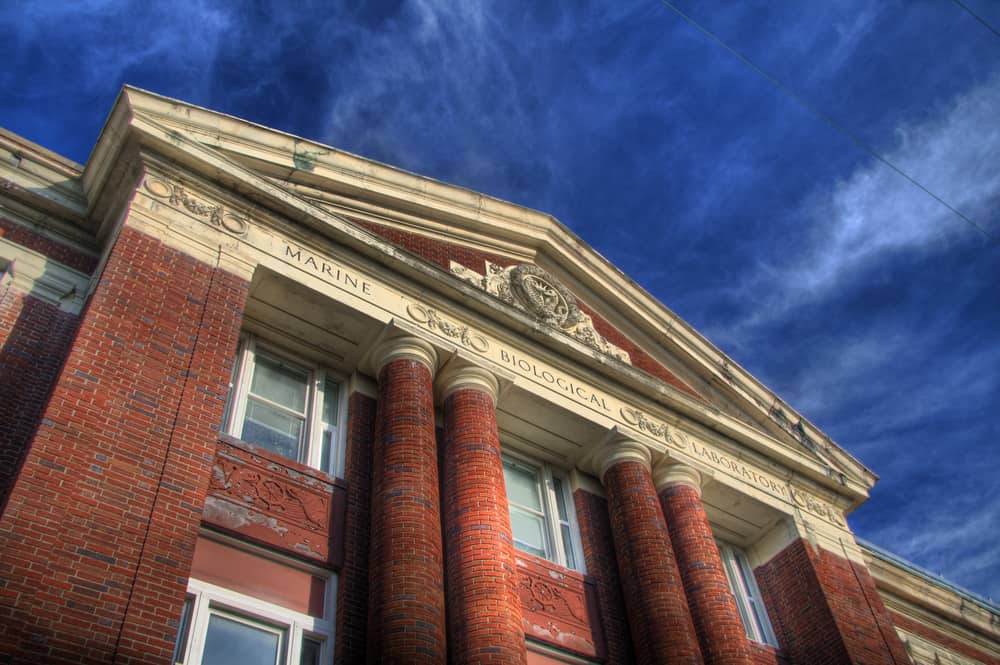 Source: Andre Nantel / shutterstock
The Marine Biological Laboratory (MBL) is a leading research and education institution in the United States located in Woods Hole, Massachusetts. Established in 1888, MBL has become one of the world's most renowned marine research institutions. The organization is dedicated to advancing scientific knowledge and understanding of coastal ocean ecosystems and their global implications – from microscopic plankton to global climate change.
In addition to its research activities, MBL also offers many educational programs for aspiring scientists at all levels, from high school students through postdoctoral fellows. It hosts a variety of workshops, courses and symposia that cover topics ranging from molecular biology to ecology each year, as well as public events such as lectures by expert speakers and film screenings about the ocean.
11. Woods Hole Oceanographic Institution (WHOI)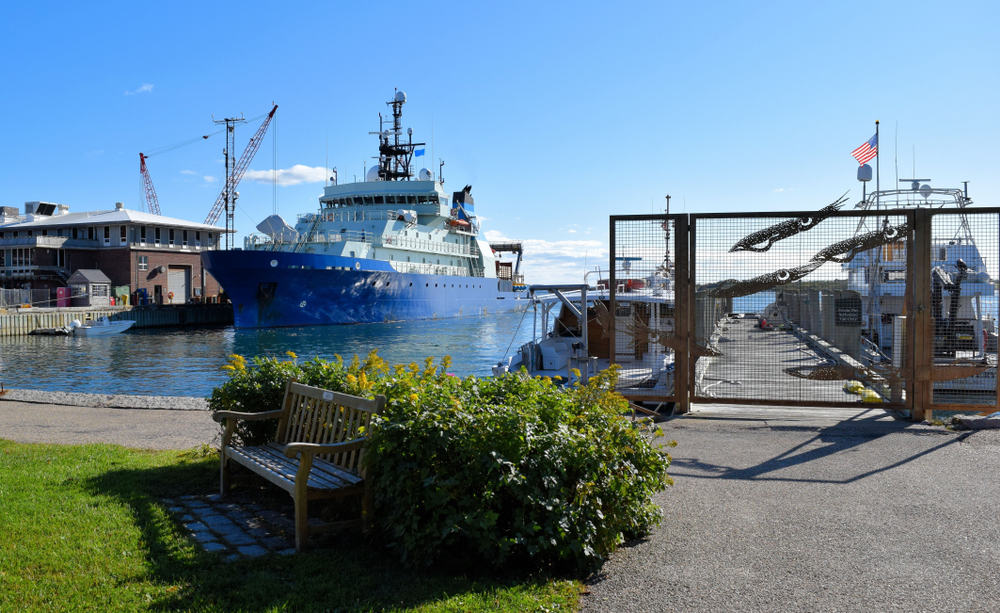 Source: Michael Sean OLeary / shutterstock
Woods Hole Oceanographic Institution (WHOI) is a private, non-profit research and higher education facility located in the town of Woods Hole in Massachusetts (MA), United States. Founded in 1930, WHOI has been at the forefront of oceanic studies for almost a century, conducting cutting-edge research into climate change and other ocean science topics. It is one of the world's leading institutions for the study of marine science, offering educational programs to over 2,000 people each year from across the globe. WHOI is also home to some of the most advanced scientific instruments available including autonomous underwater vehicles, remotely operated vehicles and an array of sensors that can collect data from deep below the surface. The institution regularly works with universities around the world to further its research initiatives as well as collaborating with organizations such as NASA and NOAA on joint projects.
12. Spohr Gardens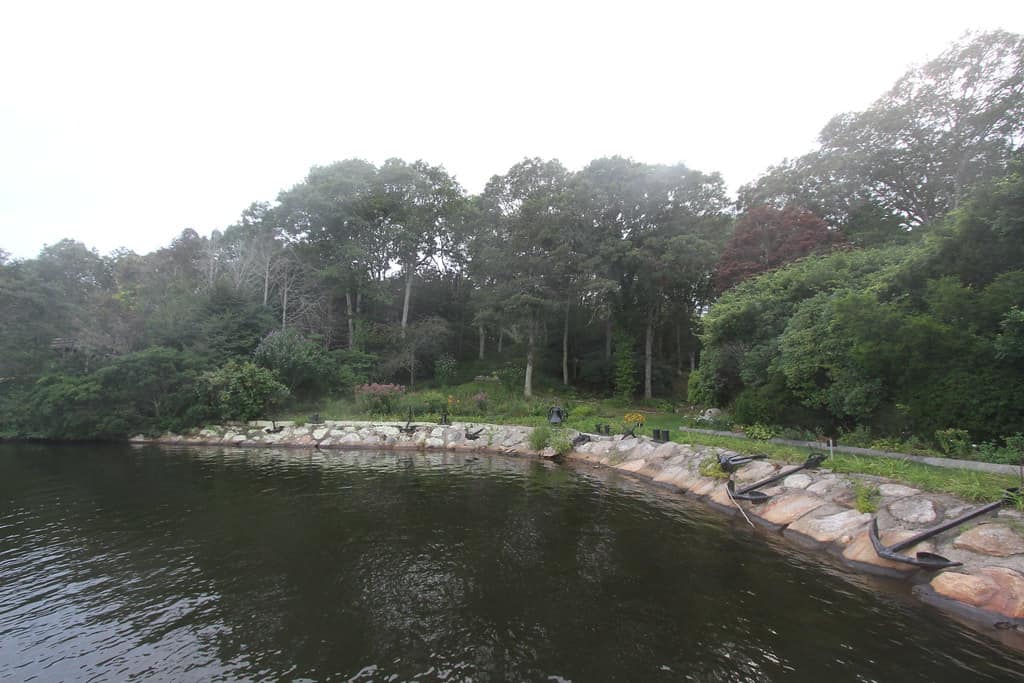 Source: Robert Gray – Newton, MA / Flickr | CC BY
Spohr Gardens, located in Massachusetts (MA), United States, is a stunning garden paradise that will have you wanting to stay all day. The gardens are filled with beautiful blossoms of various colors and shapes and offer tranquility and serenity in the heart of nature. Covering over 60 acres of land, Spohr Gardens is an outdoor escape like no other. Whether you're looking for a place to relax or an outdoor adventure, this destination has something for everyone.
Take a stroll through the lush gardens while admiring the vibrant flowers and trees that make up the landscape. With greenhouses full of exotic plants and blooming wildflowers along pathways that lead to reflective ponds, Spohr Gardens offers a unique experience for visitors of all ages.
13. Falmouth Heights Beach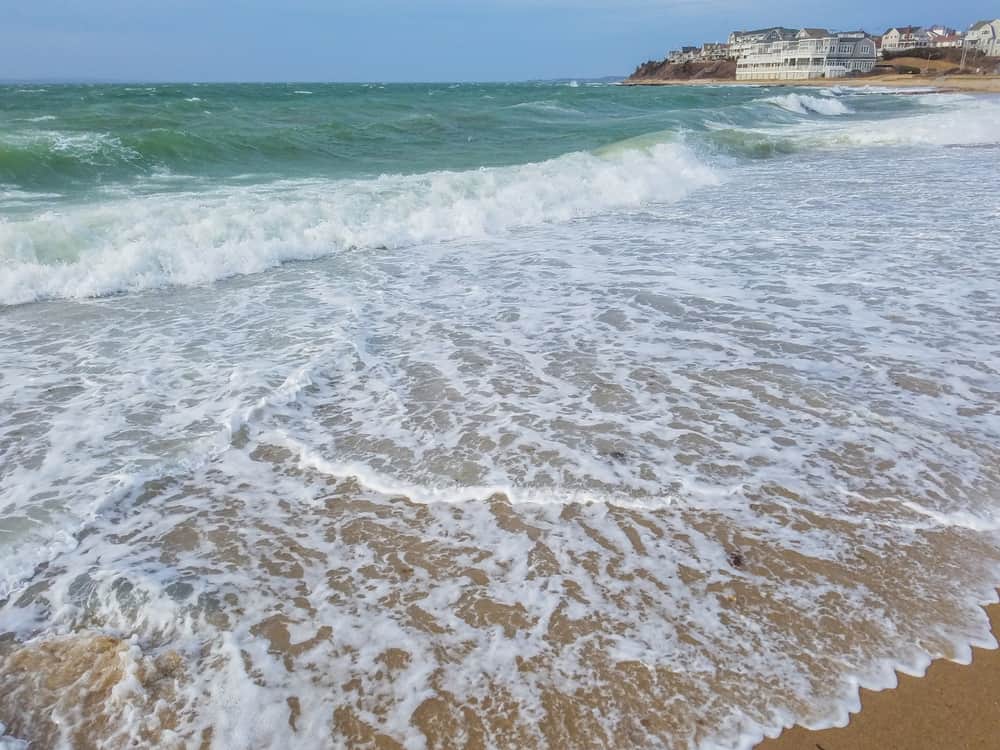 Source: NayaDadara / shutterstock
Nestled in the historic seaside town of Falmouth on Cape Cod, Massachusetts, Falmouth Heights Beach is one of the most beautiful and popular beaches located in the United States. This beach offers a wide variety of attractions for visitors to enjoy including stunning views, sandy shoreline, and plenty of opportunity for swimming, sunbathing and more.
The beach is equipped with lifeguards from Memorial Day to Labor Day. During these months there are designated surfing areas as well as many water sports activities available such as paddle boarding and kayaking. There is also a full-service snack bar offering visitors refreshments during their visit. With so much to do at this beach it's easy to see why it's become a popular spot for both locals and travelers alike.
14. Barnstable County Fair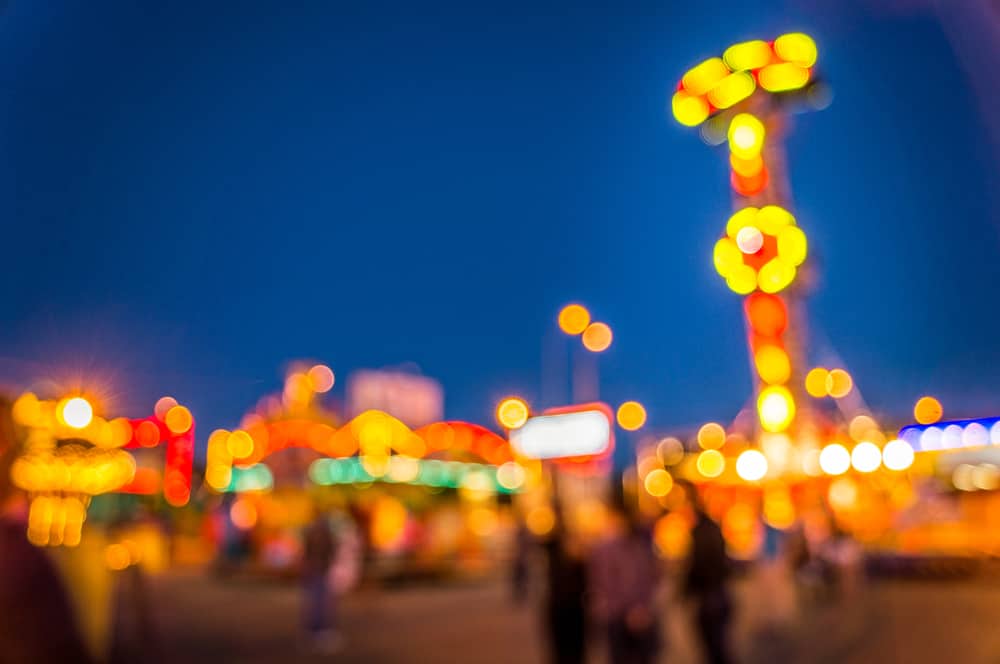 Source: zzphoto.ru / shutterstock
The Barnstable County Fair is an annual event that takes place in the United States state of Massachusetts (MA). It has been a tradition for over 100 years and showcases the best local agricultural products and crafts. The fair first began as a celebration of the region's farmers, but now it serves as a destination for families who come to enjoy rides, games, live music, food vendors, contests and other attractions.
During the week of the fair, visitors can take part in many different activities. Some popular events include pig racing competitions and horse shows. Additionally, there are craft demonstrations with woodworking displays and artisanal products like jewelry making. There are also educational exhibits related to farming practices and animal husbandry. Of course, no trip to Barnstable County Fair would be complete without trying some traditional New England fair food!
15. Ferries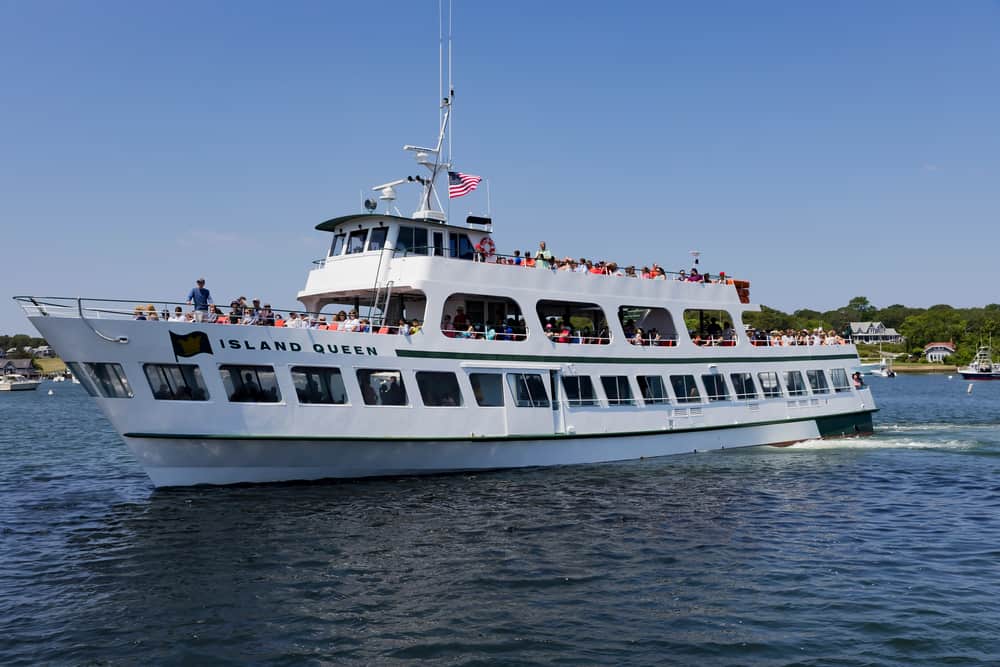 Source: jo Crebbin / shutterstock
Ferries are a great way to explore Massachusetts, allowing locals and tourists alike to see the beauty of the state from a different perspective. Located in the United States, Massachusetts is home to some of the most beautiful coastal scenery around, with its Cape Cod peninsula being one of its main draws.
The best way to experience this stunning landscape is by ferry ride – for instance, ferries operating from Quincy in eastern MA can take passengers on a journey along Boston Harbor Island National Recreation Area and through inner harbor islands like Spectacle and Georges Islands. With views of bustling cityscapes giving way to picturesque harbors as passengers make their way through Nantucket Sound and Buzzards Bay, these trips offer an unforgettable experience for all involved.
In conclusion,Falmouth MA is a great place for tourists and locals alike to explore the culture and history of the local area. From whale watching to visiting museums, there are plenty of activities to keep everyone entertained in this charming Cape Cod town. Whether you choose to take part in outdoor adventures or relax at one of the many beaches, Falmouth MA has something for everyone. With a variety of attractions and restaurants, you're sure to find something enjoyable during your stay.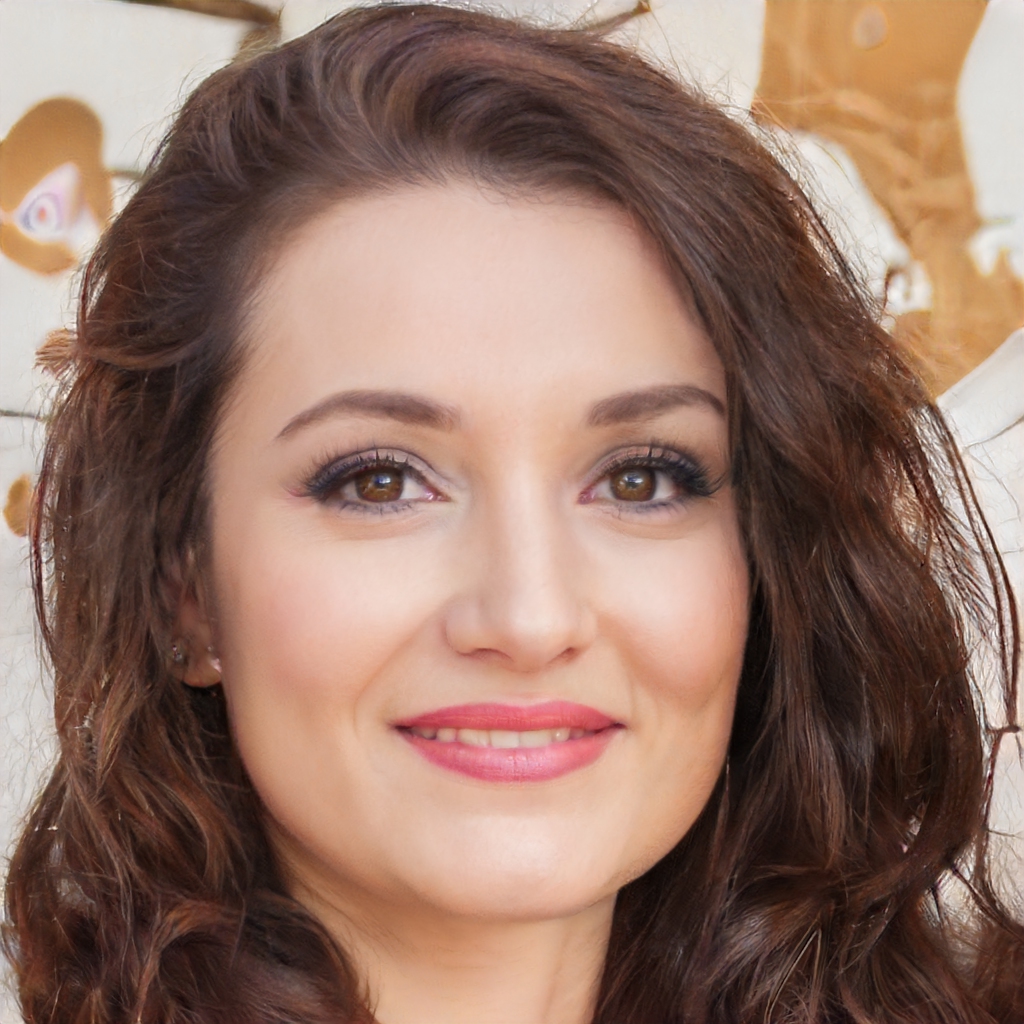 Meet Amelia, a wanderlust-filled travel blogger on a mission to explore the world one destination at a time. From backpacking through Southeast Asia to luxury escapes in Europe, Amelia has experienced it all and is here to share their tips, tricks, and favorite finds with fellow travelers. Follow Amelia on their journey as they discover new cultures, indulge in delicious cuisines, and create unforgettable memories.