One of the wonders of the natural world, the Northern Lights are something every nature lover should see. These lights, technically called Aurora Borealis, are caused by the Earth's magnetic poles. You have greater chance of seeing these auroras the closer you get to the North Pole, making Scandinavia and Iceland popular destinations for aurora-spotting. However, there's many factors to consider in where to go for your Northern adventure, including accessibility, cost, cloud cover and how far north the location is. It is possible to see these light shows between late September and early April, but to increase your chance of seeing something spectacular it is advisable to go between October and November or February and March. With all of this in mind, here are the ten best places to see the Northern Lights: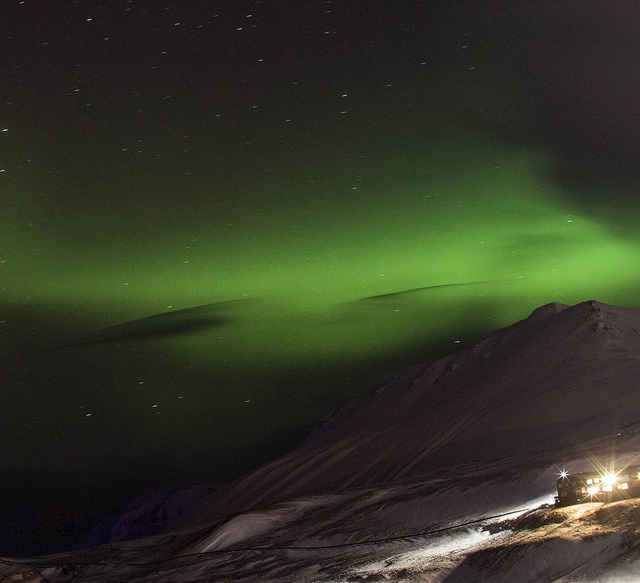 1. Svalbard
Svalbard is a group of Norwegian islands in the Arctic Ocean halfway between mainland Europe and the North Pole. This is pretty much as far north as you can go, so when nothing is happening in mainland Europe there is most likely an impressive show happening up in Svalbard! Not for the faint hearted, Svalbard is as beautiful as it is difficult to get to. There are only 2,400 human residents but many reindeer, polar bears, walruses and seals also call the island home. Visiting over the winter months you won't ever see the sun but there are still plenty of activities to keep you busy including dark-season hiking; dog sledding, and snowmobiling.
NOTES:
There's such a thing as too far north with Svalbard! Strong magnetic activity makes the lights move so far south they can't be seen
In the year 2020 the earth will be at its 'solar minimum' and Svalbard will be THE place to go to see the Northern Lights.
Svalbard hosts the Polar Jazz festival every February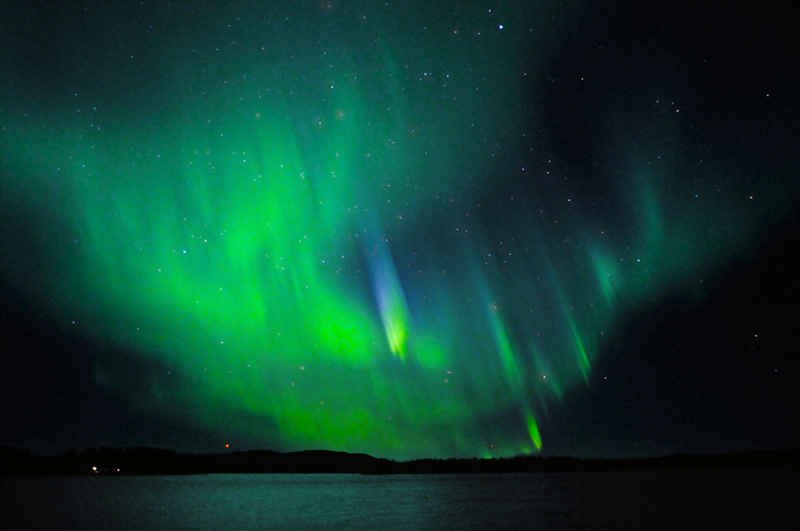 2. Norwegian Lapland
If getting all the way up to Svalbard is a little too difficult for you, you can stick to mainland Norway and still experience some of the best Northern Lights on display. There are a few towns in which to base yourself in this northern region of Norway whilst you hunt for your auroras. These includeTromsø, Vardo, Finnmarku and Hammerfest, with each offering other plenty of other artic activities to keep you entertained. Be sure to visit a local indigenous village to learn about the Sami lifestyle. If you can't settle on which destination you'd most like to visit, visit them all! There are many tour companies which operate Northern Lights Tours through Lapland and allow you to experience all of the highlights whilst maximizing your chance of seeing the auroras flash across the sky.
NOTES:
Some cruise companies offer a 'Northern Lights guarantee' meaning that if you don't see any aurora activity the first time around you are offered a second free cruise
At the end of January each year Tromsøcelebrates the Northern Lights Festival with nine days of music, dance and outdoor events. Listen to some live jazz while watching the Northern Lights!
If you have your dive certificate and aren't afraid of the cold you can go diving for crabs on the seabed in Finnmarku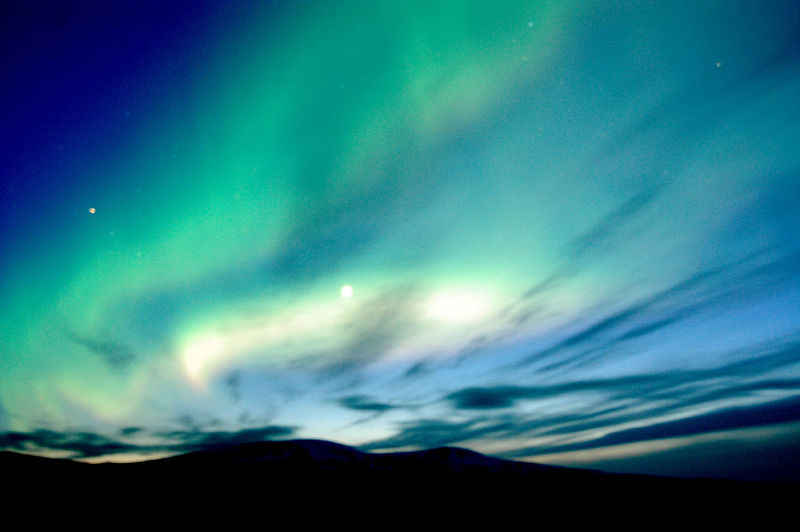 3.  Finnish Lapland
Also north of the Arctic Circle is Finland's indigenous Lapland region. Lofty pine forests blanketed in perfect white snow make for a spectacular backdrop for your northern adventure. There are plenty of destinations to choose from or you can take a tour that will give you a complete overview of the region. Stay at a reindeer farm, in an igloo, or a traditional log cabin, either way it will be an experience you'll never forget. With Northern Lights activity 200 nights per year, you are almost guaranteed to fulfil your mission!
NOTES:
Kakslauttenen resort has glass ceilings – you needn't even get out of bed to see the Northern Lights!
Torassieppi Reindeer Farm not only provides travellers with comfortable accommodation and outdoor activities, they also equip guests with an Aurora Alarm so you'll never miss an opportunity to see the lights
The clarity with which you can see the lights is affected by light pollution from towns and cloudy weather. Away from the coast and out of town will provide the best conditions to enhance your experience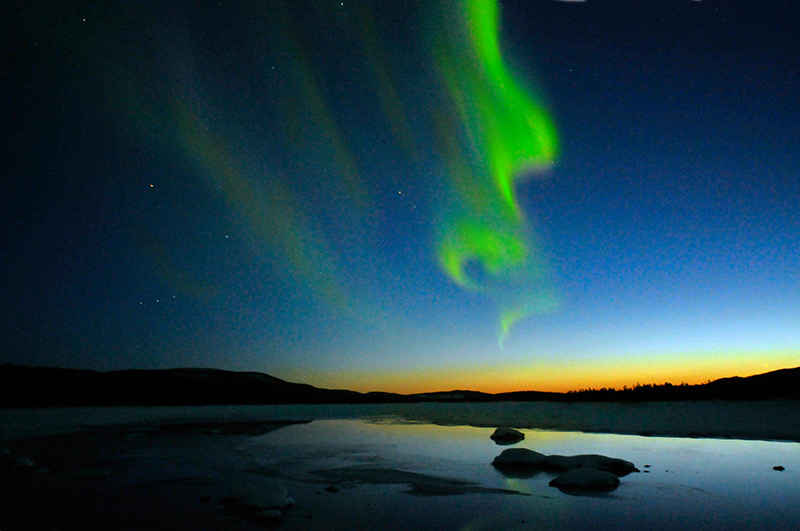 4.  Sweden
There are spectacular locations in Sweden and Swedish Lapland that range from expensive to really expensive. The chances of spotting Northern Lights activity are some of the highest in the world and though Sweden is expensive, it is surprisingly easy to access. Through the more far-off Northern regions it is easiest to take a tour, but if you're an independent traveler you can either take a three hour flight from Stockholm up to Kiruna (the gateway to Lapland) or jump on an overnight sleeper train to Abisko Turistation. Abisko is home to the Aurora Sky Station – the premier destination for all things Northern Lights. It is effectively a research facility accessed via chairlift which provides a four-course meal (including moose stew) and a guided tour. If the weather is decent you can stay the night but be prepared – there is no electricity and the composting toilets are unheated. If you fall asleep in your simple camp before the lights start dancing, the staff promise to wake you up for the show!
NOTES:
Sweden is renowned for some of the world's most interesting hotels. During your visit you can stay in the Tree Hotel (exactly as it sounds) or in the annually-carved Ice Hotel
The most expensive room in the Ice Hotel provides a light installation replicating the Northern Lights
Bjorkliden is a great alternative destination as it is located in the 'weather shadow' of a mountain range, almost guaranteeing consistently good weather conditions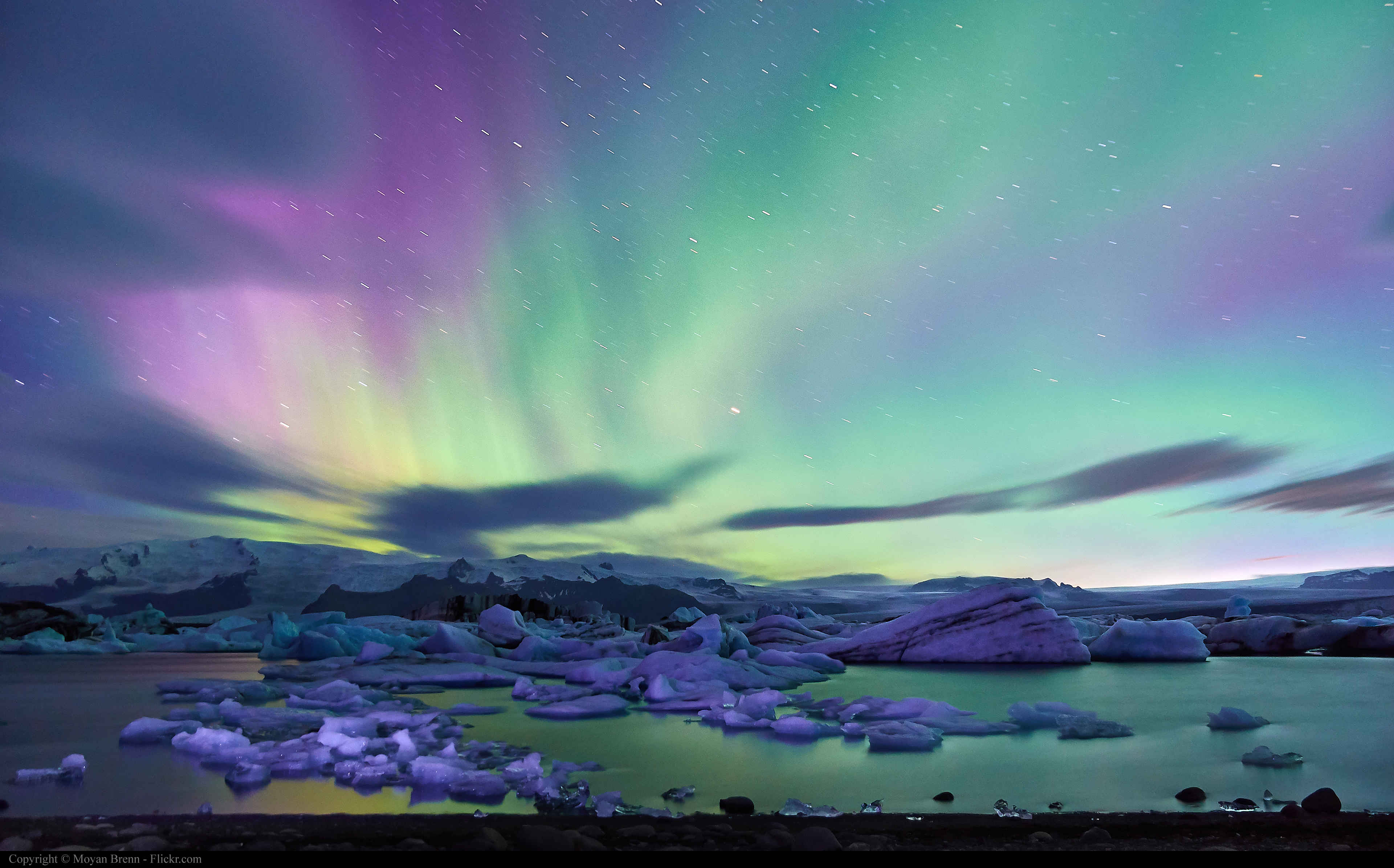 5. Iceland
Iceland is a great easily-accessed and cheaper option for people from the UK and mainland Europe. Many Northern Lights-focussed tours run through the winter months but it's also easy enough to make your own way around the island nation. Hire a car and head just one hour out of the capital, Reykjavik, to Thingvellir National Park for a great aurora-spotting location. There are plenty of hotels to stay at in the middle of nowhere to avoid light pollution. Iceland's stunning scenery includes geysers, waterfalls, volcanoes, caves, glaciers and rugged coastline, so your time here will never be dull!
NOTES:
Need to get even more excited for your visit? Visit the website of Hotel Ranga every night for their live streaming of the sky to see what you're in for
Ocean-based activities are plentiful in Iceland. Go whale-watching or deep-sea fishing during your visit
Iceland Air arranges some excellent value flight and accommodation packages – keep your eye out for sales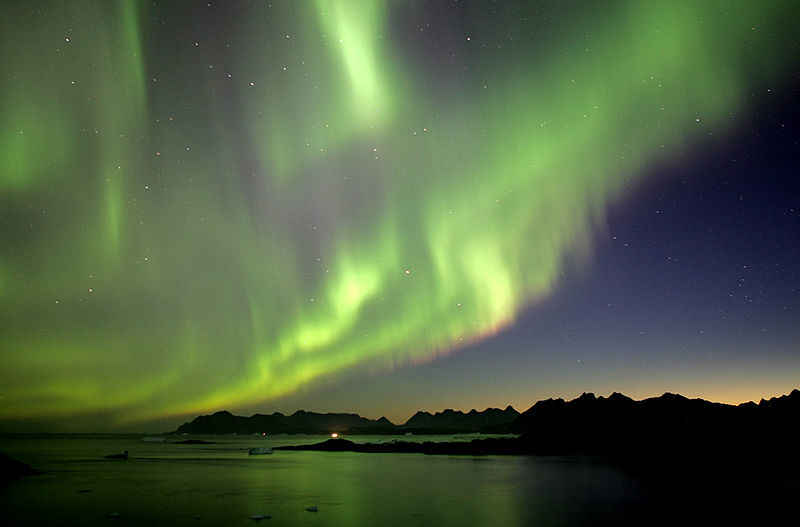 6.  Greenland
Another island nation far enough north to be an excellent stage for Northern Lights displays is Greenland. Greenland's tiny population means light pollution is rarely an issue and there are some locations with near-perfect visibility. Staying for three or more nights means you are all but guaranteed to see some Lights. If you're particularly adventurous you can make your way to Kangerlussuaq, a former U.S. military base where visitors sleep in hunting cabins and aurora activity is recorded nearly 300 nights per year. Arrive here via a three-night dog-sledding trek for an adventure you will never forget!
NOTES:
Greenland is definitely not a budget option. You may spend an entire year's savings to get there, but you will almost definitely see some of the best auroras the world has to offer
the indigenous Inuit people have a well-known legend that says that when the Northern Lights dance in the night sky it is the dead playing football with a walrus skull
As for many of the other locations on this list, pack warm clothes! Wool layers and good quality snow gear are essential for enjoying your Artic getaway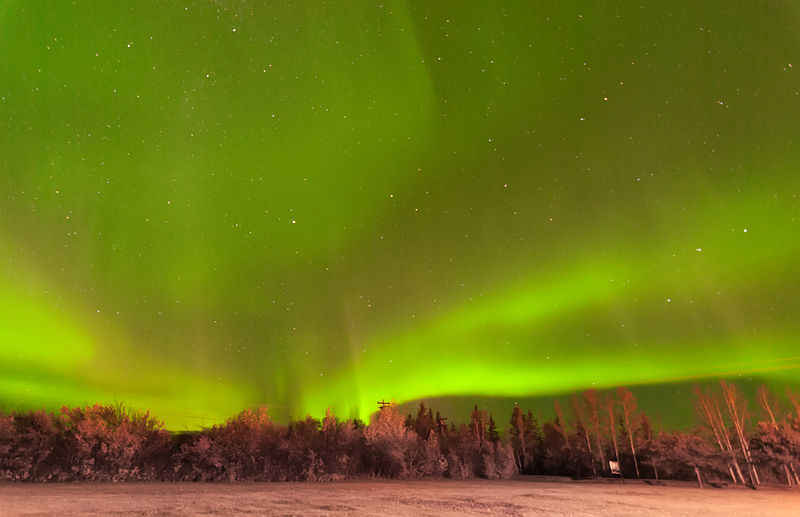 7.  Canada
Nicer on the hip pocket and closer to home (if not home itself!) for some, Canada may not seem the first choice for chasing the Northern Lights. There are locations in the Yukon where you can see stunning yellow and green auroras. You may need to stay for more than a few nights just to guarantee a sighting. The province of Manitoba can also offer amazing experiences. Head to Churchill to dog-sled and snow-shoe by day, then at night take a Tundra Buggy out into the wilderness to seek the lights.
NOTES:
If you are unlucky enough to miss the lights you can make up for it with polar bear sightings!
Visit the Northern Lights Centre in Watson Lake to learn all about the folklore surrounding the phenomenon
Churchill Northern Studies Centre offers learning vacations where you can study astronomy and northern lights photography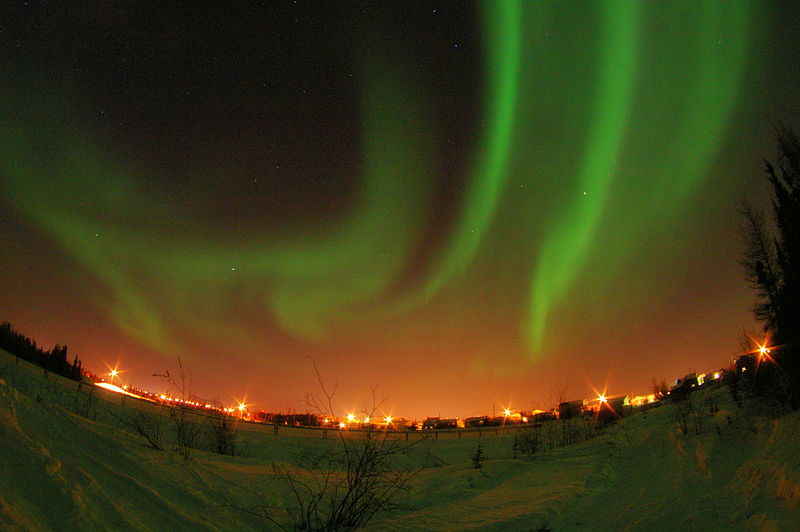 8.  Mainland America
For Americans with little money but a strong desire to see the Northern Lights, there is a way! You don't even need a passport for your chance to witness this amazing phenomenon. Being so far south, fewer days of the year record aurora activity, but Pennsylvania's Cherry Springs State Park is committed to preserving its dark skies, optimizing it for aurora spotting. The park is fitted with special light fixtures that don't inhibit visibility, and car headlights and flash lights are restricted. Cherry Springs is located away from the light pollution of big cities yet is still easily accessible by car. Now is a great time to visit the more southern locations to witness the phenomenon as we are experiencing 'solar maximum' meaning the auroras move further south of the usual occurrence zone.
NOTES:
Don't visit when there is a full moon – the light from the moon greatly diminishes chances of seeing auroras
Even if the Northern Lights don't grace you with their presence, you'll be blown away by the best star-gazing you'll ever do
Cherry Springs is easy to access even for international travellers – fly into Philadelphia or New York and then head over to the Park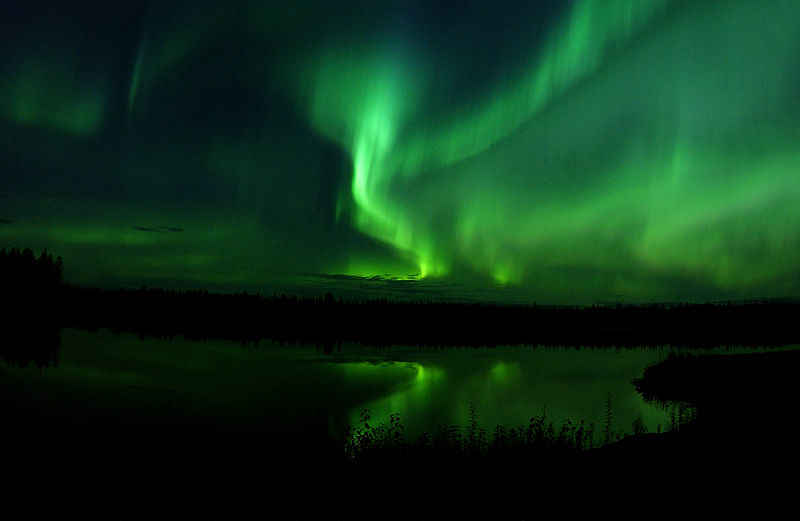 9.  Alaska
Another American option is the 49th State. Head up to Alaska to enjoy the stunning scenery and usual snowy outdoor activities – dog-sledding, snowmobiling, skiing, etc – as well as watching the Northern Lights dance in the sky. Auroras can be spotted almost everywhere in Alaska, but to optimise your chances head to the Interior. Fairbanks has well-established Northern Lights tourism infrastructure as it is recognised as being directly underneath a band of aurora activity. Green, yellow and purple streaks can be seen for a large part of the year. Between August and May you can witness the beauty of the Northern Lights. Chances are greater in the middle of this time-frame, but you can get some excellent hotel deals if you visit in 'shoulder season'.
NOTES:
The Lights are most common between 10pm and 3am but most hotels in Alaska offer wake-up calls if you're likely to sleep through this time
Chena Hot Springs Resort offers an adults-only thermal pool where you can relax in the healing mineral water whilst auroras dance overhead
The University of Alaska Fairbanks offers an aurora-forecasting tool on their website which you can use to predict what activity will be like during your visit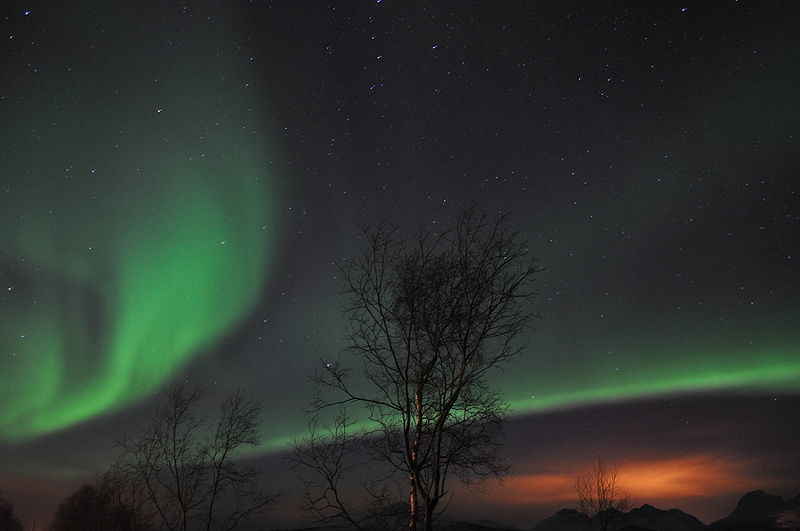 10.  Scotland
Residents of the United Kingdom can also treat themselves to a spot of aurora watching right in their own backyard. The Scottish Highlands provide a beautiful backdrop for the Merry Dancers – the local name for the Northern Lights. Or, for the more adventurous, head all the way up north to the Shetland Islands. Stay in the restored lighthouse at SumburghHead. When you're not looking up at the night sky you can look down over a puffin nesting area. Alternatively, the Isle of Lewis is home to the Callanish Standing Stones – a man-made circle of rocks much like Stonehenge that was thought to have been erected in 2900 BC – a surreal location to watch the auroras light up the sky.
NOTES:
January is the best time to visit the Highlands or Shetlands for Northern-Lights spotting
AuroraWatchUk sends text messages about viewing conditions. Sign up to stay well-informed and increase your chances of sightings!
The Caithness Coast and Orkney Isles are other excellent and beautiful locations for spotting auroras during your Scottish vacation.
Save