Casablanca Morocco Sea Mosque Landscapes are ranging from dream beaches to the mysterious Sahara desert, a living culture made up of mosques, madrasas, and local folklore. Also, the scents, noises, and colors of the markets showcasing the precious local craftsmanship in the place are wonderful.
Morocco has so much to offer. One of the most popular itineraries, this will make you enjoy your stay here in the country. Moreover, it is popular to have a tour of the imperial cities of Morocco, fascinating cities united by a glorious period that has made them unique and rich. You can retrace the footsteps of the sultans in the richly decorated palaces and gardens, stroll through the streets of the Medinas discovering ancient glimpses but you also get to know modern Morocco.
Here's what to see in Morocco if you decide to stay there for a week:
Day 1: Mosque Marrakesh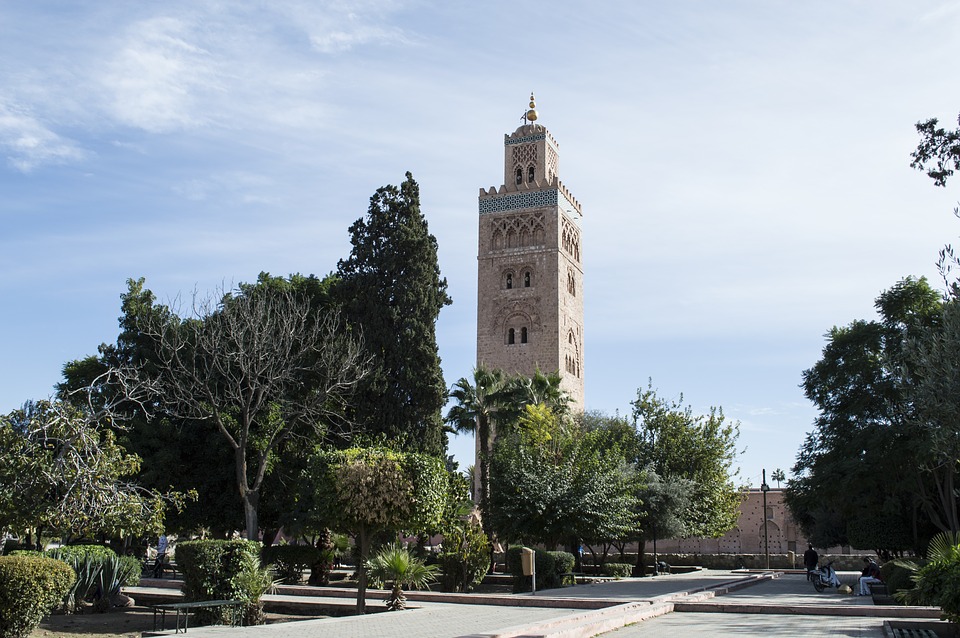 Start your itinerary in Marrakech, the most fascinating and perhaps most famous city in Morocco. You can visit the city on your own, but to optimize your time and not miss the main landmarks and attractions, the best solution is to take a full-day guided tour, accompanied by an expert guide.
In the morning visit the Palais de Bahia, a beautiful building with over 150 rooms with painted and inlaid ceilings. They have the following schedule that you must be aware of:
Monday to Thursday: 8:30 to 11:45 and 14:30 to 17:45;
Saturday and Sunday: 8:30 to 11:45 and 15:00 to 17:45
Where to head after Mosque Marrakesh?
Once out, there are plenty of choices of places to visit. You can explore the Mellah, the Jewish quarter which is still inhabited today. Then visit the Saadian Tombs, a cemetery of the most illustrious characters buried in tombs that are real works of art. They have the following operating hours that you should take note of:
Monday and Sunday: 9:00 to 16:3
Head towards the Koutoubia. The city has a tall minaret is the symbol of the place. Take the road that goes to Ben Youssef Madrasa and have lunch at Nomad's which only costs 87.00 MAD or € 8.00. Visit the Ben Youssef Koranic School, where the walls are decorated that they resemble just like lace. Koutoubia has the following schedule that you should be aware of before visiting the place:
Monday to Sunday: 9:00 to 18:00
The rest of the afternoon, immerse yourself in the labyrinthine market. Lose yourself in colors and scents then let yourself be tempted by local crafts. When it is late afternoon, it is perfect to experience Jemaa El Fna Square as it boasts a lot of great acrobats, snake charmers, and sorcerers. This is where the heart of Marrakech beats!
Quick Summary of Day 1
Distance covered: 5.9 km / 1 h 14 min
Places visited: Palais de Bahia (10.00 MAD / € 1.00)
Mellah (free)
Saadian Tombs (10.00 MAD / € 1.00)
Madrasa Ben Youssef (40.00 MAD / € 3.76 )
Souq (free)
Djema El Fna (free)
Daily shopping (€ 30.00)
Places to eat:
Lunch at Nomad
Dinner at 7 Saints
Start of Day 2
Castello Morocco Essaouira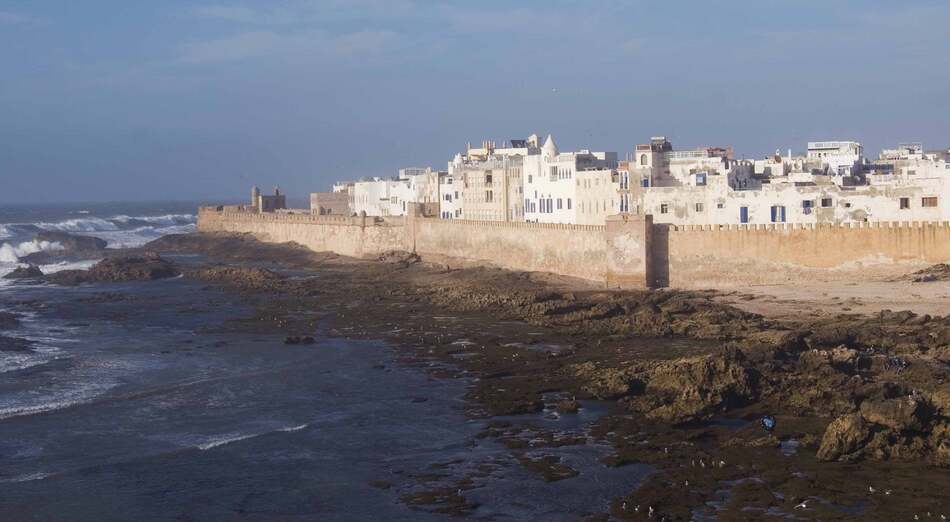 Marrakech is the most convenient and strategic point to reach Essaouira, a delightful seaside town. For travel, it is better to choose a one-day guided excursion with transport included as the best solution or take the bus which has a total travel time of 3 hours and a fare of about € 7.00.
Considered as a fortress city and fishing village, Essaouira is famous for the sensational Medina on the sea which is a known UNESCO World Heritage Site. Before entering the interior, admire the ramparts, which have survived mainly in the northern part, among which is the Bab Marrakech. Also, the city gates called the Sea Gate to stand out as well which goes along with the Sqala of the port and the Sqala of the Medina.
Continue the tour by going to the Kasbah with its mosque and the Mellah, the Jewish quarter. Given the peculiarity of the city, take a trip to the fish market to savor a bit of everyday life. Have lunch at the Restaurant La Licorne which only costs 120.00 MAD or € 11.00. Then enjoy some relaxation on the city beach, the Plage d' Essaouira, to indulge in the sea and the beach. In the middle of the afternoon, return to Marrakech, the journey is long.
Finish the day by dining in Jemaa el-Fnaa Square at one of the many banquets which are set up every evening. The average price would be 110.00 DAM which is € 10.00.
Quick Summary of Day 2
Distance covered: 382 km / 5 h 22 min including car ride back and forth to Marrakech
Ramparts (free)
City gates (free)
Medina (free)
Kasbah (free)
Mellah (free)
Fish market (free)
Plage d'Essaouira (free)
Daily shopping: € 30.00
Places to eat:
Lunch at Restaurant La Licorne
Dinner at Jemaa el-Fnaa banquets
Start of Day 3
Casablanca Mosque Sea Morocco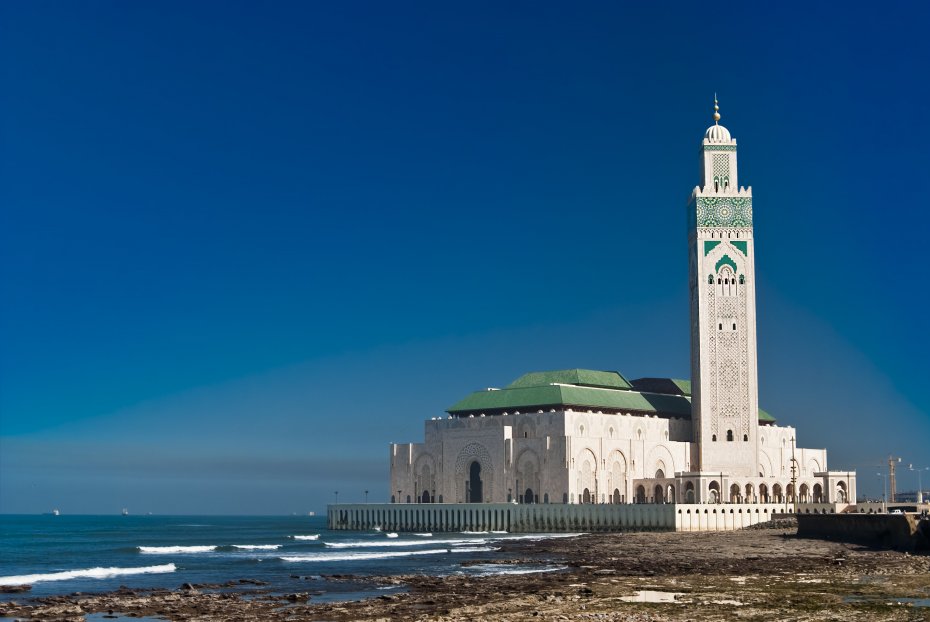 From Marrakech, you can opt for private transport the most comfortable and fastest solution, the Moroccan Railways train (2 h 40 min, on average € 12.00), or by bus (CTM or Eurolines FR companies, 3 h, in average € 10.00). The cities of Morocco can give a sense of disorientation, due to the liveliness of the center, the markets, and the narrow streets that intersect which resembles a maze.
For this reason, a panoramic and guided tour in Italian is also recommended here, to optimize time and not miss the crucial attractions. Start your visit from the most popular area which is in Medina. Stroll through the labyrinth of small streets lined with stone houses!
Afterward, when you already feel hungry, have lunch at Le Jasmine which only costs 710.00 MAD or € 65.00. This area is teeming with buildings from the colonial period, then head to the gardens of the Parc de la Ligue Arabe where the white Sacred Heart Cathedral stands out. They are open from 9:00 to 12: 00 and 14:00 to 19:00.
After that, you can pass by Place Mohammed V which is surrounded by the main administrative buildings. You can take a bus 43, 67 or 139 which only takes you 45 minutes of travel time going to Casablanca's main attraction, the stunning Hassan II Mosque which is considered one of the most beautiful buildings in the world. It is open from 9:00 to 12:00 and 15:00 to 19:00 Sundays to Thursdays and Friday with the time of 9:00 to 10:00 and 15:00 to 19:00.
After the visit, walk along the coast to the El Hang lighthouse, a perfect area to watch the sunset. Dine at Le Petit Rocher Restaurant which only costs 760.00 MAD or € 70.00.
Quick Summary of Day 3
Distance covered: 9.6 km / 2 h 2 min
Medina (free)
Ville Nouvelle (free)
Parc de la Langue Arabe (free)
Sacred Heart Cathedral (free)
Place Mohammed V (free)
Hassan II Mosque (120.00 MAD / € 11, 00)
El Hang lighthouse (free)
Daily shopping: € 165.00
Places to eat:
Lunch at Le Jasmine
Dinner at Le Petit Rocher Restaurant
Start of Day 4
Rabat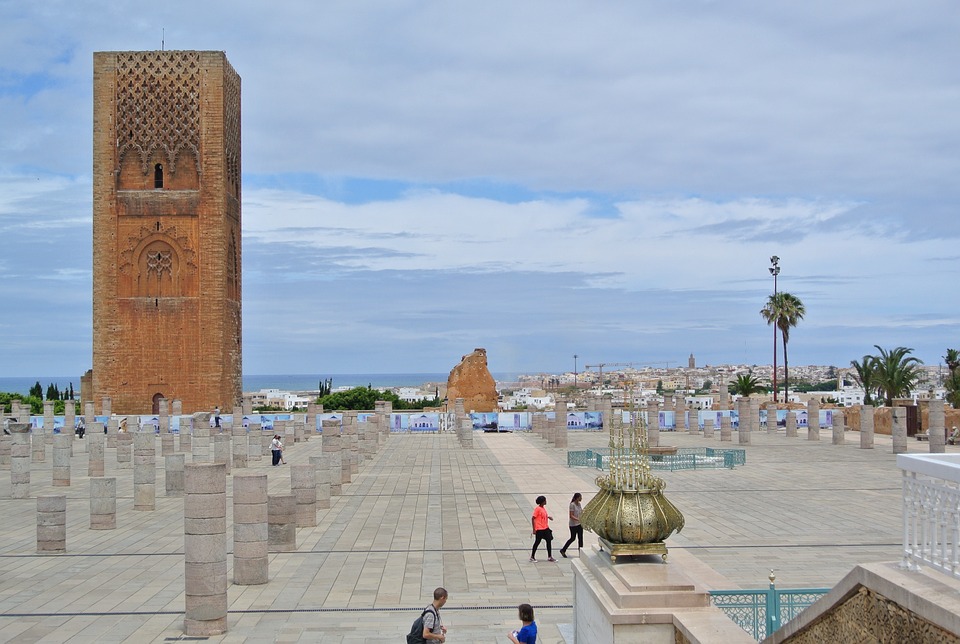 From Casablanca travel to Rabat by train which is through Moroccan Railways for € 5.00. The travel usually takes an hour or more. The capital of Morocco is a modern city, a place where you can find the Moroccan government and the largest in the country.
Start at the Medina which is made up of narrow cobbled alleys with art galleries and shops. Rue Souika leads to the Grand Mosque. However, it is not accessible to non-Muslims. Leaving the Medina, you'll eventually go towards the sea, you will arrive at the Muslim cemetery which is a very magnificent and puzzling place.
After that keep walking while maintaining your position at the left side of the sea, and you will be at the Kasbah of the Oudaya, a neighborhood where lime and blue facades predominate. Have lunch at Dar El Medina which costs around 140.00 MAD or €13.00.
You can continue by crossing the Garden of the Andalusians, with orange trees, fountains, and reddish walls, and head to the Chellah but be mindful that their operating hours are only 8:30 to 18:30. It is an extremely important site for both the conservation and the coexistence of Phoenician, Roman, Carthaginian, and Arab remains in one space.
In the late afternoon, move to Fez so that tomorrow you will have the whole day at your disposal. Accessible by private transfer between Casablanca and Fez, train with a travel time of 3 hours at € 13.00 or CTM bus with the same travel time but with a lower fare of € 7.00. Once you arrive, dine at Snack Brahim which might cost you 165.00 MAD or € 15.00. This will help you replenish the energy that you've lost on your journey.
Quick Summary of Day 4
Distance covered: 1 h 36 min / 7.6 km
Medina (free)
Muslim cemetery (free)
Kasbah of the Oudaya (free)
Garden of the Andalusians (free)
Chella (10,00 MAD or € 1,00)
Daily shopping: € 55.00
Places to eat:
Lunch at Dar El Medina
Dinner at Snack Brahi
Starting Your Day 5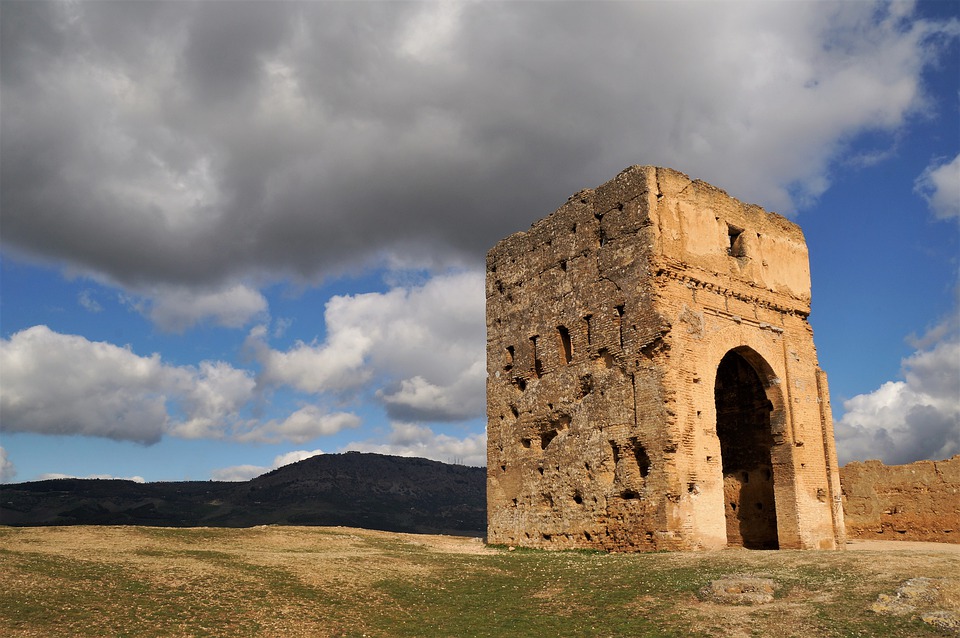 Fèz is a true stronghold of the culture and identity of the country and is divided between Fès el-Jedid, the New City, the Medina, and the Old City, also called Fès el-Bali. With only one day available, we suggest you stop in this second area and maybe discover it with the help of a tour guide.
The Medina of Fèz is the largest and most famous in the entire Arab world. You can enter the Bab Boujloud and cross it heading towards Dar Batha. Then visit the Madrasa Bou Inania, the city's Koranic school with a magnificent patio which is opened every Saturday to Thursday with a time slot of 9:00 to 18:00.
You can have lunch at Chez Rachid which costs 70.00 MAD or € 6.40. The visit of Fèz cannot be complete without a stop in one of the very famous tanneries. One example is the Chouara tannery, to discover all the secrets of the fascinating leather processing system then pass by the Qaraouiyine mosque. It was founded in the 9th century by a woman. You can only take pictures from the outside because, unfortunately, the place is off-limits to non-Muslims. Finish your visit by passing by Seffarine, the hub of local craftsmanship, populated by brass makers and cauldrons at work. End the day with a dinner at Mouhaim which costs160.00 MAD or € 15.00.
Quick Summary of Day 5:
Distance traveled: 3.1 km / 38 min
Medina (free)
Madrasa Bou Inania (20.00 MAD / € 1.80)
Chouara tannery (110.00 MAD / € 10.00)
Qaraouiyine mosque (external only, free)
Seffarine square (free)
Daily shopping: € 50.00
Places to eat:
Lunch at Chez Rachid
Dinner at Mouhaim
How much does it cost for 5 days in Morocco?
Staying in Morocco for a week can cost you € 1,150.00 based on the estimates that we have above. The costs expressed above are to be intended per person. In general, Morocco is not an expensive destination, especially in the DIY mode.
For flights, you can find good offers. To move from one city to another, if you use public transport (trains and buses), the rates are always around € 10.00 on average. For accommodation, especially in the cities touched by the proposed itinerary, you can find solutions of all types and for all budgets. From the family-run pension to the charming riad to the large luxury hotel. Many attractions are unpaid. Much of the beauties of Morocco are made up of Medinas and neighborhoods. The best thing here is to enjoy the atmosphere simply by walking and looking around. Mosques (alas) are almost always closed to non-Muslims and therefore we must be content to admire them from outside. The only paid attractions have very low tickets.
Useful Tips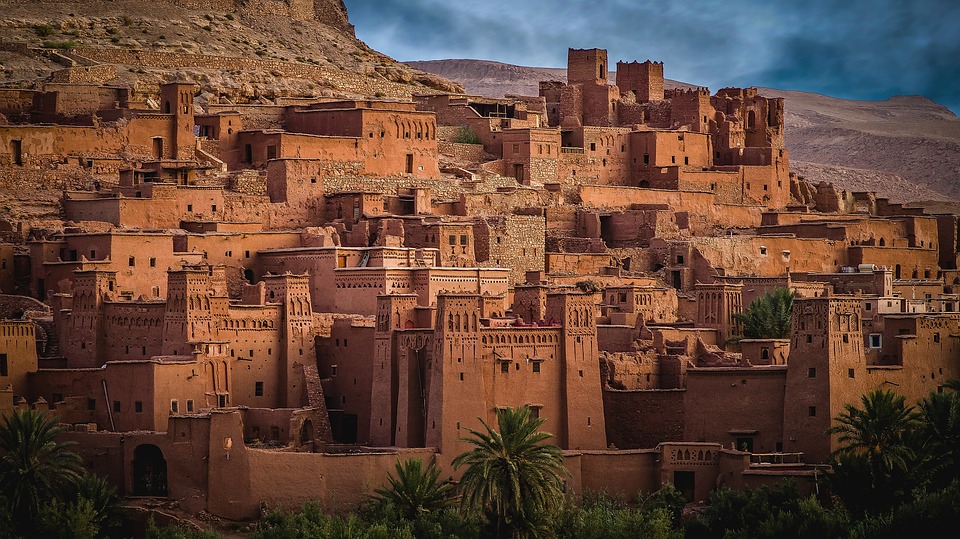 When to visit Morocco?
Spring and autumn are the ideal seasons. Summer is hot and winters inland can be very cold and rainy that is why you should be ready with your gears.
How to get there?
Most airlines (including low-cost ones) fly to Casablanca, Marrakech, Fez, and Agadir. If you land in Casablanca (25 km from the center), you can get to the city in 40 to 45 minutes by taxi which costs € 20.00, or train € 2.00. Landing in Marrakech then taking bus 19 will take you to the center in 30 minutes for about € 3.00.
Where to sleep?
The cities to take a rest while on this itinerary are Marrakech, Casablanca, Rabat, and Fez, In all cities, you will find different options, such as riads, small family-run hotels, or luxury hotels of the famous hotel chains
Other facts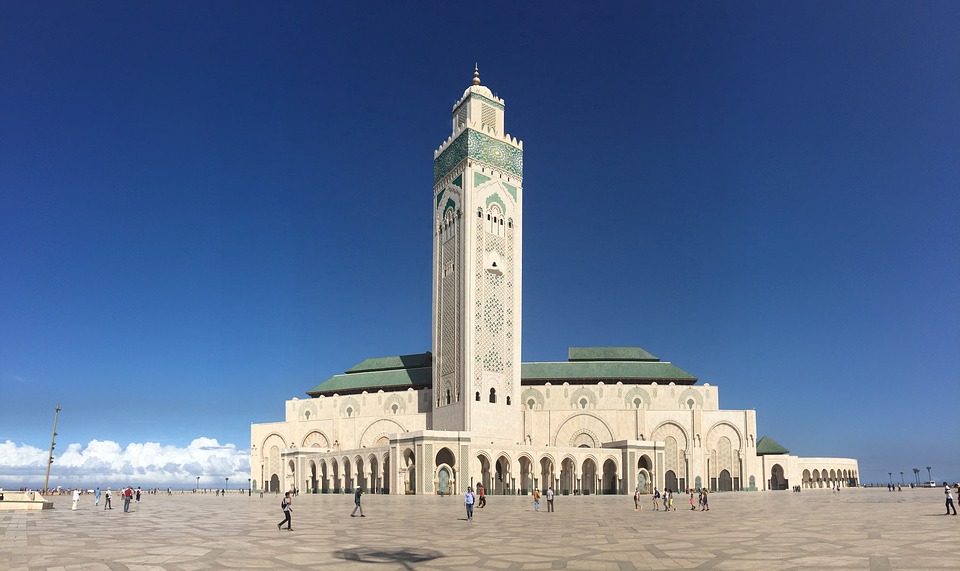 Getting around from one city to another trains and buses are comfortable and cheap with an average of €12.00-15.00. Within the individual cities, you can move easily on foot or, at most, by inexpensive taxis.
Local currency: Moroccan Dirham (MAD) / € 1.00 = MAD 10.89
Time zone: GMT + 1
Entry requirements:
Passport with at least six months of residual validity. No entry visa if you are traveling for tourism and if you do not stay longer than 90 days.
Travel insurance is recommended
Safety info
Morocco is generally a safe country, without major problems of public order. It is advisable to be respectful of local customs and religion, especially during Ramadan. Avoid going to isolated places in the evening and do not take valuables with you. Given the general state of tension due to the terrorist attacks, maximum attention and caution are recommended, especially in large cities and in the most crowded places.
An alternative is you can arrive by ferry from Tarifa (Spain) or Gibraltar (UK) and you'll arrive in Tangier. If you enter Morocco with a car, it will be registered in the Customs computer system and will appear on the computers of all Moroccan border posts.
Tourists who try to leave Morocco without their car will be detained by the border police. In the event of an accident that makes the car unusable, it is necessary to contact the Police authorities to obtain an essential certificate to be able to pass the customs without the car. It is forbidden to sell or give your car in Morocco without having completed a long and expensive customs clearance procedure.
So be very careful! It is recommended that you always fasten your seat belts and drive with extreme caution, avoiding night hours on extra-urban stretches as local traffic can be dangerous and unruly. Cars can be rented from around € 55.00 per day and up. There is a motorway network that goes from Casablanca to Tangier and up to Fèz. The trains work well and cover the north-south route (from Tangier to Agadir) and eastwards to Oujda. The roads are generally in good condition. The Moroccan motorway network has a length of 1480 km; the toll is paid in cash.
Numerous petrol stations are located along the streets selling unleaded petrol and "350" diesel of good quality. The general rule is it is forbidden to leave Morocco with Dirham.
At the end of your stay, you can convert only Dirhams previously purchased into Euros or other foreign currencies, by presenting the relevant receipts. It is advisable to be respectful of local customs and religion, especially during the month of Ramadan.
Furthermore, during this period, the quality of the service, even in the best hotels, maybe less careful in coincidence with the evening break of fasting; offices and shops have reduced opening hours.
Access to mosques is forbidden for non-Muslims, except for the Hassan II Grand Mosque in Casablanca. Homosexuality is considered a crime, therefore punishable. In general, it is advisable to avoid going to isolated places (woods, beaches) especially after sunset, and to bring valuables with you.
Health
The health situation is, on the whole, satisfactory. Public health facilities are not at the European level but in the major cities, there are private paid clinics suitable for simple or urgent interventions. The cost of hospitalization can be considerable. It is therefore advisable to take out, before leaving.
An international insurance policy that provides for coverage of medical expenses and the eventual emergency repatriation of the patient would be a great choice. In the main cities, there are good doctors. Pharmacies are numerous and generally well-stocked.
Travel insurance
Our advice is always to rely on the insurance company which provides comprehensive coverage at absolutely competitive prices. They must also provide customer assistance, an always active call center, and 24-hour medical insurance with unlimited telephone medical advice.