If you like adventure, nature and clean settings – Alaska is the place for you. The sheer wilderness and varied wildlife offer a once-in-a-lifetime experience that's hard to forget!
This huge, wild and inhospitable territory, enclosed between Canada, the Pacific Ocean and the Arctic Ocean, has constituted a fundamental bridge for the historical development of America.The Bering Strait, 15,000 years ago is when the migration of mammals and human groups across Siberia first began. Even today in Alaska, people depend on the natural world for survival – so many in fact, that Alaskan's share a reverence for the animal and plant life where they live. That's why it might come as no surprise to you that.
Exploring this country is a unique experience. When planning your itinerary, note these important spots to see: cities and attractions not to be missed!
When to go: best time
Alaska is one of the coldest places in the world. The climate here is harsh and temperatures can sometimes drop to – 80 °F. The best time to visit Alaska is during summer when it's more livable with pleasant temperatures. However, to admire the wonder of the Northern Lights, winter would be better. But if you don't want to freeze your 1)ears off 2) it's important to consider the very low temperatures and late hours. September is a good starting point because 1) you can leave in plenty of time or 2) there are fewer crowds around at this time
Be careful with whom you travel in the winter months as the temperature will drop to a -65 ° and icy cold winds from Siberia will make it a particularly daunting time of year.
What to see in Alaska
1 – Denali National Park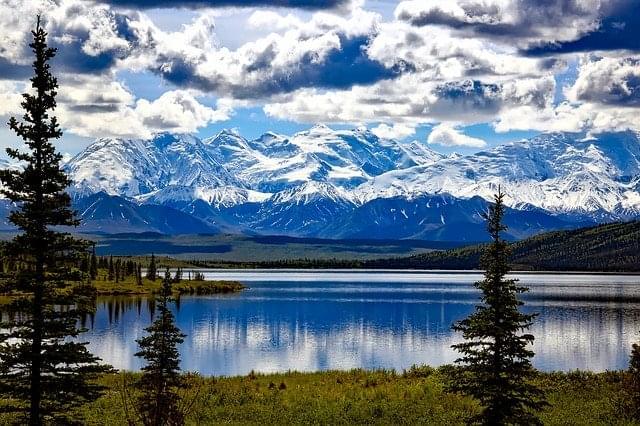 Denali National Park is Alaska's iconic national park .
Snow-capped peaks, glaciers criss-crossed by meandering streams, pristine forests, and wildlife. Inside this reserve that extends for 24,000 sq km (the surface of Sardinia!), you'll find Mount McKinley. At 6194 m asl it's the highest peak in North America.The slopes of this mountain range is home to an intricate forest where it's possible to spot bears, wolves, and other wild animals such as moose and caribou.
Denali can be visited without a trip leader or tour operator. You can go on your own by car or on foot. People who are sporty and ambitious can choose to visit the park and tackle some hiking routes. Whether a few hours long or even days long, there are easier trails as well as more challenging ones, which take you between dense woodland and rugged ridges.
2 – Glacier Bay
Cook noted the area to be a great and impenetrable sheet of ice, hundreds of meters thick in the 1770s. However, by 1794 it already was clear that some ice had melted, making way for an 8km long bay. The ice continues to melt, revealing pieces of a forest and ships that can now creep 105 km up the bay.
You may be able to enjoy Glacier Bay from the safety of land but being out on the water offers you a different perspective. It's not uncommon for car-sized pieces of ice to break & fall into the sea! A highly suggestive show! That is why those who prefer to enjoy the beauty of the bay on foot and want to get away from traffic can go to Bartlett Cove. There are paths in the forest starting from here and they will lead you right up to the shore of the bay.
3 – The Northern Lights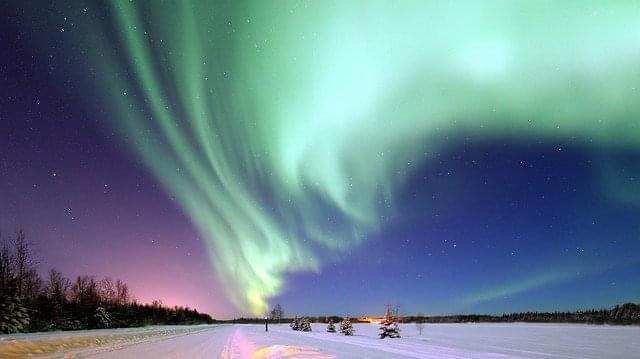 Alaska is an incredible place to visit, with one of the most awe-inspiring natural phenomena – the Northern Lights. I'm sure you have heard of it. Another incredible sight there is the midnight sun, which provides light even at night time in summer months.
When it's winter and dark all the time, you need some way to keep things fresh. The ambient, green & yellow lights made the landscape appear magical.
Northern lights are one of the most vibrant and dramatic natural phenomena, but you don't necessarily have to travel all the way north to see it.On average, there are 100 nights a year in which you can spot the Northern Lights at the North Pole. But, in Fairbanks, you can expect 240!
Seeing the Northern Lights is an aphenomenon that leaves anyone speechless, no matter how many times they've seen them before. All auroras are different, so there should always be something new to see.Changes in the sky's coloring can happen too! In 1958, the skies of Alaska were dyed bright red, causing many to believe there was a fire.
4 – Fairbanks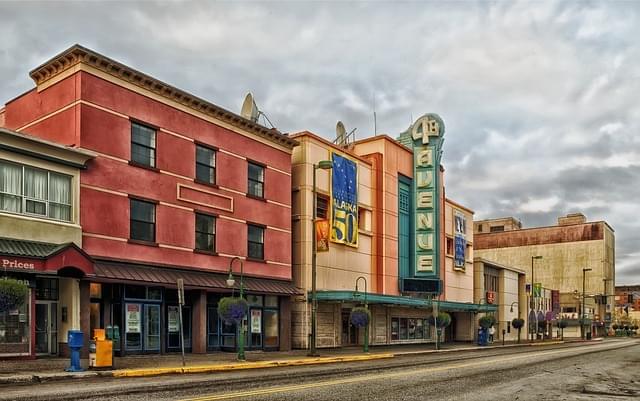 Fairbanks is a hub city and is not the capital of Alaska. It has 30,000 inhabitants and is the second most populous city in the state. This is where you want to start your excursions to North Central of America.
From a distance, Fairbanks looks like any other small town. But that quickly changes as you begin to explore this city and learn about the exciting past it has had.
To visit the Morris Thompson Cultural and Visitors Center, they offer an introduction to Alaska and the natives who have lived there over time.As the name suggests, Ice Museum is about ice and the various ways it intersects with our lives. It's both unique and fascinating.This is the only environment filled with ice sculptures, kept at a steady -7 degrees. These sculptures have grown in popularity internationally as this studio is destroying all other competitions.You should experience it for yourself because our festival is unlike any other ice sculpting event in the world. Visitors come from all over the world and some sculptures stand over 6 meters high!
5 – Inside Passage
The Inside Passage is the strip of sea that winds between the rugged southeastern coast of Alaska, and the archipelago of hundred's of island's to protect it from ocean-borne elements.The Alaskan Marine Highway is a ship that is able to transport goods and passengers to Canada's North West coast and even down to the capital city of Juneau. It touches many other outlying towns such as Skagway.
Traveling through the Inside Passage is one of the most unique experiences you can have in Alaska, and in life in general. Marine and terrestrial animals, fjords and glaciers: wherever you turn your gaze, you will be amazed!
The Inside Passage can be conveniently covered in a number of ways: with luxury cruise ships, which is an unforgettable experience; in a less luxurious manner with small local cruise routes; the latter has the advantage of being cheaper and, being smaller, it can reach areas closer to shore; please note the ferries of the Alaska Marine Highway System. These ferries are pretty austere, but perfect for those who want to experience Alaskan culture and travel to its most remote areas.
6 – Aleutian Islands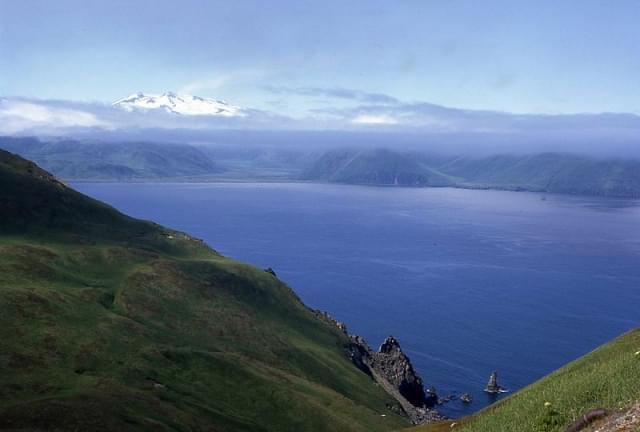 The Aleutians are at the easterly end of the Alaska Peninsula and are one of the most beautiful and pristine, yet least visited areas in all of Alaska.There are over 2500 islands and cliffs in the Alaskan Maritime National Wildlife Refuge. They provide an area for marine life to live without disturbance, and are a part of the national reserve.
Peculiarities of the Aleutian Islands are the strong earthquakes, high temperatures and active volcanoes that have been dominating the vast archipelago for a long time.While there are many more uninhabited islands in the Aleuts, only 10 of them are actually inhabited. With that said, about 8,000 people live there with about half living in Unalaska which is the main island. You can find a plethora of animal life forms on these islands and the region offers many opportunities for fishing and bird watching.
Tourists can visit the islands via a Ferry or airplane. The Easternmost islands such as those close to Kamchatka are the most difficult to reach and can only be accessed twice a month in summer.
7 – Kenai Fjords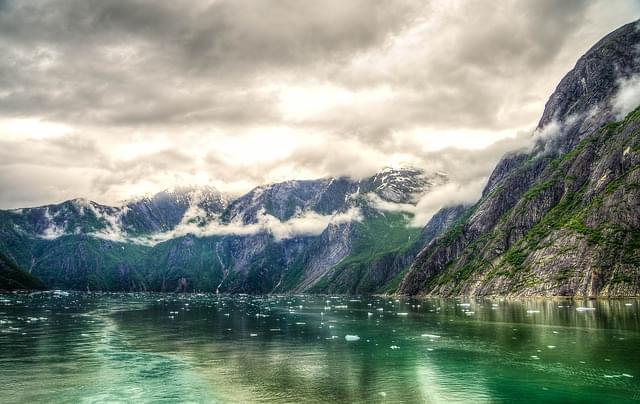 The Kenai Peninsula is found to the south of Anchorage and contains many interesting features. The fjords are made up mostly of swamps, lakes, and glaciers.
You might not think of Alaska as an ecosystems with all the room usually found in tropical forests, but the Kenai Fjords National Park is known for its stunning scenery. Tucked away in those huge, spiky mountains is a thick  forest nestled between valleys of ice and fresh water that has given life to a complex ecosystem.The park is at the opposite end of the peninsula (in Alaska) from Kenai, and is one of the best places in that state to see glaciers.
The most popular excursion is the one by boat or kayak along the coasts and inside deep fjords – at the bottom of which glaciers regularly lose icebergs into the sea.The activity of tourists consists in waiting patiently for a massive block of ice to break loose and drop into the sea, sounding off with a resounding creak followed by a final thud.
Even the city of Kenai ,by itself is interesting due to the Russian roots in it. It's also great because of its Old Believers community which speaks both Russian and English.
8 – Train tour along the paths of the gold rush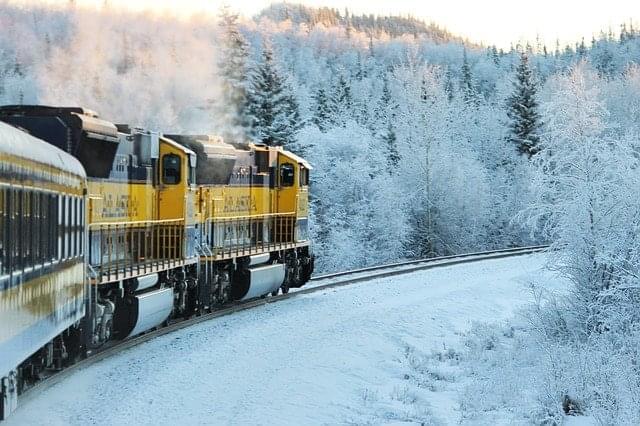 Alaska has always attracted large investors for its countless natural resources, primarily gold .
In truth, the richest area in gold is the Klondike , the Canadian region bordering Alaska; but this is where the US gold miners started from. And even today, this area is characterized by this theme; there is even a national park: the Klondike Gold Rush National Historical Park .
Precisely for the gold rush, the White Pass and Yukon Route was built , the railway that connects the Canadian city of Whitehorse with the Alaskan Skagway. And needless to say, the gold rush is now exploited as a tourist attraction. A vintage train connects Skagway with White Pass Summit , the border town between the two states. A journey of 64 kilometers (round trip) lasting about 3 hours, and which allows you to travel one of the most scenic routes in North America , including spectacular waterfalls and vertiginous bridges over the glaciers!
The economic alternative to admire these landscapes, however, is the Statale 98 which runs, for the most part, parallel to the railway, and from which various paths for trekking wind, the most famous is the Denver glacier trail.
9 – Take a dog sled ride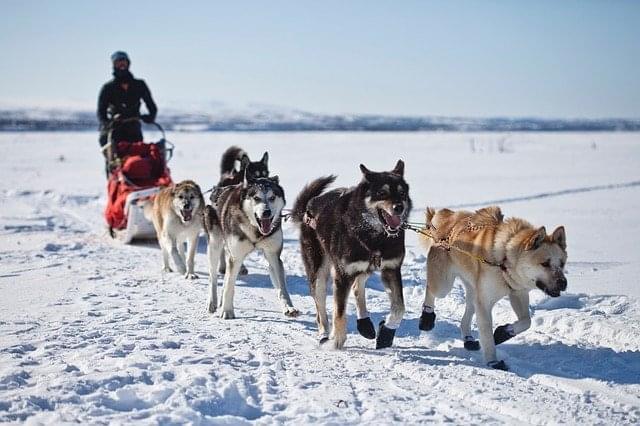 The reason why Alaskan dog sledding  is sought after by both young and old wonderfully showcases the uniqueness of this experience. You can set off on a journey with an experienced guide and ride aboard a carefully-reared sled dogs across miles of snowy wilderness.
Used for transportation once upon a time, dog sledding is now both a major tourist attraction and sport where you can show off your skills.A team of 8-20 dogs pulls the sled, one of which is the guide dog. He/she calls out directions to the rest of the team and literally steers them.
Most sleigh tours depart from Anchorage, leading to the discovery of tourist spots such as Denali Park, Fairbanks, Girdwood, and Juneau. Before taking to the track, we set aside some time to go through everything a guide needs to know about driving and emergencies that could happen. Then we conducted a practical test on the track.The passengers are seated and covered, ready then to let the dogs get underway. They've received training and are familiar with the route, so it's all in their paws.During these tours, you can explore the unspoiled wilderness of the mountain regions and celebrate the natural beauty of the woods. You can see both local animals like deer or bear and have a wonderful time during winter from November to April.
10 – Kobuk Valley National Park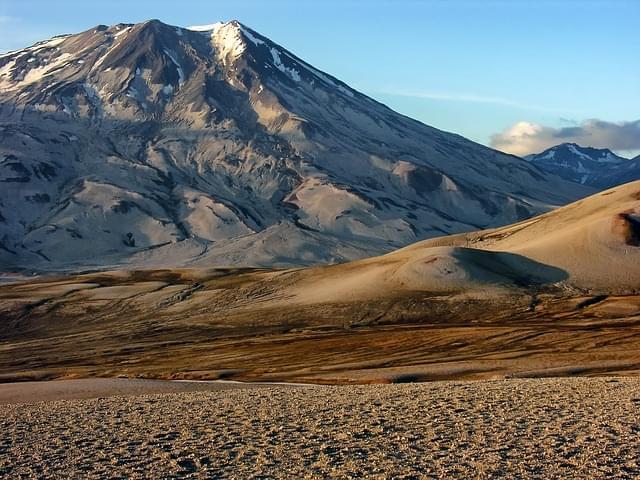 But Alaska isn't just ice! It also has some desert-like areas, like Kobuk Valley National Park.
is located north of the arctic circle, where the taiga ends and tundra begins. it's 730 thousand hectares are nestled in between two ranges of mountains, with no roads or paths to speak of.In a remote part of Alaska called Kobuk, there is a treasure filled with sand dunes. These rolling waves are overlooked by eagles and preserve one of the most hidden treasures in North America. At the center of this park is a 65 square kilometer area of golden sand dunes, up to 30 meters high. Because there are no rivers or streams in this park, sand here is the product of glaciers from many centuries ago erosion on rock.
Kobuk Valley National Park is an area mostly untouched by tourists, but is nonetheless popular among locals. You can't access it with large commercial airlines, however if you're up for a more unique, adventurous and fun experience then take a small plane to the park.