Located in the inner land from Cape Coast, Ghana, the Kakum area was declared a Protected National Park in 1992. Characterized by areas of virgin rainforest, completely untouched by man and so dense not to let the sunlight through, it is the natural habitat of many animal species, including elephants, monkeys, leopards, warthogs, and bongos. For this reason, it is one of the favorite places for safari and adventure lovers.
In this article, we will try to find out more about this park, which is in effect one of the most hidden and incredible corners of the Earth. Here's everything you need to know about Kakum National Park,
Ghana: where it is, when to go, and what to see?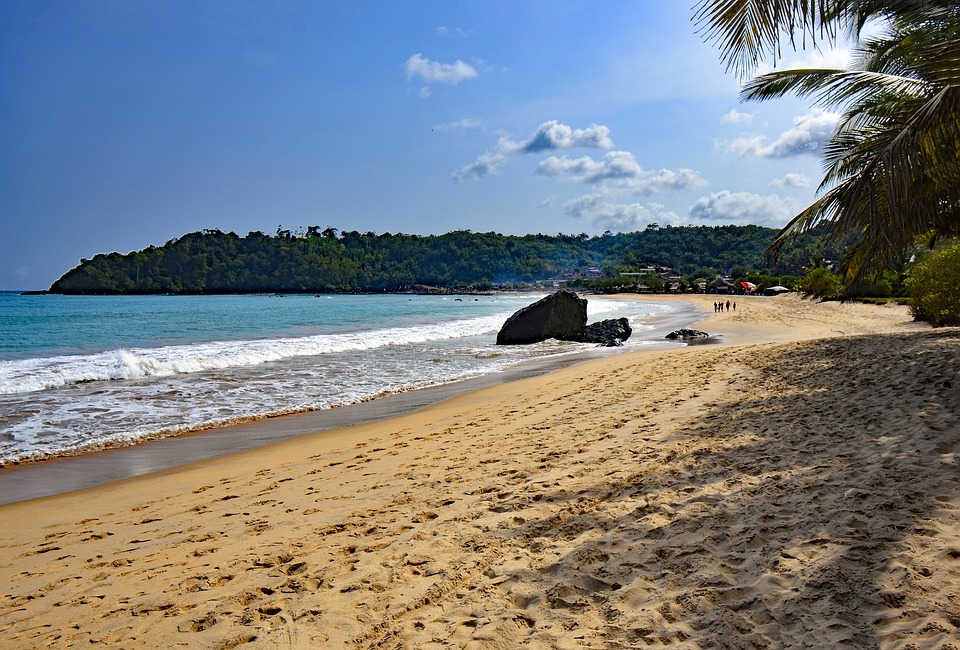 Where is it located?
Kakum National Park is located in the homonymous town of Kakum, located 20 km from Cape Coast. It is one of the largest equipped natural parks in Ghana. It extends for over 350 square kilometers and most of the territory is covered by rainforest.
How to get to Kakum National Park?
The duration varies from 10 to 20 hours, depending on the location and the number of stopovers. The flag carriers serving this route are Turkish Airlines, Air France, Brussels Airlines, Ethiopian Airlines, and Africa World Airlines.
From the main European capitals, the only direct flight is operated by Airfrance, from Paris Charles de Gaulle to Accra, active only on certain days of the week and with a duration of 6 h.
In the other cases, it is necessary to take into account 1 or 2 stopovers and a flight duration that varies from 20 to 30 h on Secondi-Takoradi, and from 10 to 15 h on Accra.
The flag carriers active on these routes are the following:
Africa World Airlines
Royal Maroc
Tap Air Portugal
Turkish Airlines
KLM, Airfrance
The best solution is to organize the entire trip with the help of a specialized agency, which will be able to show you the best way to reach the park, sometimes offering private transport directly.
In case you are independently organized the trip, Once landed, you have to proceed in the direction of Cape Coast.
From Takoradi, we recommend the bus that leaves directly from the airport twice a day: from Takoradi to Tema (5h, € 8.00), from there to Cape Coast (3h and 21 min, € 6.00).
From Accra, you can take bus line 456 from Alliance to Okponglo, line 389 or 386 from Okponglo to Accra New Town, line 376 or 368 from Accra New Town to Accra New Tema Station, and from there single bus to Cape Coast (2 h, € 5.00).
Once in Cape Coast, to reach Kakum National Park you have to proceed in Tro-Tro from Kotokuraba station (45 min, € 0.56). The TroTro is near the park entrance (five minutes on foot following the signs).
Climate
The climate is tropical type, with an average daytime temperature of 32 °, nighttime of 24 °. Rainfall arrives at the end of March and becomes more and more frequent, up to the maximum peak during June. The sea temperature is around 27 ° C.
Best Time to Visit
The perfect time to go there is between January and March. The wind blowing from the east and north-east makes the climate mild and pleasant.
Period to Avoid
May and June are considered the wettest months
Piece of Advice
Bring with you a versatile suitcase, which contains what is necessary for bad weather and possible unforeseen events in a wonderful land like Africa. Yes to scarves (to shelter from the wind laden with sand), umbrellas, raincoats, and clothes in natural fibers
What to bring?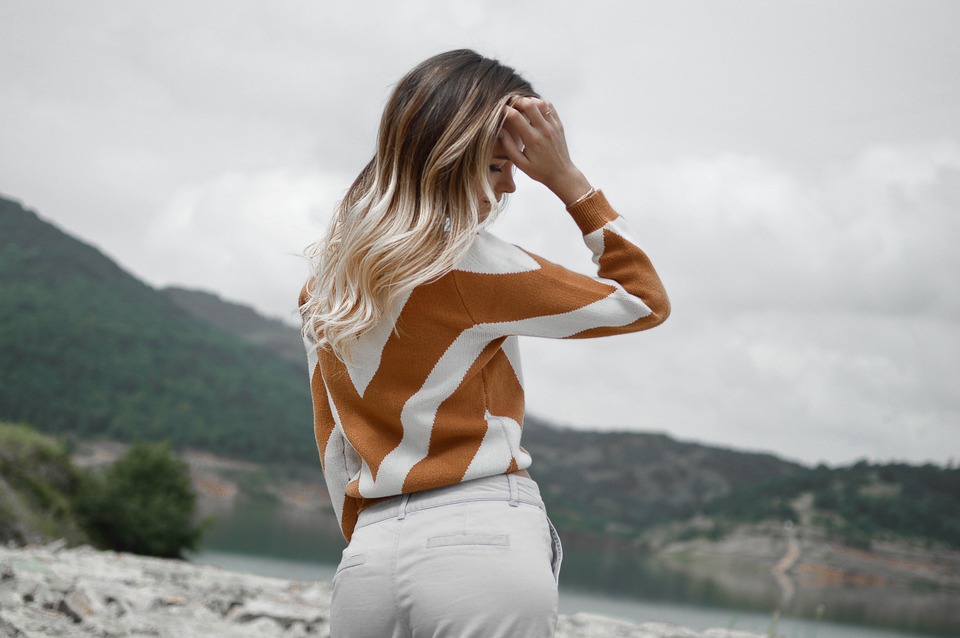 Clothing
Light clothes, possibly in natural fibers
Sweatshirt for the evening
Equipment
Scarf
Raincoat
Binoculars
Camera
Insect repellent
Shoes
Clothing
The Best Things that You Can See in Kakum National Park, Ghana

Canopy walk
Real walks on the top of the trees inside the park, thanks to platforms connected by suspension bridges, to spot wild animals and breathtaking views that are truly enjoyable to see.
Monkey Forest
Monkey Sanctuary, located along the road to Kakum. On-site, in addition to the monkeys, it will also be possible to admire other animals, including turtles and two alligators.
International Stingless Bee Center
This is another place immersed in African nature, dedicated to bees. It will be possible to know and buy different types of honey.
Birdwatching
There are more than 400 species of birds to admire and take a picture of. Common: White-Throated Bee Eater, Yellow-Billed Kite, African Hobby, Black-Winged Lapwing, Long-Tailed Cormorant, Smooth-Backed Pipit, African Pygmy Goose, Long-tailed Nightjar
Hiking
Backpacking, discovering the rainforest and the most important species of medicinal trees that grow here such as rare endangered animal species just like leopards, bonobos, forest antelopes, buffaloes, duikers, and red river pigs is one of the most enjoyable things that you can do here.
Butterfly-peeking
There are over 500 different and colorful species of butterflies for you to enjoy. A little charm for the eyes that is surely soothing to the senses.
Kakum Museum
Take a walkthrough of flora, fauna, culture, and local history. The handicraft shop is also very interesting.
Camping under the stars
Tent, mattress, and sheets, inside the park there is also the possibility of camping and living it at night, spotting animals, or simply enjoying an unforgettable landscape.
Wildlife Education Center
It is a very important initiative, aimed at protecting wildlife and especially endangered species, from the hands of poachers. Knowing their projects will add more interest and experience to your visit to the Park.
How much does it cost to visit Kakum Park?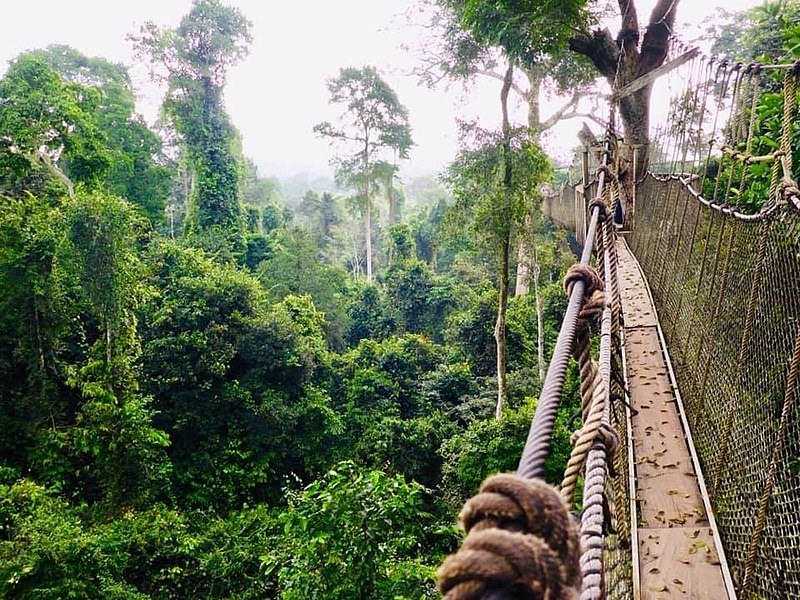 Kakum National Park is open every day from 6:00 am until sunset. It is advisable to arrive around seven, to spot as many animal species as possible.
Specialized guides will also be available on-site who will explain specific characteristics of local fauna and flora, especially the very important and precious medicinal plants that grow here, the costs are not particularly high.
The entrance to the park includes a fee starting from 40.00 GHS (€ 6.50) to which you must then add the costs of the various experiences that you will choose to do: camping or hiking for example from 85.00 GHS (€ 13.40) per person.
The journey to the park from Cape Coast is around 3.50 GHS (€ 0.55). As already mentioned, numerous expert guides are available on site. However, for experiences like these, in places so different from ours, it is always advisable to contact an agency in advance, so as not to leave anything to chance.
Where to sleep?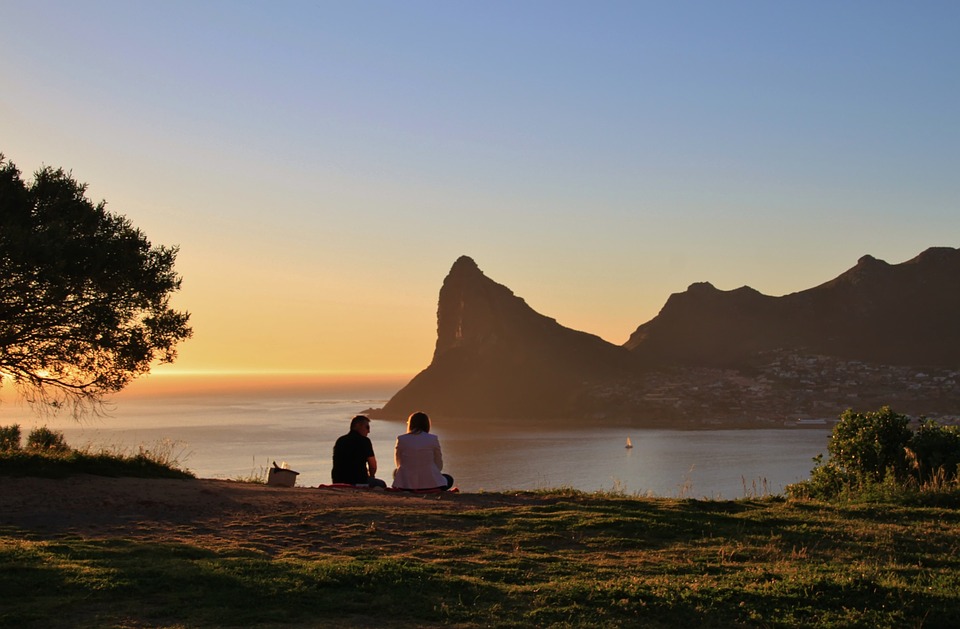 In Cape Coast Hotels and B & B price starts from € 25.00 per room. There are also low-cost flights, starting from € 647.00
Useful Facts About Ghana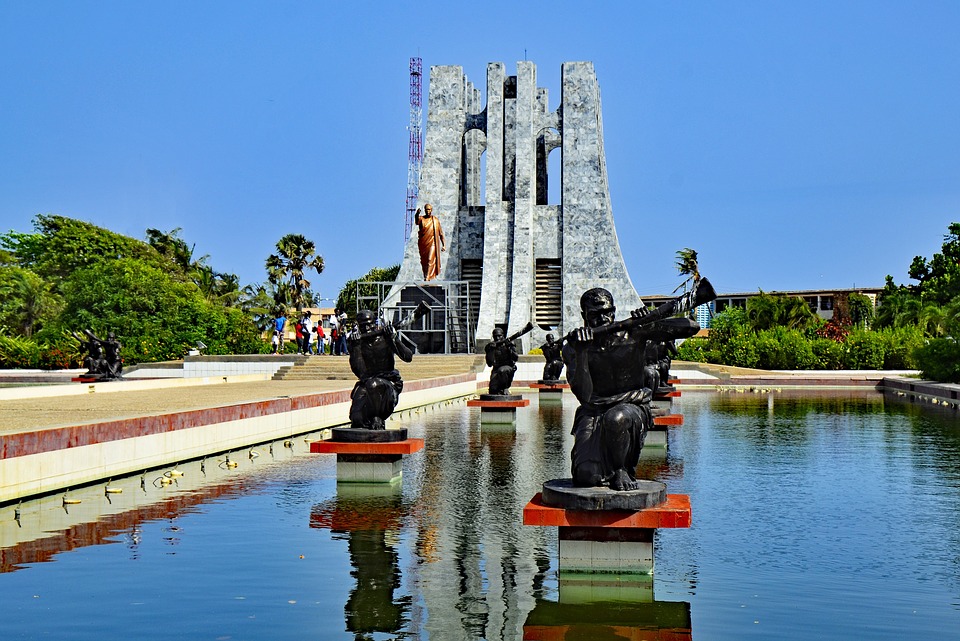 Inhabitants: 28,210,000
Capital: Accra
Languages: English; various local languages are also widespread (Akan, Ga, Twi, Fante, Ewe, Housa, etc.)
Local currency: New Ghana Cedi (GHS) / € 1.00 = 6.29 GHS
Climate: Tropical climate, variable according to the presence of the sea. Average temperatures in the coastal areas are around 25/35 °. There are only two seasons: dry, from November to April, and rainy, from June to October
Vaccinations: mandatory yellow fever vaccination certificate, to be shown on arrival. Typhus, hepatitis A and B, tetanus, and meningitis are recommended
Entry requirements: passport with residual validity of at least six months; entry visa to be requested before departure in Italy at the Embassy of Ghana in Rome and the Honorary Consulates of Ghana in Brescia, Palermo, Turin, and L'Aquila
Distance from Italy: 4,099.50 km (5 hours and 43 minutes by flight) from Rome
Travel/health insurance: recommended
Travel Insurance Advice
We always rely on a trusted insurance company that provides comprehensive coverage at absolutely competitive prices.
They also provide customer assistance, an always active call center, and 24-hour medical insurance with unlimited telephone medical advice.