St. Patrick's Day is celebrated all over the world today, but what better place to deck yourself out in green and join in on the festivities than in the country of Eire itself? Here are 10 St. Patrick's Day events taking place throughout Ireland that are sure to be a good time.
1. St. Patrick's Day Festival – Dublin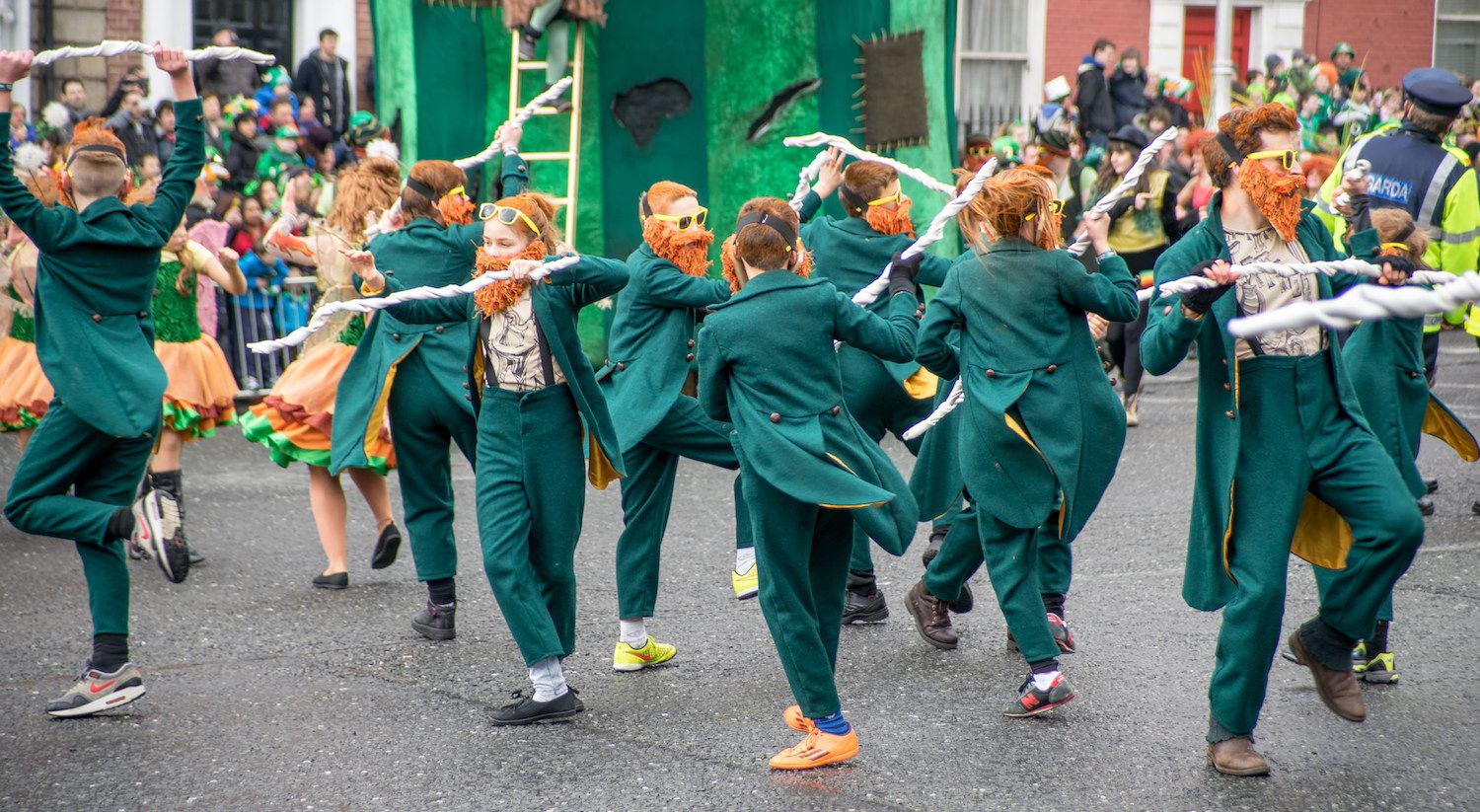 Credit: Dublin
Naturally, the biggest and greenest St. Patrick's Day celebrations take place in the nation's capital city, Dublin. The festival is a multi-day event with many things to do including: a treasure hunt, "In the Footsteps of St. Patrick" Walking Tour, Irish boat races, Greening of the City (all major landmarks are lit up green), a 5K, a massive parade, and much more. Here are some things to know before you go.
– Make sure to book your accommodation well in advance. This is a very popular time to visit Dublin and availability will be low and prices will be high if you don't book early.
– The dates for the 2016 Festival are Thursday, March 17th, 2016 to Sunday, March 20th, 2016.
– The Discover Ireland Centre provides free maps and guides to Dublin.
2. Seachtain na Gaeilge (Irish Language Week) – Derry-Londonderry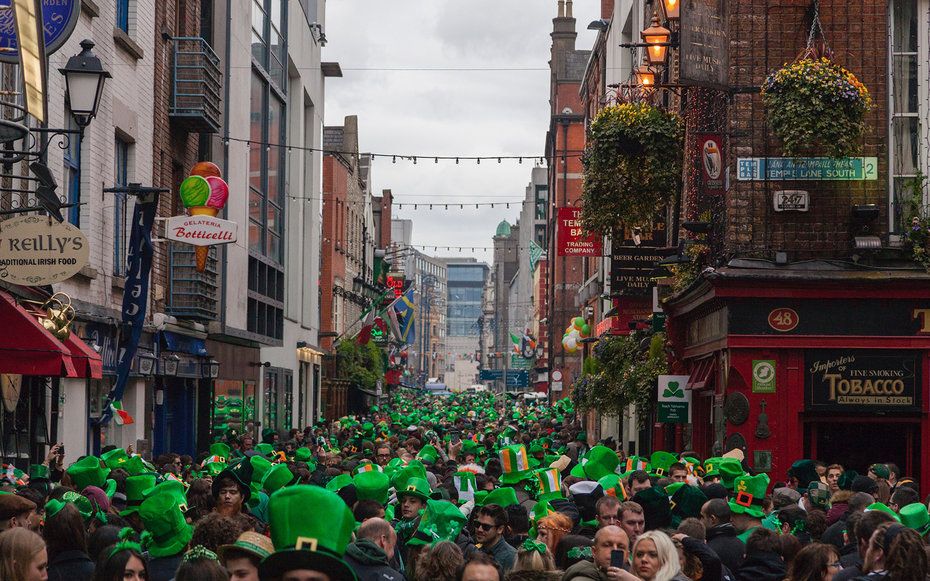 Credit: St Patrick's Day
Seachtain na Gaeilge is an international Irish language festival that has been taking place every year since 1902 and celebrates the native language and culture of Ireland in the weeks leading up to St. Patrick's Day. Various activities are organized for fluent speakers, learners, and those who simply just have an appreciation for the Gaelic language and Irish heritage. Here are some important things to know about the festival.
– It runs from March 1st to March 17th.
– You can buy the official festival guide Sult from the Irish Daily Mail. This is the only place where all of the events will be printed. It's bilingual, making it a great tool for language learners as well.
3. St. Patrick's Day Parade – County Wexford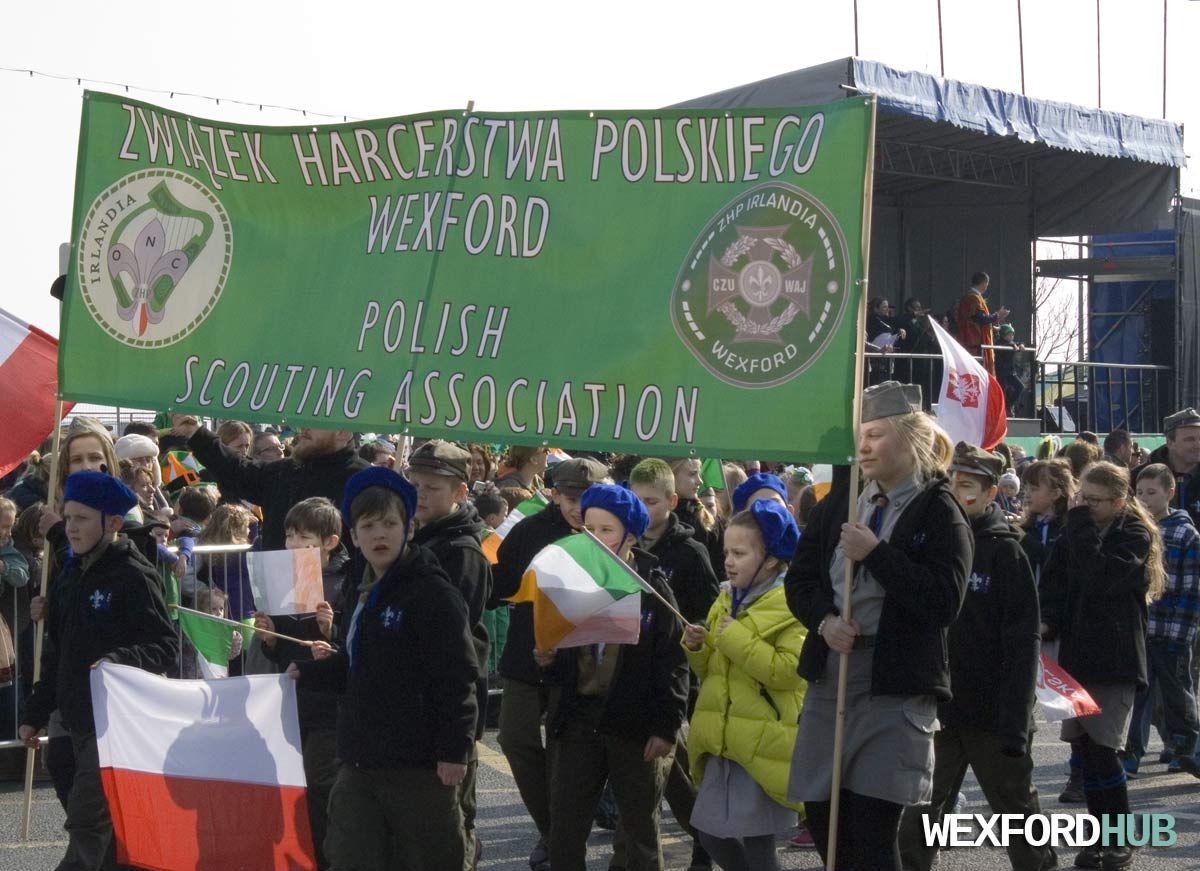 Credit: Wexford
The parade in County Wexford is the oldest in Ireland and those interested in learning about the history of St. Patrick's Day celebrations in the land of green should definitely make it a point to stop by and enjoy it. Here's what you should know before you go.
– The parade takes place on the 17th.
– A visit to the Irish National Heritage Park will give you a greater appreciation for the holiday. It delves into over 9,000 years of history.
– The quickest way to reach Wexford from the Dublin airport is by car or with Wexford Bus.
4. St. Patrick's Day Celebration – Dingle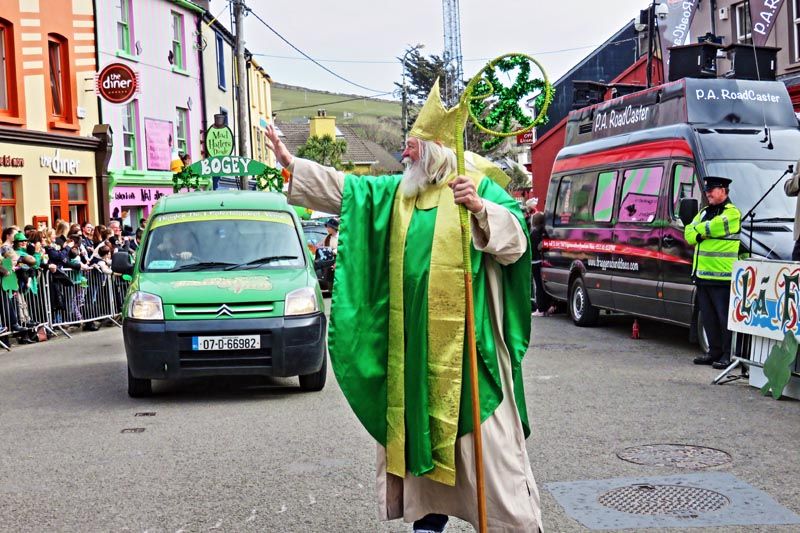 Credit: Dingle
The celebrations kick off in Dingle bright and early at 6am with the Dingle Fife & Drum band taking to the streets keeping up with a long tradition. They pick up many enthusiastic followers as they make their way through the streets and make a stop at St. Mary's Church for mass at 6:30am. This morning routine is followed by a singing of the national anthem and the St. Patrick's Day parade. Here are some things to consider.
– The festivities begin around the Old Hospital, so try to find accommodation close by.
– The closet airport is Kerry Airport about an hour away.
– There aren't many gas stations on the peninsula, so make sure you fill up before making any long journeys by car.
5. International Band Parade and Competition – Limerick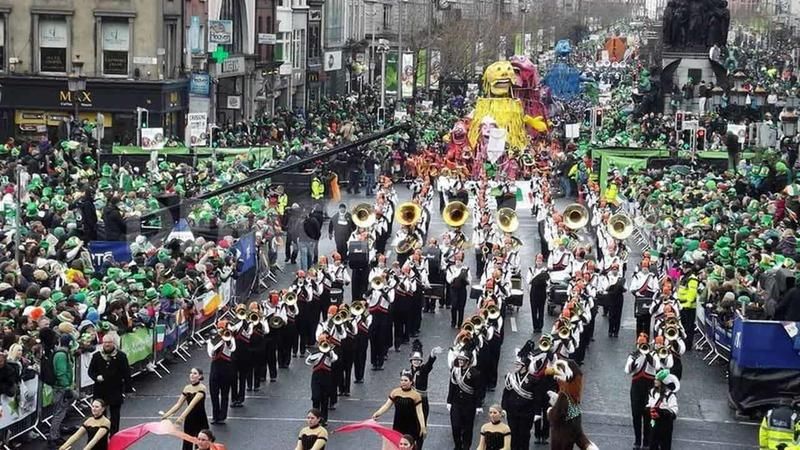 Credit: Parade
If you're looking for a little more than shamrocks and pots of gold, this may be the event for you. Marching bands from all over the world come to Limerick to march and compete for the top honor in this competition. The event takes place on the Sunday before St. Patrick's Day in order to allow the attendees to also have the ability to check out the festivities in Dublin. Here's what to know before you go.
– Shannon has the closest major international airport.
– Limerick Strand Hotel is a great place to stay with chic, modern rooms, riverside dining, and a spa.
6. Cork St. Patrick's Day Festival – Cork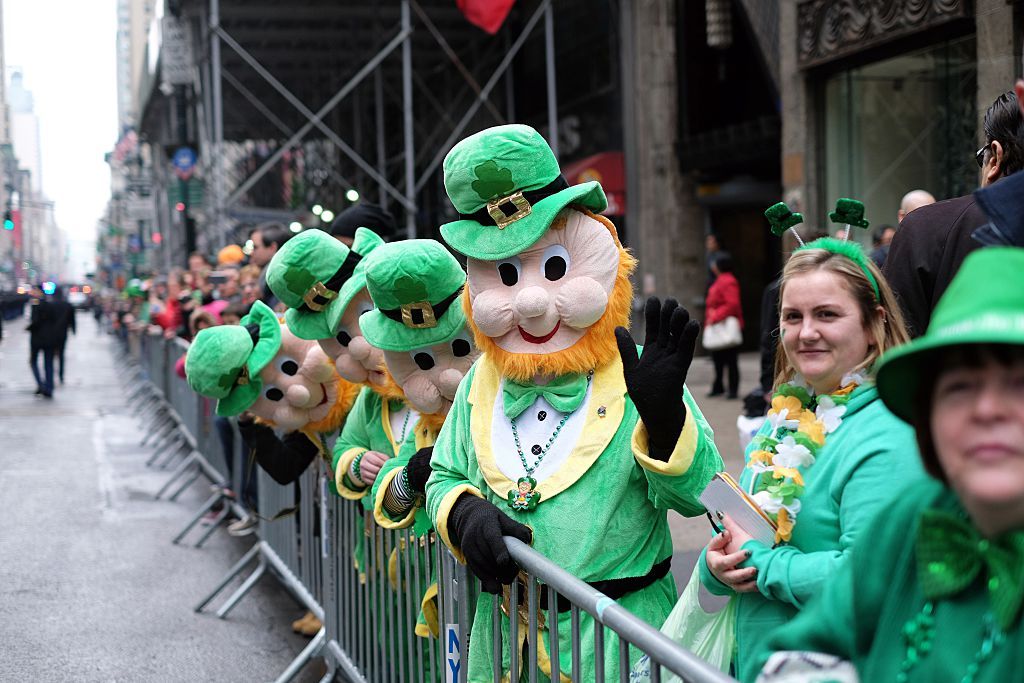 Credit: Cork
Cork, Ireland is home to the Blarney Castle, the world's largest collection of Waterford crystal and one kick-ass St. Patrick's Day Festival. Taking place over the course of three days, the festivities include a St. Patrick's Street filled with live music and tasty treats, a Fab Food Trail, art galleries, and a Grand Parade. Here are some things to consider when planning your trip to Cork.
– The Maritime Hotel in Bantry in West Cork is the perfect place to stay if you're looking to make a romantic weekend of the trip.
– Flying into the Cork Airport is the easiest way to get to the city from abroa
7. County Armagh St. Patrick's Day Festival – County Armagh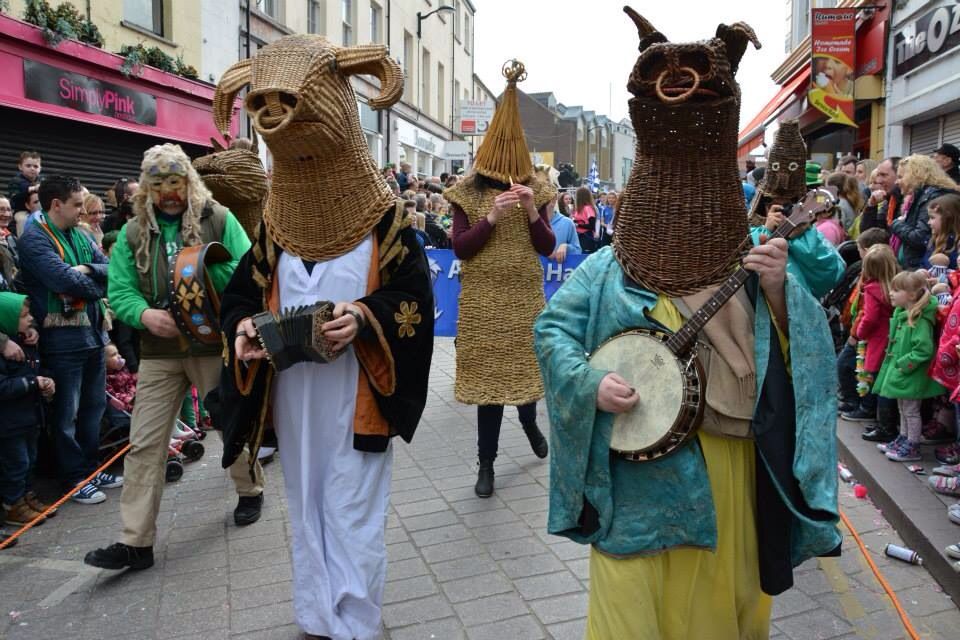 Credit: Armagh
Located in Northern Ireland, County Armagh still has ties to the United Kingdom, but this doesn't mean its St. Patrick's Day celebrations are any less Irish. The five-day festival celebrates the areas strong ties to St. Patrick, who set up his bishopric here. To this day, Armagh remains the principle seat of both the Protestant and Catholic churches in Ireland. Here's what you should know before you go.
– Entry and visa requirements are a bit different here from the rest of Ireland, as Northern Ireland is still part of the United Kingdom.
– The closest airport is located in Belfast.
8. Kilkenny TradFest – Kilkenny Castle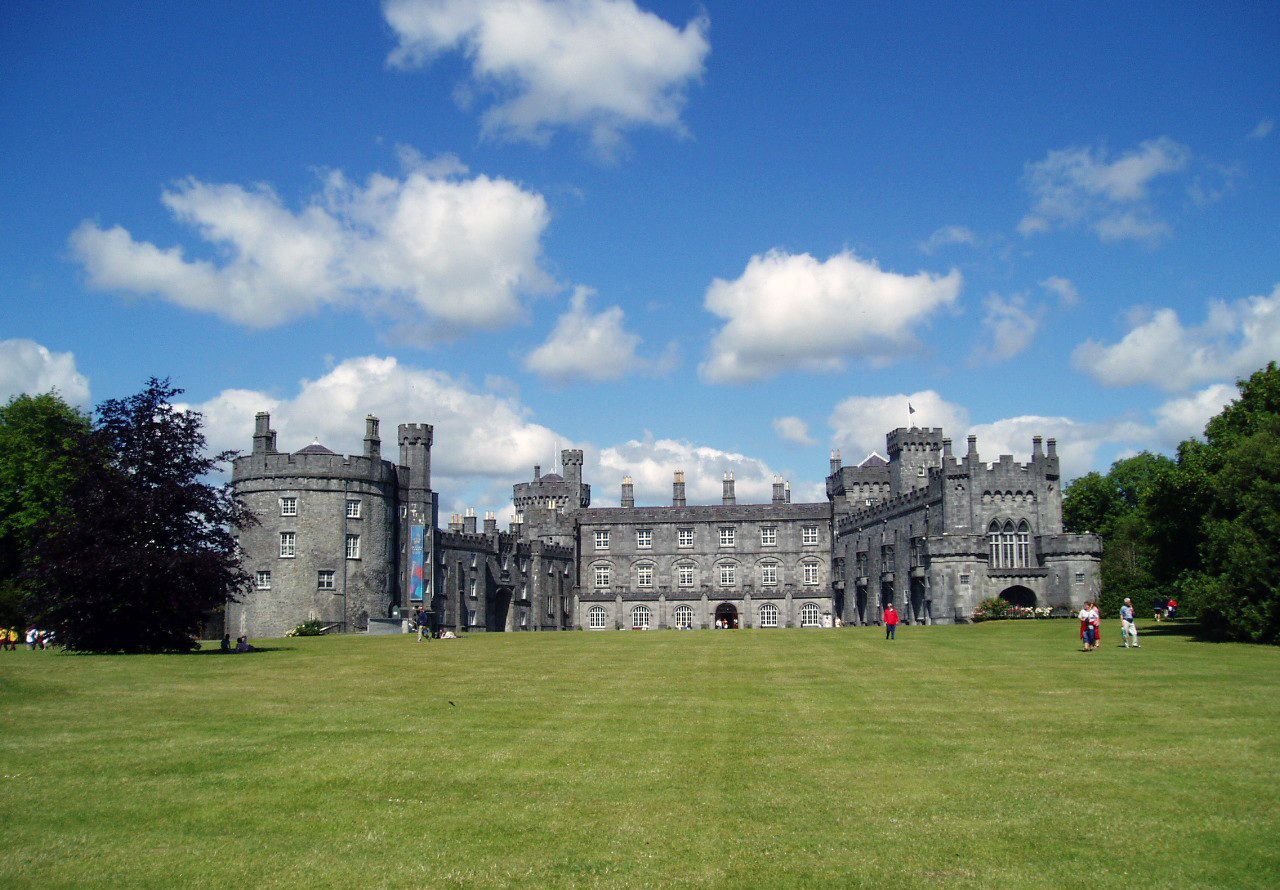 Credit: Kilkenny Castle
The youngest celebration on this list, the Kilkenny TradFest will enter its fourth year in 2016. The festival provides the best of traditional music, song and dance for an unforgettable St. Patrick's Weekend. Here are some things to keep in mind when planning your trip.
– While there are many free concerts at the festival, be prepared to pay up to $50 for some of the bigger names.
– Dublin and Cork provide the nearest international airports.
– The Kilkenny Castle Park and Gardens are free to visit and a great place to relax for an afternoon.
9. Dingle International Film Festival – Dingle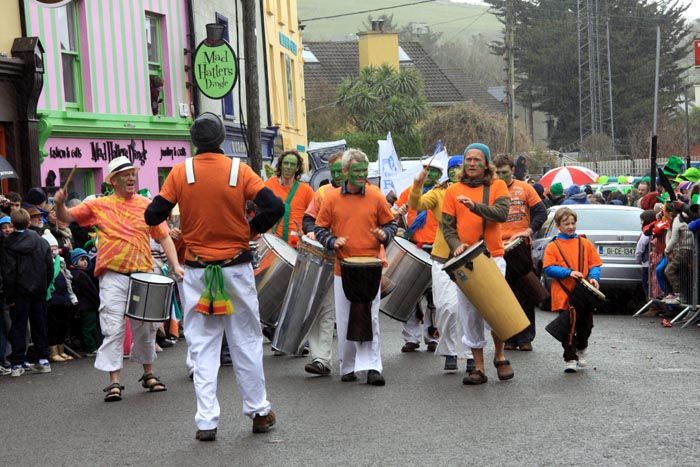 Credit: Dingle
As stated above, Dingle already offers a great St. Patrick's Day celebration, but here's an added bonus to being in the city around the 17th of March. The Dingle International Film Festival showcases talent from all over the world in an Irish language community that was once named "the most beautiful place on Earth" by National Geographic. Situated on a peninsula overlooking the Atlantic Ocean, it's easy to see how Dingle has had such a strong influence on the arts and culture of Ireland and it's a wonderful place to visit. Here's what you should know before you go.
– Be prepared to rub shoulders with some of Hollywood's biggest names. Laura Dern was the recipient of one of the festivals top honors in 2014.
– Dingle is easily accessible by train, bus, air, ferry, and car.
– Dingle Skellig Hotel & Spa is the perfect place to stay and pamper yourself for the weekend – the waterfront views are breathtaking.
10. Irish Beer and Whiskey Festival – Dublin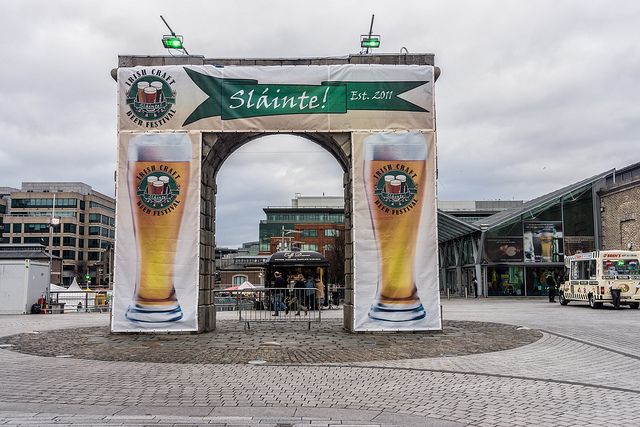 Credit: Beer Festival
Dublin's premier event happens to fall on St. Patrick's Day, enriching the holiday experience in the Irish capital. Stop by the festival to try some of the best Irish craft beer, see live music, try artisan food, and take in brewer discussions and master classes. Over 15,000 visitors attend the festival each year and you should be one of them next St. Patrick's Week! Here are some tips for joining in on the fun.
– Ticket price is 10 Euros and that includes live music, a free souvenir glass, and a free half pint. They can be bought online or at the festival entry.
– The festival takes place entirely inside, so no need to worry about the Irish rain!
– It is located in the Ballsbridge neighborhood, just outside central Dublin.
Have you celebrated St. Patrick's Day in Ireland before or do you plan to? Let us know your plans in the comments below!