On the long, hot, humid, and sometimes boring summer days, when you can't go to the sea to cool off a bit, why not choose the fun of a water park?
Swimming pools, slides, waterfalls, water games, and entertainment… all these things wait for you in the water parks. Both kids and adults can enjoy them, of course, in separate areas. There are plenty of incredible water parks in Italy, with some being present for years, while others are recently opened. They all offer numerous opportunities to cool off and spend a different day to officially kick off the summer. And, here are the best water parks in Italy!
17. Odyssey 2000, Corigliano-Rossano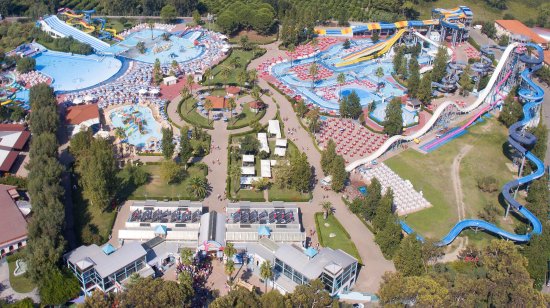 Location: Zolfara, Rossano (CS), Calabria
Entrance fee: full €22 – reduced €15
Opened: June – September
Odyssey 2000 is located in the territory of Rossano, a fraction of the municipality of Corigliano-Rossano (CS), and offers 80,000 square meters of extreme water fun. Among the most exciting attractions, we point out the Black Polyphemus which is 190 meters high, and the Big Olympus, the real water roller coaster of about 25 meters. Of course, we can't forget the Homer Jump (free fall dive) and the Skyron Rocket (jump into the void).
16. Mirabeach, Ravenna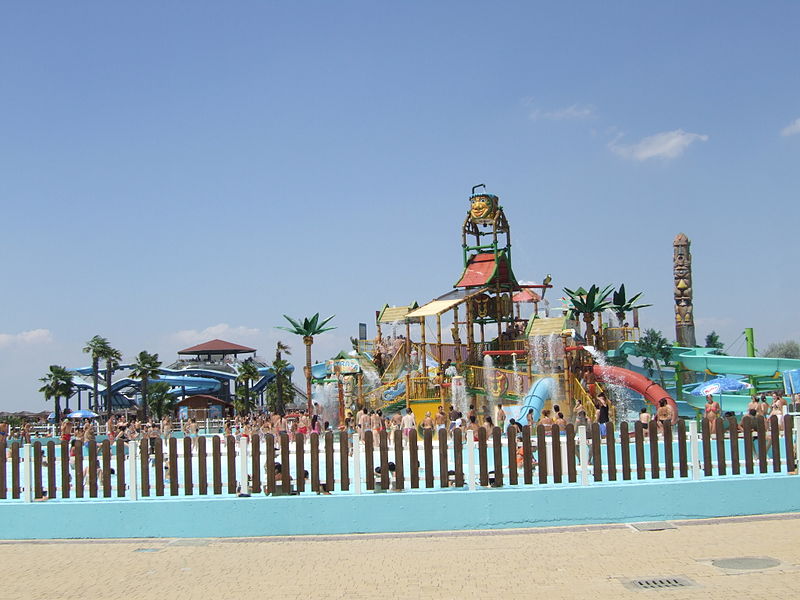 Location: Savio, Ravenna, Emilia-Romagna
Entrance fee: €34.90 adults, €28 children
Opened: June – September
Mirabeach is the exclusive summer part of the largest and best-known Mirabilandia amusement park. It includes an area of ​​100,000 square meters with beaches, swimming pools, water slides, as well as green spaces, bars, restaurants, and shops. In appearance, it resembles a tropical or Caribbean island, with real palm trees from Brazil and white sand imported from Sharm el-Sheikh.
15. Acquatica Park (ex Gardaland Waterpark), Milan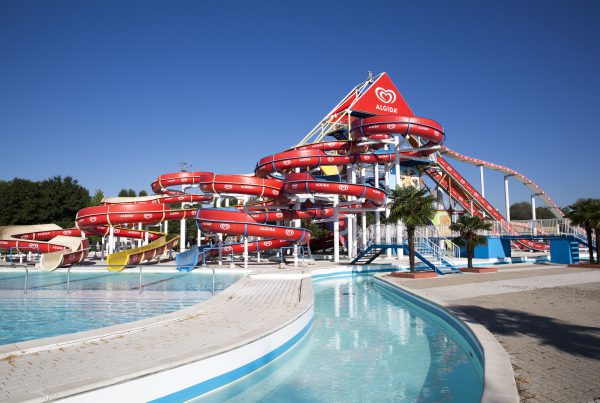 Location: Milan, Lombardy
Entrance fee: €18 – €20 adults, €10 – €12 children and elders over 60
Opened: June – August
The water park in Milan offers different types of swimming pools: one for swimming, one to challenge the continuous current of water or the fun path with many curves to be faced on special rafting boards. There are also attractions for children, such as the "Baby Lagoon", with lots of water splashes, adventurous routes, and fun mini-slides. "Rafting Pipe: Zero Gravity", "Twister", "Shuttle", the classic "Kamikaze", "Foam", and "Toboga" are just some of the many slides in the park, some of which are suitable only for the bravest! And, of course, there is no shortage of large green areas, picnic areas, solarium, sports areas, a beach shop, games room, restaurant, two bars, and numerous dining options.
14. Acqua Village Follonica, Livorno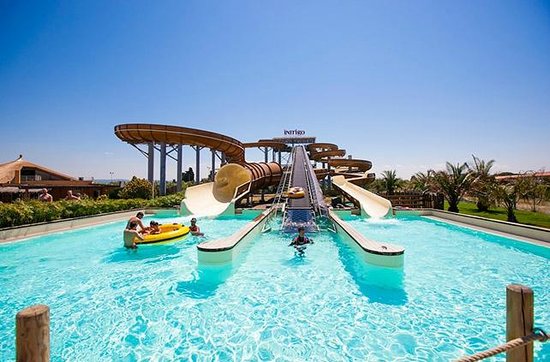 Location: Follonica, Livorno, Tuscany
Entrance fee: €16 – €21 adults, €12 – €17 children
Opened: June – September
In the greenery of Maremma, this tropical-themed water park welcomes young and old in an area of ​​75,000 square meters. A new addition to the water park in 2015 was "Gin-Co", an 18-meter high multi-track slide that provides fantastic scenery, adrenaline-fueled, relaxing courses, and promises to stimulate all 5 senses. Hydromassage, wave pool, and many slides are the setting for Zumba courses and shows with artists such as contortionists and equilibrists. For the little ones, in addition to a tropical-themed playground with slides suitable for them, circus lessons are also available in collaboration with the famous "Mantica" school. There is also a real grass soccer field and a beach volleyball court with sea sand, fast food, fruit shop, ice cream and graniteria, bars, and refreshment points for all tastes.
13. Etnaland Acquapark, Catania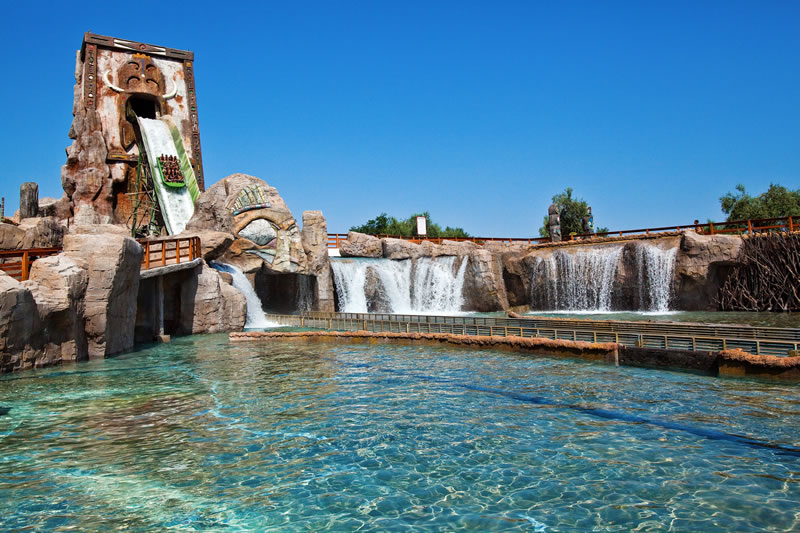 Location: Belpasso, Catania, Sicily
Entrance fee: €22 – €24 adults, €13 to €15 children
Opened: June – September
Etnaland Acquapark is part of the larger Etnaland complex which includes a theme park, a prehistoric park, and a botanical path. With its area of 280,000 square meters, it's the largest amusement park in southern Italy today. Opened in 2001, it offers more than 25 attractions. There are slides and pools from the most extreme to those made for the whole family, as well as relaxation areas and areas equipped for the little ones.
12. Aqualandia, Venice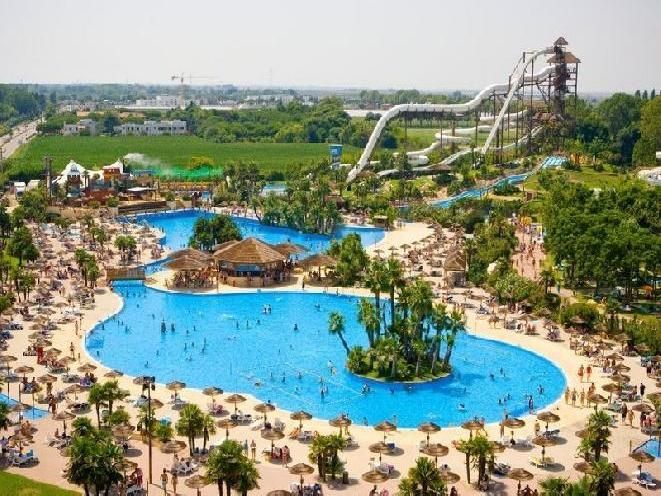 Location: Jesolo, Venice, Veneto
Entrance fee: €27 – €31 adults, €23 – €27 children, free for children under 1.40 m in height
Opened: from May to September
One of the most famous and long-lived water parks in Italy is the Jesolo Aqualandia. This Caribbean-themed water park expands on 80,000 square meters. There are in fact colonial ruins, a Spanish galleon, and a coral sand beach. There is a wave pool which communicates with the second large pool, Laguna de Oro. In addition to slides and water attractions for adults and children, the park offers a semi-covered arena where shows by acrobats, dancers, and entertainers take place. Also, there is an area for catering and a thematic area for younger children. The bungee jumping tower and a sports area with beach volleyball courts characterize the park.
11. Hydromania, Rome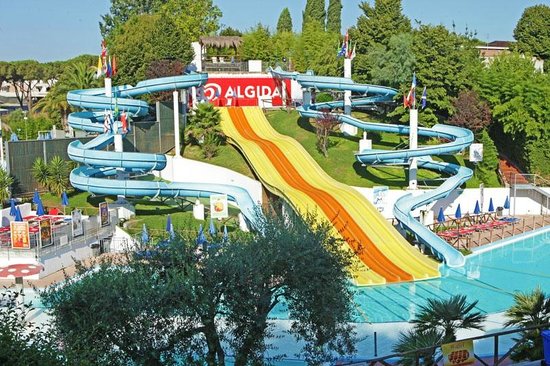 Location: Rome, Lazio
Entrance fee: €15 to €20 adults, €13 – €15 children
Opened: May – September
It is the only water park in the capital and expands on over 90,000 square meters surrounded by greenery. Thrilling water slides await you as well as many swimming pools for all tastes: one with waves, a semi-Olympic one, and three hydromassage pools. The entertainment staff organizes activities for all ages, including water aerobics lessons, group dances, and water games with many prizes that can be won. There is also a self-service restaurant and four bar points, several points of sale.
10. Ondaland, Novara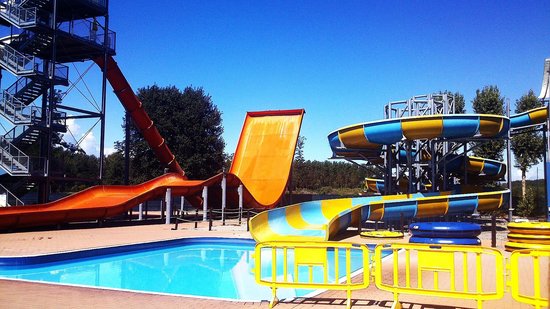 Location: Vicolungo, Novara, Piedmont
Entrance fee: €15 to €23 adults, €12 to €15 children
Opened: June – September
With a surface expanding on about 140,000 square meters, Ondaland is currently the largest water park in Italy. It's divided into three thematic areas: Water Adventure, Kids Area, and Sport & Wellness. In the first area, there are 15 attractions, including slides and Kamikaze, both, open and closed. In 2011, Ondaland won the award for best amusement park of the year in the water parks section.
9. Aquafan, Riccione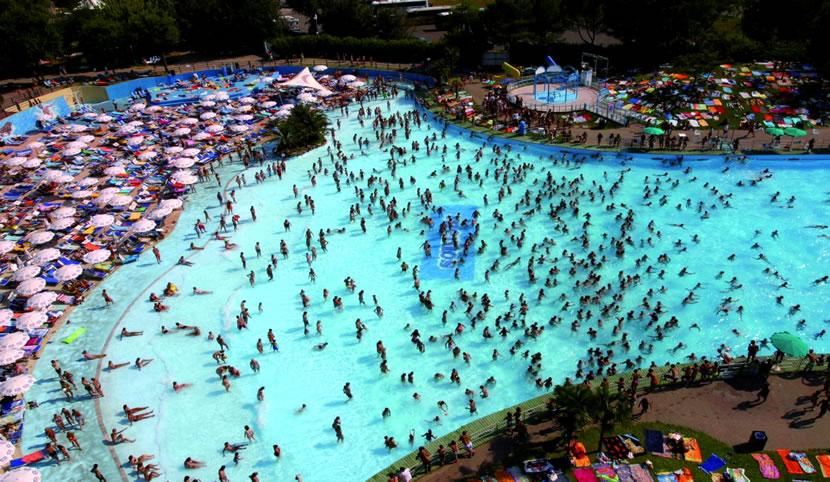 Location: Riccione, Rimini, Emilia-Romagna
Entrance fee: €28 adults, €20 children (the ticket is valid for two days of your choice)
Opened: June – September
It's one of the first water parks built in Italy and one of the most popular in Europe. Its surface measures 150.000 square meters with a total length of all slides of 3 km whereas the pipes necessary for the functioning of the park measure 90 kilometers. Over 8,000 cubic meters of continuously moving water are used every day. Aquafan is also famous for the numerous themed evenings organized throughout the summer. The largest foam party in the world has been held here since 2011, usually once a week, and includes guests and international DJs.
8. River Park, Piacenza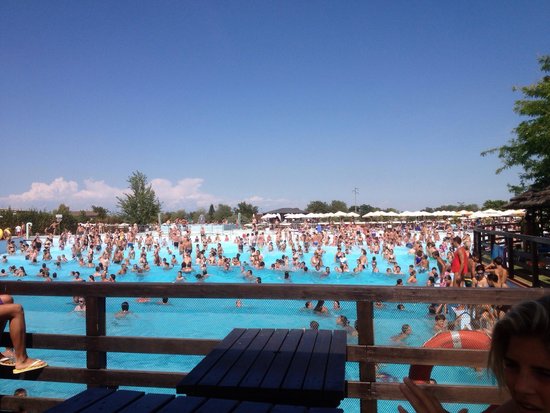 Location: Rivergaro, Piacenza, Emilia-Romagna
Entrance fee: €5 – €15 adults, €7 – €10 children and over 65s
Opened: June – September
In the heart of the Trebbia Valley stands this park that promises relaxation and fun for the whole family. There are fountains and freshwater jets, a lagoon with hydromassage niches, waterfalls, and a path with running water. There is also an area equipped with colorful mini-slides for families. In addition, activities with music, DJs, and games are organized every day. And, there is a structure of multipurpose fields for sports activities on sand dedicated to the more sporty.
7. Acqua Village Cecina, Livorno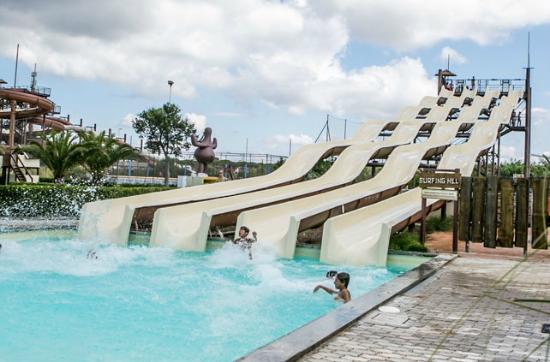 Location: Cecina, Livorno, Tuscany
Entrance fee: €16 – €23 adults, €12 – €17 children
Opened: June – September
Belonging to the same circuit as the Follonica park, Acqua Village Cecina promises a piece of Hawaii in a tropical-themed water park. Candidate for the title of "Best Water Park in Italy" at the ParksMania Awards 2013, this water park presents hundreds of meters of slides for all tastes. Here too, the "WAI" – a series of circus lessons for children with activities and games in collaboration with the famous "Mantica" school – was proposed in 2015.
6. Caneva Aquapark, Verona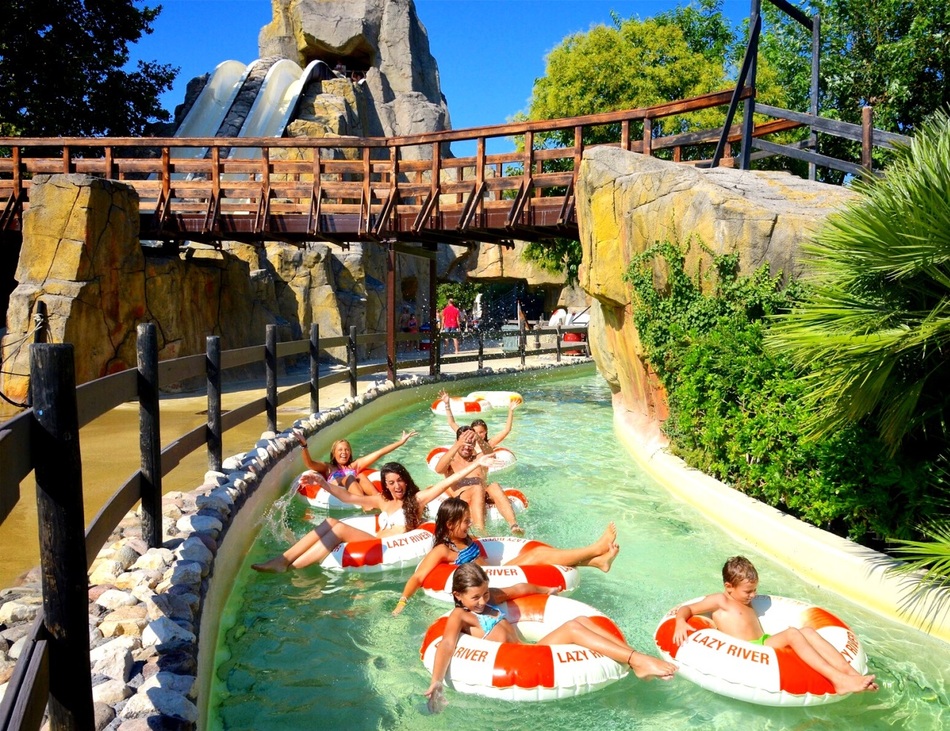 Location: Lazise, ​​Verona, Veneto
Entrance fee: €27 adults, €21 children
Opened: May – September
It belongs to the many parks present in the Lake Garda area, which every summer attracts numerous tourists from all over Europe. There are many water attractions: dizzying descents and ascents aboard rubber boats, slides on the walls of an erupting volcano, and jumps into the void falling from a waterfall. If you go, you have to try the "Mini Black, the enchanted mine", the first waterslide in the dark that can be crossed with three different paths.
5. Sunlight Park, Pisa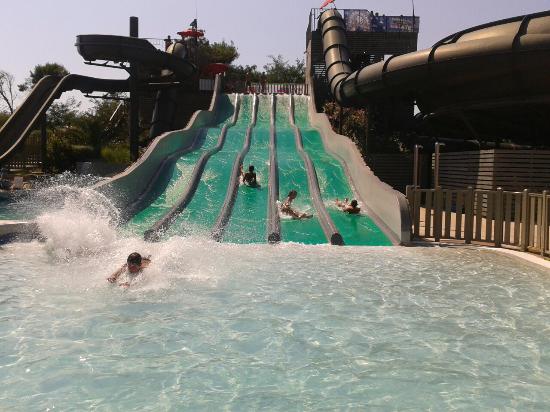 Location: Tirrenia, Pisa, Tuscany
Entrance fee: €15 adults, €10 children
Opening: June – September
It's a park surrounded by greenery that offers slides for all tastes. A complete staff of entertainers and dancers organizes games, group dances, and entertainment of all kinds throughout the day. The park also includes a restaurant and bar area that can be accessed regardless of the entrance to the slides.
4. Zoomarine, Rome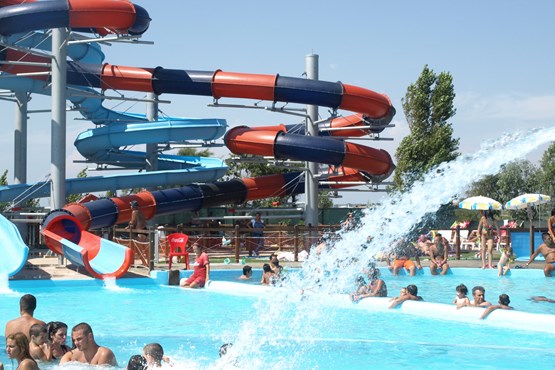 Location: Torvaianica (Pomezia), Rome, Lazio
Entrance fee: €30 adults, €24 children
Opened: May – September
Zoomarine Italia is a theme park that also includes slides and swimming pools. Inspired by the homonymous amusement park in Portugal, it offers attractions for all tastes, as well as 4D cinema, a 25-meter-high drop tower, a water path to be tackled aboard log-shaped boats, and much more. The Acquapark has thrilling slides and a 2,000 m2 lagoon equipped with a beach with sunbeds and umbrellas, games for children, whirlpools, and therapeutic showers. During the day, it's possible to attend shows with dolphins, birds of prey, sea lions, and parrots as well as an exhibition of professional divers who jump from a height of over 25 meters.
3. AcquaFantasy, Foggia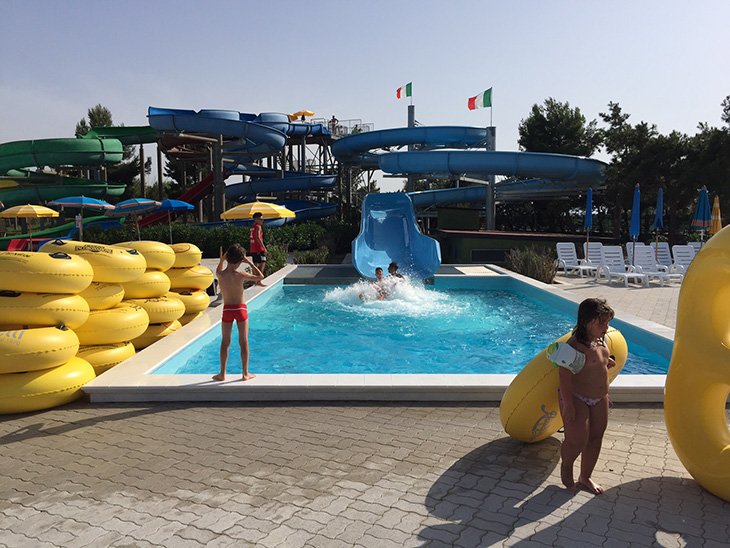 Location: Lesina Marina, Foggia, Puglia
Entrance fee: €11 to €15 adults, €8 – € 10 children
Opened: June – September
It's the first water park in Gargano and has an area of ​​about 40,000 square meters. It's divided into two areas: the first has an artificial wave pool, an Olympic swimming pool, and a wellness oasis, and numerous slides while the second is dedicated to shows.
2. Acqua Park Isola Verde, Salerno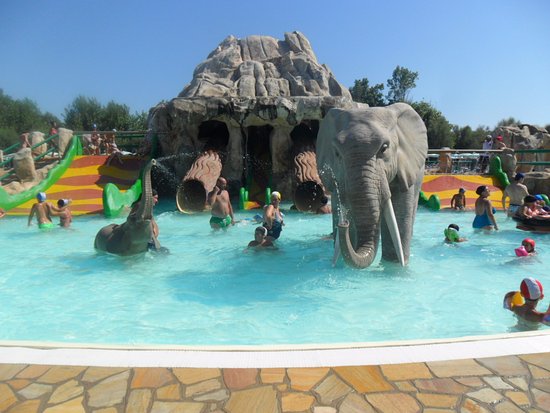 Locality: Pontecagnano Faiano, Salerno, Campania
Entrance fee: €8 – €14 adults, €6 to €10 children
Opened: May – September
The park has an area of ​​50,000 square meters and includes swimming pools for adults and children, a whirlpool, a slow river swimming pool that can be used with donuts, a play lagoon for children, and various water slides. The visitors can also enjoy a bar, restaurant and pizzeria, newsagent and tobacconist, and daily entertainment with water aerobics and a group of Latin American dances.
1. Cavour Water Park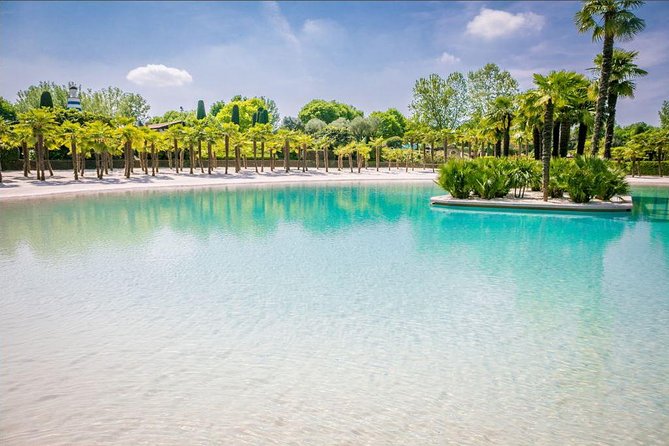 Location: Ariano in Valeggio sul Mincio, Verona, Veneto
Entrance fee: €14 – €18 adults, €9 – €13 children
Opened: June – September
Located just 10 minutes from Peschiera del Garda, the Cavour Water Park offers an exclusive complex that has been offering moments of pure fun to young and old for over 40 years. It is a family-friendly park that offers sports and entertainment, nature, relaxation, slides as well as food and catering. In addition to the fun slides, there is a wonderful garden with attention to the smallest details and a fantastic sea beach with fine sand and Caribbean palm trees. And so, ALL AT THE SEA AT THE CAVOUR PARK!