The beauty of the landscape, the escape from the usual traditional tourist routes, good food, and nature… you get all this on a holiday on a farm. And, there are so many beautiful farms where you can relax for a weekend or your entire spring or summer holiday.
If you're not sure whether the countryside is the right holiday destination for you, take a look at the 25 best farmhouses in Italy. Then, you'll be sure the farm is the right zen place for you!
25. Poggio di Luna, Peschici (Foggia)
A food and wine relais in a welcoming Mediterranean-style building. Few finely furnished rooms, surrounded by centuries-old olive trees, maritime pines, brooms, and Mediterranean scrub. Poggio di Luna is a traditional Apulian house with a simple and genuine atmosphere, located at the gates of the Umbra Forest, a few kilometers from the beaches of the Gargano. You will delight your palates with breakfasts and lunches based on typical local products, such as fish, vegetables from the garden, extra virgin olive oil produced on-site, meats, and fresh ricotta. Furthermore, everything will be served to you in the garden and around the swimming pool. Not bad, right?
Address: Loc. Cerreglie SS 89, 71010 Peschici, Foggia FG
Telephone: 0884 962731
Email: info@poggiodiluna.com
24. Agriturismo Ramusè, Force (Ascoli Piceno)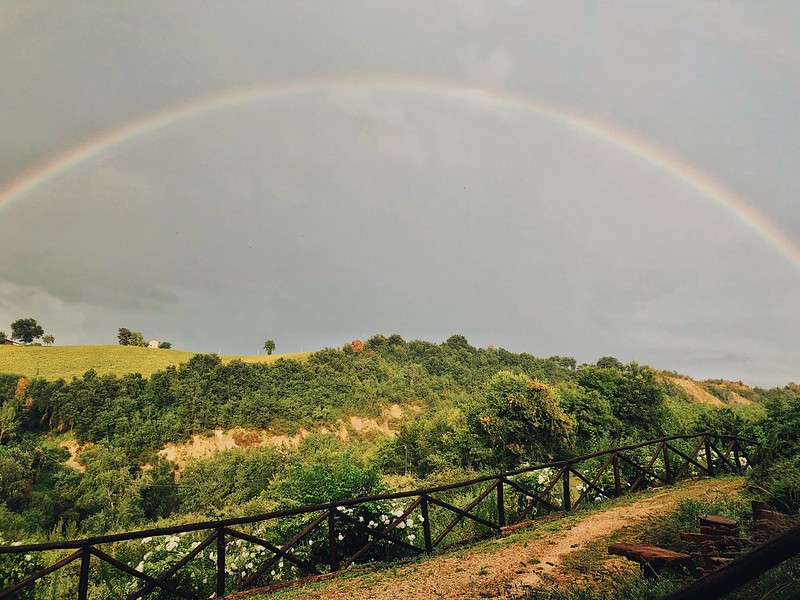 30 minutes from the sea and half an hour from the Sibillini Mountains Park you will find this farmhouse. The manager, Paolo, has renovated the old farmhouse of his grandparents according to the ancient local architectural techniques, in the area between the Marche hills where truffles are grown. Everything you eat there is produced on the farm or nearby. You will breathe nature in its pure state!
Address: Localita 'Casette, 3, Force AP
Telephone: 328 629 1859
Email: agriturismoramuse@gmail.com
23. Agriturismo Casa Clelia, Sotto il Monte (Bergamo)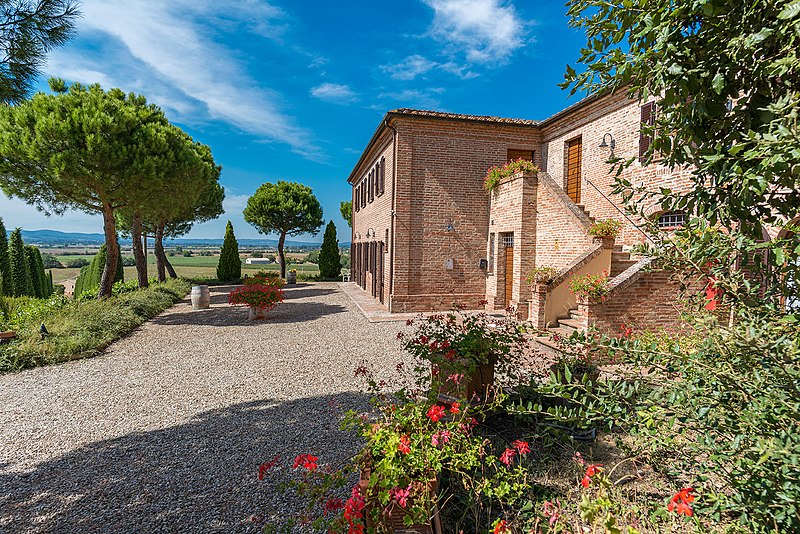 Immersed in the woods at the foot of Monte Canto, in the village of Sotto il Monte, this farmhouse is located in a manor house dating back to the 1600s with a large rural area with a vegetable garden, stables, and barns. An articulated building complex that has returned to its former glory thanks to an excellent restoration according to the canons of bio-ecological architecture. A healthy environment in harmony with the natural context, restoring the original appearance, and using eco-friendly materials… you will find all of this in this farmhouse. There, you will eat mainly meat with seasonal side dishes and grilled meals.
Address: Via Corna, 1/3, 24039 Under Monte Giovanni XXIII BG
Telephone: 035 799133
Email: info@casaclelia.com
22. La Locanda del Capitano, Montone (Perugia)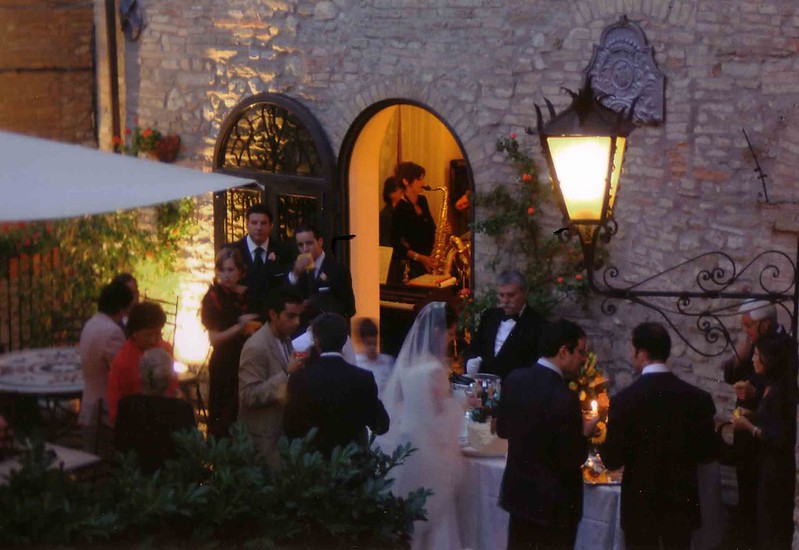 The landlord, who's also the chef and manager, is Giancarlo Polito, Umbrian by adoption Salento by origin. Located in the medieval village of Montone, this farmhouse is a family-run property. Giuseppe Tornatore, Colin Farrell, and Peter Gabriel visited the Locanda. There are 10 rooms in a stone building, full of antiques, and a luxury restaurant that offers traditional flavors often combined with innovative and creative cuisine.
Address: Via Roma, 5/7, 06014 Montone PG
Phone: 075 930 6521
Email: info@ilcapitano.com
21. Il Rigo, San Quirico d'Orcia (Siena)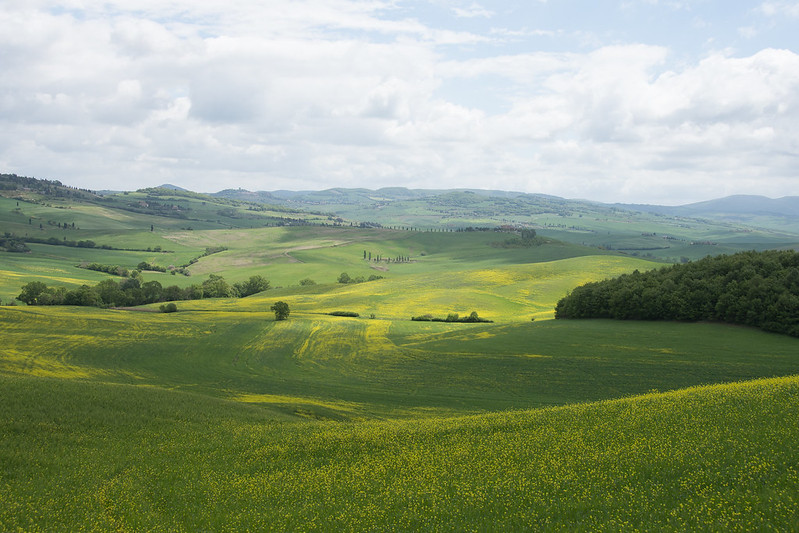 The managers of the Rigo, Lorenza and Vittorio, have been offering hospitality on the farm, owned by their family since the 17th century, since 1990. The rooms, welcoming and equipped with a private bathroom, are characterized by elements such as a four-poster bed, a chandelier, and/or wooden shutters, exposed brick walls, or beamed ceilings. It's only 6 km from the thermal springs of Bagno Vignoni and 10 km from Palazzo Piccolomini.
On the property, grains, legumes, and seeds for fodder are grown. Next to the house, there is also a vegetable garden and some fruit trees. The cuisine is traditional Tuscan, with meals like pici all'aglione, ribollita, bruschetta, rabbit with saffron, roast pork, cantucci, chocolate salami, fresh pasta, desserts, jam, and homemade bread. The breakfast is served in the former barn and the structure further includes a courtyard with wooden over, two lounges, and a luxury restaurant.
Address: Loc. Casabianca, 53027 San Quirico d'Orcia SI
Telephone: 0577 897291
Email: info@agriturismoilrigo.com
20. Locanda Casanuova, Figline Valdarno (Florenze)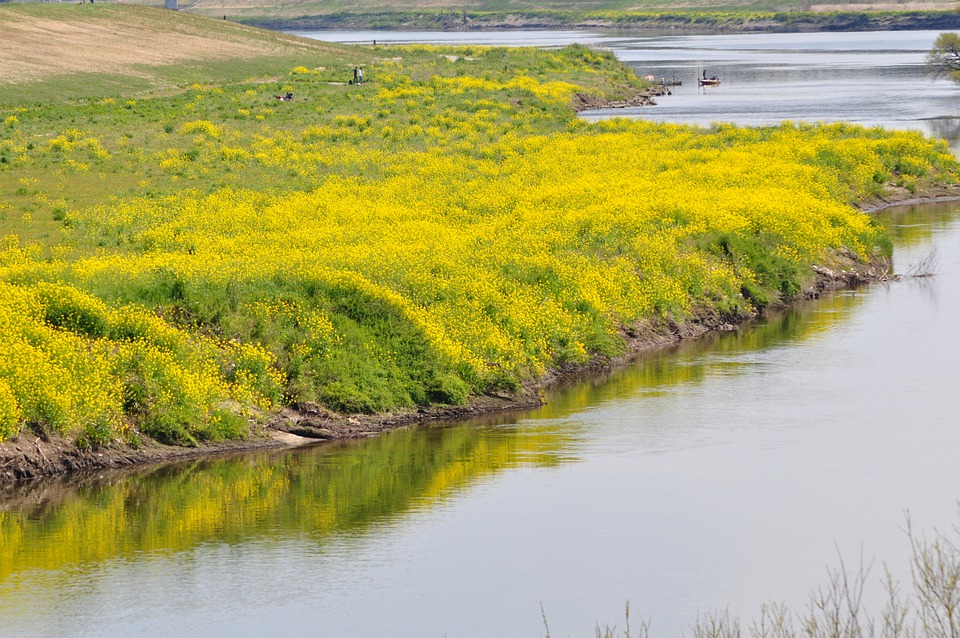 Originally a monastery, Ulla and Thierry Besançon have turned this inn into a farmhouse in the center of the golden triangle Florence-Arezzo-Siena. Every evening, the four-course menu (vegetarian, fish, or meat-based) is written on a small blackboard. However, that's not all because fresh pasta, pesto, potato gnocchi, and homemade desserts are also offered. The ingredients used for preparing food come from the farm's garden of 2,500 square meters.
The owner's motto is "The beauty of simplicity." They've been following it for 30 years, carrying on a concept of vacation where beauty has nothing to do with luxury, rather the comfort to be able to relax in the nature of one of the most beautiful Italian tourist regions.
Address: Localita' S. Martino Altoreggi, 52/54, 50063 Figline Valdarno FI
Telephone: 055 950 0027
Email: locanda@casanuova-toscana.it
19. Cà Alfieri al 30, Govone (Cuneo)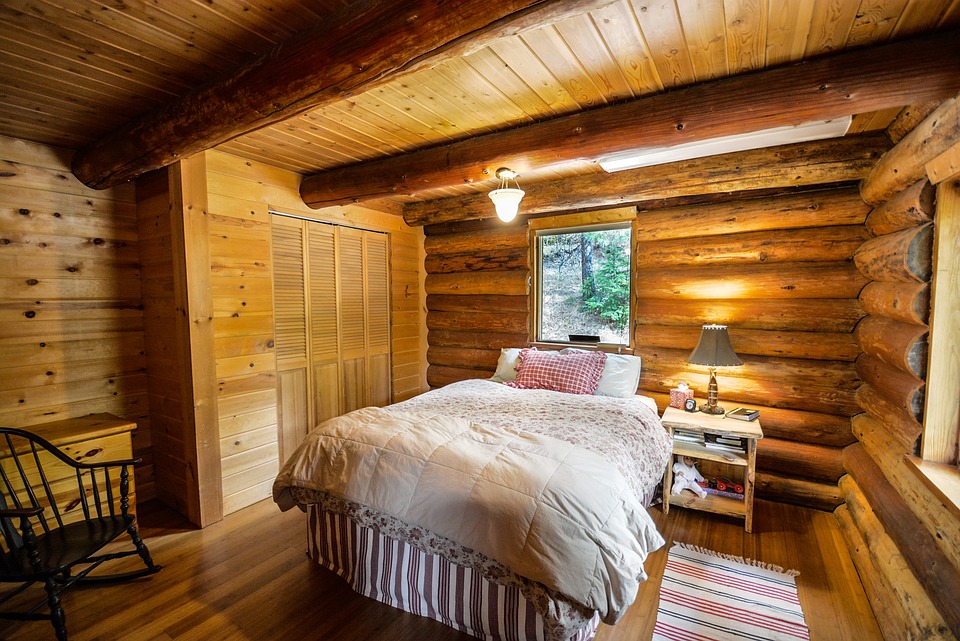 In an elegant and refined residence of the end of the 18th century, overlooking the hills of the Roero and the Langhe, this farmhouse will welcome you in all its splendor. Carefully renovated and reusing and enhancing the current materials, this structure is a sort of boutique hotel with the warm and familiar welcome of a B&B.
There are large terraces with a magnificent view of the hills and a spacious garden that allows you to relax in the greenery. Inside, there are ceiling frescoes, sitting rooms, furnishings in true French and Piedmontese Savoyard style, and large bathrooms that will complete your relaxation. The bed linen and towels come from the trunks of the family grandmothers. A wonderful and relaxing dip in the past… can you ask for more?!
Addess: Corso Vittorio Alfieri, 30, 12040 Govone CN
Telephone: 0173 58909
Email: info@altrenta.it
18. Antica Corte Pallavicina, Polesine Parmense (Parma)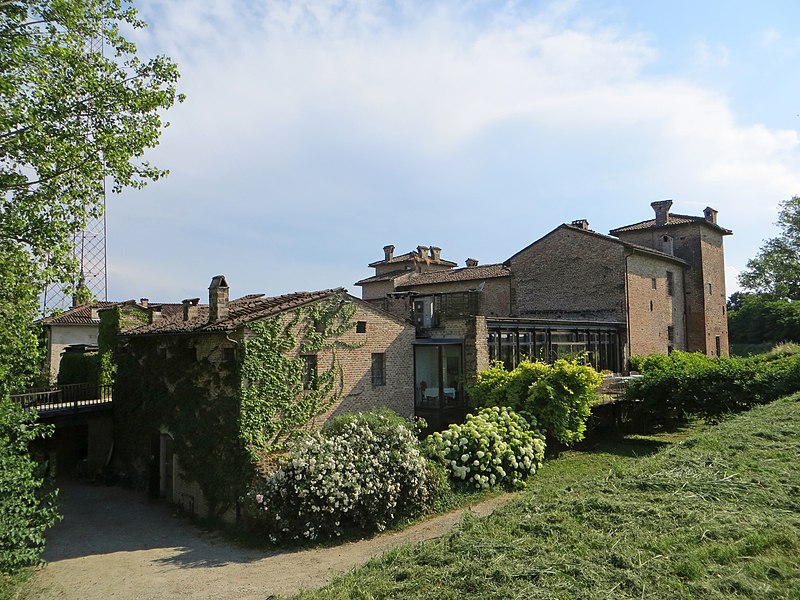 This farmhouse is located on a large farm with a historic flavor, with dairy and cellars for wines and cold cuts. This rustic-chic farmhouse is a 12-minute walk from the Po river and 40 km from the city of Parma. It has 4 rooms and 2 suites with a 16th-century coffered ceiling which are furnished in style and have a fireplace. The minibar in the rooms offers guests home-made fruit juices.
The property also features a renowned restaurant. The kitchen is managed by chef Massimo Spigaroli. The cellars, where cheeses and cured meats are aged, especially culatello, are famous throughout Europe.
Address: Strada Palazzo due Torri, 3, 43010 Polesine Parmense PR
Telephone: 0524 936539
Email:relais@acpallavicina.com
17. Tenuta Cammarana, Ragusa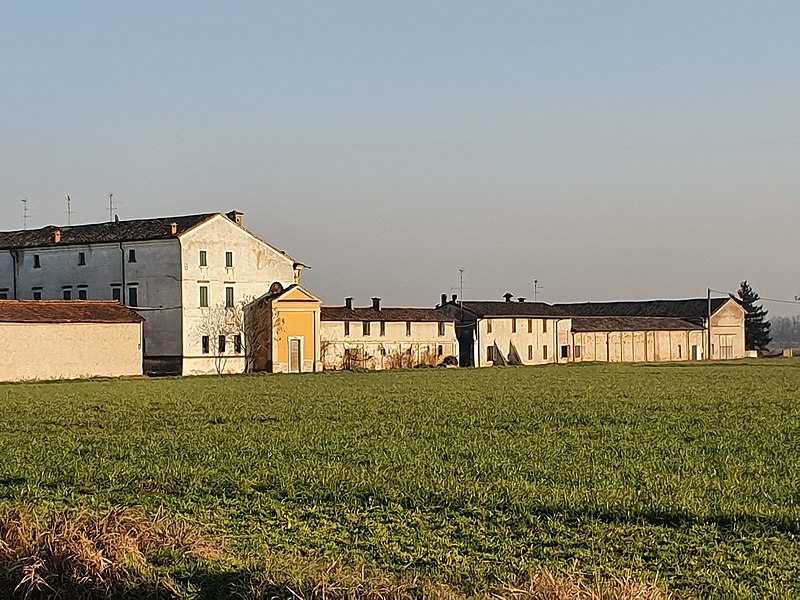 Tenuta Cammarana is an old 18th-century country house. Immersed in the unspoiled part of the Ibleo Plateau, it welcomes guests with warm Sicilian hospitality. It the perfect place for those who love nature and silence and is located a few minutes from Ragusa, Modica, and Scicli, as well as from the splendid UNESCO sites of the Val di Noto. Also, the wonderful sea of Marina di Ragusa, Punta Secca, and Vendicari can be easily reached.
At breakfast, you can taste ricotta, local cheeses, milk, as well as seasonal fruit picked from the garden, homemade bread and cakes, and honey.
Address: Contrada Cammarana, 97100 Ragusa RG
Telephone: 0932 616158
Email: info@tenutacammarana.it
16. Il Cannito, Capaccio (Salerno)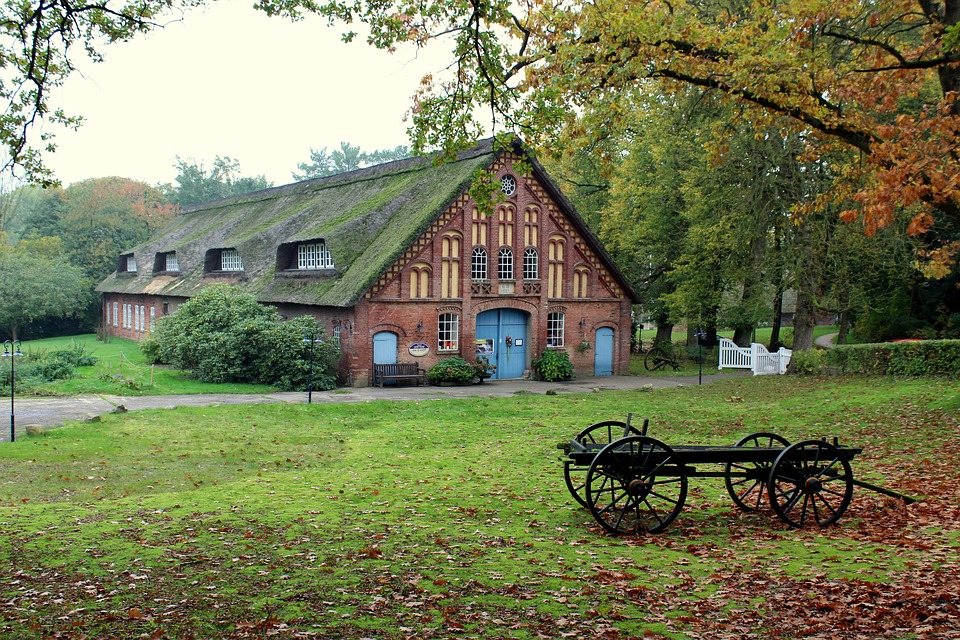 Il Cannito is located a few kilometers from Paestum and the Cilento sea. It consists of two ancient stone bodies returned to their original beauty thanks to a precise and respectful restoration. These two charming residences are surrounded by a thick Mediterranean bush and, in summer, you can enjoy your lunch on the panoramic terrace with views on the island of Capri. The cuisine is typical of Cilento.
But, that's not all!
This luxurious farmhouse overlooking the sea has a private beach. It's very beautiful!
Address: Via Cannito, 84047 Cannito SA
Telephone: 0828 196 2276
Email: info@ilcannito.com / antonella@ilcannito.com
15. Masseria Salinola, Ostuni (Brindisi)
Ostuni is the most evocative place in the Itria Valley. If you want to enjoy it, immersed in relaxation and away from the chaos, this farm in the middle of the olive groves is the perfect destination. A farmhouse in a typical 17th-century building in white lime, with many original elements, starting from the family chapel where mass is still celebrated on Sundays. There are very romantic rooms, some with a fireplace and private sauna, welcoming you.
The cuisine, based on products coming directly from the garden, is flavored with organic oil of personal production. If you like to cook, there are occasional cooking classes and tastings of great local wines.
Address: SP29, KM 1,5, Contrada Salinola, Ostuni BR
Telephome: 0831 308330
Email: info@masseriasalinola.it
14. Agriturismo Cascina Baràc, Alba (Cuneo)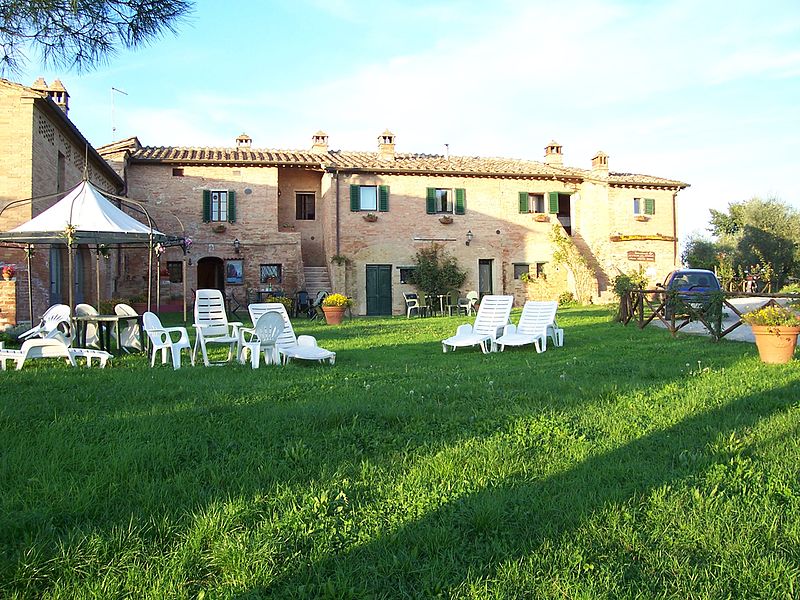 A farmhouse surrounded by vineyards and a stone's throw from the historic center of Alba. Nine charming rooms are waiting for you, all different and furnished with antiques. They bear the names of the great Piedmontese reds, from Barbaresco to Barolo. If you don't want to move, you can also taste them in the family cellar.
This farmhouse is the ideal place to relax, sip good wine, eat well, and, if it's the season, take part in a hunt for the most coveted prey in the area: the truffle.
Address: Frazione San Rocco Seno D'Elvio 40, 12051 Alba CN
Telephone: 0173 366418
Email: barac@barac.it
13. Il Cantico della Natura, Magione (Perugia)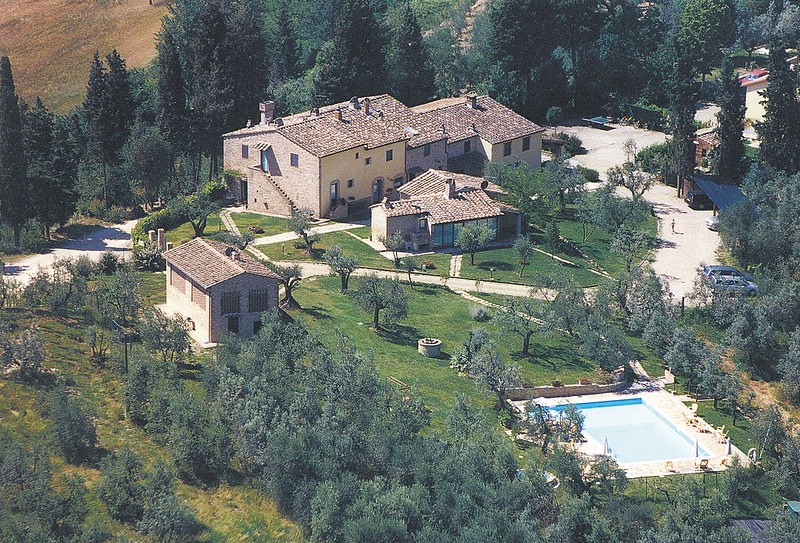 An old 17th-century farmhouse on Lake Trasimeno transformed into a charming modern farmhouse. Il Cantico della Natura is an eco-resort and organic farm surrounded by a 400-year-old olive grove and 30 hectares of woods and unspoiled nature. It is an eco-friendly structure and quality service which are, among other things, rated as one of the most romantic residences in Europe.
It's no coincidence that it offers intimate rooms with double tubs, a wellness center only for two, a restaurant for couples only, and romantic and wellness proposals in a muffled and timeless atmosphere. Simply enchanting!
Address: Via Case Sparse, 50, Montesperello di Magione PG
Telephone: 075 841454
Email: info@ilcanticodellanatura.it
12. Tenuta Castel Venezze, San Martino di Venezze (Rovigo)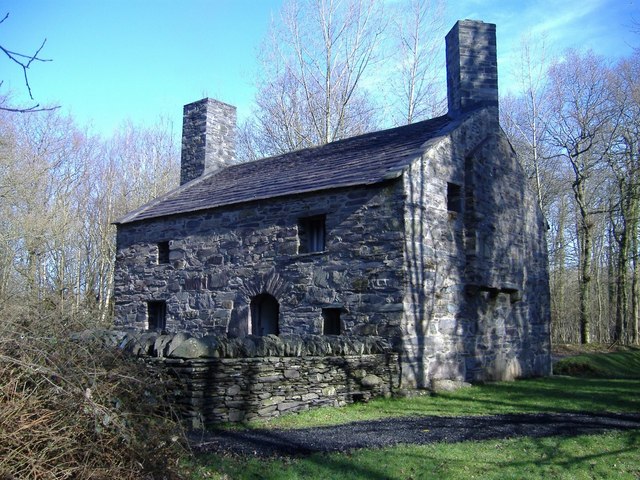 Housed in a 16th-century farmhouse, which was built on the ruins of a medieval castle, this farmhouse lies in the middle of a park crossed by the original stone road that connected Padua to Ferrara, the exact border between the Este territories and the Serenissima. The rooms are furnished with vintage furniture and the kitchen offers typical traditional dishes. It's a place full of history and charm, where you can relax by walking, horseback riding or swimming in the pool.
Address: San Martino di Venezze RO
Telephone: 0425 99667
Email: tenutacastelvenezze@gmail.com
11. Tenuta Valdorso, Montechiaro d'Aqui (Alessandria)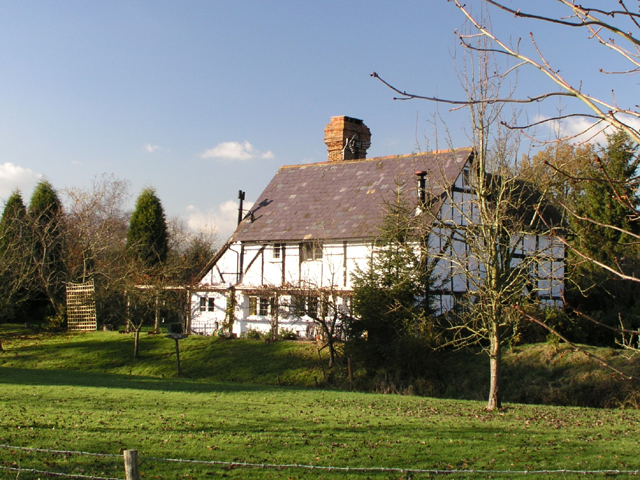 If we'd have to define this place, we'd say that it's a combination of the warmth of the ancient country houses and the taste of contemporary design. Nestled in the hills of Monferrato, the Tenuta Valdorso is a country chic residence with sophisticated cuisine offered by its restaurant with ever-changing menus. There are 8 rooms decorated with soft colors that allow you to relax.
If you prefer more lively holidays, you can choose one of the activities or excursions organized by the Estate. On the other hand, if you need a lot of relation, you can use the Terme di Aqui, which are one step away from the estate.
Address: Regione Piampodazza 5, 15010 Montechiaro d'Acqui AL
Telephone: 333 356 6822
Email: info@tenutavaldorso.it
10. Torre Cangiani, Massa Lubrense (Napoli)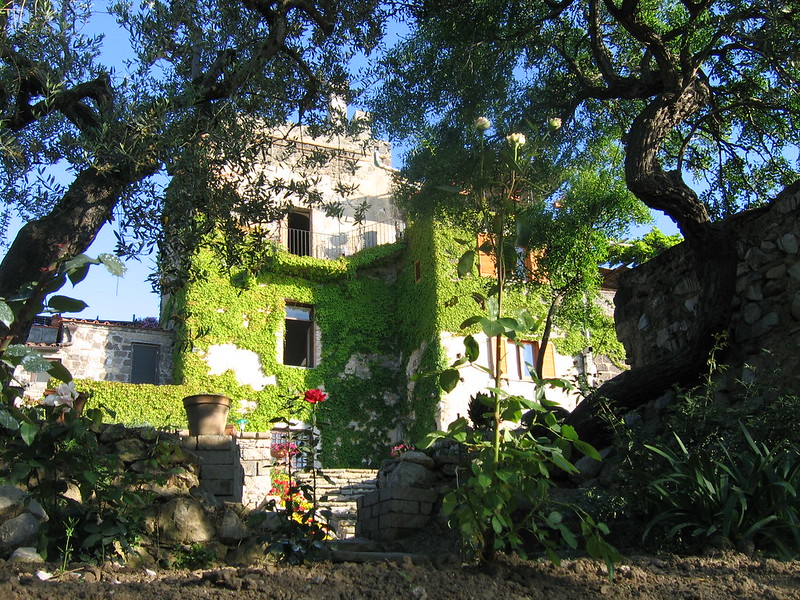 View of Capri and the Sorrento Coast from an ancient Saracen tower overlooking a lemon and olive grove. That would already be spectacular, but you have to add the warm hospitality of Campania to all this. Furthermore, this splendid farmhouse is very close to Sorrento and close to some of the most beautiful beaches in the protected marine area of Punta Campanella. Can you imagine this beauty?
Address: Vigliano – Massa Lubrense (NA)
Telephone: 081 533 9849
Email: info@torrecangiani.com
9. Le Biricoccole, Rosignano Marittimo (Livorno)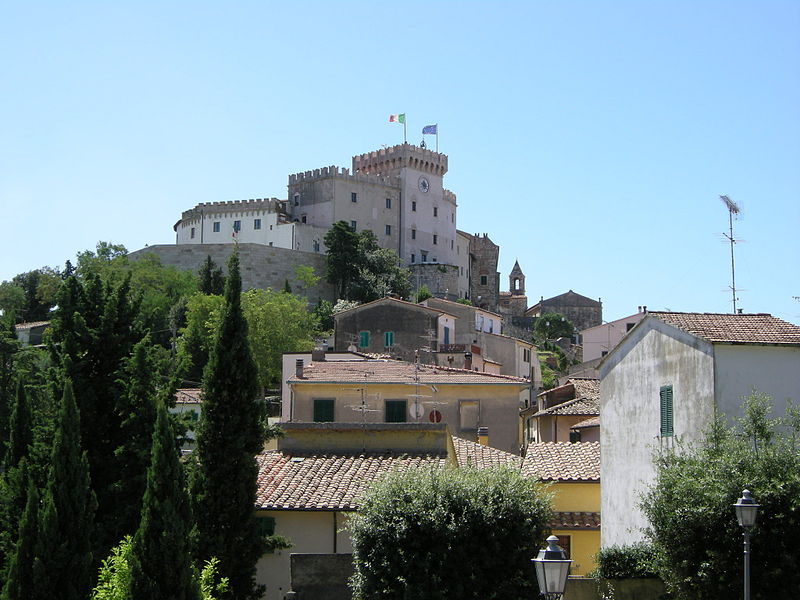 The biricoccola is an ancient fruit, a mix between plum and apricot. It gives its name to this farmhouse,  which is located one kilometer from the beaches of Vada. The owner has always cultivated wonderful ancient plants and many curious guests want to taste the fruits of our ancestors. This's why the owners have decided to collect ancient fruit and produce jams with flavors and aromas that recall the ancient ones. For those interested in cooking, there are also many interesting cooking courses held there. What can you expect to find? A rural chic Tuscan farmhouse surrounded by greenery, perfect for forgetting the city and its frenetic stress. A true getaway!
Address: Via Aurelia, 200, 57016 Rosignano marittimo (LI)
Phone: 335 678 1115
Email: agriturismo.biricoccole@gmail.com
8. Dolce Acqua, Cavallino Treporti (Venice)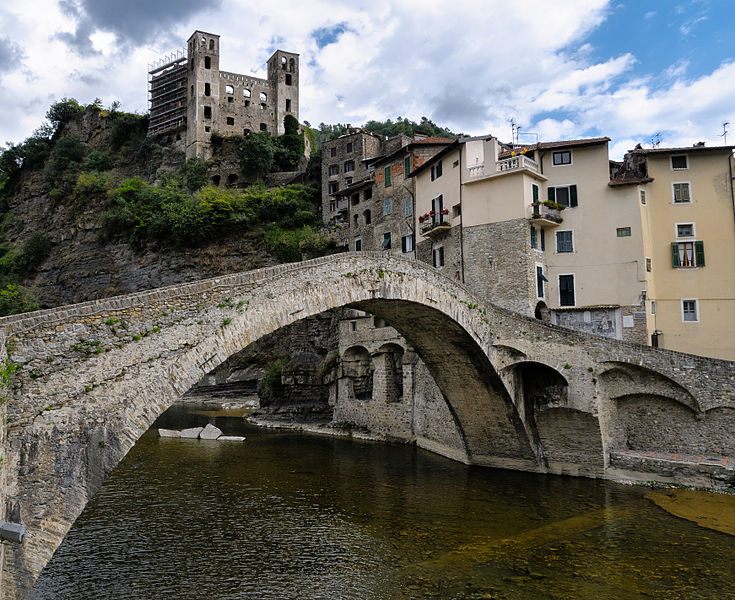 This rural house is located just 100 meters from the beaches, in the middle of orchards. In a peaceful setting, located between the sea and the lagoon, this farmhouse has recently been restored. A witness of the Venetian rural culture on the border with the province of Venice, the "Sweet Water" lies surrounded by a wonderful garden.
There, you can taste typical dishes of their own production. Also, you can enjoy a tour of the Serenissima by taking a ferry which will take you there in 10 minutes. What more can you ask for?
Address: Via Francesco Baracca, 102A, 30013 Cavallino-Treporti VE
Telephone: 041 968129
Email: agri.dolceacqua@alice.it
7. Podere San Giulio, Pian di Spille (Tarquinia – Viterbo)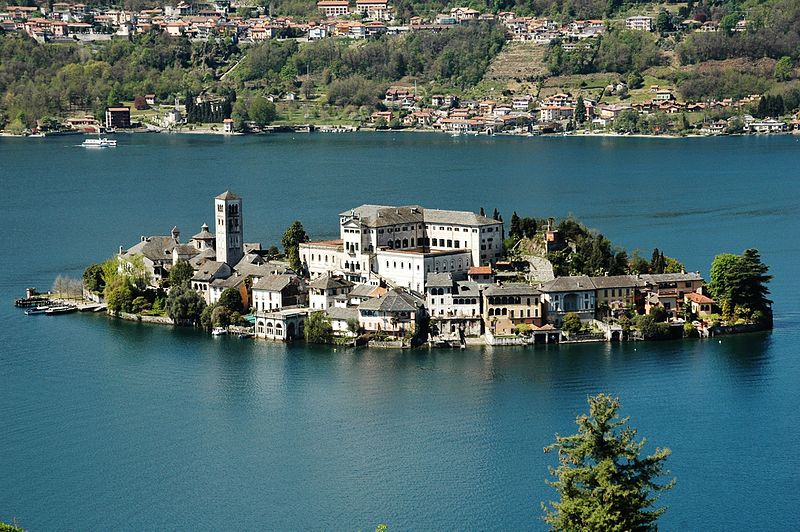 A holiday between culture and nature… This farmhouse is located on a farm 10 kilometers from Tarquinia. It's surrounded by lots of greenery and is a step away from the sandy beaches of the coast. Immersed in the suggestive hilly landscape of Ancient Etruria, this farmhouse extends within a 60-hectare estate overlooking the sea. Renovated in respect of the original style, it houses a restaurant and 11 studios.
Address: SPLitoranea Km 4,5, 01016 Locality Piana di Spille, Tarquinia VT
Telephone: 0766 814136
Email: info@poderegiulio.it
6. 'A Lanterna, Monasterace (Reggio Calabria)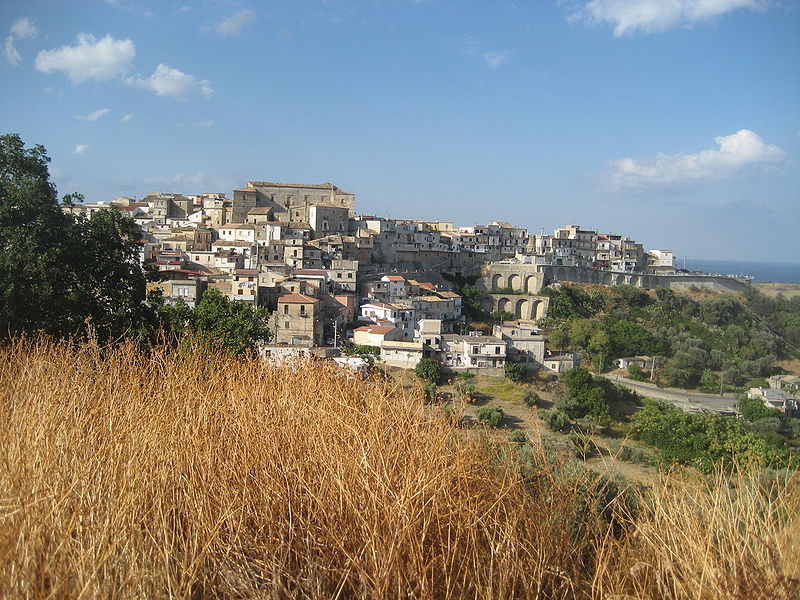 67 hectares of an estate in the heart of the Kaulon Archeological Park, near the still functional 19th-century lighthouse of Punta Stilo… it's all 'A Lanterna. It is a bio-ecological farmhouse where the guests sleep in rooms and mini-apartments immersed in organic orchards worked on ethically.
In fact, the farm adheres to Goel Bio, a project that brings together producers who oppose the 'Ndrangheta. Excellent food, workshops that teach kids to respect nature, the sea a few steps away, and a unique location… are you ready to go?
Address: Strada Statale Jonica, 89040 Loc. Cuturi – Monasterace Marina RC
Telephone: 333 230 0824
Email: info@alanterna.it
5. L'Uliveto, Otranto (Lecce)
A farmhouse that offers two alternatives: you can choose welcoming rooms in typical Salento style or the camping area. This farmhouse is surrounded by olive groves and organic gardens, located less than a kilometer away from the beaches and the splendid historic center of Otranto. The guests can taste delicious products offered at the local restaurant or choose a take-away option.
"The Olive Grove" offers comfort, excellent organic and home-grown food, family hospitality, nature, sea, and history. You can't ask for anything else!
Address: SS. 16 Otranto – Maglie Km., 0.5, 73028 Otranto LE
Telephone: 0836 801405
Email: info@masserialuliveto.it
4. Ulisses and Calypso, Amendolara (Cosenza)
Imagine waking up and looking at the sea… No need to imagine since Ulysses and Calypso farmhouse provides you exactly that. Located in the middle of an olive grove of 216 hectares on the coast between Calabria and Basilicata, this old farmhouse holds 9 mini-apartments.
There is a mural depicting different mythological birds of considerable symbolic value, which characterizes and names each accommodation. In each apartment, there is a typical local fireplace with an ancient olive tree trunk inserted. Does it already seem like a dream?
As if this isn't enough, there also a pine forest a bit further waiting for you to cool off. Also, there is a restaurant where you can taste excellent dishes after a nice dip in the sea.
Address: C.da Tarianni 6, 87071 Amendolara Marina (CS)
Telephone: +39 338 1989281 / +39 0981 915 021 / +39 347 3615651
Email: /
3. La Selva, Finale Ligure (Savona)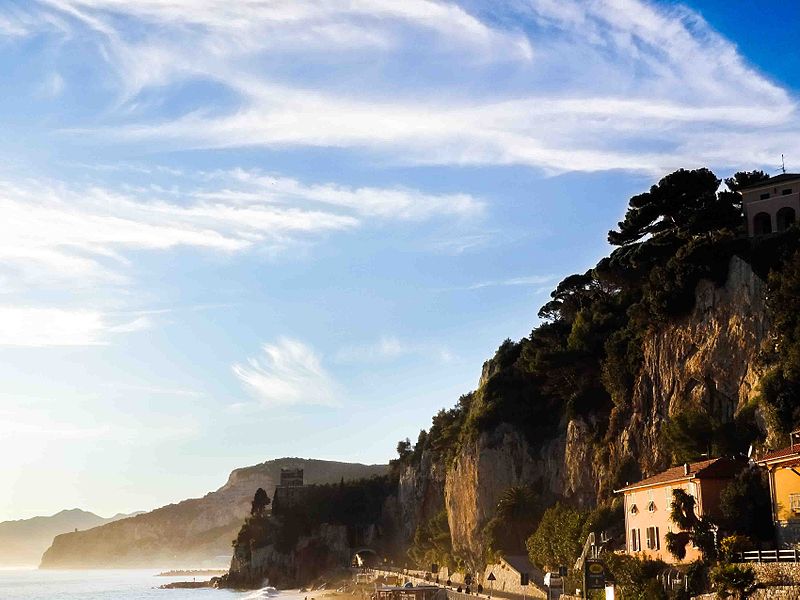 Between the sea and the hills of Finale Ligure, this farmhouse is the perfect place to relax in the cool of the hinterland and take a bath in the sea. La Selva is an old Ligurian farmhouse, well renovated, with a wonderful view of the sea. It is a really nice property surrounded by olive groves and vineyards. Due to being located just 15 minutes away from the lovely and renowned Varigotti, it's easy to reach via a direct passage. Furthermore, you can dine products from the garden and wine without leaving the property.
Address: Località Selva, 14, 17024 Finale Ligure SV
Telephone: 019 698 8320
Email: /
2. Ca du Ferrà, Bonassola (La Spezia)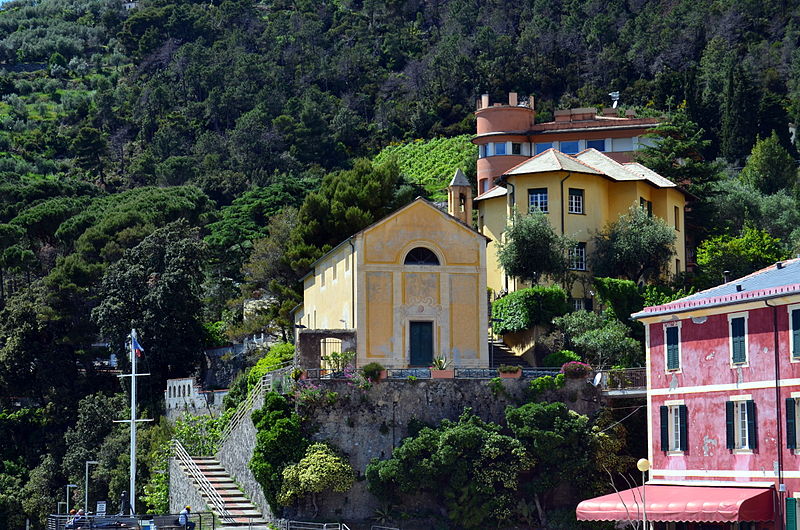 Here you sleep in the Mill and in the Casottino, which were once ruins but are now expertly restored and made very welcoming. The beach of Bonassola and the Cinque Terre Park are one step away. Among so much greenery and vineyards, you can completely relax, perhaps sipping the excellent wine the company produces itself. It's the closest farmhouse to the Ligurian Sea and the ideal place to enjoy relaxation immersed in a magnificent and picturesque setting.
Address: Via Gavazzo 46, 19011 Bonassola SP
Telephone: 0187 814083
Email: info@agriturismo-caduferra.it
1. La Quarta, Fermo
As the name suggests, La Quarta is made of four apartments. These rural-style apartments on a hill have been recently renovated and offer a breathtaking view close to the sea. Located in the middle of the Marche countryside, near Porto San Giorgio, this farmhouse is just one kilometer from the beach, which can also be reached by bike. Enchanting panorama, breathtaking sunsets, great food, peace, and relaxation. A dream!
Address: Contrada Abbadetta, 27, 63900 Fermo FM
Telephone +39.0734.53549 / +39.347.3483239 +39.392.6357892
Email: agriturismolaquarta@libero.it