Aquariums have always been one of the main destinations of travelers. It's because everyone is fascinated by the huge pools of blue water and the various marine species dwelling there. It's an unforgettable experience! Not only you can enjoy fish of different colors, sizes, and shapes carelessly swimming in the water but also enrich your knowledge without giving up the charm of the spectacular.
Imagine… an entire underwater world, where lots of different fish live their days together…
Well, you don't have to imagine because this is how the giant aquariums around the world look like. And, we are about to show you exactly those – the largest of all. So, find your comfy place, and let's dive into the underwater world with the 15 largest aquariums in the world!
NOTE: Keep in mind that the water volume measurement system changes depending on the country. Our ranking is based on liters, not the gallons.
15. Acquadom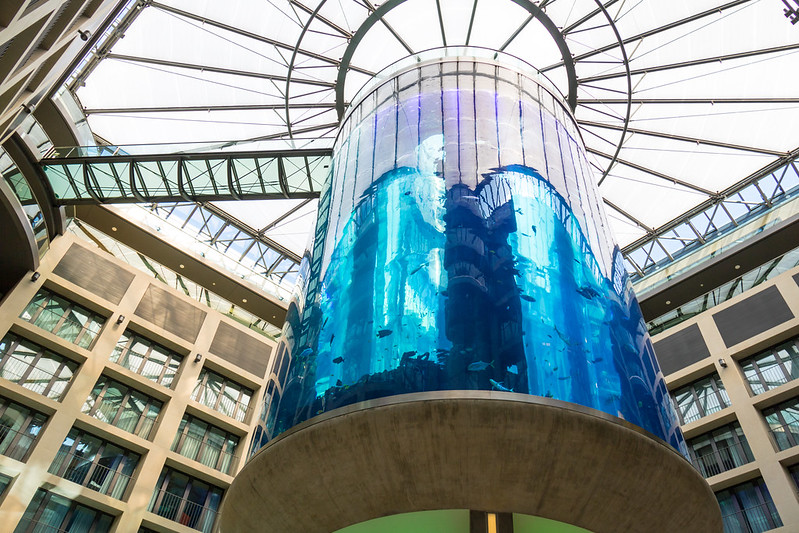 Size: 1 million liters
Location: Atrium of the Radisson Hotel, Berlin, Germany
Number of animals: 5,000
Number of animal species: 2,600
It's one of the tallest aquariums in the world, with an interesting shape of a cylinder. Inside of it, there is a state-of-the-art lift that will allow you to move inside the tub. It is a very special and suggestive tour!
14. 'Le Navi' Aquarium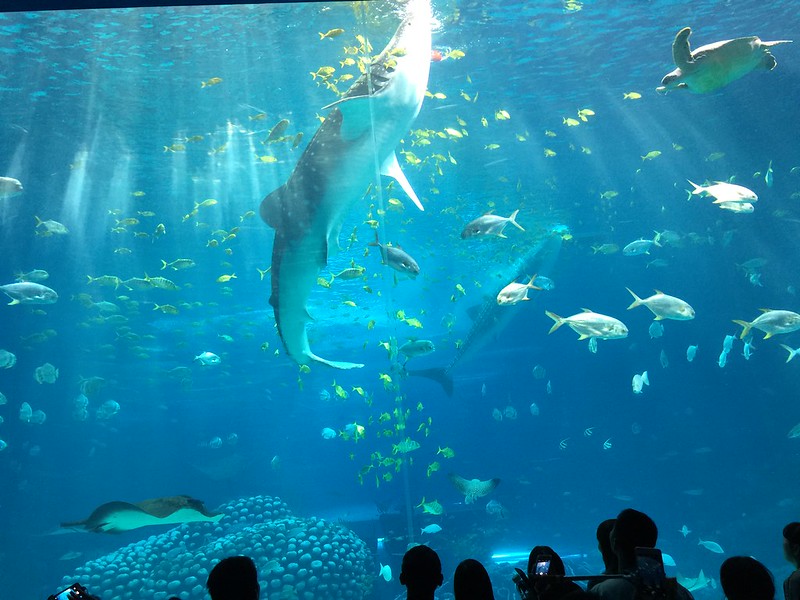 Size: 2.5 million liters
Location: Cattolica, Emilia Romagna, Italy
Number of animals: over 3,000
Number of animal species: 400
This Italian pride includes 4 thematic itineraries: blue, green, yellow, and purple. It also allows visitors to participate in the meals of penguins, otters, and sharks.
13. Aquarium of Western Australia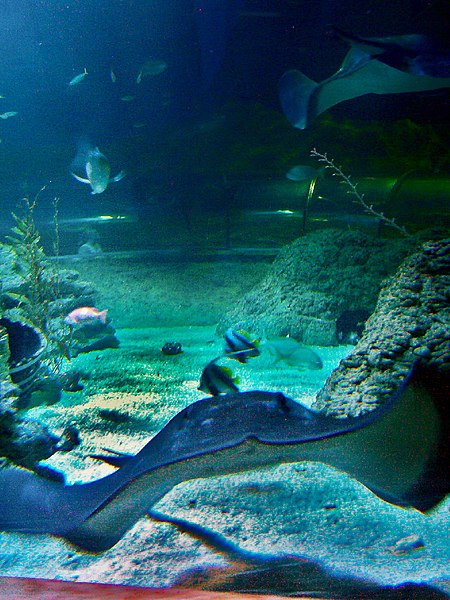 Size: over 3 million liters
Location: Perth, Western Australia
Number of animals: over 4,000
Number of animal species: 400
If you are in the area, a visit to Australia's largest aquarium is a must! Inside, you can walk through a 98-meter tunnel, which allows you to live the experience of feeling as if you are really in the water, among the sharks, jellyfish, sea turtles, and other species, due to being made of transparent material. And, those more courageous ones can make close dives.
12. Ushaka Marine World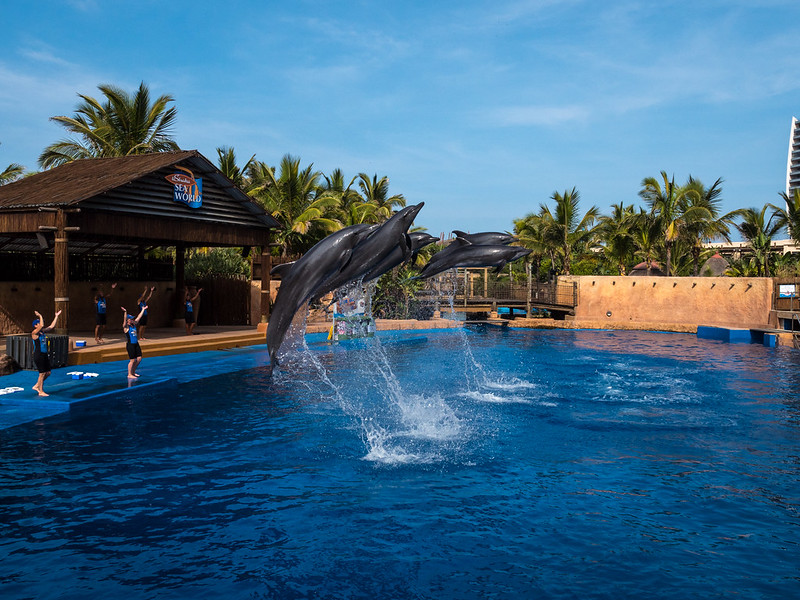 Size: 4 million liters
Location: Durban, South Africa
Number of animals: 10,000
Number of animal species: 300
It is a real water park which, in addition to the fun associated with swimming pools and dizzying slides, it hosts the largest aquarium on the African continent. The shape of the building resembles that of an ancient wreck, thus making the whole experience even more suggestive. There are many activities you can enjoy, such as snorkeling in a lagoon with 1500 fish. For shark enthusiasts, this aquarium has the largest variety of species in the world.
11. Ocean Aquarium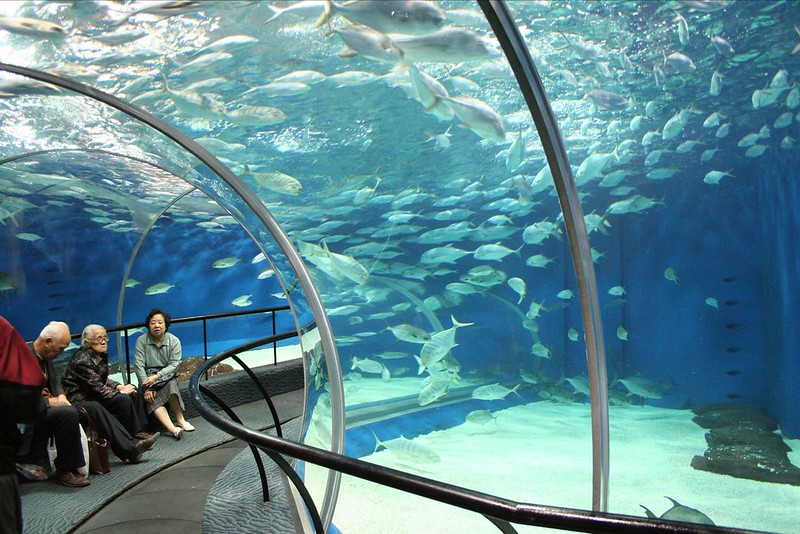 Size: almost 5 million liters
Location: Shanghai, Pudong District, China
Number of animals: 33,000
Number of animal species: 450
The aquarium has a pumping system that circulates ocean water, taken from Monterey Bay, inside the tanks. The research activity goes hand in hand with that of the aquarium, which is actually located within a protected marine area, where a sardine canning plant was until 1984.
10. Monterey Bay Aquarium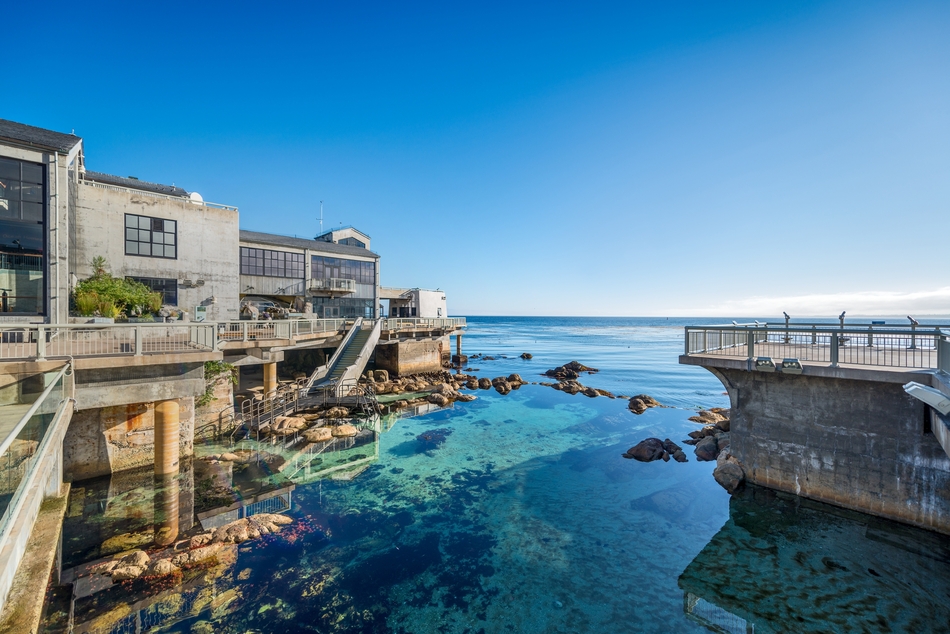 Size: 5.7 million liters
Location: Monterey, California
Number of animals: 35,000
Number of animal species: 623
This aquarium has 9 thematic zones. The main attraction is the 155 meters long transparent tunnel which you can walk through to observe the specimens up close. It's also an opportunity to get to know many endangered species, the care of which is one of the most important missions of this aquarium.
9. Aquarium of Genoa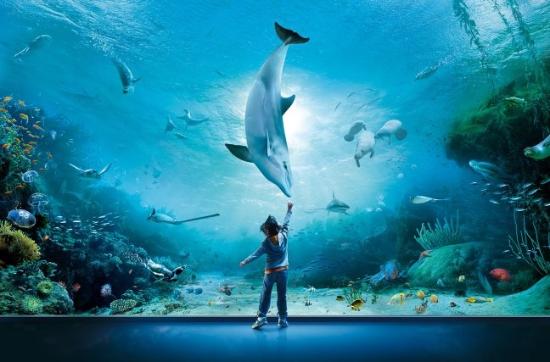 Size: 6 million liters
Location: Genoa, Italy
Number of animals: 15,000
Number of animal species: 400
It is the third-largest aquarium in Europe! With its 70 tanks, this aquarium reproduces marine environments of exceptional importance, such as those of the Red Sea, the Mediterranean, and the Pacific Ocean. The project bears the authoritative signature of Renzo Piano, who, in 1992, presented his idea of ​​a 'marine house' at the Expo.
8. TurkuaZoo Aquarium
Size: 6.8 million liters
Location: Istanbul, Turkey
Number of animals: 10,000
Number of animal species: 1,000
An 80-meter long conveyor belt will take you through the longest underwater tunnel in Europe. The special 270-degree angle guarantees a dream panoramic view, immersed among the most fascinating creatures of the sea. This wonderful public aquarium is located inside one of the largest shopping centers in Europe, the Forum Istanbul Shopping Mall. It is home to some of the largest tiger sharks in the world, along with many other smaller and more fascinating species.
7. The Blue Planet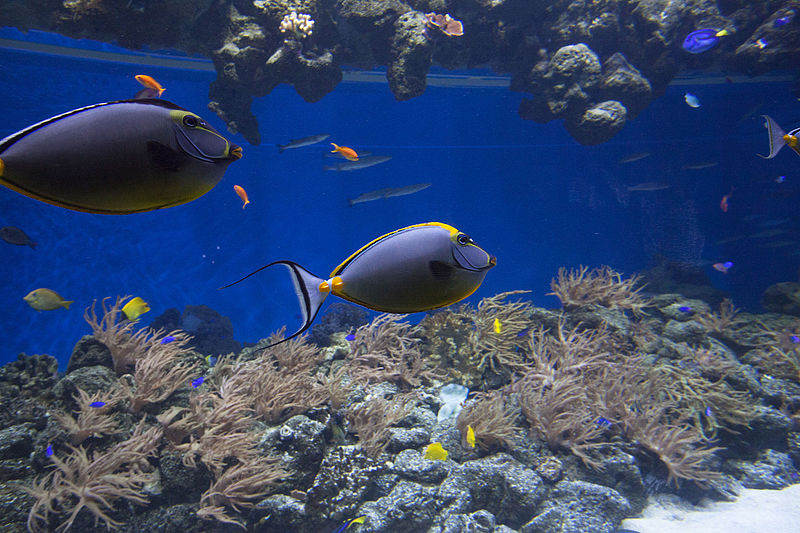 Size: 7 million liters
Location: Copenhagen, Denmark
Number of animals: 20,000
Number of animal species: 450
For those located further north or traveling the Scandinavian region, we recommend visiting the Danish public aquarium. It's one of the oldest aquariums in Europe, dating back from1939, in a suburban area of ​​the capital. In 2012, the specimens were moved to the new headquarters in Kastrup, a suburb of Copenhagen. The facility is divided into 5 thematic areas: rainforest, African lakes, evolution and adaptation, cold water, and warm ocean.
6. National Aquarium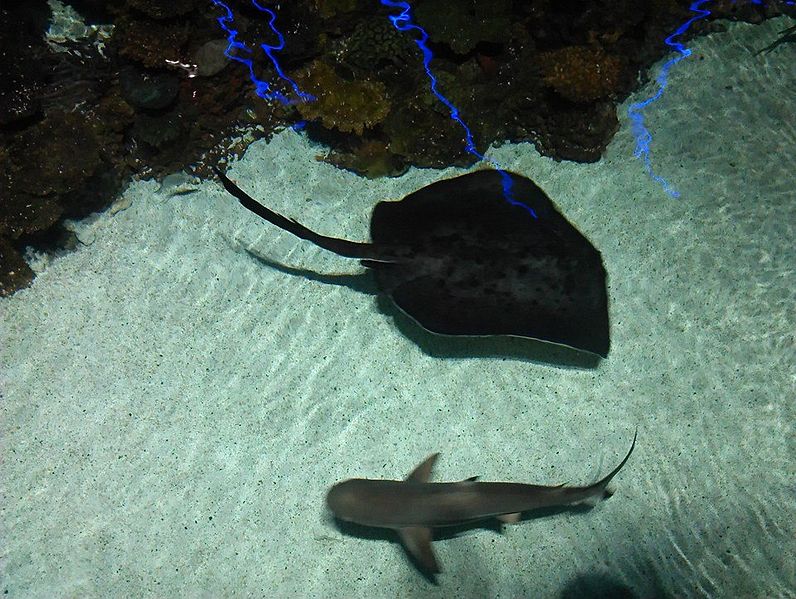 Size: 8 million liters
Location: Baltimore, Maryland, USA
Number of animals: over 17,000
Number of animal species: over 750
This aquarium offers a spectacular display of marine species which are very important for our ecosystem. A state-of-the-art project also makes it possible to visit a rainforest ground, located on the roof of the building. It is a must-visit place for all-round nature lovers!
5. Dubai Mall Aquarium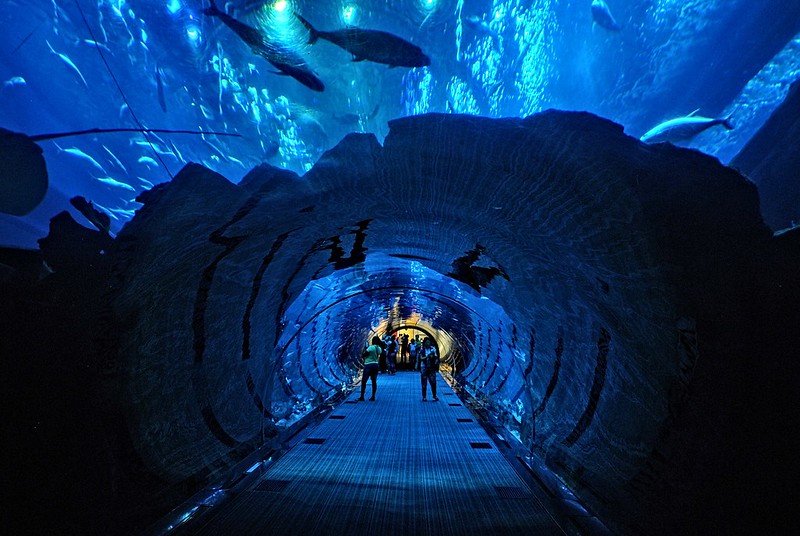 Size: 10 million liters
Location: Dubai, United Arab Emirates
Number of animals: 33,000
Number of animal species: over 140
This aquarium is not only among the largest in the world but also it's located inside the largest shopping mall on the planet! It holds the Guinness world record for possessing the largest acrylic glass panel in the world, which with a size of 33 m x 8.3 m guarantees a spectacular immersive view.
4. Georgia Aquarium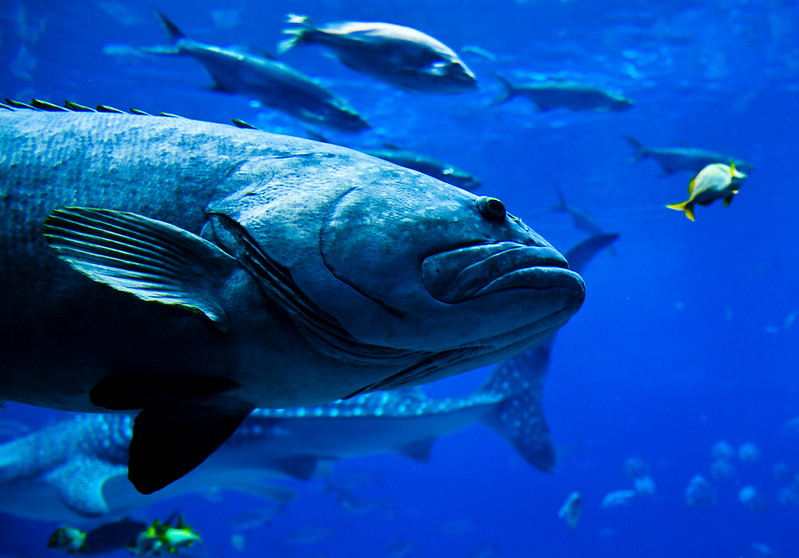 Size: nearly 38 million liters
Location: Atlanta, Georgia, USA
Number of animals: over 100,000
Number of animal species: 500
An extraordinary aquarium which, due to its really large size, houses more than 100,000 animals. It is the only facility outside Asia where you can see specimens of whale sharks. They were taken when a study found that they would've been victims of Taiwan's illegal fishing. The aquarium is located in the center of Atlanta, on land granted even by the Coca-Cola Company. It houses the largest tank in the world, with 24 million liters.
3. Oceanografic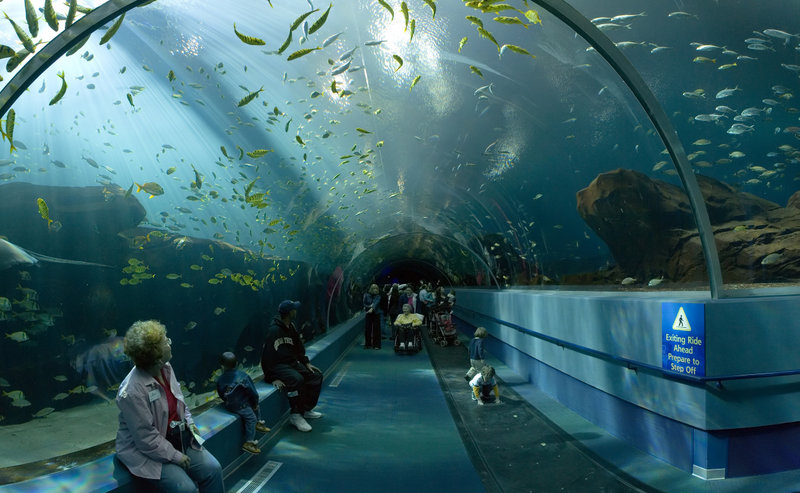 Size: 42 million liters
Location: Valencia, Spain
Number of animals: 45,000
Number of animal species: 500
It's the largest aquarium in Europe! As much as 26 million liters occupy the extraordinary 11 meters deep dolphinarium. The 'Ocean' section is made up of two pools joined by a 70-meter transparent tunnel. This aquarium is located within the City of Arts and Sciences and has an innovative system of communicating tanks, in which many marine habitats are reproduced and holds a record for the number of specimens. There is also a restaurant that will give you the feeling of having lunch at the bottom of the ocean.
2. SEA Aquarium
Size: 45 million liters
Location: Sentosa, Republic of Singapore
Number of animals: 100,000 specimens
Number of animal species: 800
Now, we go to an island in the city-state of Singapore, where we find the second-largest aquarium in the world with a mind-boggling 45 million liters of saltwater that is home to 100,000 creatures. It is the perfect destination for those who plan to dedicate their next trip to the marine world. Apart from simply admiring the marine life, visitors can also take some training programs on the subject as well as interact with some species. There, you will find the largest collection of manta rays in the world, including a unique Manta Birostris. The gigantic dimensions of this structure allow it to house rare species that are impossible to see elsewhere!
1. Chimelong Ocean Kingdom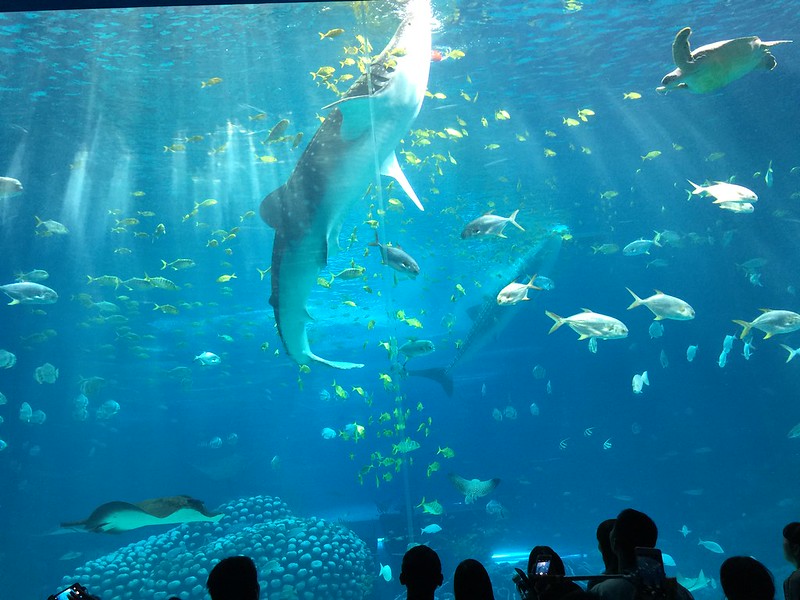 Size: almost 49 million liters
Location: Hengqin, Zhuhai, People's Republic of China
Number of animals: over 15,000 rare fish and thousands of other species
Number of animal species: indicatively more than 500
With its inauguration in March 2014, the Chinese giant snatches the title of the largest aquarium in the world from Singapore! Here, the concept of the aquarium has gone further: visitors not only can observe the marine life from transparent panels but also the activities vary. The park offers 7 different themed water areas, each symbolizing a different part of the sea. A rare polar 'water coaster' will amaze you, together with record-breaking transparent panels! Also, there is the largest 5D theater in the world. No wonder, there were 7.5 million visitors only in 2015. And, it's not bad for a project costing nearly $5 billion!