Seychelles is an archipelago composed of 115 islands located in the Indian Ocean. Here are numerous beaches, lush vegetation, coral reefs, nature reserves, and rare animals, such as the Aldabra giant tortoise.
The starting point for visiting all the other islands is Mahé, which is home to the capital Victoria, some beaches, such as Beau Vallon and Anse Takamaka, as well as the mountain rainforest of the Morne Seychellois National Park.
The Seychelles islands represent the ideal destination for those who dream of a quiet and romantic holiday, without giving up that desire for adventure that leads to the discovery of unspoiled nature.
Seychelles Overview
Inhabitants: 94,677
Capital: Victoria
Languages: official Creole language. Languages spoken are English and French
Local currency: Seychellois Rupee (SCR) – (€ 1.00 = SCR 15.66 / 1 SCR = € 0.064)
Climate: The climate is tropical, warm all year round. Temperatures are on average around 32 degrees during the day and below 20 degrees at night
Vaccinations: no vaccinations required. The only compulsory vaccinations are for travelers coming from countries where yellow fever is endemic (Kenya, Ethiopia). Antimalarial prophylaxis is recommended
Entry requirements: passport, return ticket. Required visa issued upon arrival in the country
Travel/health insurance: recommended
Where is it located?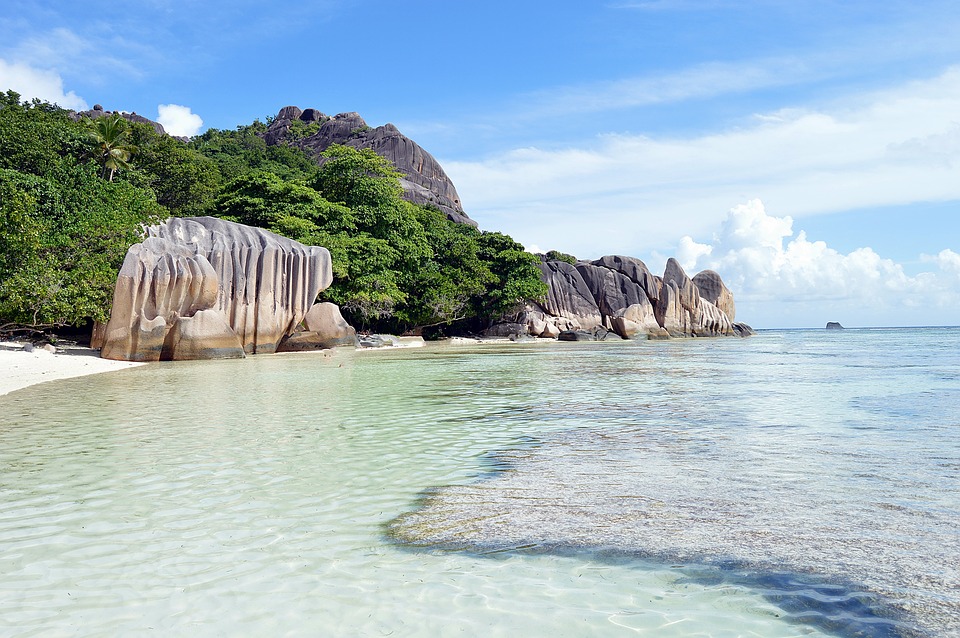 The Republic of Seychelles is an island state located in the Indian Ocean, north-east of Madagascar and about 1,500 km east of the coasts of Kenya and Tanzania, straddling the equator.
It is divided politically into 25 districts located on the main islands, except for one which groups the outer islands.
Of the 25 districts, 22 are located on the main island Mahé, two are on Praslin and one includes La Digue.
How to get there?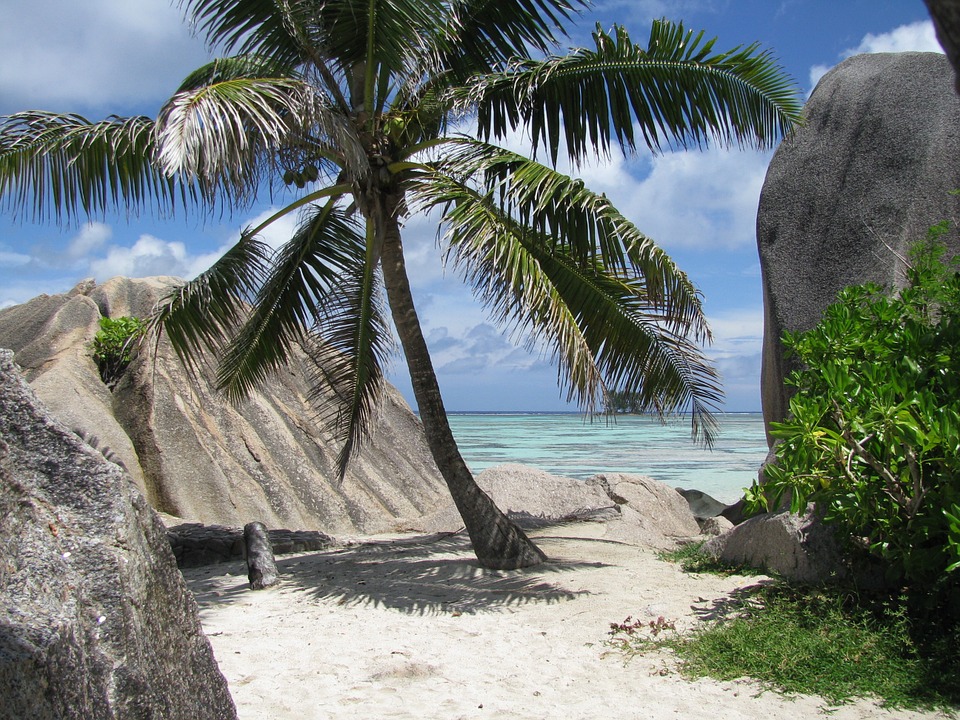 From the main European capitals: from Paris, the direct flight to the island of Mahé is operated by Air France and takes about 10 hours. From London, you have to make a stopover in Dubai and from there the flight to Mahé takes about 4 hours. The total duration is 13 hours with the Emirates company.
From Berlin, you have a stopover in Paris and from there in 10 hours you arrive in Mahé. The flight is operated by Air France.
The airlines that fly to Seychelles (in addition to Air Seychelles) are Emirates, Etihad Airways, Turkish Airlines, Qatar Airways, Ethiopian Airlines, and Condor.
Climate
Tropical, hot all year round, with a combination of the rainy season from December to March and a dry and cooler season from June to September. Even in the driest season, rains can occasionally occur. Temperatures are on average around 32 ° C during the day and below 20 ° C at night.
Best Period
The least sultry, driest, and sunniest period is from May to September, especially from June to August. In these months, however, there may be strong winds that make the sea rough. Also excellent October-November (first half), with high temperatures and some risk of rain which however lowers prices.
Period to Avoid
The worst months are December and January, being the hottest and rainiest, as well as the least sunny. Also, Seychelles can be affected by tropical cyclones that form south of the Equator between November and mid-May, more frequently from late December to mid-April.
Piece of Advice
In winter (June-August) bring light clothes, a light sweatshirt for the evening, a scarf for the breeze, a raincoat; for the coral reef, snorkeling equipment, and water shoes.
In summer (December-February) pack light and breathable clothes, a light sweatshirt for the evening, a raincoat, or an umbrella. Don't forget high-protection sunscreen and, to capture spectacular images, an underwater camera. Bring antipyretic, cortisone, and antihistamine medicines with you just in case.
Which island to go to?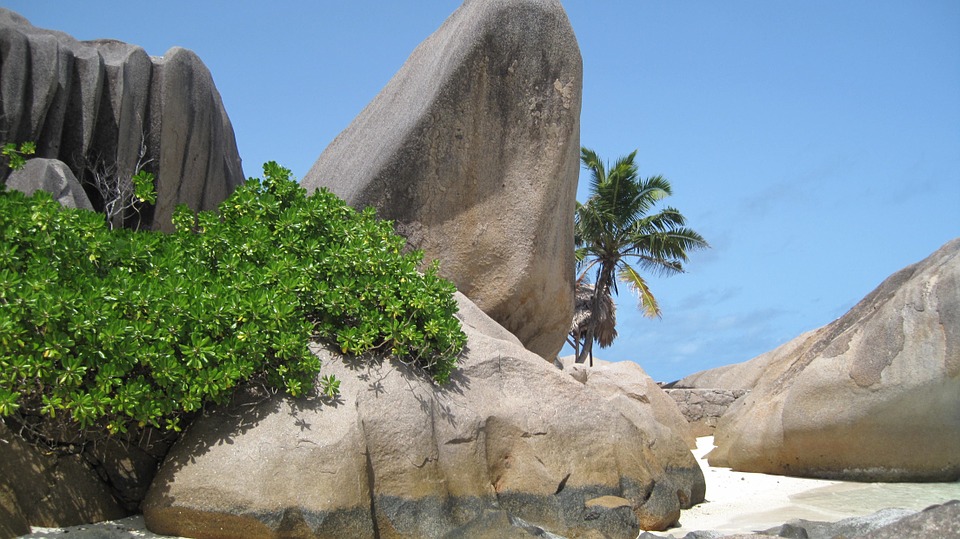 As mentioned, Seychelles include 115 islands, however, they are generally distinguished by the Inner Islands which include 42 granite islands located within a radius of 56 km from Mahé and the Outer Islands, more scattered and of coral origin.
The Most Astounding Islands in Seychelles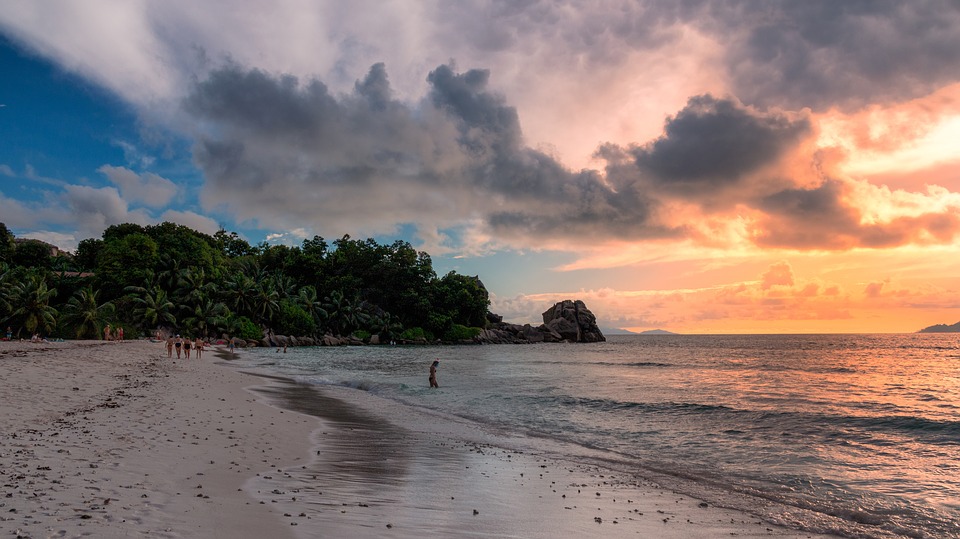 Granite Inner Islands
The most touristic and rich in resorts and accommodation facilities. They are: Mahé, Praslin, La Digue, Silhouette, Inner Coral Islands (Denis Island, Bird Island);
Outer Islands
They are a group of 5 coral islands even hundreds of km away from the inner atolls. They are accessible only by private boats, and are: Southern Coral Group (Île Plate and Coëtivy), Amirante Islands, Alphonse Group (Alphonse and Saint François), Aldabra Group (Aldabra, Assumpion, Cosmoledo), Farquhar Group (Farquhar, Providence and of S. Pierre).
But the main tourist islands are the following:
Mahé
It is the island that hosts the capital, Victoria, the largest archipelago where the international airport is located, but at the same time, it is the least known of all. This is because tourists move to the smaller islands ignoring the beauty of this island.
The area is characterized by white sandy beaches, such as those of the tourist Beau Vallon, and by granite reliefs such as the Morne Seychellois (where there is the homonymous park), covered with rainforest. Among the most beautiful beaches are Anse La Mouche, Anse aux Pins, Anse Bazarca, Anse Intendance.
The island boasts an excellent public bus service, but sometimes you get lost in the maze of narrow streets. Also, here there are many restaurants, shops, hotels, discos and the evenings come alive showing the more mundane face of local life.
To move to the other islands, ferries or planes are used, obviously the former much cheaper.
As for the climate, the island of Mahé is very rainy but generally spared from cyclones. In July and August, especially the beaches facing north-west, are perfect as they are more sheltered from the strong south-east trade winds.
Praslin
About forty kilometers from Mahé is Praslin, the island for explorers: here nature reigns supreme and there are 1,400 examples of the legendary Coco de Mer, the palm tree with the largest heart-shaped walnut in the world. This nut can weigh up to 25 pounds!
The sea of Praslin is crystal clear and scenic with beaches such as Anse Lazio, while nature dominates thanks to the Vallèe de Mai, a UNESCO heritage nature reserve rich in rare plants and wild animals.
Among the most beautiful beaches I remember Anse La farine, to the west Grand'Anse and the beaches of Lémuria, Anse Georgette and Anse Lazio, already mentioned, both bordered by large granite boulders.
To get to Praslin just take an Air Seychelles flight from Mahé and then take a 15-minute crossing, or board a fast catamaran (45 minutes).
The climate in Praslin is always hot; in July and August the island is exposed to strong winds that make the sea rough (often Anse Lazio remains sheltered).
Also, there are several accommodation options and many restaurants, which will allow you to taste Creole specialties, but there are no major tourist centers and activities, apart from boat excursions and snorkeling.
Finally, there is a good network of public transport or you can rent a car to get around quickly.
La Digue
La Digue island is 6 km from Praslin and 43 from Mahé, which can be reached by helicopter or boat. It is a real paradise for those who want to escape from the real world! In a few kilometers, you can breathe a relaxed atmosphere between natural pools that frame the beaches, guesthouses hidden among the trees, and wonderful nature.
Among the most beautiful beaches is Anse Source D'Argent, with its granite boulders smoothed by the wind and coconut palms around, Grande Anse, Anse Severe. To the south of the island is the lonely Anse Bonnet Carré beach, with calm, shallow waters, and then there's Anse Cocos, a beautiful sheltered bay on the east coast.
In La Digue, there are various wild animals, which can be seen in the Veuve Reserve.
The movements take place on ox-drawn carts or by bicycle, a perfect way to explore the whole territory. Finally, the climate is good all year round, December and January are the wettest months.
Aldabra Atoll
It is the second-largest coral atoll in the world and a UNESCO World Heritage Site. Grand Terre, Malabar, Picard, and Polymnie, are 4 large islands that are part of the huge coral reef that encloses the lagoon. Here are giant turtles, rare coconut crabs, a huge variety of birds, and much more.
Anse a la Mouche
This beach is located on the southwestern coast of the island of Mahé. A long strip of white sand with thick vegetation, the scenery is truly wonderful!
Lazare Bay
It is on the southwestern coast of Mahè and is ideal for swimming and seeing fish. It is a site of considerable importance, as its name derives from Lazare Picaults, the French navigator who claimed the island for France.
Marine National Park
It is an ancient protected marine reserve rich in flora and fauna, coral reefs, and several islands. It is also famous for having ideal areas for practicing activities such as diving and snorkeling.
Anse Intendance
It is located south of Mahé and is the most famous beach on the island. There is no coral reef here and therefore you can go surfing.
Anse Lazio
It is the most famous beach of Praslin with its granite rocks, its splendid shore, the luxuriant palms… like a postcard! Here you will find something for everyone: swimming, snorkeling, sun, and landscapes to capture.
Anse Source d'Argent
It is located in La Digue and is the symbolic beach of Seychelles, one of the most photographed in the world. Its granite rocks are iconic, as are the coral reef and white sand. You pay the entrance!
Anse St Jose
This is easily accessible by boatmen from Praslin, it is one of the most beautiful beaches in Seychelles. It is located on Curieuse Island and has a very wild aspect. Walking for 25-30 minutes you arrive at the turtle reserve, where giant turtles are bred that circulate freely.
La Passe Village
It is a quiet fishing village with about 2,000 inhabitants and is located in La Digue. The peculiarity is that everyone travels by bike, there are no cars. From here you can rent boats to explore the neighboring coasts and islands.
Vallée de Mai Nature Reserve
A protected nature reserve located on the island of Praslin. It is one of only two places ghee in the world where the rare palm that produces the coco de Mer, the largest seed in the world, grows in its natural state. There are over 50 species of indigenous plants and trees, five hiking trails through the tropical forest.
General Facts About Seychelles
How much does a holiday in Seychelles cost?
Generally, the costs for a holiday in Seychelles are around € 2,000-2,500 per person for a week, including air travel and accommodation, while the excursions have separate prices. The most expensive months are December, January, July, and August.
The costs of hotels or resorts vary according to the quality and services provided; clearly, a guesthouse has a lower cost.
As a rule, a flight to Seychelles is not for less than € 700-800, but if you have the opportunity to travel at any time of the year, you can get good deals.
When it comes to traveling between islands, you have two options namely internal flights and ferries. From Mahé to Praslin, for example, the ferry costs about € 50.00 each way, while by plane about € 140.00. From here, you will have to add another € 25.00 ferry ride from Praslin to La Digue.
Renting a car is the best solution for getting around an island (prices range from € 35.00 per day), as public transport (albeit very cheap) seems to be sometimes not very reliable.
If you don't have to travel long distances, it is fun and convenient to rent a bike, especially in La Digue, for around € 7.00-8.00 per day.
To eat it starts from € 7.00-8.00 for a takeaway, to get to € 20.00-25.00 per person for a complete dinner.
Where to sleep?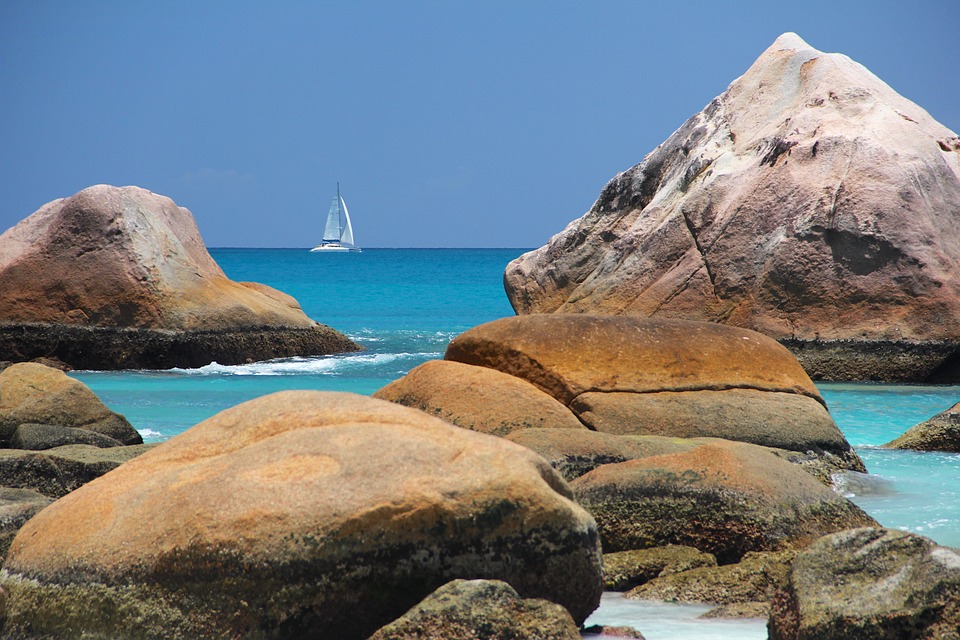 Hotels and b & b price ranges from € 60.00 per room
Low-cost flights price ranges from € 481.36